We test and review fitness products based on an independent, multi-point methodology. If you use our links to purchase something, we may earn a commission. Read our disclosures.
Are you in the market for a fully-stacked fitness experience that you can get from the comfort of your own garage without having to give up floor space to massive racks, bulky barbells, and other gigantic fixtures?
If saving space is your main priority, the Torque Fitness Anker 3 is virtually unbeatable. It's one of the best functional trainers on the market today, boasting a space-saving design and a variety of features that put it at the top of its class.
Garage Gym Reviews founder Coop Mitchell and his seasoned team of experts took it for a spin in order to deliver the good, the bad, and the ugly details to you in their full Torque Fitness Anker 3 review! Check it out below!
A Team Better Than Ours? Slim Chance!
Barbells, dumbbells, cable machines, and more; you name it and we've tried it. Our team has tested hundreds of unique items from the industry's most reputable manufacturers, with Coop himself logging nearly a decade of experience since GGR's inception.
Coop tested the Torque Fitness Anker 3 personally to provide his honest feedback. Our team also gave the Anker 3 a whirl, including certified personal trainers, CrossFit L1 trainers, gym owners, and an actual real-life Olympian.
So, you best believe we know a thing or two about functional trainers!
Torque Fitness Anker 3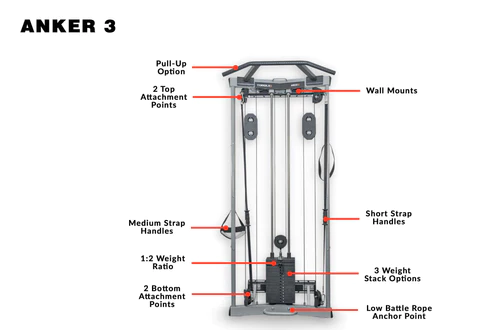 GGR Score: 4.3
Product Highlights
Functional trainer machine

Weight stacks range from 150 to 225 lbs

1:2 weight ratio
Pros & Cons
Pros
Versatile machine for full-body workouts
Low-profile footprint
Wall anchor attachment
Three weight stack options
Free shipping
Cons
Expensive price tag
Single weight stack
1:2 pulley ratio
Bottom Line
The Torque Fitness Anker 3 is a functional trainer cable machine that won't take up too much space in your home gym with its fairly low profile and slim design. The machine features one weight stack in the center of the machine and two pulley cables. You can choose between a 150-, 200-, or 250-pound weight stack. The Anker 3 also comes with two sets of handles and a welded anchor point at the base of the machine for battle ropes.
A Quick Look at the Torque Fitness Anker 3
Home gym owners are well-acquainted with names like Rogue, REP Fitness, and PRx, but Torque Fitness seems to lack the same industry cred upfront. While their company is a newcomer in the realm of manufacturing home gym equipment, they have been in the business for years, mostly outfitting commercial gyms across the country with top-of-the-line machines.
The Anker 3 is one of the latest additions to their product line. Torque incorporated a number of features to position it as a solid mid-tier option as far as functional trainers go, but it does have one claim to fame that makes it the undisputed best choice for those looking to save space—its size.
The biggest selling point of the Anker 3 is its unbeatable depth, or lack thereof. This functional trainer comes only a conservative 8 inches off the wall, making it incredibly low-profile for a functional trainer.
The Anker 3 also features four fixed pulleys—two high and two low—which offers great exercise versatility but may turn off those who prefer adjustable pulleys.
Before You Buy
The narrower width of the trainer might limit range of motion on some moves.
For an extra $55, you can add the pull-up bar attachment up top. This makes the Anker 3 jut out more, but that shouldn't be an issue given its height.
The pulleys are nylon, with no upgrade options available; not make-or-break-it, but worth noting.
Torque Fitness Anker 3 Video Review
Is the Torque Fitness Anker 3 Worth It?
There are plenty of great options when it comes to functional trainers. The Bells of Steel Cable Tower, for example, offers excellent value and versatility, while Torque's F9 Fold-Away Functional Trainer collapses for a compact profile that's hard to beat.
But that's exactly what the Anker 3 does; it beats the F9's already impressively small footprint while eliminating the folding feature, making it one of the best, if not the best, low profile options.
"This product…there really is nothing else like it," says Coop. "There is nothing that is as slim and takes up as little depth as this functional trainer."
At $1,099 to $1,429, for the right person, this functional trainer is virtually unbeatable.
Great for:
Those with limited space
Those who prefer wall-mounted functional trainers
Those who have other fixtures mounted on the same wall already
Not recommended for:
Those looking for a budget cable machine
Those looking for a cable machine that uses weight plates
Those who prefer fully adjustable pulleys and/or aluminum pulleys
Torque Fitness Anker 3 Specs
| | |
| --- | --- |
| Price Range | $1,099 to $1,429 |
| Footprint | 8.2" L x 36.3" W x 84.3" H |
| Weight Stack Options | 150-lb, 200-lb, 225-lb |
| Effective Resistance | 77.5 lbs, 100 lbs, or 112.5 lbs |
| Pulley Ratio | 2:1 |
| Included Accessories | Hanging storage pegs and leg boot, two rubber over-molded T-grip short strap handles, two medium strap handles that double as high-low pulley connection strap handles, welded lower anchor point with nylon strap for battle ropes |
| Attachment Options | Pull-up bar, magnetic phone holder, weight stack adder pin |
| Warranty | 10 year frame and welds, 1 year parts, 90 days misc. |
Using the Torque Fitness Anker 3
For a mid-tier home gym option, the Torque Fitness Anker 3 looks polished and premium, featuring an ultra-low-profile design that's nearly impossible to beat. But does the performance match its sleek appearance?
Coop and Co. dive deep to give you the deets you need!
Footprint
The Anker 3 stretches 84.3 inches high, which means it should work in most applications, including basements and garages with shorter ceilings. Its width of 36.3 inches also means it is narrow enough to be mounted on a wall that contains other wall-mounted fixtures, like fold-away squat racks or power racks.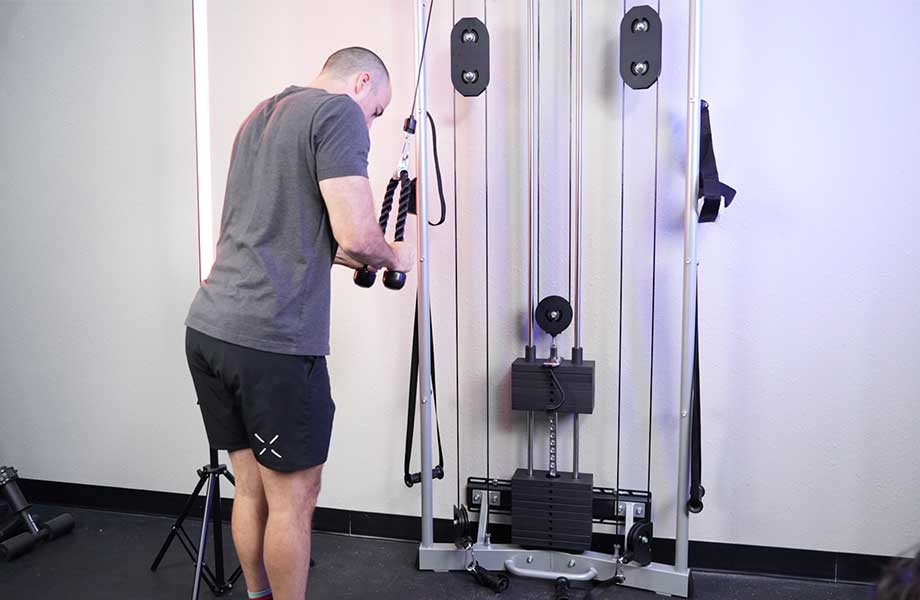 Coop wasn't so fond of the petite width spec, however, feeling that a more narrow width would lead to a reduced range of motion during exercises like chest flyes, rear delt flyes, and cross-overs, for example.
"You're not necessarily going to have as wide of a stretch as you would get on a typical functional trainer," says Coop, "but what you lose in the stretching capability, you get in the compactness."
Coop calls the Anker 3's depth "the greatest dimension of all," because that's where this functional trainer truly reigns supreme. The Anker 3 comes off the wall a conservative 8 inches. So, you'll have plenty of floor space available for other fitness equipment and accessories, which is why we rated it a 5 out of 5 stars for footprint.
It's also perfect for garage gym owners who want lots of fitness stuff in their repertoire but want to park their car in the garage, too.
Versatility
The Anker 3 scores top marks in the low profile design, but can you still get the same high-quality strength training from a machine this compact?
We've already covered the limited range of motion, due in part to the width spec that's more narrow than other functional trainers on the market, but the pulleys are also noteworthy.
The Anker 3 features four independent pulley zones, with two pulleys fixed in the high position and two pulleys fixed in the low position. They rotate, but there is no up and down movement.
"They did make a good decision in that there are four of them," says Coop. "Personally, if I'm going to pick four, these are the four I'd pick…It'd be awesome if there were six [though]—two in the middle, too."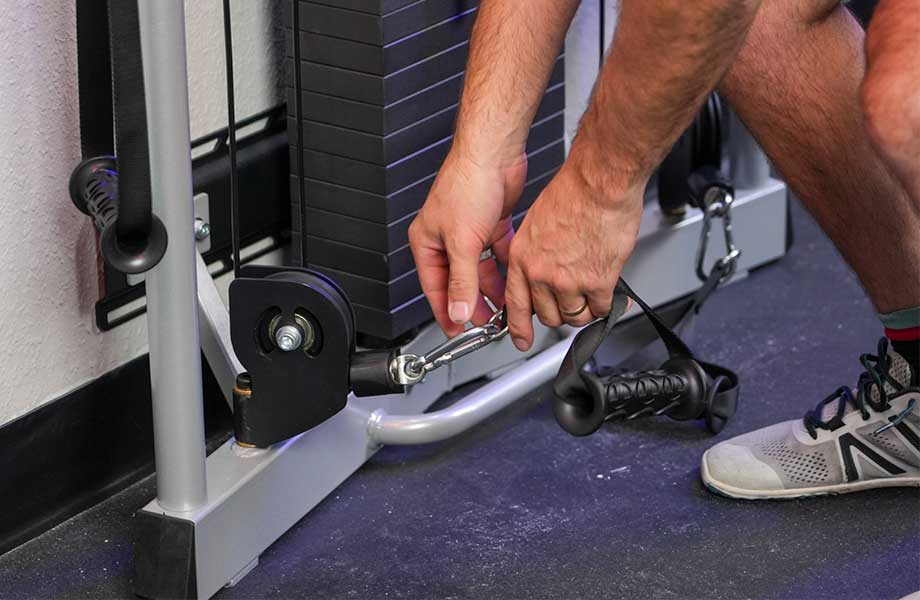 Resistance comes from a single weight stack, with 150 pounds, 200 pounds, and 225 pounds all available as options, and that adds an additional element of versatility that very much works in the Anker 3's favor. Because it's a single stack, you can create a 1:1 weight ratio by combining the pulleys to a single attachment.
"You can technically do 200 pounds, or 225 pounds if you have the upgrade kit, lat pulldowns on this using a 1:1 ratio on the stack if you connect the top to the low row attachment points," says Coop.
Coop was surprised Torque does not already manufacture and sell a dedicated item that attaches the pulleys and offers a quick and easy way to accomplish this, so you'll be left to jury-rig your own way to connect everything. With our feedback, it may be only a matter of time before Torque Fitness starts making something that will do the job smoothly and safely.
As is, however, there's already a ton of exercise versatility available from just the Anker 3 and its four fixed pulleys, which is why it scored a 4 out of 5 stars. Throw in an adjustable bench and you'll unlock even more exercises, making the Anker 3 very comprehensive for most strength training regimens.
RELATED: Best Weight Bench
Durability and Construction
The ultra-low-profile frame of the Anker 3 is a high-quality platinum, so it's going to come out of the box looking like a top-tier gym fixture even though the price point is more of a mid-tier. That's a great thing for garage gym owners who enjoy the finer things without having to pay a premium, and earned it a score of 5 out of 5 stars for this category.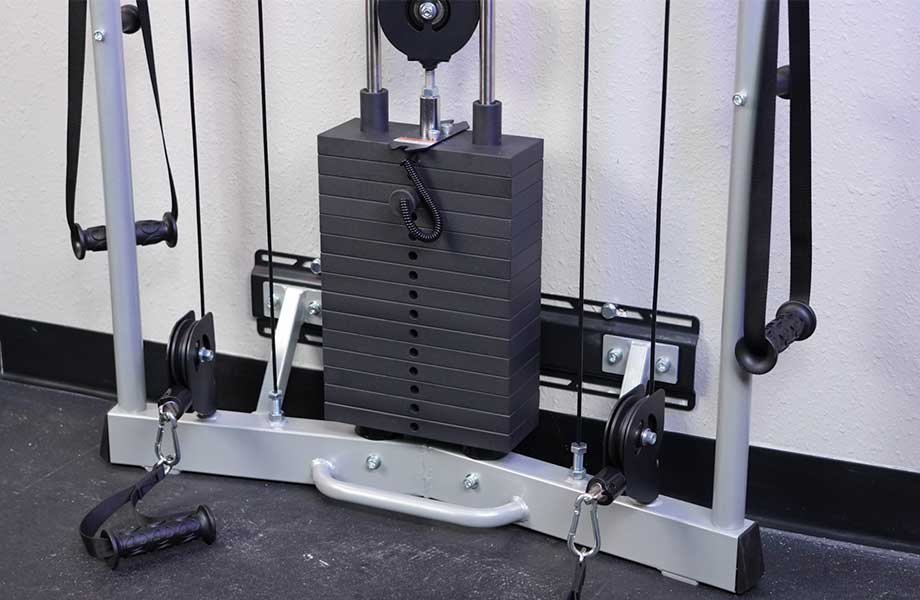 One thing Coop was not fond of in the construction, however, were the nylon pulleys.
"I don't like the nylon pulleys," says Coop. "They're using them because they're cheap. I understand that. I would prefer an upgrade option, because there are people out there who will want this but want a smoother pull."
We're not considering this a major mark against the Anker 3, as nylon pulleys will still withstand plenty of use in a home gym setting, plus they'll require less maintenance over the years. Offering an upgrade option would've been nice, though.
Torque Fitness Anker 3 vs Bells of Steel Cable Tower
Bells of Steel Cable Tower with Weight Stack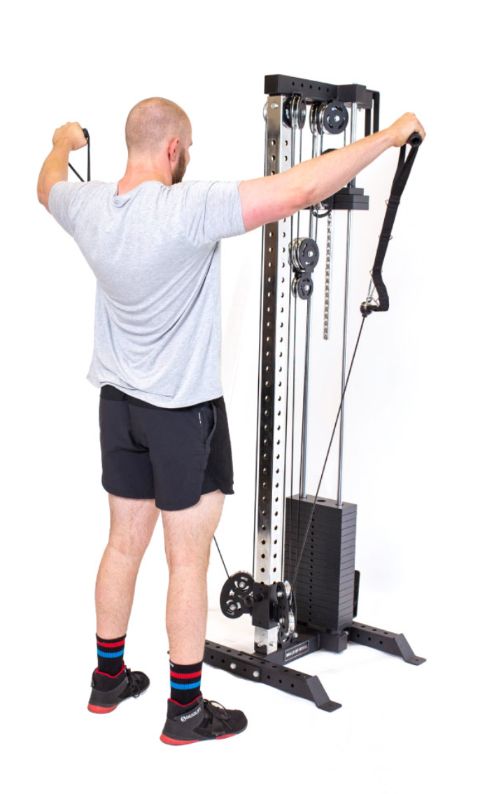 GGR Score: 4
Product Highlights
210-lb weight stack
2:1 pulley ratio
Aluminum pulleys
Compact
Around $1,200
Free shipping
Limited lifetime warranty
Pros & Cons
Pros
Compact
210-lb weight stack
Smooth aluminum pulleys
30 handle height options
Limited lifetime warranty
Cons
Must be bolted down
Assembly can take a few hours
Mounting hardware is not included
Bottom Line
An affordable and compact cable machine that can be used for hundreds of exercises.
The Anker 3 is a competitive product, but does it have anything on the Bells of Steel Cable Tower? They're similarly priced and capable of doing similar things, so let's do a quick side-by-side on the features.
The Bells of Steel Cable Tower comes in weight stack and plate loaded versions. The Anker 3 does not. The Bells of Steel Cable Tower offers adjustable pulley height along the column and an upgrade option to get aluminum pulleys rather than nylon. The Anker 3 does not. The Bells of Steel Cable Tower offers a generous limited lifetime warranty. The Anker 3's warranty is a tad more rigid.
So, where does the Anker 3 get the win? Its unbeatable depth, and that's about it.
Don't get us wrong; the Anker 3 is by no means a bad product, nor is it explicitly inferior to the Bells of Steel Cable Tower. Depth and presentation go a long way, so for the right customer, the Anker 3 is the no-brainer pick.
Although, if you've got the space for it and some bumper plates itching to get some more use, the Bells of Steel Cable Tower is also a very nice purchase.
Learn more with our full Bells of Steel Cable Tower review.
| | | |
| --- | --- | --- |
| | Torque Anker 3 | BoS Cable Tower |
| Price | $1,099 to $1,429 | $1,129.99 |
| Weight Stack Options | 150-lb, 200-lb, 225-lb | 210-lb |
| Pulley Ratio | 2:1 | 2:1 |
| Footprint | 8.2" L x 36.3" W x 84.3" H | 25.1" L x 28.5" W x 80.9" H |
| Warranty | 10 year frame and welds, 1 year parts, 90 days misc. | Limited Lifetime |
Customer Experience
Torque Fitness understands their company's success in the home gym equipment market depends on manufacturing high-quality equipment and offering excellent customer service. That's why their policies are created to ensure the customer has a favorable experience.
The Anker 3 includes a 10-year warranty on the frame and welds, which is not as generous as a limited lifetime warranty, but generous nonetheless. Additionally, they include a 1-year warranty on parts and 90 days for miscellaneous items. Since this warranty policy isn't as good as what some other, similar products offer, we scored it 3 out of 5 stars.
The Anker 3 also comes with a 30-day money-back guarantee. Torque will fully reimburse your purchase of the Anker 3 if you report dissatisfaction within 30 days of your purchase and ship all items, at your own expense and in new condition, back to Torque.
You will also be required to have a return authorization number to ensure that your return can be processed and accepted. Torque's website states that this number should be clearly marked on the outside of the packaging for accurate processing.
To get your unique return authorization, you will need to contact the Torque service department by phone (763)-754-7533 or email sales@torquefitness.com.
Ordering and Assembling the Torque Fitness Anker 3
Ordering the Anker 3 is made easy through Torque's website.
There are also financing options available through Affirm, making it easier than ever to invest in your health and fitness and purchase a brand new functional trainer for your home or garage gym.
The Anker 3 is shipped via LTL freight and delivered curbside. Shipping is free, making its attractive price even more mouthwatering.
Once it arrives, it's a cinch to assemble. Our team, which has built loads of functional trainers over the years, made quick work of it, constructing it in a modest 45 minutes.
Coop chalks that up to the fixed pulleys. Instead of having to assemble a complex pulley device, running cable, and attaching it to the frame, all you need to do is run the cable through the pulley, lock it in at the end, and voila—you're done!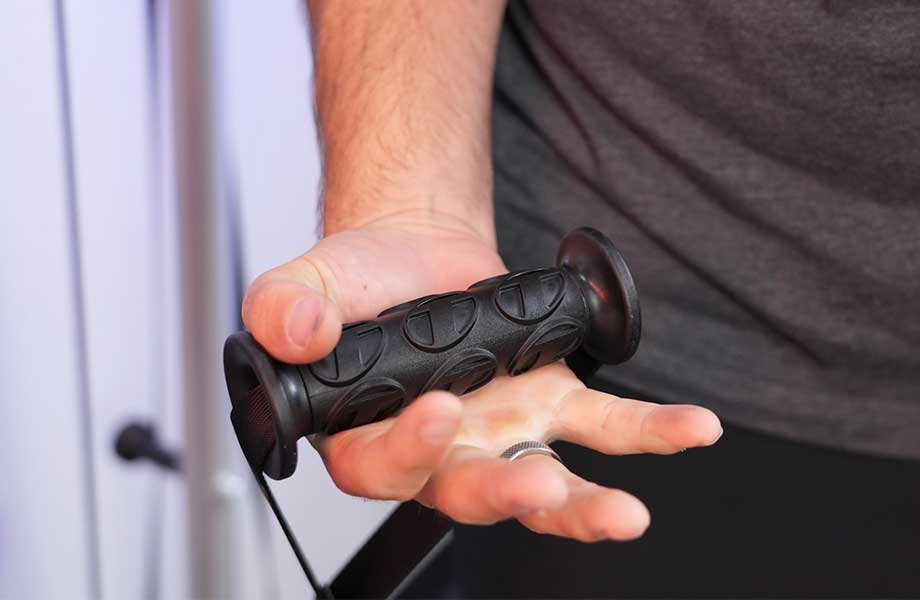 The Anker 3 also mounts to the wall through the use of some very sturdy metal stringers, similar to foldaway racks and other wall-mounted fitness equipment. You should have no problem finding studs based on the stringers size and, once it's installed, it'll be rock solid.
If you're not as familiar with how these things come together, tack on another 15 minutes and call it an even hour for assembly. Overall, that's not bad, considering there are pulleys and cables involved.
Customer Reviews
As a new product, there are only a few reviews available for the Anker 3 at this time, but they are overwhelmingly positive.
Angela R.S. gave the Anker 3 a five-star review, applauding its "amazing quality."
Verified buyer Mark F. also awarded the Anker 3 with five stars, despite stating that the included handles dug into his hands due to the embedded Torque logo. We didn't experience this, but we could see how this is possible due to the product's design.
The feedback from other Anker 3 customers is universally positive, citing a simple, straightforward installation and high-quality product experience.
Final Verdict of Our Torque Fitness Anker 3 Review
Coop wasn't head over heels for the Anker 3, but concedes it is a well-built, well-designed functional trainer that, for space savvy home gym owners, will provide unparalleled value at a reasonable price point.
"The person that I think this is ideally suited for…is a person that is parking in their garage but wants a fully-outfitted, kitted garage gym," says Coop.
The Anker 3 loses points with us due to the fixed pulley positions, use of nylon pulleys, and width spec that reduces the range of motion on some exercises that require adduction and/or abduction.
"Overall, I like it. I wouldn't recommend it for everybody," says Coop. "If you're trying to have something compact and you're trying to park in your garage, I think this is a winner."
Torque Fitness Anker 3 Rating
Torque Fitness Anker 3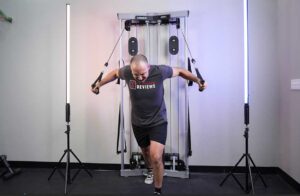 The Torque Fitness Anker 3 is a functional trainer cable machine that won't take up too much space in your home gym with its fairly low profile and slim design.
Product Brand: Torque Fitness
Product Currency: USD
Product Price: 1099.00
Product In-Stock: InStock
Torque Fitness Anker 3: FAQs
How much weight does the Torque Fitness Anker 3 hold?

The Torque Fitness Anker 3 offers three weight stack options—a 150-pound, a 200-pound, and a 225-pound, which are priced at $1,099, $1,319, and $1,429 respectively.
What ratio does the pulley on the Torque Fitness Anker 3 have?

Like most functional trainers, the Torque Fitness Anker 3 features a 2:1 pulley ratio, but it can be converted to a 1:1 by combining the two pulleys together and using a single handle with it.
Coop loves that you're able to do this, but he's also surprised that Torque Fitness doesn't make and sell a dedicated product for attaching the two anchor points for this exact purpose.
Is the Torque Fitness Anker 3 good?

The Torque Fitness Anker 3 is a fantastic functional trainer. 
While it lacks some versatility that you'd find in other options on the market, the real draw for this trainer is its unbeatable footprint, making it perfect for garage gym owners who also need to be able to park their cars without bulky fitness equipment getting in the way.