We review free products that we receive and participate in affiliate programs, where we may be compensated for items purchased through links from our site.
See our disclosures page for more information.
Snake Bite Grips
are an attachment that increases the diameter of a barbell or dumbbell to create thick grip. They're very similar to Fat Gripz, but with a unique, laser-etched snakeskin knurling pattern that feels as good as it looks. We do prefer these to Fat Gripz, but still recommend Fat Gripz for most due to a lower price point.
Fat Gripz Alternative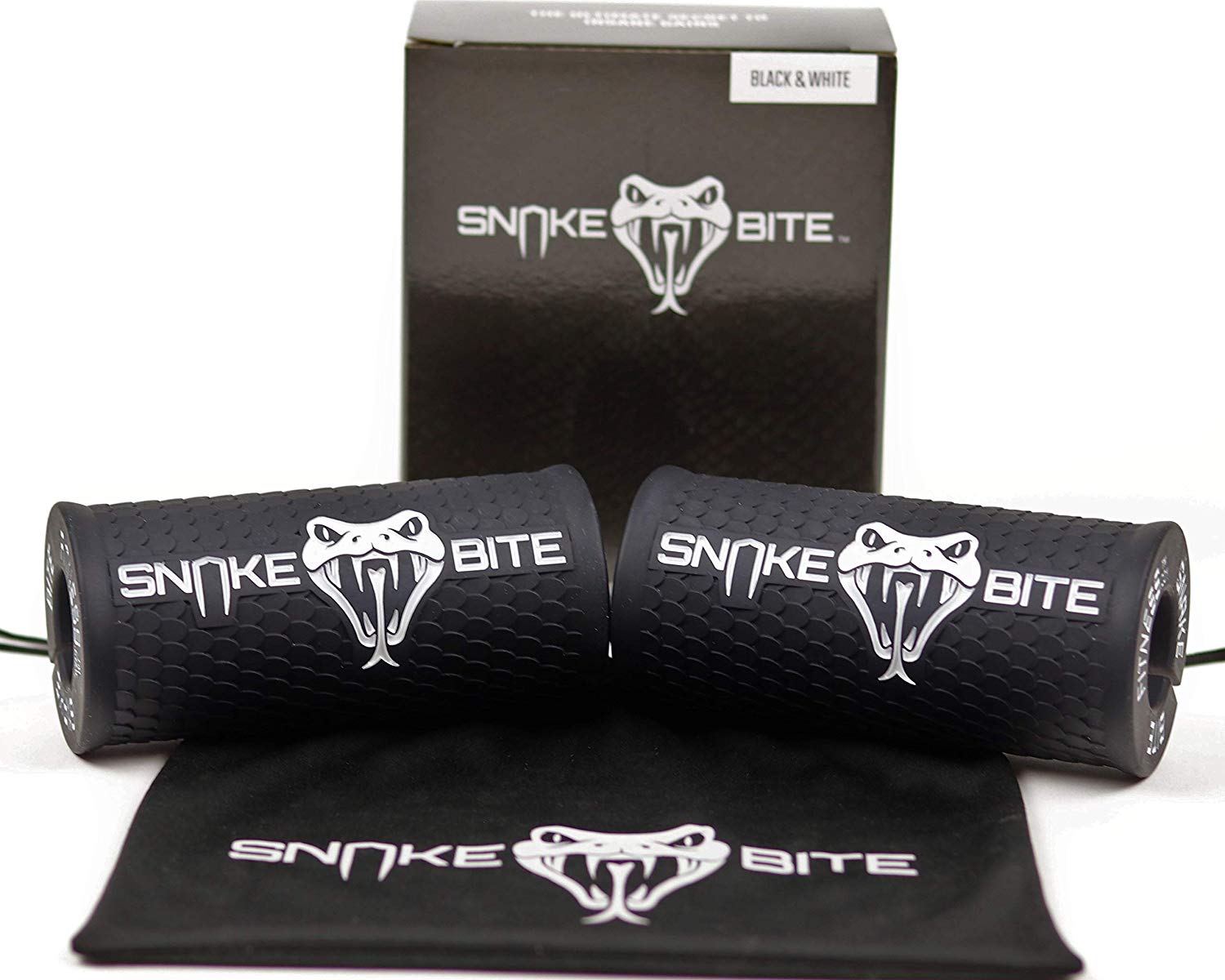 Snake Bite Grips
Double the thickness of your bar to maximize your gains! Studies show that increasing the diameter of barbells and dumbbells leads to greater muscle activation—and that's what Snake Bite Grips do. But we're not like all the other companies that just slap their name on the same old bland design that looks identical to all the other thick grips. No, not us—we refuse to be ordinary. We took thick grips to a whole new level. Our team spent almost a year developing our unmatchable Snake Bite Grip design. After many stages of strategic testing, we're able to offer you what we confidently believe are the best thick grips available today!
Snake Bite Grips are a fat bar grip similar toFat Gripz that we've tested and reviewed, but use a unique snake scale pattern and grippy silicone to creat, honestly, the fat bar grips that I reach for more than any other. They are more expensive and don't feel vastly different from competitors, but if you don't mind spending more, you'll appreciate the subtle differences.
What Are Snake Bite Grips?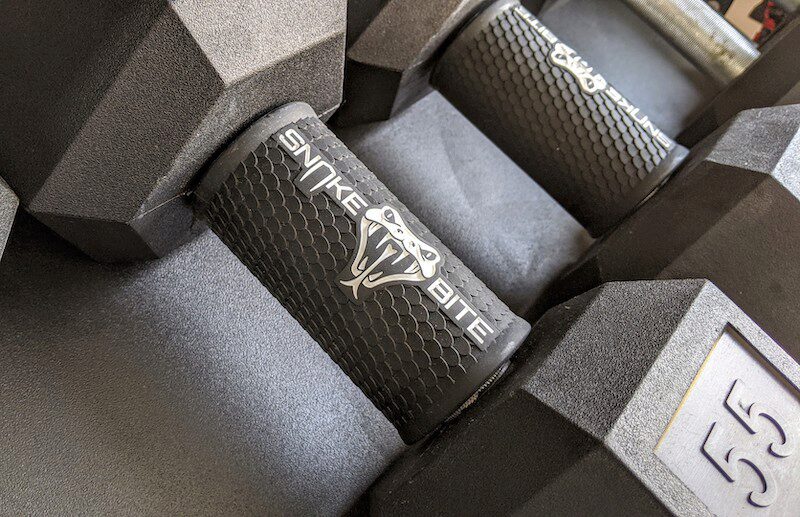 Snake Bite Grips are a way to increase the diameter of any round bar, or more specifically, the shaft of a barbell or dumbbell.
Within the past few decades, it's become well known that increasing the diameter of a bar, "activates" more muscle fibers. Although, I say this is well known, I do want to make it clear that there are studies that say that using enlarged grips may increase neuromuscular activation, it may result in decrements in strength due to lower training loads, see such a study on Impact of Fat Grip Attachments on Muscular Strength and Neuromuscular Activation During Resistance Exercisehere.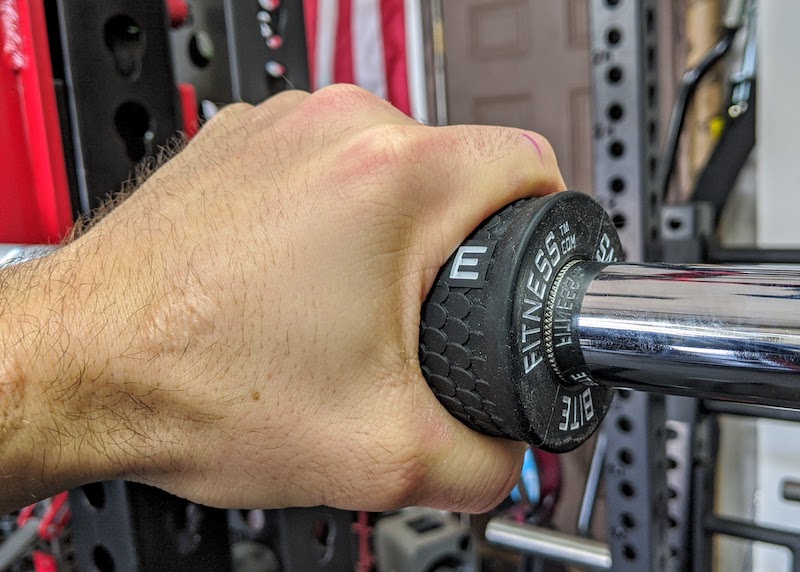 Regardless of your view on enlarged grips, in my experience, the pump (yes, this is pretty bro-sciency) I experience with enlarged grips versus standard dumbbells makes me want to continue using them. Snake Bit Grips are much like Fat Grips in that they increase the diameter of a barbell or dumbbell by almost 2x.
What We Like About Snake Bite Grips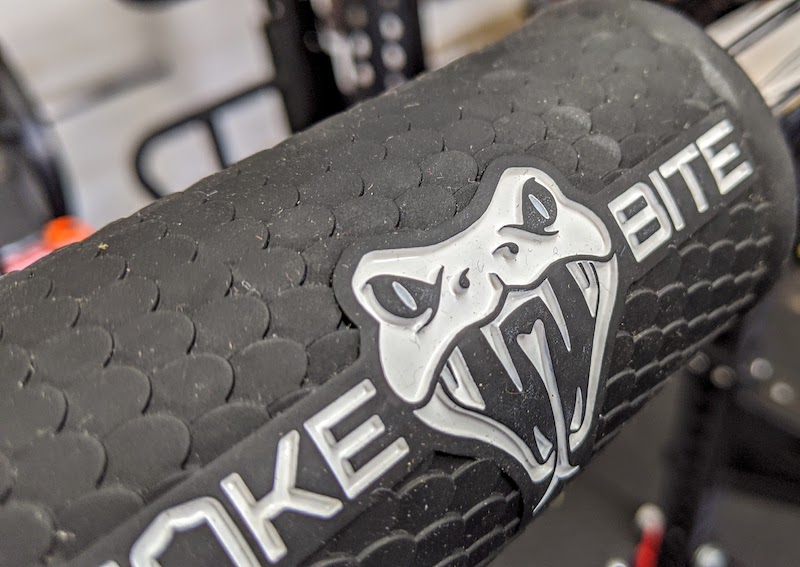 I've been using Fat Gripz for almost a decade. Before I had a garage gym I would throw my Fat Gripz in my gym bag and attach them to pull-up bars, lat pulldown handles, dumbbells, barbells, and anything I could find. Snake Bite Grips feature pretty much the same design (there's a lot of them that have come out since the popularity of Fat Gripz has increased) but improved them in some subtle ways.
Yes, Snake Bite Grips although very similar to Fat Gripz are very much an improved version.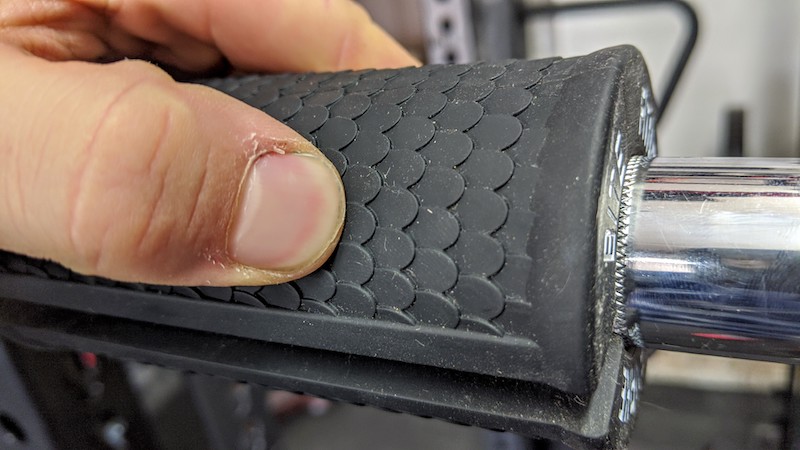 What I like about Snake Bite Grips compared to Fat Gripz is how grippy they are. Snake Bite Grips use a "snake scale" pattern that although seemed a bit gimmicky to me at first, actually feels great in hand. It's just enough of a difference that it's not annoying, but is vastly superior to a smooth flat surface. It's the same reason we engrave knurling on every barbell and dumbbell in the world. Friction increases the amount we can grip, and the "snake scale" pattern increases friction.
The "snake scale" pattern is actually not done in a mold as I expected, but instead, laser engraved. This makes the patter extremely precise and uniform throughout.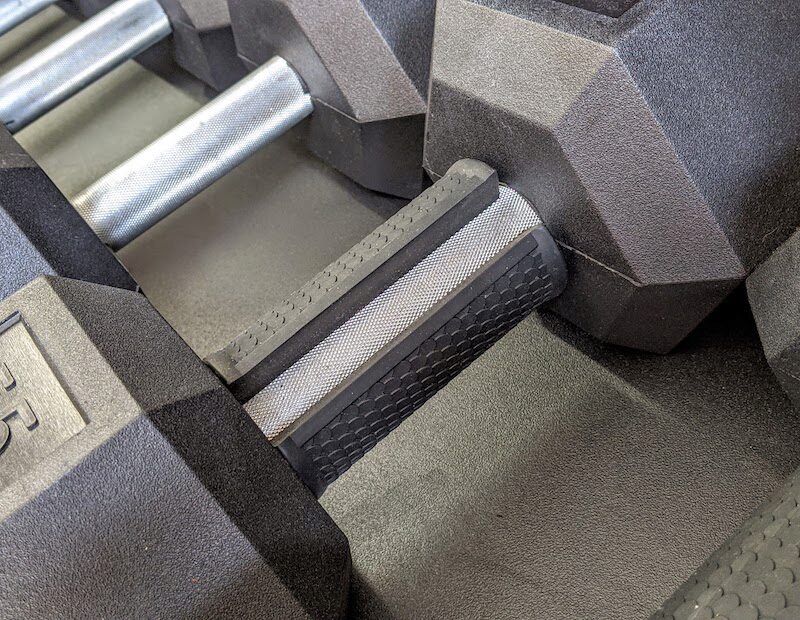 The other improvement over other fat bar grips that we've tested and reviewed is the material that's used. Snake Bite uses a heavy-duty silicone that compresses slightly more than many others we've used. I wouldn't say the grips are "squishy" but they do compress enough so you feel like you have a more secure grip.
Lastly, the fit and finish, laser-cut logo- and carrying bag that comes with the grips are all a nice touch. Honestly, the branding all around is well done.
What We Don't Like About Snake Bite Grips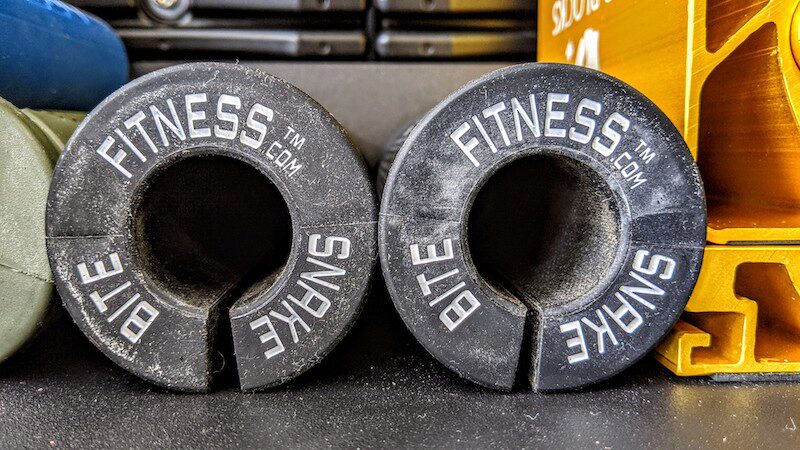 Despite the Snake Bite Grips being the fat bar grips I most often reach for among the many that pilfer my home gym, there are some things I don't like about them.
First off, there isn't anything revolutionary about the Snake Bite Grips. To be honest, outside of the snake skin knurling type pattern on the grips, they're pretty much the same as other bar grips. There's a slit and a hole to go over the bar. The hole size works well for barbells, but still leaves a pretty wide gap on dumbbells and pull-up bars like most fat grips. They're a similar width and diameter as other fat grips on the market, and although I like the silicone, it's not that much different from what other companies are using.
Regardless, the biggest detractor for Snake Bite Grips versus their competition is the price. At $39.99 on Amazon, They are almost 4x the cost of the cheapest versions (which are inferior, but not vastly different) and they're $10 more than the original Fat Gripz that have been around for years.
So, do I like and prefer Snake Bite Grips? Yes, they're the favorite that I've used. However, for the price, I don't know if they're worth the difference for most people.
Snake Bite Grips vs. Fat Gripz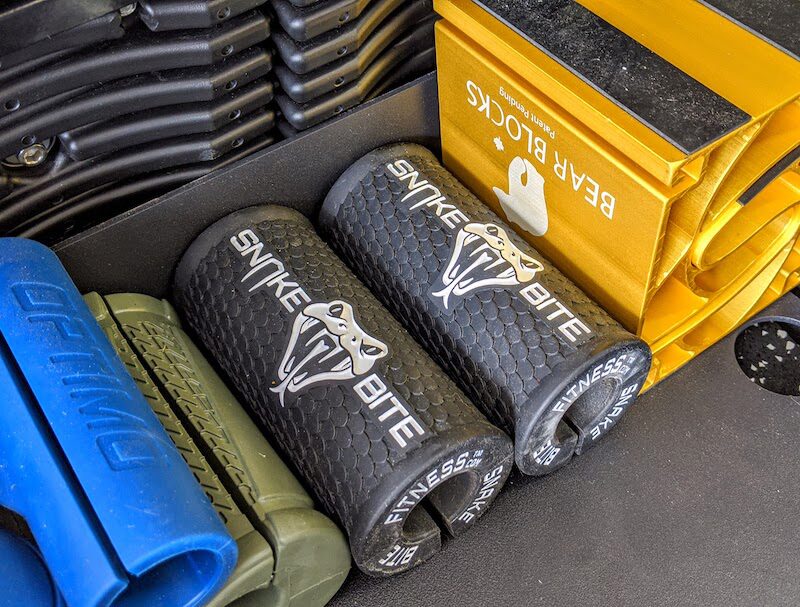 Fat Gripz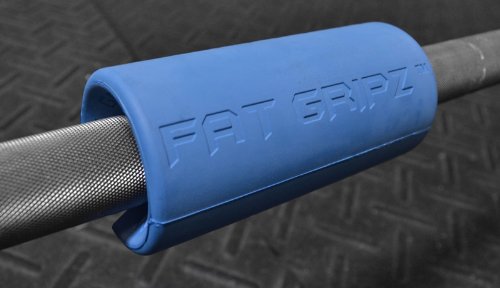 Fat Gripz
Made from a military-grade, high-density compound, Fat Gripz can instantly transform any standard barbell into an axle bar (thick bar). They also fit most dumbbells, pull-up bars, and cable attachments, – doubling the thickness for a greater test of arm and grip strength. Once attached, Fat Gripz hold to the bar firmly like a clamp, and won't compress – even you're deadlifting extreme loads. Thick bar training has become increasingly popular with athletes and military personnel around the world, and lightweight, portable Fat Gripz enable them to get the benefits of an axle bar wherever they are. From U.S. Special Forces to NFL teams, top MMA fighters, the Grace Barra, and your own local box, you can find dedicated users of the product. Specifications: Sold as a Pair Instantly turn standard barbells and pull-up bars into axle bars (thick bars) Thick bar training with Fat Gripz immediately targets your body's weak links – increasing muscle activation and giving you more strength and mass Fat Gripz fit virtually all barbells, dumbbells, chin-up bars and cable attachments in seconds – making the bar more than twice as thick Made from a military-grade high-density compound, grip bar firmly and won't compress under any stress Axle bars are part of so many WODs now that you can't afford not to master them Applications: Olympic lifts, farmers walk, pull-ups, anything you can grab will be improved with greater hand and arm strength Unlike an entire axle bar, Fat Gripz fit nicely in your gym bag for when you travel
Fat Gripz are the gold standard for fat bar grips not only because they're the original, but also because the design is so simple that they haven't been innovated much on since their creation.
If I was asked to give a recommendation on Snake Bite Grips versus Fat Gripz and I wasn't supposed to consider the price, I'd choose Snake Bite Grips. I think from a function standpoint they're superior and mostly due to the grippy silicone and pattern that's used.
Fat Gripz and Snake Bite Grips both make the bar about 2.25" in diameter. They both have a similar width. They both come in pairs and they both do what they're designed for.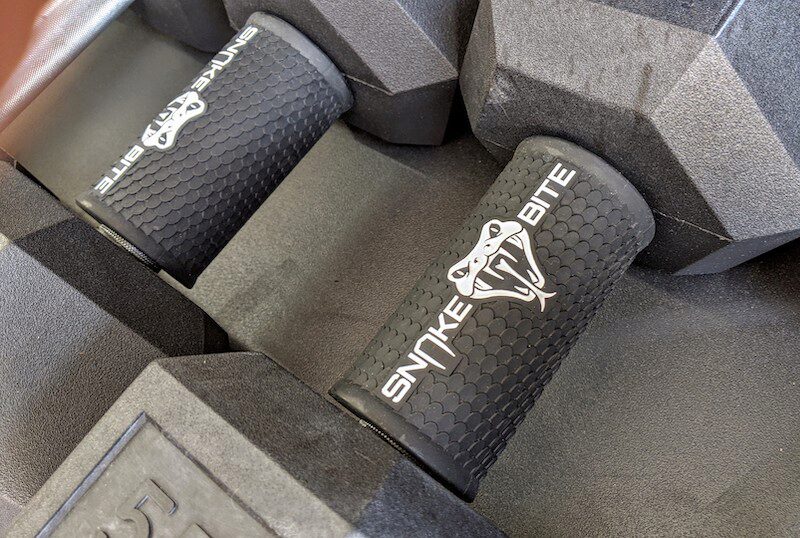 The difference is that Fat Gripz have a lighter knurling pattern on the outer material while Snake Bite Grips have a laser-engraved pattern.
Now, regarding a recommendation for Snake Bite Grips versus Fat Gripz for most people when price is considered; who would I choose? Probably Fat Gripz due to the lower price, extremely long durability, and overall value. That's not to say Snake Bite Grips are bad by any means. I really like them and use them more than Fat Gripz.
Full Rating