We test and review fitness products based on an independent, multi-point methodology. If you use our links to purchase something, we may earn a commission. Read our disclosures.
Editor's Note: The Octane Zero Runner ZR8 treadmill is no longer in production. We suggest viewing the NordicTrack FS14i as the best alternative, or view our Best Commercial Treadmill roundup for more options.
It's a bird! It's a plane! Uh, it's kind of a treadmill and elliptical! The Octane Fitness ZR8 Zero Runner is an interesting-looking piece of fitness equipment that you can use for your cardio needs. It's a zero-impact running machine that's built to improve your performance. So, if you want to enhance your speed, efficiency, and power without wearing out your joints, this futuristic machine might be a good choice.
This next-level home gym machine with aircraft-grade aluminum legs is definitely out of this world. However, it might be just the cross-trainer machine you didn't know you needed. Even though this is now discontinued, you might still come across it somewhere. So keep reading this Octane Zero Runner ZR8 Treadmill Review to see if this elliptical machine/treadmill is the right thing for you.  
We Know Treadmills, Ellipticals, and Zero Runners, Too 
Even though the Zero Runner is unique and in its own category, we know enough about treadmills and ellipticals to let you know if this now-discontinued product is really worth it.
For instance, the ZR8 is zero-impact and is good on the knees, but we've also taken the time to evaluate the best treadmill for bad knees. In addition, we've tried out so many ellipticals that we can tell you which ones are the best for home gyms this year. 
Our team of experienced CrossFit Level 1 Trainers, certified personal trainers, and more are experts in this space. We've taken the time to diligently test several types of fitness equipment so that we can help you decide what's best for you.
Looking for an Alternative to the Octane Zero Runner ZR8 Treadmill?
If you can't get your hands on a Zero Runner, we're actually going to recommend the NordicTrack FS14i as a decent alternative. This is a machine that also functions as a 3-in-1 type of cardio machine, combining an elliptical, treadmill, and stair-stepper.
It has a 375-pound weight capacity, 26 levels of resistance, and feels really stable on top of it. It also has a 14-inch touchscreen on which to view iFIT programming, for anyone who enjoys following along to workouts.
The FS14i does have to be plugged in and is quite large, but it's cheaper than the Octane Zero Runner ZR8 at about $2,500.
Read more about the NordicTrack FS14i in our in-depth review.
Best Alternative to Octane Zero Runner ZR8 Treadmill
GGR Score: 3.93
Product Highlights
All-in-one hybrid trainer 

C

an be used as an elliptical, treadmill, or stair stepper

14" smart HD touchscreen

iFIT-compatible 

0" to 32" adjustable stride length
Pros & Cons
Pros
-Can be used as an elliptical, treadmill, or stair stepper
-Incline and decline capabilities
-26 resistance levels
-on-demand and live workout classes
-adjustable stride length
-14" HD touchscreen display
Cons
-Not very budget-friendly
-Fairly large if you have a small space
-heavy (almost 300 lbs)
Bottom Line
While the NordicTrack FreeStride Trainer FS14i might be on the more expensive side, its three-in-one functionality and technology makes it worth it.
A Quick Look at the Octane Zero Runner ZR8 Treadmill
Part treadmill, part elliptical, the Octane Zero Runner could be a great addition to your home fitness area. It's got a lot of features that serious runners and those concerned about their joints might benefit from. Consider some of the pros and cons below.
Pros:
Lightweight pedals for better endurance
Compact
Zero impact
Three-in-one cardio trainer
Bluetooth connectivity
35 workout programs
Quiet
Octane Zero Runner ZR8 Treadmill Specs
| | |
| --- | --- |
| Footprint | 63" L x 38″ W x 48" H |
| Weight | 191 lbs |
| Weight capacity | 300 lbs |
| Belt size | N/A |
| Motor | N/A |
| Incline options | N/A |
| Speed range | N/A |
| Display | LCD Display |
| Foldable | No |
| Extras | Bluetooth connectivity, Wireless heart rate monitor, Tablet Rack, Gait analyzer, SmartLink app, water bottle holder |
| Preset programs | 4 |
Key Features of the Octane Zero Runner ZR8 Treadmill
Right off the bat, the Zero Runner ZR8's key feature is its unique cross-trainer design. It's basically an elliptical trainer and treadmill rolled into one. With this machine in your home gym, you'll really be able to take your workouts to the next level.
Another feature is that trainees can get up to a 58-inch stride on the Zero Runner, helping them improve their stride length as well as build up their stamina and speed. The step-up height is also low, so you don't have to struggle to get on and off of the machine.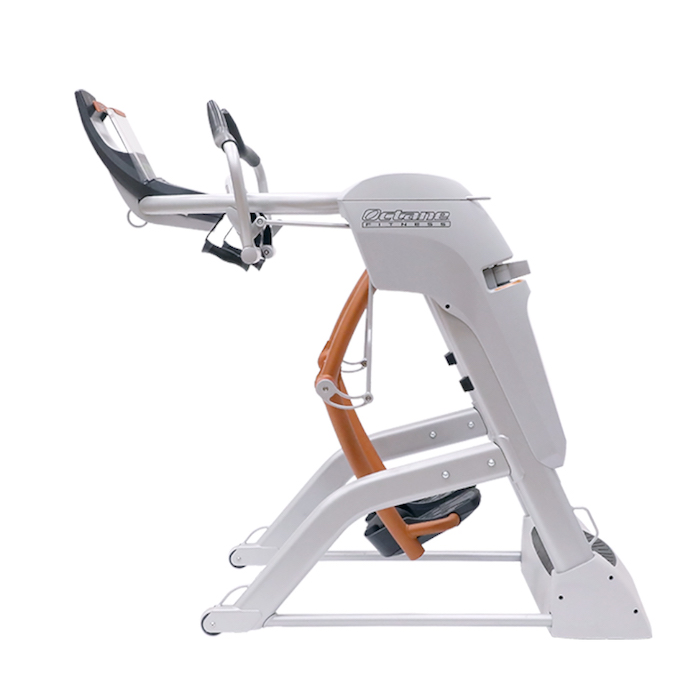 Another great feature worth mentioning is the performance grips on the Octane Zero Runner ZR8. It might seem simple, but the grips combined with the contoured moving handles allow you to zero in on core stability. But, again, this isn't something you would find on a regular treadmill.
Lastly, the warranty is brag-worthy. There is lifetime coverage on the frame, five years of coverage on the parts, and one year for labor from the manufacturer.
Footprint, Portability, and Durability
The dimensions of the Zero Runner are 63 inches long by 38 inches wide by 48 inches high, which is smaller than most home treadmills. Many people are surprised by that. I guess when they learn that it has aircraft-grade aluminum legs, they assume it's massive, but it's really not.
The ZR8 is very portable thanks to its transport wheels, and it's also cordless, giving you more options in your home for placement. Unfortunately, it does not fold, which could be a deal breaker for someone who prefers to fold and stow their machine under a desk. Although that's not possible here, please note that this machine can be placed in low-ceiling rooms, so it will not take up too much space.
One thing we don't have to question is the Zero Runner's durability. It's heavy-duty and well-built with quality parts. In addition, the warranty offered by the manufacturer shows that they stand behind their product and expect it to work for years to come.
Ergonomics
Ergonomically, the Octane Fitness ZR8 Zero Runner is a winner, and here are a few reasons why I say that. For one, the narrow, 1.4-inch pedal spacing is just right and is ideal for your hips. Nothing is worse than being a machine that makes your hips uncomfortable.
Secondly, there's zero impact, so you can run without negatively affecting your joints. I know that seems impossible, but because it suspends your whole body, you can perform running motions without injuring yourself. When you remove the strain on the joints, you can perform longer without feeling as tired. Therefore, the ZR8 truly allows you to burn calories and lose weight more efficiently.
Then the third reason this machine wins in the ergonomics department is its lightweight pedals. This feature boosts your endurance and ultimately makes you a better athlete. Please note that a similar version of the machine, known as the Zero Runner ZR7, has slightly heavier pedals. You'll want to keep that in mind if you're looking for one of these.
Overall, this running machine/elliptical trainer is comfortable to use and makes you feel light when you work out. In addition, you'll be able to target practically all of your muscle groups without the joint pain, thanks to it being low-impact.
Technology Benefits and Conveniences
The technology on this cross trainer is top-tier, but that's to be expected given its expensive price tag.
The Zero Runner ZR8 is Bluetooth-compatible, which comes in handy if you utilize the SmartLink app. SmartLink includes a massive library of hundreds of cross-training exercises, which I find very helpful, especially if you have no idea what to do with this machine. 
The SmartLink program also includes workouts you can do off the machine, such as resistance band training. Octane provides two resistance bands when you purchase this cross-trainer, and you'll also find seven resistance band attachment points on this machine.
Another tech feature you'll find here is stride tracing. This lets you know what your stride length and heel kick are—measurements that let you know if your form is correct. It's neat to have a gait analyzer on your machine that informs you if you're beginning to slouch or slump. The alerts remind you to correct your form to prevent injury, allowing you to get the most out of your workout.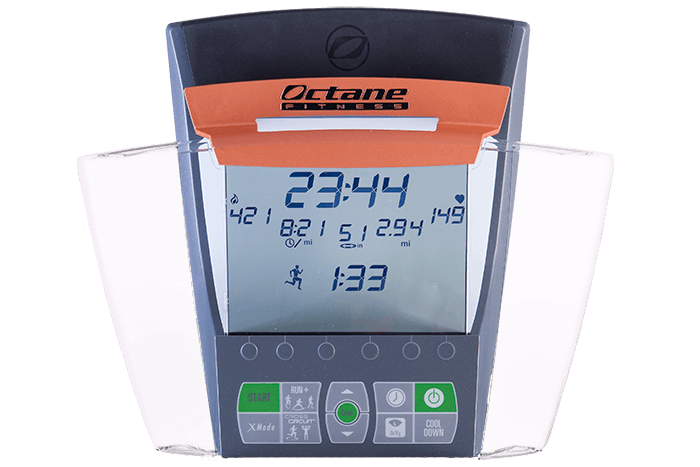 Other neat tech features and conveniences you'll find here include:
Wireless heart rate monitoring (Polar, ANT+, and Bluetooth 4.0)
Heart rate chest strap
A console that displays your running stats
Water bottle holder
Two tablet holders
Final Verdict of Our Octane Zero Runner ZR8 Treadmill Review
According to Octane's marketing, the Zero Runner ZR8 is better than a treadmill, and we must say, it is pretty darn good. Treadmills are great, but even with superb deck cushioning, the impact on your joints can become troublesome over time. But because this machine is zero-impact, you don't have to worry about that.
Plus, you're not just able to mimic the running motions you'd do on a treadmill; you can also use it as an elliptical or stair climber. Therefore, the price makes sense when you think about it like that. You're getting three pieces of fitness equipment for just under $4,000.
So is the Octane Zero Runner ZR8 worth it? We'd say so. Whether you're walking, jogging, or running, this would be a great asset to add to your home gym.
Octane Zero Runner ZR8 Treadmill Rating
Octane Zero Runner ZR8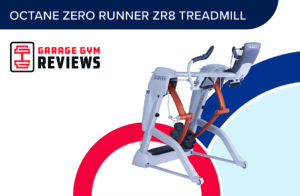 If you're interested in an alternative to the Octane Zero Runner ZR8 Treadmill, check out the NordicTrack FS14i.
Product Currency: $
Product Price: 3,000
Product In-Stock: InStock
Octane Zero Runner ZR8 Treadmill FAQs
Are Zero Runners Better Than Treadmills?
In some ways, Zero Runners do stand out more than treadmills. They're zero impact, allow you to cross-train, and are not as large as some treadmills. I wouldn't want to say outright they're better than treadmills, but they certainly bring value to the fitness market.
How Do You Use the Octane Zero Runner?
Honestly, I asked myself this same question when I first set eyes on a Zero Runner. It appears futuristic and complicated, but it's easy to use. First, you step onto the machine to get started, ensuring that both feet are entirely forward in the pedals. Then, place your hands on the stationary handlebar and begin taking steps. It's pretty similar to how you'd use an elliptical trainer.
Is The Elliptical as Good as the Treadmill?
Ultimately, there are pros and cons to both machine, and which one is better depends on your fitness goals. I wouldn't say one is better than the other. They both serve different purposes and are beneficial when utilized. There's nothing wrong with incorporating both into your workout routine.