We test and review fitness products based on an independent, multi-point methodology. If you use our links to purchase something, we may earn a commission. Read our disclosures.
Noom is a popular weight loss app that uses cognitive behavioral therapy principles to help people establish healthy eating patterns, cultivate a healthy lifestyle, and lose weight. This health app prides itself on being more than a food-tracking app and encouraging long-term, successful weight loss.
Noom has become quite popular over the last several years, so we decided to dig into the details and find out what the experience is really like. Two members of our team tried the app. For one, it didn't work out; for the other, things are going well. I also signed up for the service just to see how Noom builds its plans.
Our Noom review is a detailed account of these three separate experiences (two of which are from certified personal trainers), and we hope it helps you decide if a Noom weight loss program is right for you. 
For this review, we also interviewed registered dietitian Destini Moody. Moody shares with us some concerns about the Noom app and approach, specifically with regard to the color-coding of food groups.
RELATED: Best Weight Loss Programs
Tested By Real People, Analyzed By Nutrition Professionals
Two people on the GGR team have used Noom, with one person still actively using it at the time of writing. In addition to performing hands-on testing, our team of credentialed nutrition experts researches weight loss programs with keen eyes, looking for factors that make a program a good one.
Noom App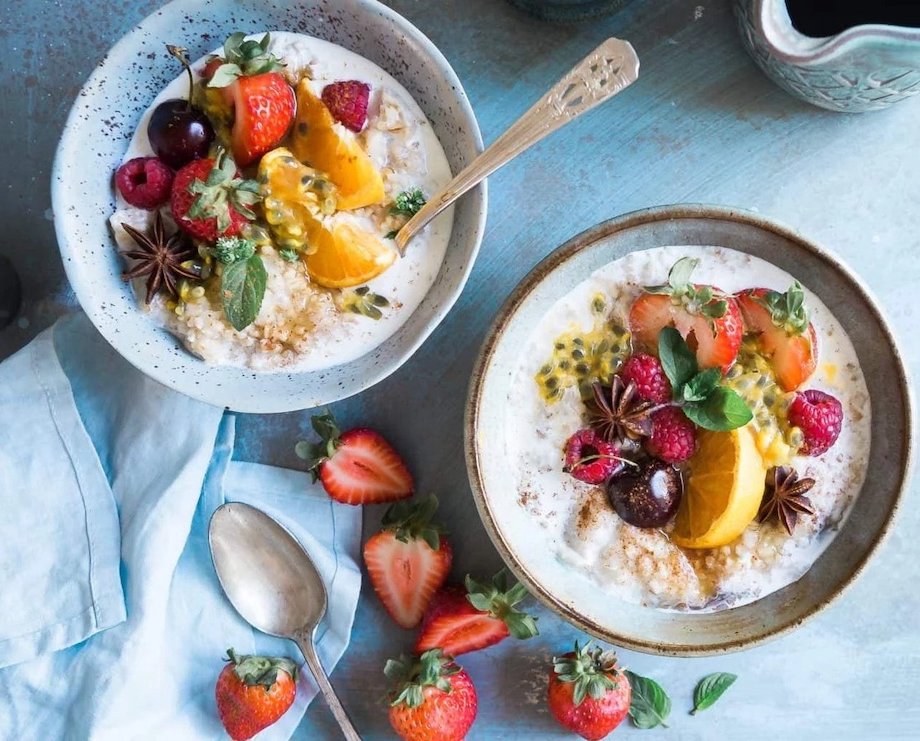 GGR Score: 3.67
Product Highlights
Uses a psychology-backed approach to weight loss

Provides behavioral guidance more than nutritional guidance

App supports food, weight, and activity tracking

Multiple membership options available

A stress-relief plan is also available
Pros & Cons
Pros
Gives you freedom to make your own choices
Helps you identify patterns and behaviors that may be connected to your weight
Flexible payment options
1:1 coaching plans are available for purchase
Cons
Doesn't offer much nutritional guidance
May not be the best option for those who need a more structured plan
Expensive on the month-to-month plan
Bottom Line
Noom is built on the psychology of weight loss. Instead of specific nutritional guidance, you'll get lessons that are designed to help you break habits that may be contributing to your weight gain.
A Quick Look at the Noom App
Noom has been around since 2008, but it wasn't until a few years ago that it started becoming very popular. It's available on iOS and Android devices.
Noom's approach to weight loss is different from most other app-based programs. This app focuses on the psychological elements of weight loss and helps subscribers make healthy choices by color-coding foods into different groups (orange, yellow, and green).
The app takes you through a detailed questionnaire and creates a weight loss timeline for you based on your answers.
Before You Subscribe
We don't recommend weight loss programs for individuals with a history of eating disorders. If you struggle with disordered eating habits, consider reaching out to the National Eating Disorders Association (NEDA) helpline.
Noom's psychology-driven approach won't be right for everyone. It's a good idea for people looking to establish healthy habits, but the platform can be potentially confusing for those who are just looking to be told what to eat.
While Noom markets its psychological approach, the emphasis is still heavily laid on weight loss rather than full-picture wellness.
Registered dietitian Destini Moody says that Noom's color-coding approach can be problematic.
RELATED: Best Meal Delivery for Weight Loss
Is Noom Worth It?
Noom plans start at a price of about $17 per month, billed annually as $209. This is the best value if you think you'll stick with Noom for at least a year; the monthly price increases as the time commitment decreases. To subscribe for just one month, you'll pay $70.
This is pricier than a lot of weight loss apps and programs out there, but it could be a worthwhile investment for the right person.
Great for:
People who are trying to establish new healthy habits
Individuals who appreciate a psychology-first approach
Those looking for virtual coaching support
Not recommended for:
Individuals with a history of eating disorders or disordered eating
Those who don't want to do frequent weigh-ins
People looking for a specific meal plan rather than general guidance
Noom Specs
| | |
| --- | --- |
| Pricing | Varies based on plan length; starts at $17 |
| Trial period | 7 days |
| Subscription options | Term length of subscription is based on your weight loss plan; monthly to annual options |
| Diet types supported | Any and all diet types |
| Access to Professionals | Yes, health coaches available |
| Custom meal plans | Yes (charged separately) |
| Available on | iOS and Android |
Getting Started With Noom
To understand how exactly Noom works, I went through the entire sign-up process, even though I don't have a weight loss goal at this time.
To become a Noom user, you first have to take a rather long quiz. It asks you about your current eating habits, dietary restrictions, and food choices; you'll also answer a lot of demographic questions regarding your current weight, age, relationship status, health conditions, pregnancy and lactation, and more.
And, because Noom diet plans also focus heavily on behavioral changes, you will also answer questions about your mindset around food logging, establishing healthy habits, self-esteem, and so forth.
RELATED: High-Protein Foods List for Weight Loss—60+ Options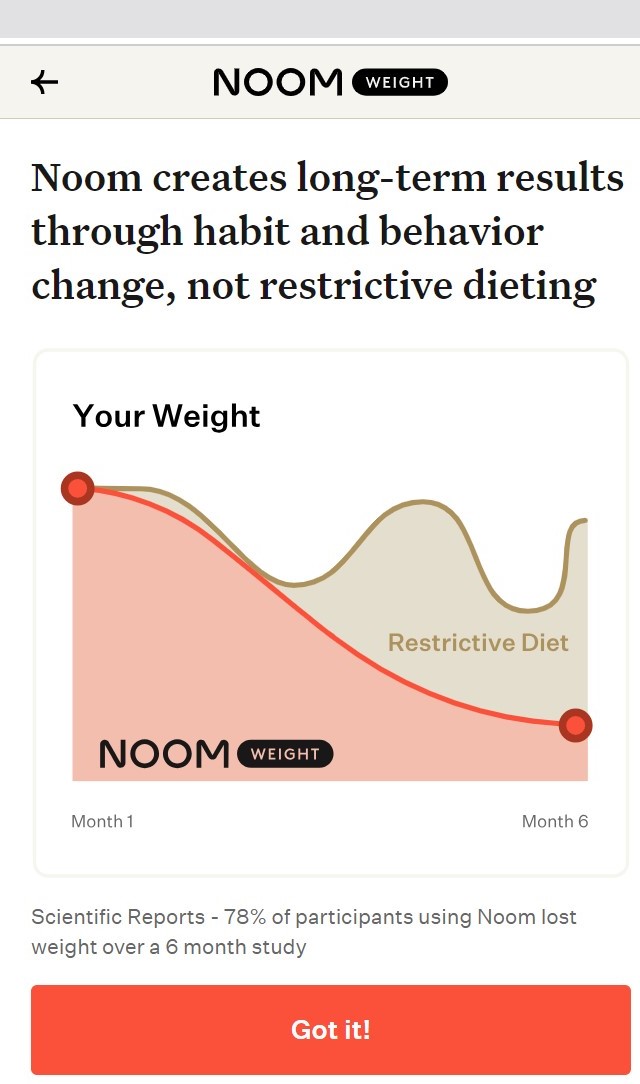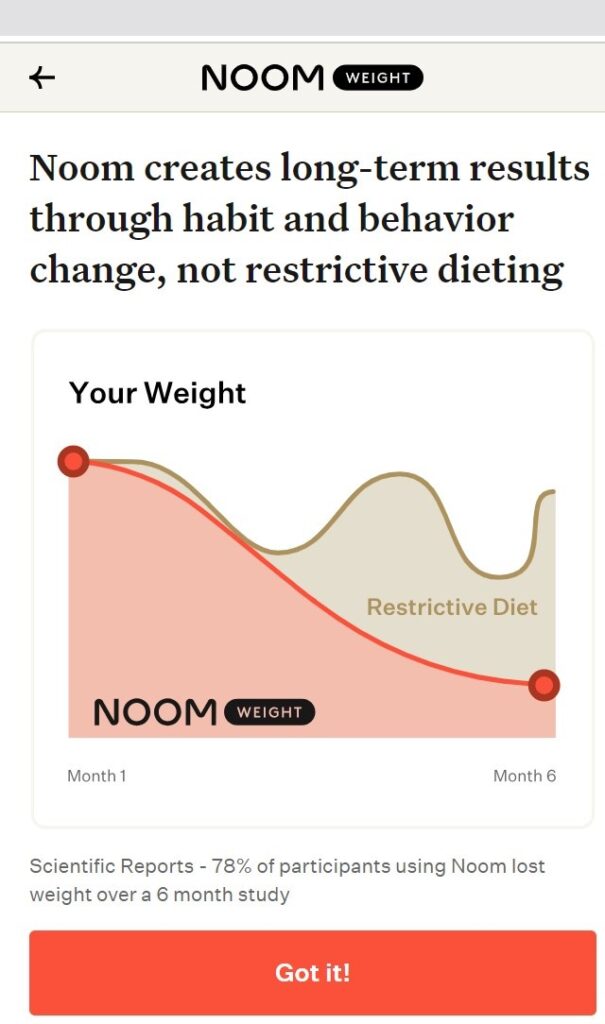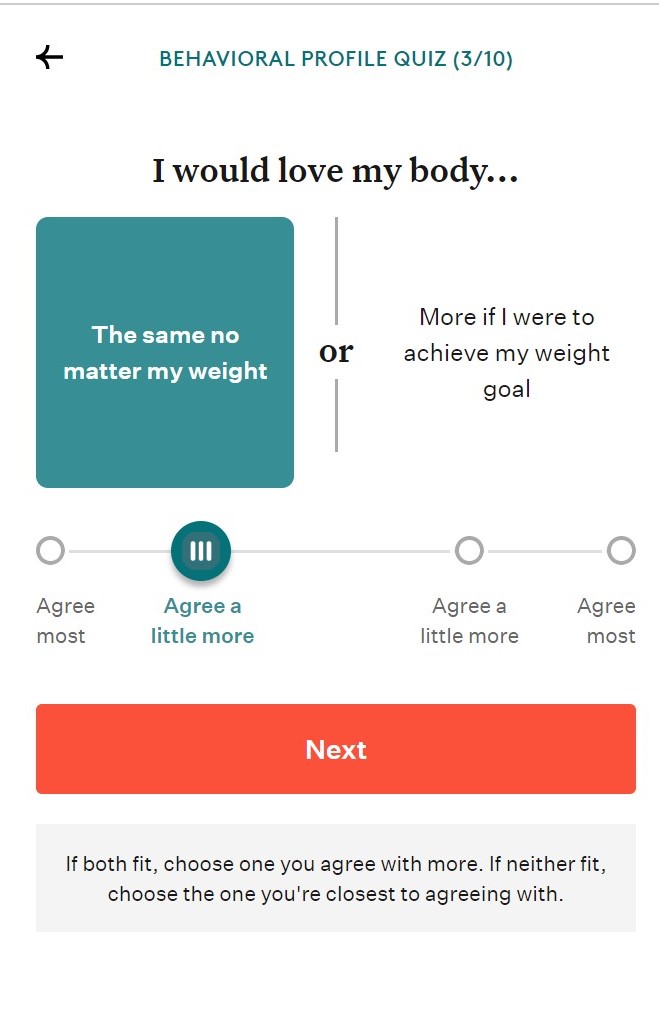 Disordered Eating Awareness
One thing I really appreciated about the quiz was that it inquires about potential disordered eating habits. For example, it asks if you'd love your body more if you were to achieve your goal weight or the same no matter what. I assume the algorithm takes these things into consideration when building your plan and selecting, for example, the daily lessons that are available in the app.
Weight Loss Mapping
I told Noom that I wanted to lose 20 pounds and answered all of the questions as I would have had that really been my goal.
The more questions I answered, the more quickly Noom predicted I could reach my goal. By the third time, Noom was telling me that I could lose 20 pounds in less than 4 months, and to be honest, it started to feel really overwhelming and I already doubted that I could do it.
Lo and behold, a few questions later, the quiz asked how confident I felt in the plan. I told the program that I felt "uncertain, but willing to try," and the next prompt asked why I felt that way. I selected "plan seems not realistic," halfway expecting the algorithm to adjust the plan and give me more time. It didn't.
At the end of the quiz, Noom starts to build your plan. I was shocked to see my timeline decrease even further! Now, instead of predicting I could lose 20 pounds in a little less than 4 months, Noom was encouraging me to lose 20 pounds in exactly three months. That's a weekly weight loss rate of a little more than 1.5 pounds per week.
While that rate still falls neatly into the healthy range of 0.5 to 2 pounds of weight loss per week, it felt too fast for me, and I didn't appreciate that Noom did not take into account my clearly stated hesitancy.
RELATED: Gifts for Weight Loss
Plan Enhancements
The questionnaire will also ask you what other health-related things you're interested in besides losing weight, such as healthy aging, stress management, improving sleep, or having more energy.
I selected stress management and energy levels, and then Noom recommended adding an "enhancement" to my plan to assist with this. You can't see how much additional cash the "enhancements" cost during the quiz, but Noom does say you can remove them later if you decide you don't want them.
At checkout, the mental health enhancement pack was fully discounted from its list price of $50—if I signed up for the week-long trial in 15 minutes. After that, the offer expired.
RELATED: 11 Best Protein Bars for Weight Loss
Behavioral Profile
Part of Noom's psychology-based approach is providing users with a behavioral profile. According to your quiz answers, it'll tell you how it's going to approach your plan.
Experience Using Noom
I haven't used Noom for an extended period of time to reach any specific goals—I just went through the setup process and questionnaire to understand what it was like—so I'm pivoting here to tell you our product tester's experience.
Sarah Price, HR director at Pillar4 Media (GGR's parent company), has been using Noom for several months to reach her health and fitness goals.
The App Experience
Sarah says the app is very user-friendly and isn't overwhelming like some other diet and nutrition apps.
"I love the Noom app," she says. "It is super easy to use and offers the right amount of information. There is a home screen for the day, where you log your meals, enter your weight, and read the daily readings. It's bite-sized and just enough for one day."
The Calorie Density Approach
Noom uses a color-coded approach to food groups according to caloric density and nutritional density. There are orange foods, yellow foods, and green foods. Previously, Noom used a red foods group, but it seems that they've changed it to orange (I assume that's due to the negative psychology of associated foods with the color red).
The more calorie-dense foods with lower nutritional value typically fall into the orange group; low-calorie, highly nutritious foods fall into the green group.
There are technically no off-limits foods, but this system isn't perfect. Noom categories some nutrient-rich foods as orange foods, including red meats (high in iron, vitamin B12, and creatine) and nuts such as almonds and walnuts. Juices, even natural ones, also typically fall into the orange group.
Even lean meats, like chicken and turkey, are classified as yellow foods, which may give some individuals a negative perception of certain foods. The green foods include mainly whole grains, veggies, fruits, dairy, and unsweetened beverages like coffee.
RELATED: Is Protein Powder Good for Weight Loss?
A Word on Color-Coding Food Groups
We asked registered dietitian Destini Moody about her thoughts on Noom's calorie density approach explained above. This approach has been the subject of much contention and controversy in the wellness industry, and I have to say, Destini's professional opinion doesn't surprise me.
"Dietitians don't hold the philosophy that foods are 'good' or 'bad' and Noom's color coding does exactly that," Destini says. "The type of people likely to download Noom are likely Type A people looking for structure, and this color coding structure makes it easy for people to choose exclusively whatever foods they've ambiguously labeled as 'green.'"
"A healthful diet has room to include ALL foods and having a diet program structured around the contrary can promote an unhealthy relationship with food and avoidance of foods we get joy from," she continues. "It seems foods are categorized mainly from their calorie content, but there are some high calorie foods like avocados, nuts, seeds, and lean red meats that are perfectly healthy. In fact, minimizing meat consumption without any clear justification can cause nutrient deficiencies, especially iron and B12."
Lastly, Destini says if there's not a good amount education around why foods are labeled green, yellow, or orange, the approach may backfire. "That's a big downfall of a diet program because how is a person supposed to learn how to eat healthy when they stop using the app to categorize their foods?" Destini wonders. "What happens when they go to a restaurant and the dish they want has a mixture of green, orange and yellow foods considering people rarely eat individual food items in isolation? Sounds confusing to me."
That said, if Noom does indeed implement some behavioral modification to help give people lasting knowledge to maintain their weight and healthy eating habits long after they've stopped paying for the app, then it has some credibility, Destini points out.
And, it's not all bad: One of our product testers, Sarah Price, GGR director of human resources, actually found that the color-coding approach was a positive experience for her.
Our tester, Sarah, wanted to track macronutrients with Noom, but the service doesn't offer that function. It only tracks calories, weight loss, and the food colors (orange, yellow, and green). Sarah said this ended up being more helpful for her than she'd originally thought.
"I started to learn what 'color' the foods were that I was eating and how many calories a day those foods take up," she says. "It has changed my habits to eating more green food than orange or red. I can also make sure I am eating enough protein, which was my issue originally."
Calorie Counting and Food Tracking
Logging food, luckily, is easy. You search for foods manually, scan a barcode, or create a food if it's not already in the app.
"Most of the time, my food is already in the app," Sarah says. This was really helpful. I scan everything I can and it automatically comes up, and then is saved in my 'favorites' or at the top of the food choices if I eat that food regularly."
In months of using the app, Sarah says there's only been one instance where her food was not already in the app. "Then, it asks for your help in building the database, so you create the food. You enter the carbs, proteins, sugars, and calories, and your food is added for the future," she says.
Each day, your daily calorie budget resets in the app and, as you track your food, you'll see how your eating choices stack up against your calorie goal. I'm not a big fan of the term "calorie budget" because of its restrictive implications. This bothered our other product tester, too, who has a history of disordered eating.
RELATED: Tracking Macronutrients for Weight Loss
Progress and Stat Tracking
Noom plans encourage daily weigh-ins to guarantee success, but this may not be the right approach for everyone. One of our team members who tried Noom ended up quitting the app largely for this reason—the weigh-ins were too triggering and caused negative thought patterns.
Registered dietitian Destini Moody says this frequent weigh-in process is one of her biggest qualms with the Noom app.
"The body does not burn or gain fat at a fast enough rate from day to day to make daily weighing worth it, because you could not possibly be getting an accurate representation of what your current body weight is.," she explains. "Any weight change on a day-to-day basis is likely water weight and, if you were particularly hydrated one day, you could end up being discouraged and reducing food intake when you didn't need to."
Destini recommends weekly and bi-weekly weigh-ins instead for more positive mental health and continued motivation.
In addition to your body weight, you can track blood glucose, blood pressure, exercise, steps, and water intake.
Personal Coaching
When you sign up for Noom, you have access to a personal accountability coach who texts back and forth with you in the app, Sarah says.
"You can ask them any question and they get back to you within hours," she says. "Noom is all about behaviors, and I feel like there is a psychologist in this app helping me."
Because of this aspect, Sarah says Noom feels very different from other apps she's tried. "Noom cares about your goals and weight loss, but more about why you eat what you do, and it helps you with other choices," she explains.
Note, however, that Noom coaches are generally certified health coaches, not registered dietitian nutritionists or doctors, so Noom is not a replacement for healthcare.
Community
Noom has a pretty robust virtual support group going on. "You can share your results of basically everything with other friends in the app, or not," Sarah says.
Additionally, "it captures and screenshots of whatever you want to share, and you can send in a text," she explains. "I could save all my meal information and send it to my doctor if they wanted to see my tracker."
Pricing and Subscription Options
One unique thing about this app is that your membership term and the price of your weight loss program depend on how much weight you want to lose and how quickly Noom thinks you can do it.
For instance, when I finished the questionnaire, I was presented with a 3-month Noom program and my only option was to pay for that up front. If there's a month-to-month subscription option, I wasn't provided with that.
Sarah Price, HR director at Pillar4 Media (GGR's parent company) and our product tester for Noom, had a similar experience.
"Noom charges you for the time that you commit to losing weight," she says. "Depending on how much you want to lose, Noom calculates how committed you are with a number of other factors; it determined that it would take me seven months to reach my goal."
Interestingly, Sarah says she was charged $105 for the seven months—my three-month plan would've cost $159, so she may have gotten lucky with a promotional period.
When your membership term is up, you can continue with Noom for another duration of your choosing according to this standard pricing schedule:
Monthly auto-renewing plan $70 USD
2 month auto-renewing plan $129 USD
3 month auto-renewing plan $159 USD
4 month auto-renewing plan $169 USD
5 month auto-renewing plan $174 USD
6 month auto-renewing plan $179 USD
7 month auto-renewing plan $184 USD
8 month auto-renewing plan $189 USD
9 month auto-renewing plan $195 USD
10 month auto-renewing plan $199 USD
11 month auto-renewing plan $205 USD
Annual auto-renewing plan $209 USD
Trial Period
You can try Noom for one week if you aren't sure about it. It's not free, but it can cost as little as $0.50. I actually love the way Noom set this up. You can choose to pay as much as you want for the trial, from $0.50 to about $19.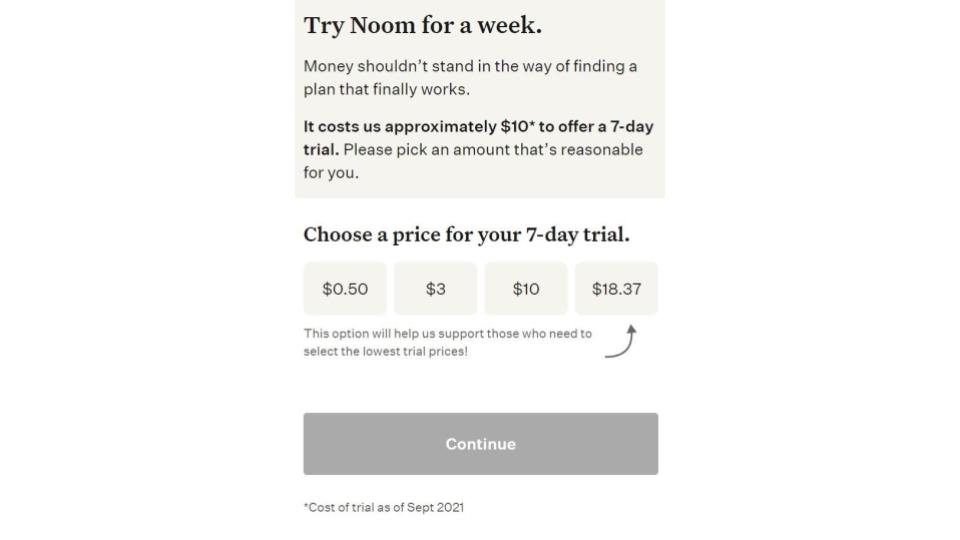 Noom tells you that it costs them about $10 to provide a free trial, and they encourage you to pay more if you can so that people who truly need to pay the lowest amount can.
I'm not sure how that plays out in real life, but the thought is nice. It's refreshing to see a big company thinking about equitable access to health and wellness services.
Noom vs WeightWatchers
WeightWatchers
GGR Score: 4.25
Community Score: 5
Product Highlights
Designed specifically for weight loss

Targeted quizzes to find the right plan for you

Two membership options, starting at $23 per month

Online-only or hybrid memberships available

Works on a point budget system—no "off-limit" foods

24/7 support chat
Pros & Cons
Pros
Point system allows you to tailor the plans to your preferences
Online or hybrid options provide more flexibility
Can choose a plan that works within your budget
Includes an app for easier tracking
Cons
Assigning Points to food is hard to translate to real-world eating when off the plan
Tracking can be tedious
Requires weekly weigh-ins, which can be problematic for some
Bottom Line
WeightWatchers is a flexible weight loss program that allows you to tailor your diet and lifestyle to your needs and preferences. There are two membership options: one for those who prefer in-person support, and one for those who are looking for an online program.
WeightWatchers is another weight loss program that is just as, if not more, popular than Noom. Kate Meier, GGR Head of Content, tried WeightWatchers and, for the most part, had a positive experience.
In her WeightWatchers review, Kate states that it "is one of the best diet programs out there in terms of its food-first approach to weight loss. It is reasonably priced and may provide a good framework for people looking to change their habits."
Like Noom, there are some components of WeightWatchers that may make it unideal for individuals with a history of disordered eating—namely, daily food tracking.
Additionally, Kate wishes there were better capabilities regarding macronutrient tracking instead of just calorie tracking (just like Sarah mentioned about Noom).
Noom costs a bit more than WW, so WW could be the better option for people on a budget. At the end of the day, either program can help you lose weight if you remain committed to following your plan and checking in with yourself and the app daily.
| | | |
| --- | --- | --- |
| | Noom | WeightWatchers |
| Membership options | Monthly to annual | Monthly or annual |
| Pricing | Starts at $17/month | Starts at $10/month |
| Coaching | Yes | Yes |
| Approach | Rooted in psychology | Food-first approach |
| Weigh-ins | Encouraged daily | As often as you want |
Customer Experience
There are many complaints about Noom's auto-renewal and cancellation policies. It seems easy enough to cancel, according to Noom's cancellation guide. Depending on where you signed up (on the website or via Google Play or the App Store), take the simple steps to cancel.
However, a high volume of online customer reviews indicates that Noom subscribers have a lot of trouble canceling and that they have been charged even after canceling. Several reviewers claim that their subscription auto-renewed without any sort of notice, too.
Noom states that refunds are available if you reach out to the support team within 14 days of signing up or purchasing a plan enhancement.
Customer Reviews
On TrustPilot, Noom has an average rating of 4.1 out of 5 stars from a total of 63,005 ratings. Not bad!
Subscribers who are happy with Noom call it "just brilliant" and "very informative and supportive."
The negative reviews indicate that some people have trouble navigating the app and don't find it user-friendly. A few reviews complain that there was no alert provided for the subscription auto-renewal and that they hadn't wanted to re-up.
Interestingly, Noom's average rating on the Better Business Bureau website is far lower at a shocking 1.27 out of 5 stars. Nearly every review on the BBB site is negative, with virtually all of them complaining about the pricing, auto-renewal, and being charged after canceling.
Almost none of the BBB reviews actually mention anything about the service—just the fees and cancellation.
I averaged the TrustPilot average rating and the BBB average rating to find Noom's customer service score for our purposes, which turned out to be 2.67 (4.1 plus 1.27 divided by 2).
Final Verdict of Our Noom Review
Our product testers have mixed feelings about Noom. One is really loving it; the other had to stop using the app due to it triggering disordered eating habits and negative self-image. I, as someone who has also struggled with those things, can certainly see how Noom may not be the right fit for individuals with a history of disordered eating.
However, for those who do not have such a history, Noom is likely to be an effective option for losing weight. At the end of the day, adherence matters most: The best weight loss program is one that helps you build healthy habits you can stick to over time. 
Noom Full Rating
Noom
Noom is a popular weight loss app that uses cognitive behavioral therapy principles to help people establish healthy eating patterns, cultivate a healthy lifestyle, and lose weight.
Product Currency: $
Product Price: 17
Product In-Stock: InStock
Noom FAQs
Does Noom really work?
One study on an earlier version of Noom (published in 2016) in the journal Scientific Reports found Noom to promote successful weight loss in 78% of users over a median period of 267 days. Importantly, this study was partially funded by Noom. This doesn't mean that the results are invalid, but there is a conflict of interest to be aware of. 
There's another study on Noom in progress right now, and in March 2024, the researchers will publish data from 2.5 years of studying participants using Noom.
How much does Noom cost? 
Noom plans start at about $17 per month. Here's what you can expect to pay based on your time commitment: 
– Monthly auto-renewing plan $70 USD
– 2-month auto-renewing plan $129 USD
– 3-month auto-renewing plan $159 USD
– 4-month auto-renewing plan $169 USD
– 5-month auto-renewing plan $174 USD
– 6-month auto-renewing plan $179 USD
– 7-month auto-renewing plan $184 USD
– 8-month auto-renewing plan $189 USD
– 9-month auto-renewing plan $195 USD
– 10-month auto-renewing plan $199 USD
– 11-month auto-renewing plan $205 USD
– Annual auto-renewing plan $209 USD
Does Noom have custom meal plans? 
Yes, Noom does offer customized meal plans within the app, but they cost extra. 
What is a downside of Noom?
One downside of Noom is that the app doesn't educate you as to why certain foods are put into certain groups, such as red meat being placed into the orange category (foods you want to limit).
References
Chin SO, Keum C, Woo J, et al. Successful weight reduction and maintenance by using a smartphone application in those with overweight and obesity. Sci Rep. 2016;6:34563. Published 2016 Nov 7. doi:10.1038/srep34563
Sysko R, Bibeau J, Boyar A, et al. A 2.5-Year Weight Management Program Using Noom Health: Protocol for a Randomized Controlled Trial. JMIR Res Protoc. 2022;11(8):e37541. Published 2022 Aug 12. doi:10.2196/37541