We test and review fitness products based on an independent, multi-point methodology. If you use our links to purchase something, we may earn a commission. Read our disclosures.
Having trouble improving in the gym and making muscle gains? Here are three simple steps to take:
Make sure you aren't neglecting high-protein foods.
Continue keepin' it real with progressive overload.
Consider supplementing with Ghost Size.
Yep, Ghost Size—AKA a "muscle builder" formulated by Ghost—could be the creatine supplement you didn't know you needed. And GGR is here to help you decide with our expert-guided and tested Ghost creatine review right ahead!
Medical disclaimer: This article is intended for educational and informational purposes only. It is not intended as a substitute for medical advice. For health advice, contact a licensed healthcare provider. GGR also recommends choosing a product that has been third-party tested for quality.
We're As Transparent As Ghosts
Just as Ghost provides full-disclosure labels and non-proprietary blends, the GGR team—stacked with nutrition and fitness experts—delivers honest and transparent reviews. This means we aren't too proud to point out frightful formulations so our readers can feel more confident choosing products to suit them best.
Ghost Size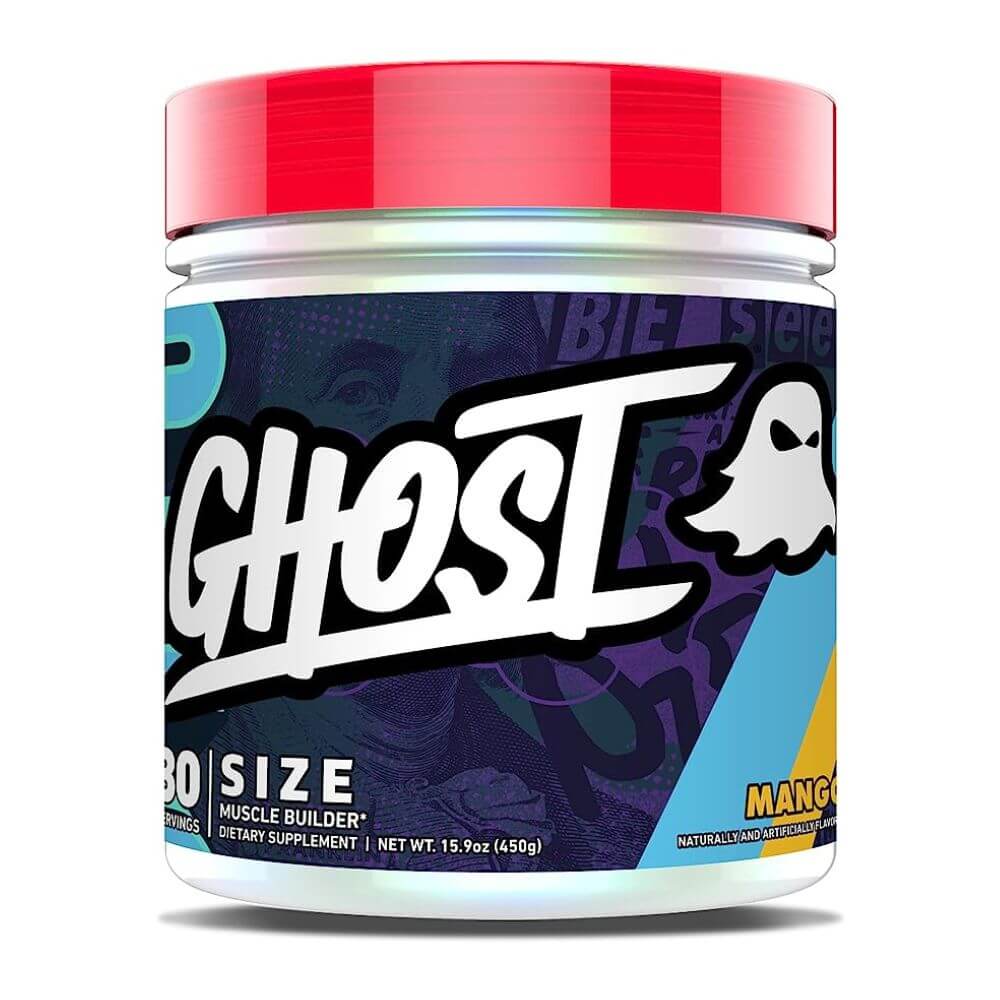 GGR Score: 4
Product Highlights
Muscle building supplement in powder form 

Contains creatine, beta-alanine, betaine, and epicatechin

Claimed to help increase muscle size 
Pros & Cons
Pros
4 available flavors including unflavored (Natty)
Vegan, soy-free, gluten-free, and sugar-free
Subscribe and save 25%
Uses Creapure creatine monohydrate (minimum 99.9% purity)
Transparent label
Cons
Only available in 30-serving container
Contains sucralose
Uses artificial flavors
Limited reviews
Bottom Line
Ghost Size Muscle Builder is a muscle building supplement that combines Creapure creatine monohydrate, beta-alanine, betaine, and epicatechin. Ghost claims this product helps you make gains. This product is available in four flavors, including an unflavored option. There are not many customer reviews for this product, but they are very positive.
A Quick Look at Ghost Size Creatine
Legend has it that this Ghost story began in 2016 as the first "lifestyle sports nutrition brand." And by lifestyle, we mean the Ghost lifestyle—Ghost formulates supplements, apparel, and merch for bodybuilders, gamers, and beyond.
Originating with Ghost Legend pre-workout (you should read our Ghost pre-workout review as well), Ghost now provides various products ranging from Ghost Gamer to Ghost Size. Recently reformulated as Ghost Size V2 to maximize muscle gains, let's see if it deserves a spot in your supplement stack.
Before You Buy
Ghost Size is a potent creatine supplement formulated with other ergogenic aids.
While not third-party-certified, Ghost Size contains clinically effective doses of research-backed ingredients.
Is Ghost Creatine Worth It?
Costing about $1.50 per serving on Ghost's website, Ghost Size is on the high end compared to some of the best creatine supplements. But don't let the higher price discourage you yet—Ghost is an inclusive product that can take the spot of other supplements you might already be taking, including beta-alanine and betaine.
Great for:
Bundling ergogenic supplements into one comprehensive creatine option 
Fitness-goers looking for a vegan-friendly and flavored creatine product that's free of added sugars, gluten, and soy
Not recommended for:
Those looking for a simple creatine monohydrate supplement
Consumers who prioritize third party-tested certifications
First-time, inexperienced supplement users
Ghost Creatine Specs
| | |
| --- | --- |
| Price per serving | $1.50 |
| Servings per container | 30 scoop servings |
| Flavor options | Lime, Mango, Natty (Unflavored), Warheads Sour Watermelon |
| Ingredients | Creapure creatine monohydrate, beta-alanine, betaprime, betaine, epicatechin, Senactiv, AstraGin |
| Third-party tested? | No |
Experience Using Ghost Creatine
Amazon consumers mostly describe Ghost Size as reasonably flavored with decent mixability. Others report subjective improvements in their recovery, especially when using consistently and cycling on and off ergogenic pre-workout supplements.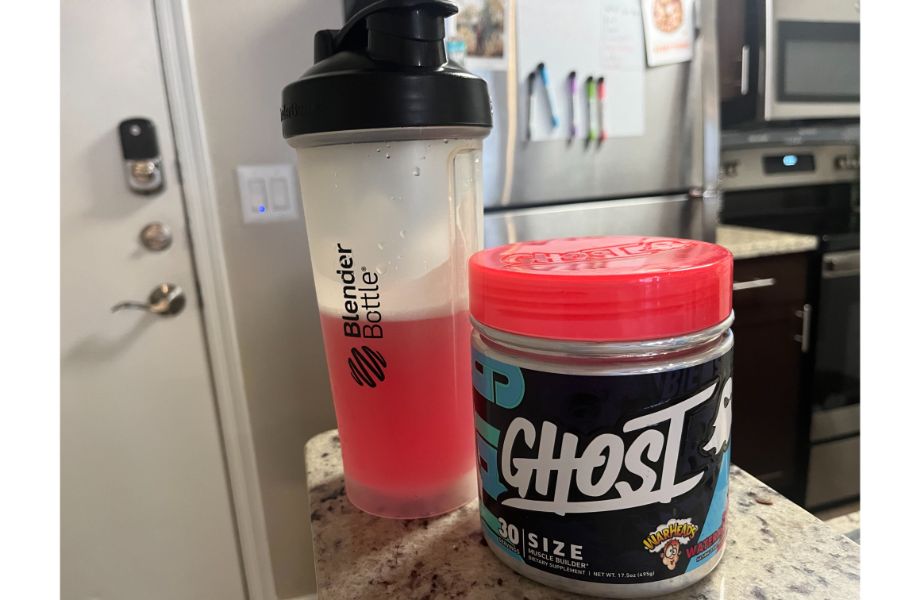 "I absolutely love this stuff," says GGR Performance Editor Anthony O'Reilly. "I normally stack it with a non-stim pre-workout, but I've also taken it on its own and man—this stuff packs a punch. The main benefit here is increased strength and pump. My workouts are more intense on the days I take this and my sleeves are a bit more tight fitting by the time I leave the weight room. The tingle-free beta-alanine is a nice touch, too."
RELATED: Best Stim-Free Pre-Workout
Also, and I quote, Anthony says, "Ghost should win a Nobel Peace prize for designing a scoop that stays at the top. They're consistent with that across all of their supplements, and I applaud them."
Price Per Serving
If you're curious about the cost of Ghost Size, here's what to expect across four different sites.
Ghost Website
Buying Ghost on the official Ghost website costs $1.50 per serving ($44.99 for 30 servings). You can also subscribe to save 25% off—amounting to $1.12 per serving ($33.74 per container)—and receive automatic deliveries on a 4, 6, and 8-week cadence.
The Ghost site tacks on a $7.99 shipping cost, regardless if you opt for a one-time purchase or subscribe-and-save. I completed the checkout to double-check the shipping cost and was pleasantly welcomed with a 20% off coupon in my inbox after ghosting my cart. #ProTip
Ghost also offers a loyalty program to help you build and spend points over time. The more you shop and interact with Ghost, like referring your fellow friends and hitting the gym, the sooner you'll climb their status tiers to get "dope perks."
Other Seller Sites
Most Ghost products, including Ghost Size, are also sold online and in some brick and mortars.
Amazon: Like Ghost's website, purchasing Size from Amazon costs $44.99 for $1.50 per serving. Amazon Primers also get free and fast shipping, often within two days and sometimes delivered on the same day you place the order—this mainly varies on the flavor you choose.
GNC: Ghost Size at GNC—whether online or at its brick-and-mortar locations—costs $1.50 per serving ($44.99 per container). You can also subscribe and save for 10% off ($1.33 per serving) and free shipping.
Vitamin Shoppe: Vitamin Shoppe's the least expensive seller without subscribing and saving, costing $1.33 per serving. While researching the cost, Vitamin Shoppe was offering a BOGO special!
Overall, costs are comparable if you subscribe and save and balance shipping fees. But if you want to purchase other Ghost products, like Ghost's branched-chain amino acids (BCAAs), consider purchasing through the Ghost website and joining the loyalty program. It still doesn't hurt to check out other sites to score some specials, though.
Formulation
Let's see what each serving of Ghost Size provides you with.
Creapure Creatine
Ghost Size once contained creatine monohydrate AND creatine HCl, but it's been reformulated with 5 grams of Creapure—a branded pure form of creatine monohydrate1—to improve sports performance and body composition by increasing muscle energy, power, growth, and recovery. Five grams is also an effective clinical dose supported by the literature.2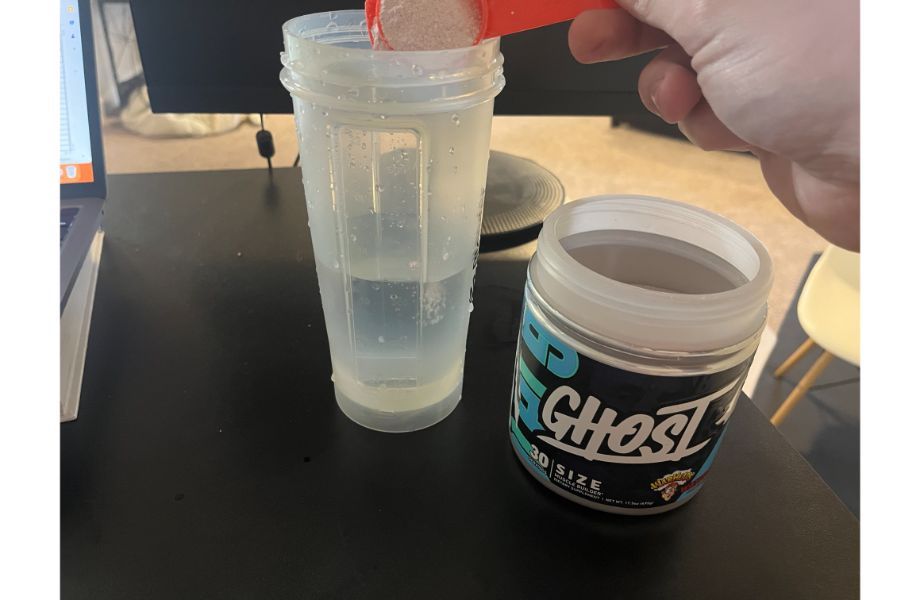 Betaine
Ghost Size provides 2.5 grams of betaine, and research3 suggests that supplementing with 2.5 grams of betaine daily may increase muscle growth and power while improving body composition.
Tingle-Reduced Beta-Alanine
No, really—Ghost Size contains "Tingle-Reduced Beta-Alanine," a hybrid of 3.2 grams of beta-alanine4 and 400 milligrams of BetaPrime. BetaPrime helps counteract the tingling sensation beta-alanine's known to cause while improving hydration and muscle endurance and reducing fatigue and soreness.
Epicatechin
Ghost Size contains 200 milligrams of epicatechin, a polyphenol that may manage or prevent heart disease and other health conditions thanks to its antioxidant properties and potential to release nitric oxide, thus improving blood flow. Research5 also suggests epicatechin may regulate muscle growth and increase strength by decreasing myostatin, a major muscle growth inhibitor.
Senactiv
Each scoop provides 50 milligrams of Senactiv to help increase muscle energy supply, synergize mind-muscle connection, and enhance recovery.
Astragin
You'll also get 50 milligrams of AstraGin™ to aid the body's absorption of the active ingredients and nutrients in Ghost Size.
Other Ingredients
Other ingredients—primarily to improve flavor, color, sweetness, and stability—in Ghost Size include:
Malic and citric acids
Natural and artificial flavors
Silicon dioxide
Calcium silicate
Tartaric acid
Artificial sweetener sucralose
Beta-carotene (for color)
Taste and Solubility
Ghost prides itself on its collaborative and trademarked flavors, including Oreo and Swedish Fish. While Ghost Size flavors aren't nearly as robust as other products, there are four options: Lime, Mango, Natty (Unflavored), and Warheads Sour Watermelon.
Anthony went with a favorite childhood candy, Warheads Sour Watermelon and said the taste is on point. "It tastes like someone dropped a bunch of WarHeads into water. I love that, but it might not be for everyone."
Amazon reviews also report Ghost Size mixes pretty well, but the contents may settle if you don't drink quickly. If you prefer to sip, mixing in a blender may help.
Side Effects
While taking Ghost Size is mostly considered safe, two of the most notable and potential side effects include:
Creatine may induce short-term water retention in the muscles and long-term weight gain as lean muscle mass (major win!), mainly if training hard and fueling appropriately.
Beta-alanine may induce harmless tingling, but BetaPrime may offset it.
Before taking any supplement, we recommend consulting with a healthcare professional for your safety and benefit.
RELATED: Creatine Loading Phase
Third-Party Testing
Currently, Ghost products are not third-party tested and lack certifications. Third-party testing is important because the supplements industry is not regulated by the FDA, so especially if you're an athlete who gets drug-tested, you want to be able to confirm that what's listed on the label of the product is what's indeed inside the container.
Comparison to Jacked Factory Growth Surge
Jacked Factory Growth Surge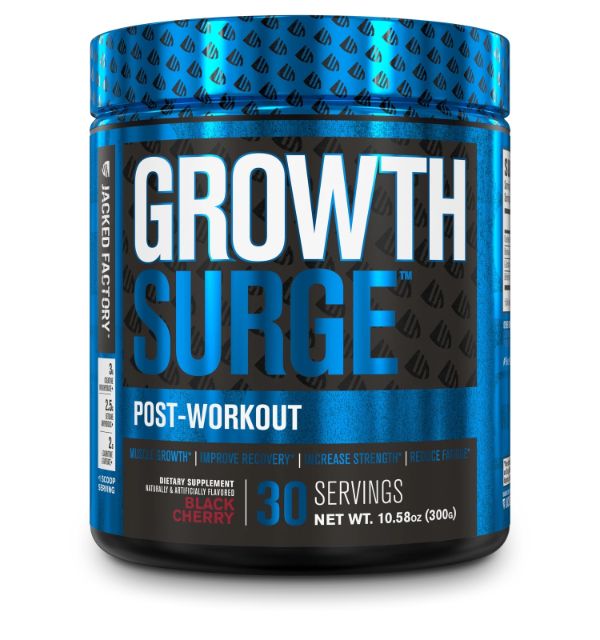 GGR Score: 4.75
Product Highlights
Designed to build muscle and reduce fat

Three key ingredients: Creatine Monohydrate, Betaine Anhydrous, L-Carnitine L-Tartrate

The ingredients aide in muscle recovery, muscle building, and are formulated to reduce recovery time and soreness

Also contains BioPerine, which is said to improve absorption

Made in a cGMP-certified facility
* These statements have not been evaluated by the Food and Drug Administration. This product is not intended to diagnose, treat, cure, or prevent any disease.
Pros & Cons
Pros
Creatine Monohydrate is scientifically shown to improve muscle growth
Tastes good
Mixes well
Can be used for recovery and muscle growth
Overwhelmingly positive reviews
Cons
Contains sucralose, which can cause digestive issues for some
No protein
Bottom Line
If you're looking for a post-workout drink that tastes good and is designed to promote muscle growth and recovery, Growth Surge could be a good option.
While Jacked Factory Growth Surge is also marketed as a muscle-builder, how does it stack up? Based on cost, Growth Surge is more cost-friendly at $1.33 per serving ($39.99 for 30 servings) compared to Ghost Size's $1.50 per serving price point. But we all know knowing what you're paying for is most important!
Peeking into Growth Surge's formula, it provides four active ingredients to support muscle growth and recovery: 3 grams of creatine monohydrate, 2.5 grams of betaine anhydrous, 2 grams of L-carnitine-L-tartate, and 5 milligrams of BioPerine Black Pepper Fruit Extract.
Creatine and betaine are familiar, but L-carnitine-L-tartrate and BioPerine are new to the chat. L-carnitine-L-tartrate6 may help fight muscle soreness post-exercise, while BioPerine helps the body absorb these active ingredients.
Whereas the formulation can aid muscle growth and repair, the major callout is that Growth Factory only contains 3 grams of creatine. Recall that 5 grams of creatine is the recommended daily dose, so you may need to supplement with extra based on your needs and goals.
But on a positive note, all Jacked Factory products are manufactured in a U.S.-based, Good Manufacturing Processes (cGMP)-certified facility using the highest quality control guidelines for maximum potency, quality, and safety.
Overall, Ghost Size might have the upper hand regarding clinically effective doses in its formulation. However, if you're using Growth Surge to stack with other creatine-containing supplements, you might fancy its greater flavor variety and GMP compliance.
Customer Experience
Ghost makes a great effort to build and sustain its customer-forward community—it offers a loyalty program, a mobile app, and drool-worthy recipes from the blog (looking at you, Protein Puppy Chow), just to name a few.
If you need assistance, Ghost Support is available weekdays from 9:00 a.m. to 5:00 p.m. CST and does its best to respond within 48 hours. A number isn't provided, but you can contact them at support@ghostlifestyle.com.
Ordering Ghost Creatine
Getting your paws on the muscle-building supp is simple and doesn't require creating an account on the Ghost website—but you might consider doing so for the loyalty points and rewards! Ordering is straightforward if you purchase elsewhere.
Customer Reviews
While Ghost doesn't have customer reviews on its official site, Ghost Size has an impressive 4.7 average rating on Amazon with (mostly) positive feedback. Out of the 61 ratings, here are some of the most consistent reviews (and an anomaly):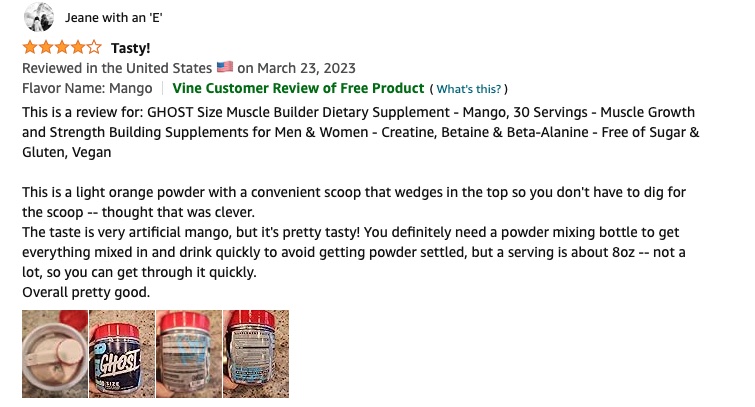 Final Verdict of Our Ghost Creatine Review
Ghost Size more than just fits the bill as a clinically effective creatine ssupplement. It's also formulated with other research-backed ergogenic aids, including beta-alanine and epicatechin.
The major downsides are the lack of third-party testing, the use of artificial ingredients, and its higher price point. But remember, Ghost Size is a comprehensive supplement that can displace other products you might be stashing—and could open up space for a new tub of Ghost Whey protein you've been eager to try!
Ghost Creatine Rating
Ghost Creatine
Who you gonna call for your muscle-building needs? Dial into GGR's expert-guided Ghost creatine review, filled with hard facts without the frights.
Product Currency: USD
Product Price: 45
Product In-Stock: InStock
Ghost Creatine FAQs
What does Ghost creatine do?
Ghost Size is formulated to enhance muscular energy, growth, and recovery.
When should I take Ghost creatine?
Ghost recommends taking one serving of Ghost Size creatine within 30 minutes before exercise on training days. It should be taken consistently on training and non-training days with plenty of water for best results.
How much creatine is in Ghost?
Ghost Size contains a clinically effective 5-gram dose of Creapure, a patented pure form of creatine monohydrate.
Are Ghost supplements safe?
Ghost supplements are considered safe when used as directed, but there are always risks that come with taking them, especially since they're not tightly regulated and third-party tested.
These statements have not been evaluated by the Food and Drug Administration. This product is not intended to diagnose, treat, cure, or prevent any diseases.
References