We test and review fitness products based on an independent, multi-point methodology. If you use our links to purchase something, we may earn a commission. Read our disclosures.
Foodvisor is a nutrition app that helps people lose weight, build muscle, maintain body weight, or reach other health goals through food and calorie tracking, as well as macronutrient manipulation, hydration tracking, and weigh-ins.
It's a very comprehensive app with a lot of promising features, but there's a lot of room for improvement, too. In my Foodvisor review, I use my experience with the app and expertise as a certified nutrition coach, along with insights from registered dietitians, to paint a picture of the pros and cons of this app.
RELATED: Best Weight Loss Programs
A Certified Nutrition Coach Uses Foodvisor for 1 Month
I'm a certified sports nutrition coach and I used the Foodvisor app for one month to understand how this app works, what the user interface is like, its approach to nutrition education, and what it's like to be a premium subscriber. As a certified nutrition coach, I'm able to analyze apps like this in a way many consumers may not be able to—thus, I can help you understand whether the Foodvisor app is a good option for you or not.
Foodvisor App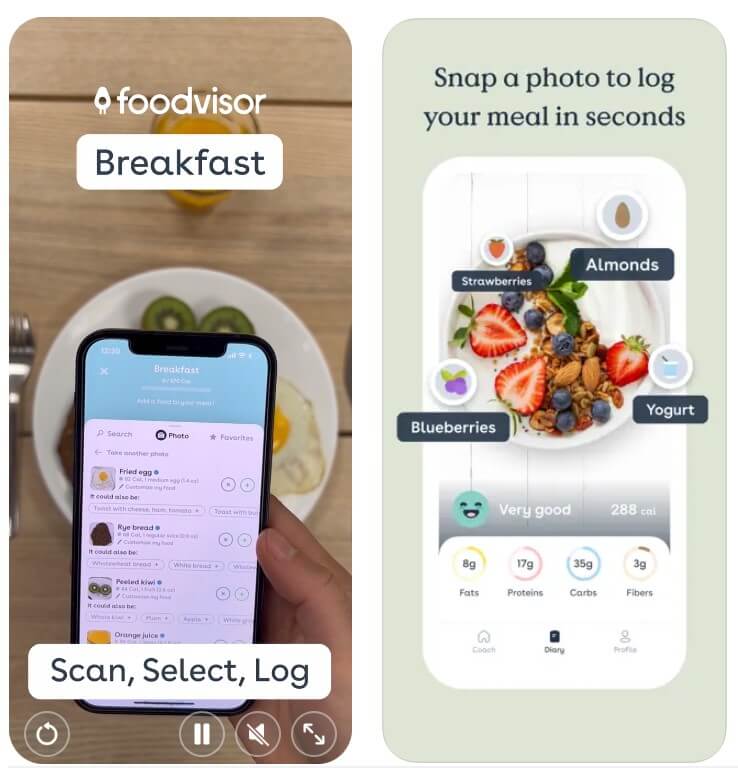 GGR Score: 3.19
Product Highlights
Nutrition app to help with weight loss

Available on iOS and Android

Pricing starts at about $11 per month 

Similar approach to Noom app 

Monthly, tri-monthly, and annual subscriptions available 

Free version available
Pros & Cons
Pros
Wonderful user interface
App is easy to navigate and use
Great educational content in the form of articles and lessons
Macro-tracking capabilities
Tracks hydration and activity
Syncs to Apple Health
Cons
Food photography feature needs some work
Color-coding food approach can be psychologically harmful
Bottom Line
The Foodvisor app has some great features and some promising ones. It can track calories, macronutrients, fiber, hydration, activity, and body weight. It has a barcode scanning feature to make logging food easier; there's a photography snap-n-log feature as well, but it needs some work. This app uses a color-coded approach to food, categorizing foods as red, orange, yellow, or green; this can be harmful to those with a history of or a tendency to engage in disordered eating behaviors.
A Quick Look at the Foodvisor App
Foodvisor is a nutrition app startup based in France. The app is available in French, English, Spanish, and German, and you can find it in the App Store and on Google Play. The app intends to help members make smart food choices and establish healthier habits through calorie counting, activity tracking, and daily wellness lessons.
Before You Subscribe
Foodvisor uses a color-coding approach similar to what the Noom app uses, which can be problematic for individuals with a history of disordered eating.
The premium version is stocked with features, but the free version does not provide a very good glimpse into the value of a premium subscription.
This app has a promising food photography feature that should make logging food as easy as snapping a photo, but in truth, the feature needs a lot of work.
Is the Foodvisor App Worth It?
Foodvisor subscription prices start at around $12.99 per month for a three-month subscription ($38.99 per three months). On the high end, the pricing is about $30 per month for a month-to-month subscription.
This is on the expensive side, especially for the month-to-month option. There are many other apps available that do the same thing as Foodvisor and cost less, so I encourage you to explore other options.
I would say flat-out that Foodvisor is worth the price if its main value-add—the food photography component—worked smoothly and was accurate. Unfortunately, it's not (more on that later), so Foodvisor is honestly another in a sea of similar apps. (I reserve the right to change my mind should this feature improve!)
RELATED: WeightWatchers Review
Great for:
Calorie and macro tracking
Hydration tracking
Wellness content and lessons
Access to a nutrition coach
Recipes
Meal planning and grocery shopping
Not recommended for:
People who have a history of disordered eating
Food logging via food photography (feature needs work)
Fitness plans (available fitness content is lackluster)
Foodvisor Specs
| | |
| --- | --- |
| Pricing | $29.99/month or $38.99 every 3 months |
| Trial period | Unlimited use of free version |
| Subscription options | Monthly or every 3 months |
| Diet types supported | Any; all food items supported |
| Access to Professionals | Yes, unlimited with premium subscription |
| Custom meal plans | No |
| Available on | iOS, Android, desktop |
Getting Started with the Foodvisor App
To set up the app, you'll start with a questionnaire that takes about 10 minutes. The app will ask you about your goals, current body metrics (weight, height, sex at birth, etc.), life statuses such as pregnancy, and medical conditions.
I like that Foodvisor has some nontraditional questions to gain insight into additional factors that can affect one's ability to reach health goals. For instance, it asks if you are a student, whether money is a factor in your health journey, and if you have a good work-life balance. It also asks if you feel supported in your health endeavors by your friends, family, and colleagues.
You'll let the app know if any specific events in your recent past have caused you to gain or lose weight, such as high levels of stress, poor work-life balance, medication or illness, injury, or relationship problems.
The quiz also wants to know if you've tried to lose weight in the past and how you attempted to do that (through diets, a nutritionist, gym membership, or something else).
RELATED: How to Lose Body Fat
Finally, you'll answer questions about your current eating and exercise habits. Some of the questions are…questionable, in the sense that they could make an app user feel guilty or unconfident.
The first question, for instance, is "Would you say that snacking is an issue for you?" It's a vague but kind of accusatory question—those who answer yes may feel shameful about it.
It's not all bad, though. The app asks if you're willing to exercise to reach your goal but promises that Foodvisor does not make anyone do anything they don't feel ready to do. So it asks if you feel ready to exercise, and if you answer no, it tells you that it's no big deal and you can come back to exercise later.
I really love that Foodvisor helps people layer their new habits. It's typically very inefficient and, ultimately, ineffective, to try to implement a ton of new habits at one time. It's often best to begin with one habit—for instance, increasing your water intake to 72 ounces daily—and master it before moving on to another. Otherwise, overwhelm can creep in and make it easy to quit.
RELATED: Best Cardio Machines for Weight Loss
Experience with the Foodvisor App
I used the Foodvisor app on-and-off for about a month. Due to a history of disordered eating, I do not typically log my food, choosing instead to track only the things that really matter for me (for athletic performance purposes, I track fluid and protein intake, and that's about it except on days leading up to races, when I also track carbohydrate intake).
To get a full understanding of the Foodvisor app, I made an attempt to track all of my food, but ultimately quit because the app triggered some negative thought patterns and feelings toward food.
The App Experience
The app interface is fun, warm, and welcoming. It's very easy to navigate, with just three main tabs: Coach, Journal, and Profile.
The Coach tab features daily classes, which are bite-sized lessons related to your goals and profile characteristics. There are more than 500 daily lessons in the app; each day, Foodvisor will serve you two to three. You can choose to see more by clicking on the "articles" button.
In the Coach tab, you can also browse more than 300 recipes for various dietary preferences, create a weekly meal plan, and chat with your nutritionist. Premium subscriptions come with unlimited access to a nutritionist who you can talk to via chat. Nutrition coaches respond within a couple of hours between 9 a.m. and 7 p.m.
The Journal tab is where you log your meals, activities, and water intake. In the Profile tab, you can edit things like your calorie and macro goals, weight, and activity level. Editing these fields will change the information and suggestions provided to you by the Foodvisor app. 
Overall, the app interface is really beautiful and the user experience is pretty seamless, so I awarded Foodvisor 4 out of 5 points for ease of use. I docked one point because, as you'll learn in the section about food tracking, some of the features need some work.
Food and Calorie Tracking
In the app, you can track your body weight, meals and calories, hydration, macronutrients, and activity. If you sync Foodvisor to Apple Health, it'll automatically pull in all activities, which makes things easier.
It's nice that Foodvisor offers macro tracking in addition to calorie tracking; many other apps don't offer this, and it's a valuable component for those who have muscle-building or performance goals, as well as those following a specific diet like keto. In such cases, knowing your carb, fat, and protein intake is essential.
One standout feature is that Foodvisor tracks fiber. Most Americans don't consume enough fiber, so having that reminder is helpful.
Based on your answers to the set-up quiz, Foodvisor automatically chooses calorie, macro, and hydration goals for you. You can override these by going to your profile and editing the fields you want to change.
I have mixed feelings about the food tracking capabilities. There's a photo-logging feature, which I was extremely excited to use. It'd be so great to take a photo of my plate and have the app recognize and log the foods! The reality, though, is that the tech has a long way to go.
Foodvisor couldn't always recognize the foods, so I had to log them manually, anyway. Additionally, I'm skeptical of the foods it did recognize because of ingredients it can't pick up on. For example, how would the app know if I pan-seared a steak in salted butter or avocado oil? It wouldn't know, is my guess. So you'd still have to add things like that manually.
The photography feature certainly still takes some work out of the equation when it recognizes foods, but it isn't perfect.
Another problem with the food tracking component is that there are so many entries for one food. Foodvisor has verified foods, much like MyFitnessPal, but there are hundreds of user entries as well, and there's a lot of varying information, such as different nutrition facts for two entries that should be the same. This made me feel unsure if I was accurately logging calories and macros.
Thankfully, there is an option to scan barcodes. In my experience, this is the easiest and most accurate way to log nutritional information in Foodvisor.
I have some qualms about the way Foodvisor categorizes foods, too. Similar to Noom, it uses a color-coding approach, labeling foods red, orange, yellow, or green.
In my Noom review, registered dietitian Destini Moody said this approach can cause psychological harm. "Dietitians don't hold the philosophy that foods are 'good' or 'bad' and Noom's color coding does exactly that," she said of Noom. "A healthful diet has room to include all foods and having a diet program structured around the contrary can promote an unhealthy relationship with food and avoidance of foods we get joy from."
On top of the color-coding, Foodvisor uses emoticons to further suggest if a food is good or bad for your health. Green foods have a smiley face while red foods have a frowning, angry-looking face. This definitely made me want to exclude foods and food groups, which is extremely problematic for me as someone with a history of disordered eating.
Even for those who don't struggle with feelings of guilt, shame, or negativity around food, nutrition experts agree that a more inclusive and positive approach is best for long-term success.
Progress Tracking
The only stat you can track in the Foodvisor app is weight. You can weigh in as often as you'd like and log as many weigh-ins as you want. There's no requirement for frequent weigh-ins, although those who are actively trying to lose weight would benefit from weekly or bi-weekly weigh-ins. For what it's worth, any weight changes on a day-to-day basis are likely due to changes in water weight, so daily weigh-ins often aren't helpful.
Coaching
With a premium Foodvisor subscription, you get unlimited chat access to a nutritionist. It's unclear whether the coaches are registered dietitians, licensed nutritionists, certified nutrition coaches, or certified health coaches. Regardless, it's nice to see this as an included option in the subscription price rather than another add-on, because, no, artificial intelligence cannot fully replace human coaches (yet…).
Your coach responds within a few hours between the hours of 9 a.m. to 7 p.m. for your time zone. I didn't personally feel the need to use this feature, but I can see it being very helpful for people who are new to nutrition and need help understanding the health implications of certain foods.
In fact, I'd encourage people to use the coach chat feature to understand why Foodvisor labels food the way it does. As registered dietitian Destini Moody called out in my Noom review, labeling foods as red or green or good or bad isn't helpful unless it's clear why they are categorized that way.
Community
Unlike some other apps, such as Noom, MyFitnessPal, or WeightWatchers, there isn't a community component to Foodvisor. I don't mind since I don't typically use such features, but this could be a big downfall for people who require a sense of community for long-term success. Unfortunately this meant Foodvisor earned just 1 out of 5 possible points for the community criteria.
Community features like a feed where people can share their accomplishments, ask questions, post photos of food, or discuss workouts can make a big difference in a person's adherence to a weight loss or diet plan.
Pricing and Subscription Options
Foodvisor offers three subscription options: monthly, every three months, and annually. The pricing is as follows:
Monthly: $29.99
Every three months: $38.99
This is quite expensive, especially on the month-to-month plan, so Foodvisor scored a 2 out of 5 in this category. If the three-month plan wasn't an option, the price point of almost $30 per month would have earned just 1 out of 5 possible points.
Trial Period
My understanding is that there is no free trial period for the premium Foodvisor subscription. You can either use the free version on an unlimited basis or upgrade to premium.
Foodvisor vs Noom
Noom App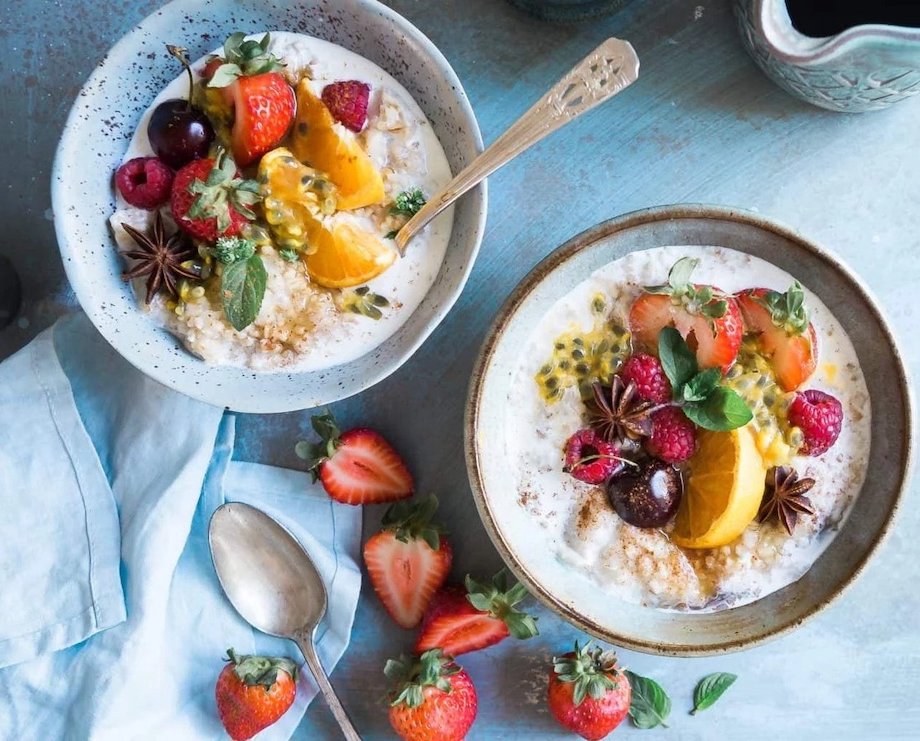 GGR Score: 3.7
Product Highlights
Uses a psychology-backed approach to weight loss

Provides behavioral guidance more than nutritional guidance

App supports food, weight, and activity tracking

Multiple membership options available

A stress-relief plan is also available
Pros & Cons
Pros
Gives you freedom to make your own choices
Helps you identify patterns and behaviors that may be connected to your weight
Flexible payment options
1:1 coaching plans are available for purchase
Cons
Doesn't offer much nutritional guidance
May not be the best option for those who need a more structured plan
Expensive on the month-to-month plan
Bottom Line
Noom is built on the psychology of weight loss. Instead of specific nutritional guidance, you'll get lessons that are designed to help you break habits that may be contributing to your weight gain.
Noom is another popular app for people who have weight loss goals. It's similar to Foodvisor in a lot of ways, including the color-coded approach to food groups. Both apps offer personal coaching for subscribers and focus on weight loss. They both serve as calorie counters and food logs, and provide daily lessons related to health, wellness, and fitness.
Some differences between the two apps include:
Foodvisor allows for macro tracking; Noom does not
Noom tells you exactly how long to subscribe to meet your goals; Foodvisor works on a rolling subscription basis
Noom offers customized meal plans and workout plans for an extra fee; Foodvisor doesn't offer additional plans outside of what you get in the app
Otherwise, the two apps are quite similar and essentially take the same approach to weight loss. You can read more about Noom in our Noom review.
| | | |
| --- | --- | --- |
| | Foodvisor | Noom |
| Pricing | Varies based on subscription terms; starts at about $5/month | Varies based on plan length; starts at $17/month |
| Trial period | Unlimited use of free version | 7 days |
| Subscription options | Monthly, three months, annually | Term length of subscription is based on your weight loss plan; monthly to annual options |
| Diet types supported | Any; all food items supported | Any and all diet types |
| Access to Professionals | Yes, unlimited with premium subscription | Yes, health coaches available |
| Custom meal plans | No | Yes (charged separately) |
| Available on | iOS, Android | iOS and Android |
Customer Experience
You can reach Foodvisor support through the app or on a browser. For any issues, you're directed to contact support@foodvisor.io via email.
There are some customer complaints regarding being charged for a premium subscription when it wasn't wanted and having trouble getting a refund, but Foodvisor seems pretty responsive in the App Store and on Google Play.
Customer Reviews
Customer reviews of Foodvisor are extremely mixed, but positive overall. In the App Store, the average rating is 4.5 out of 5 stars at the time of writing; on Google Play, it's rated as 4.3 out of 5 stars.
Despite the positive overall ratings, when reading through the reviews, most seem negative.
Many people wrote that the app doesn't seem to match up with what's advertised and feels like a waste of time; I'm not sure I agree with that, but the Foodvisor website (www.foodvisor.io) does make the app seem more sophisticated than it is.
Several subscribers mention that they wish the app connected to Fitbit or another fitness wearable, or other tracking apps. It does connect to Apple Health, but connectivity with Garmin, Polar, or Strava would be nice.
One reviewer gave the app 3 stars and laid out their experiential pros and cons of Foodvisor: "Pros: barcode scan function worked OK. Macro dashboard at the top of 'journal' handy at a glance. Lots of content. Suggested workouts were clear.
Cons: food picture function useless. Lots of manual entry of food needed. Nutritionist advice guidance ranged between super generic and weird…felt like I was talking to an AI. Articles & recipes poorly organized. Overall, the free version of MyFitnessPal works better. Better 'real' coaching (including fitness) would lead me to want to pay in the future."
There are some overtly positive reviews, as well.
One subscriber on Google Play wrote, "Accountability has never been easier! This app allows me to track my meals, activity, and water intake. Great recipe suggestions. I do wish entering new foods to the log allowed for more detailed nutritional facts and customizable portions. I've gotten feedback from a real nutritionist through the app (even though I have an in-person nutritionist as well)."
Final Verdict of Our Foodvisor Review
Foodvisor is a promising app with a lot of potential. The real value-add is the food photography component, but it's not quite where it needs to be. The barcode scanning feature is nice, too, but ultimately, there are more accurate food tracker apps available.
I'm not a fan of the color-coding approach to foods, and I'm especially not a fan of using positive and negative emoticons to assign value to foods.
There is value in the recipe collection, daily lessons content, access to a nutrition coach, and macro tracking. However, there are a lot of other apps with similar price points that do the same thing. For the price (starting at around $11 per month), Foodvisor would be a great value if the photography component worked as it should. But as-is, it's run-of-the-mill in terms of both pricing and functionality.
Foodvisor Rating
Foodvisor
Thinking about trying Foodvisor? Don't download the app until you read our Foodvisor review.
Product Currency: USD
Product In-Stock: InStock
Foodvisor FAQs
Is Foodvisor a good app?
Foodvisor is a promising app. It has some helpful features and some good educational content. However, its main feature, the food photography component, needs some work. Foodvisor is an OK app for tracking calories and meals to help with weight loss.
Does Foodvisor cost money?
Foodvisor offers a free version, but it's lacking in features compared to the premium version. Premium subscriptions start at about $5 per month (about $65 annually). The most expensive option, a month-to-month subscription, costs about $11 per month.
How does Foodvisor work?
Foodvisor provides educational content, calorie and macronutrient goals, hydration goals, and tracking capabilities to help people lose weight. Subscribers also have access to a coach through a chat function in the app.