We test and review fitness products based on an independent, multi-point methodology. If you use our links to purchase something, we may earn a commission. Read our disclosures.
Whether you're lactose intolerant, have a dairy allergy, or choose to avoid dairy for ethical reasons, finding dairy-free meal services can be challenging. To simplify your search, we've rounded up nine of the best dairy-free meal delivery services out there.
Our GGR team, comprising nutrition experts, certified personal trainers, and CrossFit-L1 trainers, has meticulously evaluated more than 40 leading meal delivery services to identify the best choices for individuals adhering to a dairy-free diet.
We've incorporated candid assessments providing valuable insights into each service on a variety of topics, including:
Price: What is the cost per meal?
Preparation: Is it easy to prepare? How many cooking utensils are required?
Ingredients: Are dairy-free ingredients used? Are they fresh or organic?
Variety: Do the meal choices cater to a wide array of dietary preferences?
Flavor: Are the dishes delicious on their own, or do they require additional seasoning?
As a registered dietitian, I've incorporated my expertise to offer insights into the ingredients and nutritional content of each meal service within this article. Considering that everyone's dietary requirements vary, don't hesitate to speak with your healthcare provider or a registered dietitian-nutritionist to confirm that the dairy-free meal service you select is well-suited to your specific needs.
RELATED: Best Healthy Meal Delivery Service
Medical disclaimer: This article is intended for educational and informational purposes only. It is not intended as a substitute for medical advice. For health advice, contact a licensed healthcare provider.
Best Dairy-Free Meal Delivery in 2023
Best Dairy-Free Meal Delivery Overall: Fresh N Lean
Good for: Anyone looking for pre-made, organic meals that taste great
Fresh N Lean specializes in offering organic, ready-to-eat meals that prioritize nutrition and convenience. Meals are expertly crafted by chefs and delivered fresh. Their vegan and paleo meal plans are completely dairy-free.
RELATED: Best Prepared Meal Delivery
Fresh N Lean uses locally sourced, certified organic ingredients that we rated a 5 out of 5 for quality. When organic ingredients don't meet their strict quality standards, they maintain the flexibility to opt for high-quality conventional alternatives. Meals exclude processed foods and artificial additives.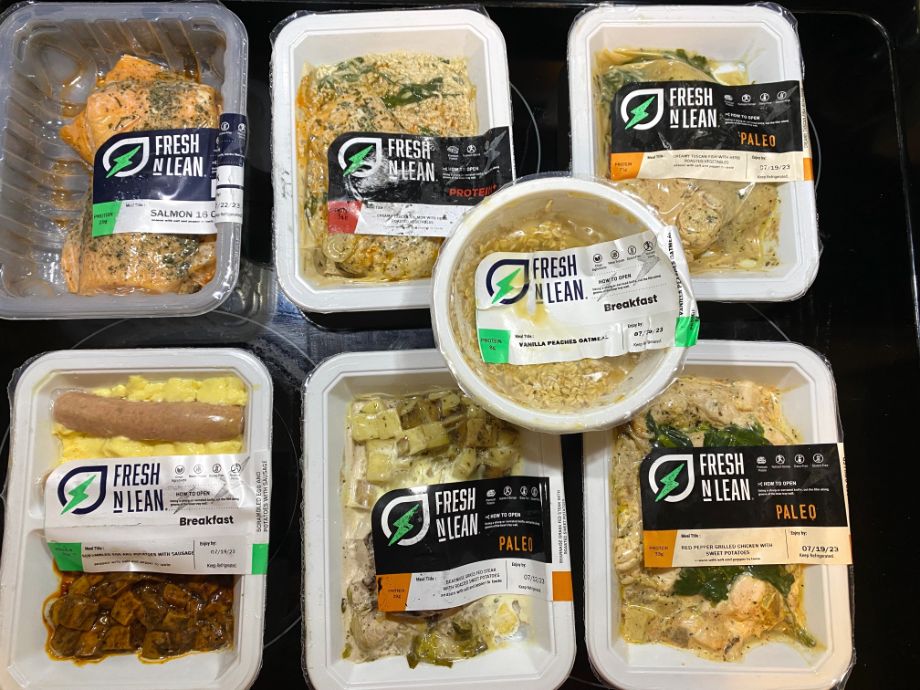 Their daily-free vegan and paleo meal plans boast 17 entrees weekly, including main courses and breakfast options. We rated variety at a 5 out of 5 because while you can stick to meals in the same meal plan, you can also order a la carte from multiple plans to give you even more options.
Fresh N Lean highly values eco-friendly practices, and we rated their sustainability efforts at a 4 out of 5. They utilize eco-conscious cardboard boxes and packaging like BPA-free, recyclable trays with recyclable plastic seals. The ice packs are a little trickier to dispose of as the gel must be removed (not down the sink) before recycling the pack itself.
Kate Meier, NASM-CPT, USAW-L1, CF-L1, and GGR head of content, was satisfied with how her meals were delivered, rating packaging at a 4 out of 5. "The food arrived just fine, though the ice packs had melted by the time it was here. To be fair, I live in the Carolinas, and it's been 90+ degrees every day."
Kate had doubts about how these microwaved meals would taste, but to her surprise, she gave them a perfect rating of 5 out of 5 for flavor. "I was surprised! The paleo red pepper chicken with sweet potatoes is delicious. The paleo bearnaise grass-fed steak with roasted sweet potatoes—WOW." The meals didn't disappoint!
| | |
| --- | --- |
| Price per serving | $8.49 to $11.00 |
| Type (meal kit or prepared) | Prepared |
| Meals per week | 5-21 (very customizable) |
| Delivery area | Nationwide |
| Examples of meals we tried | Red Pepper Chicken with Sweet Potatoes, Bearnaise Grass Fed Steak with Roasted Sweet Potato |
Best Dairy-Free Meal Kit: Hungryroot
Good for: Those looking for a one-stop shop for meal kits and grocery items
Hungryroot provides a convenient solution for both cost-effective meal kits and grocery shopping. Upon subscribing, you take a quiz that analyzes your dietary preferences and tastes. You're able to choose from several specialized diets, including dairy-free, soy-free, vegan, gluten-free, and nut-free options.
The ordering process wasn't as intuitive as we would have liked. Kate Meier, NASM-CPT, USAW-L1, CF-L1, and GGR head of content, rated the ordering process a 3 out of 5 and says, "It's honestly a little confusing—I feel like I need to get to the order to understand what's happening and how many meals I'm actually getting because it looks like I'm getting four recipes and then a bunch of groceries."
Hungryroot delivers three to eight meals with two or four servings each per week, plus any individual grocery items you'd like. Grocery options include snacks, sweets, breakfasts, grains, protein, and produce. Hungryroot requires a minimum of $65 spent on each box, which could be a steal depending on how much you currently spend at the grocery store.
Kate was pleased with the appearance and freshness of the ingredients she received, rating ingredient quality at a 4.5 out of 5. "Everything is high-quality—humanely raised meat and dairy, a lot of organic fruit/vegetables/grains. I did have some things, like a bell pepper mix, that weren't organic. However, in terms of quality, everything is so crisp."
Because these are meal kits, they do require some minor prepping and cooking. Kate rated ease of preparation at a 4 out of 5 and says, "It was so easy—not a lot of chopping because everything is prepackaged and ready to throw in a skillet." Many meal kits from other services require substantial chopping, so this was a win for Hungryroot.
Kate rated the taste of these meals at a perfect score of 5 out of 5. "Everything is so fresh, and you don't need to do any seasoning because most foods are prepared already for you with spices. I love this service. It's something I'd actually consider using moving forward! It's easy to use, super customizable."
RELATED: Hungryroot vs HelloFresh
| | |
| --- | --- |
| Price per serving | Minimum $65 per box |
| Type (meal kit or prepared) | Meal Kit and groceries |
| Meals per week | 3-8 |
| Delivery area | Nationwide except for Alaska and Hawaii |
| Examples of meals we tried | Seared Chicken Breast and Corn Black Bean Rice Bowl, Everything Chicken Quesadillas, All-in-One Chicken Burrito Bowl, Turkey Meatloaf, Sweet Kale Salad |
Best Vegan Dairy-Free Meal Delivery: Splendid Spoon
Good for: Anyone who wants low-calorie, pre-made, vegan meals delivered to their doorstep
Splendid Spoon offers entirely vegan, dairy-free meals packed with antioxidant-rich fruits and vegetables and plant-based protein. The company's menu options include smoothies, soups, noodles, dishes, shots, and juices.
The entire menu is dairy-free, but Splendid Spoon takes it a step further to allow for additional filtering of ingredients. Frieda Johnson, GGR editor and expert tester, rated access to nutritional information at a 5 out of 5 and says, "You can filter meals by dietary needs like lower sodium or lower carb, as well as by avoidances like tree nuts or soy."
Unfortunately, Frieda's order arrived disorganized, so she rated packaging and shipping at a lower score of 3 out of 5. "Everything was jumbled together in the box; soup containers upside-down, cardboard sleeves on the TV dinner-style meals soaked from the melted ice packs and falling apart," she says.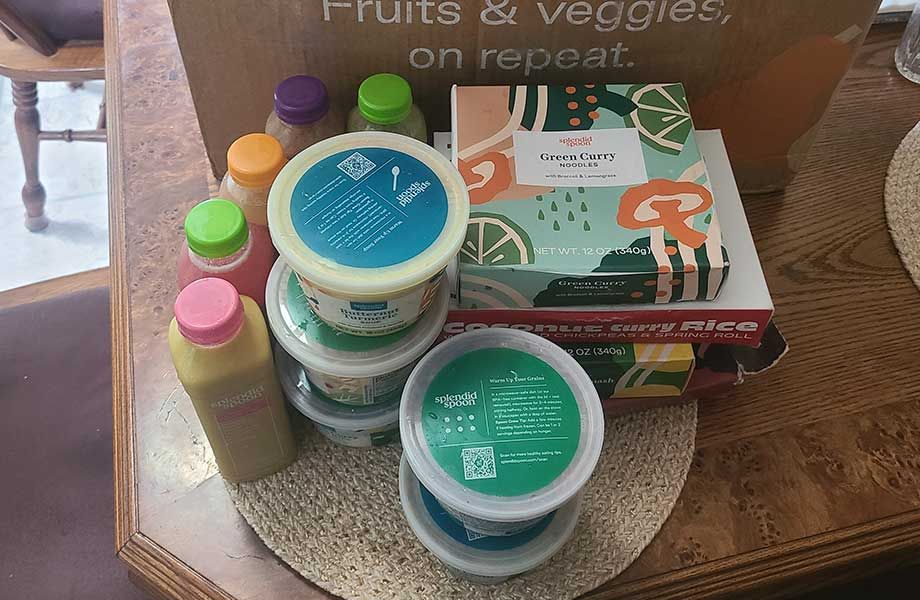 Despite the packaging issues, the convenience of these meals can't be surpassed, earning the rating of 5 out of 5. Simply microwave your meals or heat them up on your stovetop. When you're done eating, rinse the tray and recycle.
One downside is that most Splendid Spoon meals are less than 300 calories, which isn't sufficient for a meal. Even if your goal is weight loss, it's important not to be so restrictive that you end up binge eating later. Consider adding additional protein to these meals for improved satiety.
Frieda only rated portion size at a 3 out of 5 and says, "The smoothies did not seem very satisfying to me, but the rest of the food has all been a good amount for lunch. I think it would probably feel a little sparse for dinner, though." When you order from Splendid Spoon, you are required to purchase a box that includes smoothies.
Frieda rated the taste of these meals at a 3 out of 5, with points taken off due to the smoothies. "The food is surprisingly good!" she says. "The smoothies are hit-and-miss, though—the only one I've actually liked so far is the strawberry chocolate. But the food has all been really good, especially for gluten-free, vegan frozen meals."
For more, check out our in-depth Splendid Spoon reviews.
| | |
| --- | --- |
| Price per serving | $6.70 to $10.99 |
| Type (meal kit or prepared) | Prepared |
| Meals per week | 7, 14, or 21 |
| Delivery area | Nationwide except for Alaska and Hawaii |
| Examples of meals we tried | Strawberry Chocolate Smoothie, Green Curry Noodles, Black Bean and Plantain Grain Bowl, Butternut Turmeric Soup |
Best Frozen Dairy-Free Meal Delivery: Daily Harvest
Good for: Those searching for dairy and gluten-free frozen meals loaded with fruits and veggies
Daily Harvest utilizes sustainably sourced fruits and vegetables to create vegan, gluten-free, dairy-free meals. The company is originally known for their smoothies but has expanded to include flatbreads, harvest bowls, and soups.
Daily Harvest allows you to order as few or as many meals as you'd like each week without needing to stick to a certain plan or menu. Amanda Capritto, CPT, CES, CNC, CSNC, CF-L1, and GGR senior staff writer, rated customization at a 5 out of 5. "You can filter by your likes, dislikes, allergens, diet type, and meal type. Makes it easy to find what you want," she says.
These meals are low in calories and protein, especially the smoothies and soups. The smoothies are more appropriate for a snack rather than a meal replacement. Consider adding more plant protein, like beans, lentils, and quinoa, to the soups to make them more filling.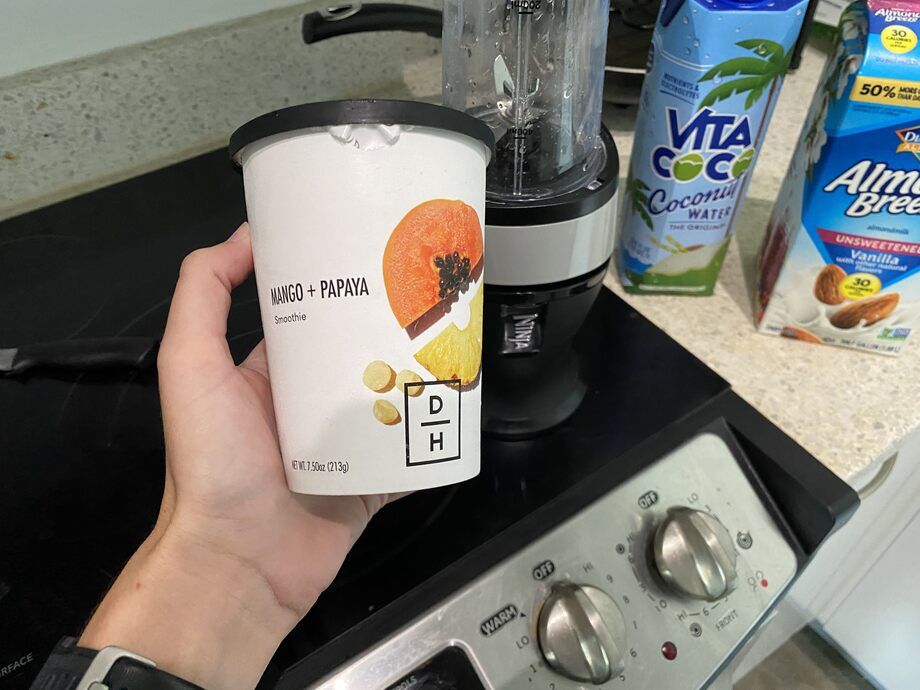 The company has a goal to use 100% recyclable and compostable materials, resulting in a rating of 5 out of 5 for sustainability efforts. Amanda says, "By using dry ice, that eliminates a lot of waste alone. Daily Harvest provides a comprehensive recycling guide online telling you what is and isn't recyclable and how to best dispose of each item."
The items arrived organized and well-packaged. "Everything arrived cold, kept cold with dry ice, which is absolutely clutch for me as someone who lives in a condo building and dealing with ice pack disposal/recycling is annoying," says Amanda, who rated packing and delivery at a 5 out of 5.
Amanda was less impressed with the ingredient quality, rating it at a 3 out of 5, and says, "The ingredients are OK. Everything is frozen, so you're obviously not getting the freshest quality. The smoothies seem like the freshest and highest quality of all the options. The flatbreads that I tried were limp and sad."
Due to being frozen, the texture didn't quite meet expectations, impacting the overall taste experience. Amanda rated taste at a 3 out of 5 and says, "Unfortunately, I was disappointed with the taste of pretty much all of the items I tried. The smoothies are yummy, and one flavor of oats that I got was pretty good (mulberry dragon fruit harvest bowl). The flatbread that I ordered was not good." Overall, the dishes lacked flavor and required extra seasoning.
RELATED: Best Meal Delivery Service
| | |
| --- | --- |
| Price per serving | $6.79 to $9.79 |
| Type (meal kit or prepared) | Prepared |
| Meals per week | A la carte |
| Delivery area | 95% of the continental U.S., enter your zip code on the website to ensure you're within the delivery zone |
| Examples of meals we tried | Mulberry Dragon Fruit Harvest Bowl, Smoothies, Rice Bowls, Flatbread |
Best Organic Dairy-Free Meal Delivery: Mosaic
Good for: Families wanting to eat more veggies without the hassle of prepping and cooking meals.
Mosaic is committed to improving health outcomes and protecting the environment by promoting organic, plant-based eating. They offer dairy-free veggie bowls, family meals, pizzas, smoothies, soups, and oat bowls.
Mosaic wants to make eating more vegetables enjoyable. Their family meals are made with four or more vegetables to maximize taste, texture, and nutrients. Vegetables are packed with vitamins and minerals that promote immune health, improve vision, and support strong bones and a healthy metabolism.
They are not a certified organic meal service, but they strive to use organic ingredients and to buy locally-grown produce often. Organic ingredients are listed on each individual product page.
RELATED: Best Organic Meal Delivery
Since the entire menu is plant-based, you order items a la carte, giving you the flexibility to choose from an assortment of meal options. There are nut-free, soy-free, and gluten-free options, but no specific meal plans for those dietary needs.
Lauren Strong, GGR staff writer and certified personal trainer (CPT), found the ordering process to be straightforward. She says, "It's pretty easy to order, but the one thing I noticed and did not prefer was the fact you have to sign up with your email address before you can view pricing and select meals to order." For this reason, she rated ordering at a 3 out of 5.
Depending on the frozen meal, preparation requires a blender, oven, or microwave. Everything can be ready to eat within just 5 minutes. Then simply wash the baking pan or blender used to prepare the meal. We love minimal cleanup after a meal and rated this at a 4.5 out of 5.
Lauren was pleased with the taste of Mosaic meals, rating them at a 5 out of 5, and says, "I felt apprehensive because everything is plant-based and I just assumed it would be very 'crunchy-granola' but the reality is these were really filling and tasty. Smoothies were excellent, pizzas were pretty darn good, and the Thai noodle dish I ordered was totally awesome."
Because these are plant-based meals, the protein content is rather low for anyone who lifts weights (smoothies have under 10 grams, other meals average 15 grams). Lauren still found the meals filling, likely due to their high fiber content.
For more, check out our in-depth Mosaic reviews.
| | |
| --- | --- |
| Price per serving | Plans start at $62.94 |
| Type (meal kit or prepared) | Prepared |
| Meals per week | 6 meal minimum |
| Delivery area | Most major metro areas in the US, enter your zip code on the website to ensure you're within the delivery zone |
| Examples of meals we tried | Tangy Thai Stir Fry, Sweet Chili Tofu Bowl, BBQ Seitan Pizza |
Best Budget Dairy-Free Meal Delivery: Dinnerly
Good for: Anyone wanting a combination of affordable pre-made meals and meal kits
Dinnerly is an affordable meal service that provides meal kits and prepared meals suitable for the entire family. They offer many pre-made and pre-measured ingredients, streamlining the preparation process and making cooking exceptionally easy. Dairy-free, gluten-free, low-carb, and low-calorie meals are available on their menu.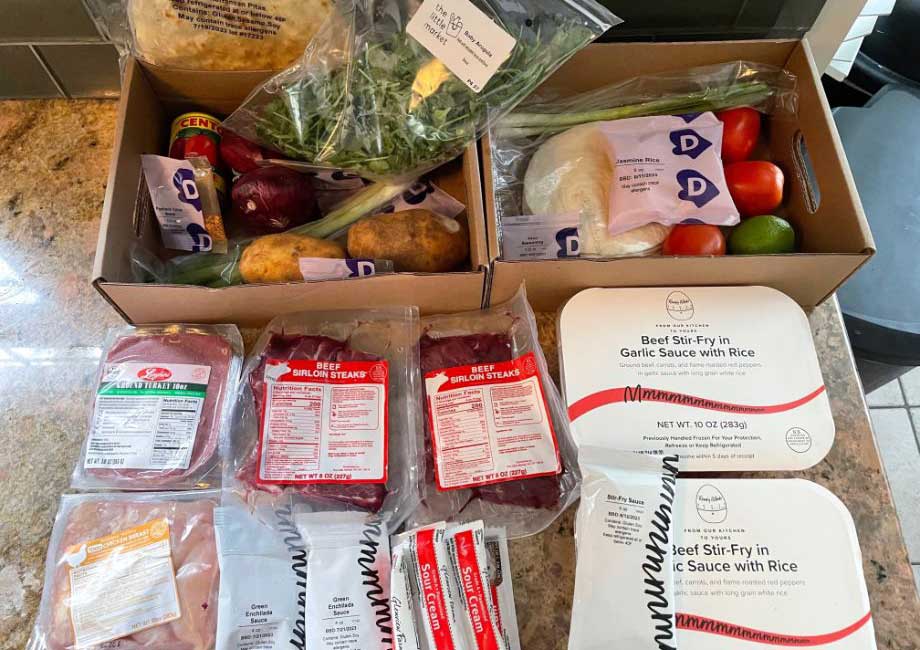 The weekly menu includes over 100 different meals to choose from. There are no set meal plans available, instead, you choose your meal frequency and then hand-pick recipes each week. This could be off-putting for those who'd rather the company select their meals for them so they don't have to worry about it, so we rated meal plans at a 3.5 out of 5.
These meals are prepared in only five simple steps and take less than 30 minutes to make. Certified nutrition coach, personal trainer, and GGR senior editor Nicole Davis rated ease of preparation at a 3 out of 5 and says, "For the meals you cook, one thing I noticed off the bat is that Dinnerly doesn't include recipe cards in the box, you have to go to the website to access the directions, download the app, or I guess print the PDF out." This is not ideal for everyone and we would have liked a printed recipe card included with the meal kit.
Nicole compared the premade meals to a Lean Cuisine. "It has better ingredient quality and definitely less sodium than a TV dinner, but very similar taste vibes." She had more positive feedback regarding the flavors of the meal kits and says, "Turkey Taquitos: Yummy. The green enchilada sauce that came with it was the star. Pastrami-crusted steak with an everything bagel potato: This one was delicious! Great flavor!"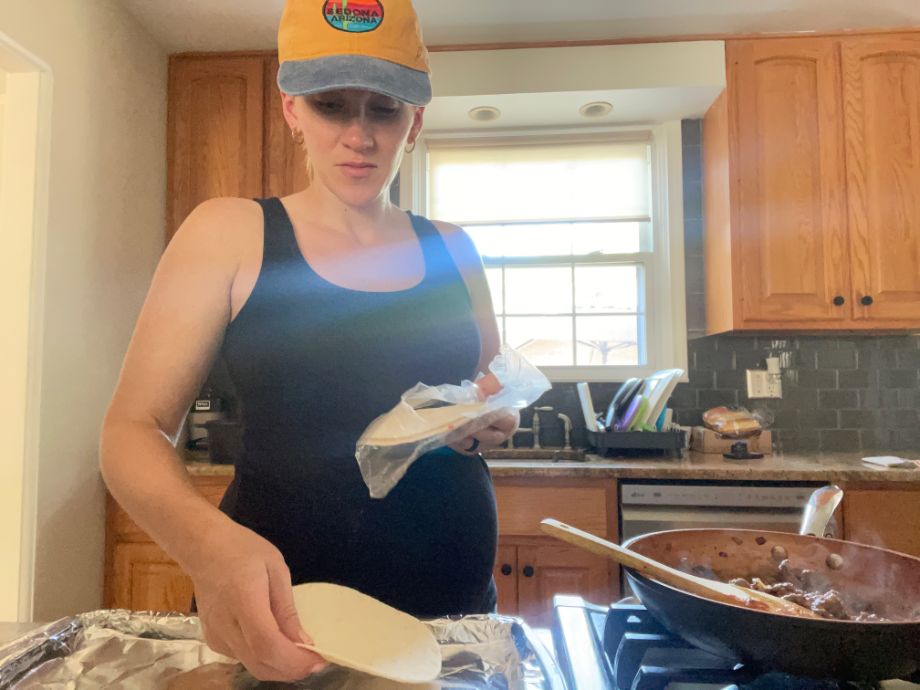 Most impressively, Dinnerly is exceptionally affordable, costing less than $6.00 per serving. Of course, this depends on how many meals you order each week—meals are less expensive when you buy more.
RELATED: Cheapest Meal Delivery Service
| | |
| --- | --- |
| Price per serving | $5.49 to $11.03 |
| Type (meal kit or prepared) | Meal kits and prepared |
| Meals per week | 2-6 |
| Delivery area | Nationwide except for Alaska and Hawaii |
| Examples of meals we tried | Turkey Taquitos, Pastrami-Crusted Steak with an Everything Bagel Potato |
Best Prepared Dairy-Free Meals: CookUnity
Good for: Busy individuals looking for dairy-free, pre-made meals made by award-winning chefs
CookUnity provides chef-curated, ready-made meals crafted by award-winning culinary experts from various regions across the country. This ensures your food is delivered fresh, with minimal shipping distances.
They offer dairy-free, low-sodium, gluten-free, low-carb, and low-calorie meals to fit a variety of dietary restrictions. Anthony O'Reilly, GGR performance editor and certified personal trainer (CPT), rated meal variety a 5 out of 5. "There are dozens of meals that fit multiple diets and lifestyles," he says.
RELATED: Best Low-Carb Meal Delivery
Anthony rated ease of preparation at a 5 out of 5 and says, "There's "chefy" instructions that involve pots and pans or "easy" instructions that involve a microwave or oven." The cleanup depends on the cooking method you choose.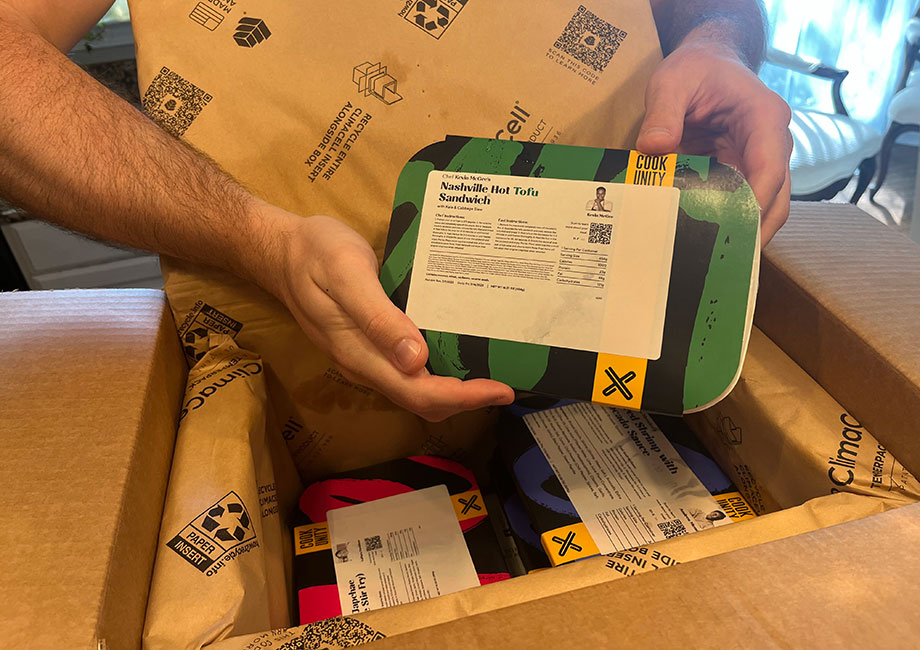 Anthony wasn't blown away by the taste of these pre-made meals, rating this at a 3 out of 5. Regarding the Bulgogi Beef Japchae, he says, "I found this bowl was very one-note and that note was the sauce, which was zingy and quite flavorful but also overpowered everything in the dish." Outside of the sauces, he found the meals to lack seasoning and flavor.
He also noted that the portion sizes were smaller than advertised on the website, rating them at a 3 out of 5. "There were several times where the food was notably lighter on the scales than what was advertised."
CookUnity is actively working toward its no-waste goal. In select cities such as New York City, Los Angeles, and Miami, customers have the option to return their insulated bags for sanitization and reuse. This demonstrates a strong commitment to eco-friendly practices, so we rated sustainability efforts at a 5 out of 5.
| | |
| --- | --- |
| Price per serving | $17.25 |
| Type (meal kit or prepared) | Prepared |
| Meals per week | 4-16 |
| Delivery area | Most of the continental U.S. except Montana, West Virginia, and North Dakota |
| Examples of meals we tried | Bulgogi Beef Japchae (Glass Noodle Stir Fry), Seared Shrimp with Avocado Sauce, Seared Barramundi and Moroccan Couscous, Nashville Hot Tofu Sandwich |
Best Paleo Dairy-Free Meal Delivery: Paleo On The Go
Good for: Anyone looking for pre-made paleo meals made with high-quality, sustainably sourced ingredients.
Paleo On The Go delivers dairy-free paleo meals that fit into the autoimmune protocol (AIP) diet. AIP-compliant meals do not contain ingredients that could cause inflammation in those with an autoimmune disease, such as grains, nuts, seeds, eggs, soy, and dairy.
The AIP diet shouldn't be done long-term or without the supervision of a dietitian or physician because it's very restrictive. You're intended to slowly reintroduce ingredients one at a time to determine what causes your inflammation.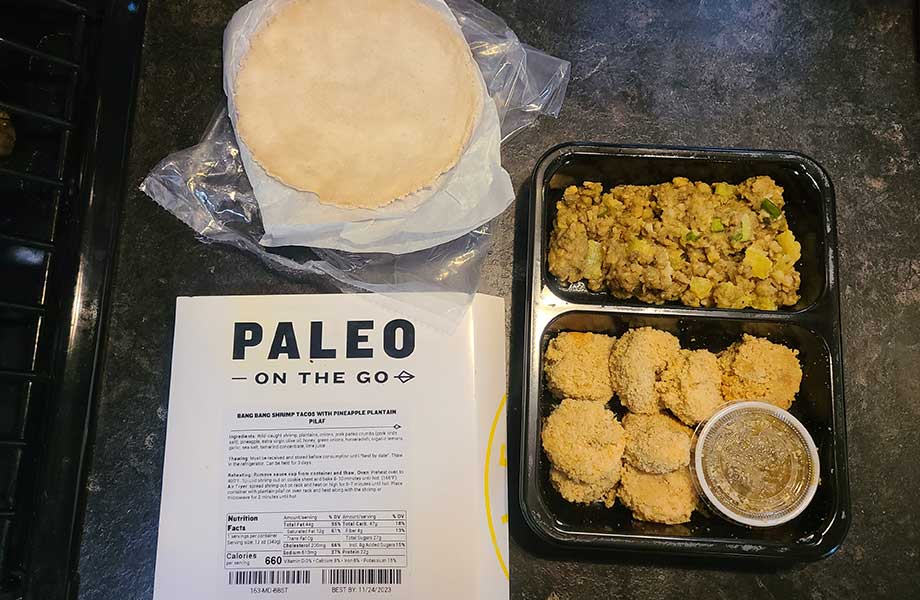 The menu allows you to select from seasonal items, soups, and baked goods. You don't select a plan, giving you access to the entire menu. Frieda Johnson, GGR editor and expert tester, who rated variety at a 5 out of 5, says, "They have a very large menu to choose from, and you can choose whatever meals you want each week. Meals are cycled out, or new ones are added regularly."
Paleo on the Go values sustainable agricultural practices that cultivate quality ingredients, which is why we rated ingredient quality at a 5 out of 5. "All animals are humanely raised and hormone/antibiotic-free and they have links to all of the farms where they source their meat. They also have information on where/how they source their produce," says Frieda.
Disappointingly, her order was delivered in poor condition, and we could only rate packaging and shipping at a 3 out of 5. "My box was in pretty rough shape when it arrived, with one of the dry ice packets torn open and two of the meal boxes a bit smashed," she says. Despite this, the condition of her food remained perfectly fine.
Frieda really enjoyed the meals, rating the taste at a 5 out of 5. She says, "They were easily as good as the meals I made from scratch when I was following the paleo diet. And the baked goods were impressive! A bit of a mealy texture, but that's hard to avoid with paleo baked goods. Overall, I was impressed with the quality of food for frozen paleo food." She recommends heating the meals in the oven rather than the microwave for the best taste outcomes.
RELATED: Best Paleo Meal Delivery
| | |
| --- | --- |
| Price per serving | $10 to $25 |
| Type (meal kit or prepared) | Prepared |
| Meals per week | 8, 12, 16 |
| Delivery area | Nationwide |
| Examples of meals we tried | Lemon blueberry muffins, Cuban empanadas, loaded baked sweet potato soup |
Best Keto Dairy-Free Meal Delivery: Ice Age Meals
Good for: Anyone wanting to order keto, dairy-free meals in bulk
Ice Age Meals crafts dairy-free, paleo, keto-friendly meals. They deliver single-serving entrees in larger quantities of 16, 30, or 60 per box, making them suitable for those who rely heavily on pre-made meals.
There are approximately 35 meal choices, so if you order 30 or 60 meals, you'll inevitably have some repeat entrees. While the menu items don't rotate each week, they do add new options regularly, so we rated variety at a 4 out of 5.
GGR staff writer and certified personal trainer (CPT) Lauren Strong, wasn't too impressed with the customization options, considering your only choices are keto-friendly and paleo, but since you can choose from anything on the menu rather than having set meal plans, she ended up giving this category a 4 out of 5. On the plus side, these are high-protein meals, with some including more than 50 grams of protein per serving.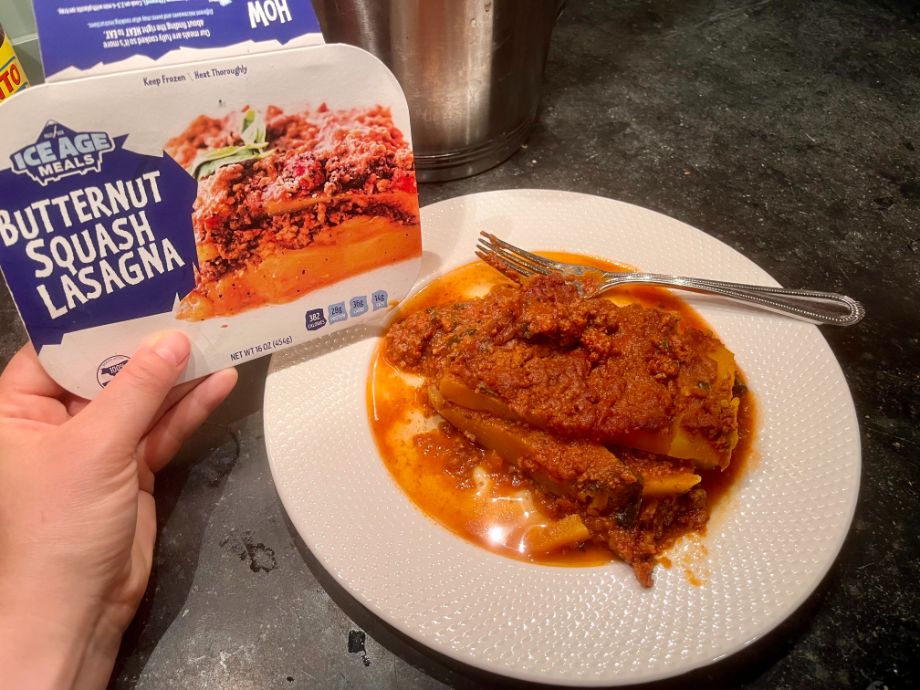 Their paleo meals do not contain refined grains or sugars, and all entrees are free of soy, gluten, and dairy products. They include some organic ingredients in their recipes and continuously seek out additional reliable sources. "Ingredients look great (even though it's frozen) and you can tell what everything is. There is no info on the website about how they source the food, though," says Lauren, who rated ingredient quality at a 4 out of 5.
Lauren found the flavor of these meals to be satisfactory, rating them at a 4 out of 5. "Overall, a good tasting meal service. Some are better than others, but some dishes just have more flavor or more juices to keep the food from drying out in the microwave."
RELATED: Best Keto Meal Delivery
| | |
| --- | --- |
| Price per serving | $12 to $16 |
| Type (meal kit or prepared) | Prepared |
| Meals per week | 16, 30, 60 |
| Delivery area | Nationwide |
| Examples of meals we tried | Chipotle Chicken Tinga with Rice, Chicken Chile Colorado with Rice, Elk Shepherd's Pie, Grass-Fed Barbacoa with Tomatillo Salsa and Squash |
Other Dairy-Free Meal Delivery Services We Researched
HelloFresh: With Hello Fresh, they send the ingredients and recipes, and you do the cooking. This way, you eat your food hot off the stove instead of reheating it in the microwave. Hello Fresh offers the plans Family-Friendly, Meat & Veggies, Veggie, Fit & Wholesome, and Pescatarian. Their veggie meal plan includes vegan meals that are completely dairy-free and packed with nutrient-rich plant-foods.
Purple Carrot: Purple Carrot is dedicated to making plant-based dining more accessible by delivering 100% vegan meal kits. They emphasize the use of seasonal ingredients, ensuring variety in your meals and preventing monotony. They also offer a limited number of pre-made meals.
Epicured: Epicured crafts low FODMAP meals tailored for individuals experiencing digestive discomfort. FODMAP stands for fermentable oligosaccharides, disaccharides, monosaccharides, and polyols—sugars that the small intestine poorly absorbs. Epicured offers meal subscriptions spanning from 2 to 8 weeks, designed to assist during the elimination phase of the FODMAP diet.
Green Chef: Green Chef sets itself apart as a certified organic meal kit provider, with all ingredients being organic unless specified otherwise. Furthermore, Green Chef's paleo and keto meal plans have earned the certification of being gluten-free, ensuring their safety for individuals with celiac disease and those sensitive to gluten.
Sakara Life: Sakara Life provides organic, plant-based meals prepared with wholesome, nutrient-rich ingredients. The focus at Sakara Life is on crafting vibrant meals that are rich in vitamins, minerals, and vital nutrients. Every meal incorporates plant-based protein to support satiety, muscle development, and metabolism. It is one of the higher priced services we tested.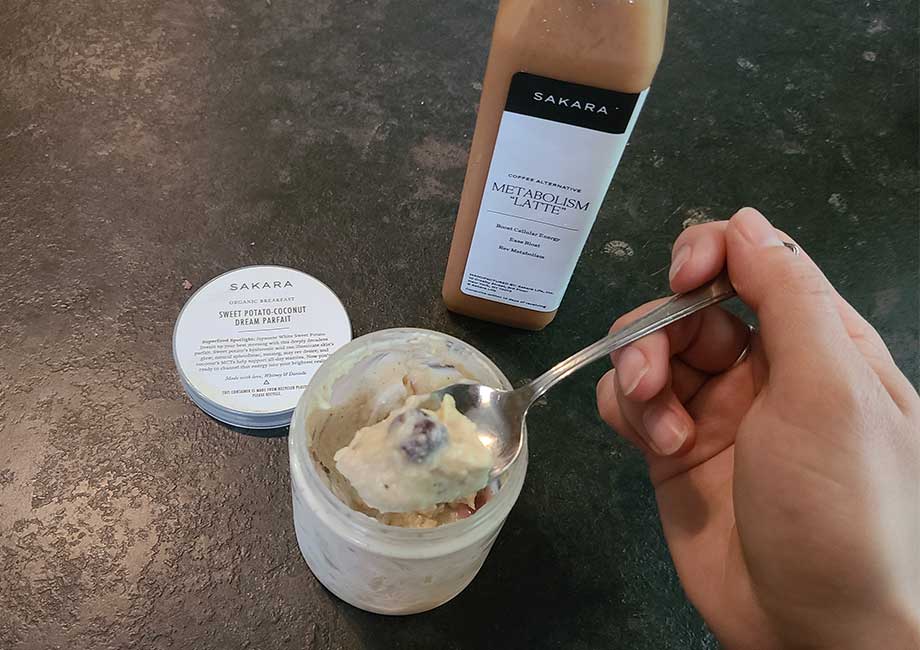 How We Picked and Tested the Best Dairy-Free Meal Delivery
We took into account several factors to ensure we selected the best dairy-free meal delivery services.
Price Per Meal
Contrary to popular belief, food delivery services aren't just for those with higher incomes. We incorporated affordable choices alongside some higher-priced services to fit a variety of budgets. Depending on your typical grocery expenses, certain options among these services might even lead to savings on your food costs.
Taste
We believe that food is more than just fuel and that it should be enjoyed. Food is meant to taste good, so we focused our energy on dairy-free meal services with flavorful sauces, spices, herbs, and fresh ingredients. We understand that texture is closely tied to taste, and chose services that provided easy-to-prepare meals, such as in the microwave, without sacrificing texture.
Meal Options and Variety
We made a deliberate effort to select dairy-free meal delivery companies that prioritize variety because no one wants to get stuck eating the same meals over and over again. Our selections encompass several dietary preferences, including vegan, vegetarian, keto, paleo, low-carb, low-calorie, and high-protein choices. We targeted companies with more than 30 meals to choose from, with a preference for rotating menus that offer something different weekly.
Packaging and Shipping
Whether you order meal kits or prepared meals, the contents should arrive organized and without damage. We focused on companies known to emphasize food safety to ensure that ingredients arrived fresh, not spoiled. We believe the packaging should maintain the quality of the meals, preserving their texture and appearance.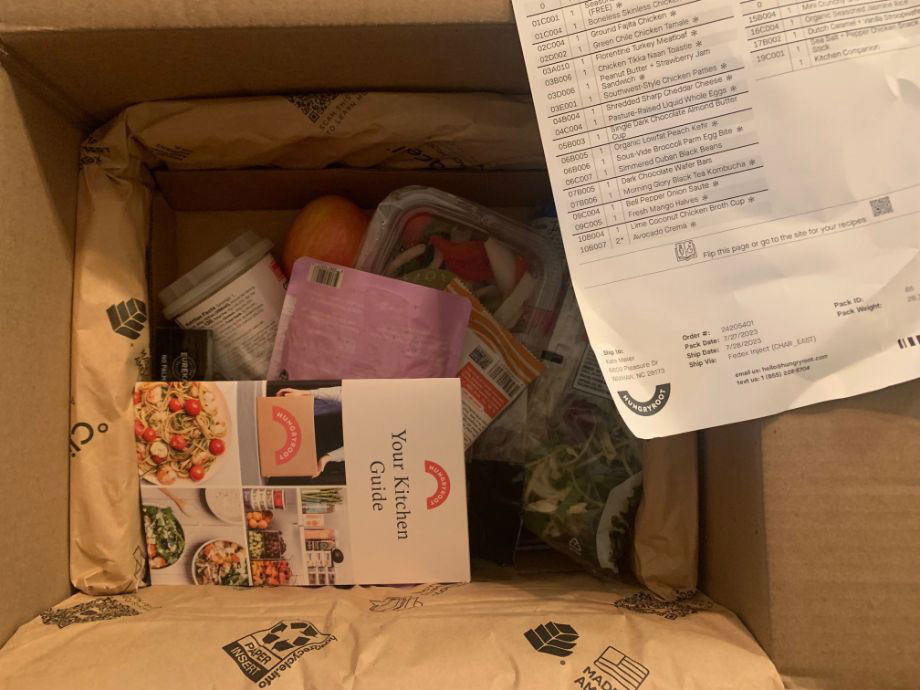 Sustainability Efforts
We value meal services that prioritize sustainability efforts, whether through ingredient choices or the packaging they use. Many services on our list value using organic ingredients and humanely raised animals. There's also an increased effort focused on minimizing the waste associated with packaging and ensuring that materials are eco-friendly and recyclable.
Customer Service
Customer service can make or break your opinion of a meal service. We selected companies with easy-to-access contact forms, chat features, and thorough FAQ pages. We also picked services that made it easy to change our orders and cancel our subscriptions.
Benefits of Dairy-Free Meal Delivery
There are numerous benefits associated with choosing a dairy-free meal delivery. Here are just a few to consider.
Convenience
Meal services help you save time and effort in meal planning, grocery shopping, and cooking. They come with simple recipes and heating instructions to make mealtimes a breeze. They also typically make the cleanup process much easier, drastically reducing the number of dishes and cooking utensils that need to be washed.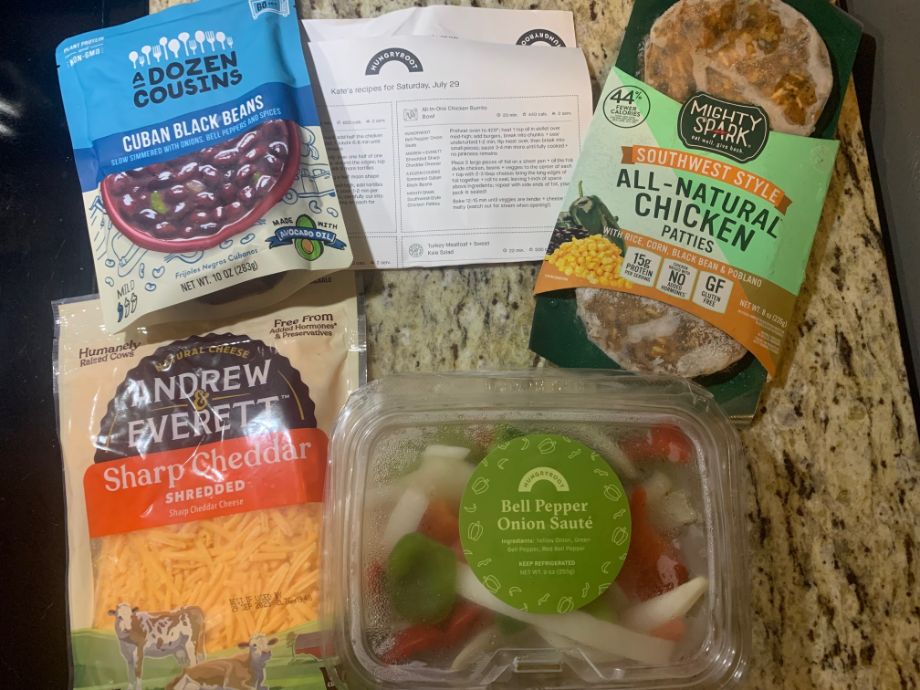 Quick Meals
Meal kits can typically be made in 30 minutes or less. Many services even offer "quick" recipe options for those wanting to spend even less time (think 15 minutes) prepping and cooking a healthy meal. However, if you're looking to practically eliminate time spent cooking, opt for ready-made meals that can usually be reheated in the microwave or oven in just a few minutes.
Avoiding Allergies or Sensitivities
If you have a dairy allergy or sensitivity, reading ingredient labels can be exhausting. Meal services do the work for you, so you can enjoy great-tasting, convenient meals that adhere to your dairy-free lifestyle. These services often clearly list allergens on the nutrition labels for each meal or allow you to select meals from a dairy-free menu.
Dairy-Free Meal Delivery: FAQs
Are any meal delivery kits dairy-free?
Yes, meal delivery services, including Hungryroot and Dinnerly, offer dairy-free meal kits. Look for services with vegan meal plans, as these meals will be dairy-free.
Does Blue Apron have dairy-free meals?
Blue Apron's vegetarian meals include some dairy-free options, however, you will need to read the nutrition label of each meal to determine if it contains milk.
Does HelloFresh have lactose-free options?
Yes, HelloFresh offers vegan meals that are lactose-free.
Does Home Chef have dairy-free meals?
Yes, Home Chef offers some dairy-free meal kits. However, meal kits are made in a facility that handles many common allergens, so there is a risk of cross-contamination. If you have a severe milk allergy, you may want to avoid Home Chef meals. They also provide dairy-free recipes on their website.
Can you get dairy-free Factor meals?
Yes, Factor offers some dairy-free meals, however, these meals are prepared in a facility where common allergens are handled, posing a potential risk of cross-contamination.
These statements have not been evaluated by the Food and Drug Administration. This product is not intended to diagnose, treat, cure, or prevent any diseases.