We test and review fitness products based on an independent, multi-point methodology. If you use our links to purchase something, we may earn a commission. Read our disclosures.
We went on a mission to find the best frozen meal delivery service and narrowed it down to nine of our top picks. We tried the most popular services out there so you don't have to and our testers came back with real and honest feedback and gave ratings in the following categories:
Price Per Meal
Ease of Ordering
Taste
Ease of Preparation
Portion Size
Ingredient Quality
Variety
Meal Plans and Customization
Access to Nutritional Info
Packaging and Shipping
Sustainability Efforts
Customer Reviews
Customer Service
Our expert writers and reviewers have a range of relevant certifications and credentials including personal trainers, dietitians, certified nutritionists, and strength training experts. In other words, we not only know what people like you are looking for in a frozen meal delivery service, but we have insight into what value they can provide in terms of nutritional quality and overall value. Here's what we came up with.
RELATED: Best Meal Delivery Service
Medical disclaimer: This article is intended for educational and informational purposes only. It is not intended as a substitute for medical advice. For health advice, contact a licensed healthcare provider.
Best Frozen Meal Delivery in 2023
Best Frozen Meal Delivery Overall: BistroMD
Good for: People looking for an easy weight loss solution to meal prep
BistroMD is named "the #1 Doctor-Designed Meal Delivery Plan" on their homepage. Our choice for best overall service on this list is thanks to its commitment to holding customers accountable for their health by offering registered dietitian-designed diets and requiring a minimum number of meals per week.
To get started, you must select a plan, and BistroMD offers gluten-free, diabetes-friendly, heart healthy, and menopause plans, among others. One important thing to note is that you can either choose from the full plan of seven days of breakfast, lunch, and dinner plus snacks or the five-day lunch and dinner only plan, or somewhere in between.
In other words, if you were intending to use this service as a supplement to fill in some gaps in your weekly cooking schedule here and there, you will end up with more than what you bargained for since you need to order a minimum of ten meals per week to be eligible for delivery.
GGR staff writer and certified personal trainer Lauren Strong tried BistroMD for herself and gives the service a 3.5 out of 5 in portion size. "This is the drawback to this meal service," she says. "Most meals are under 400 calories, with most being in the mid 300s. I just don't think that's enough for active folks."
Therefore, it appears that BistroMD is the best option for those who want to lose weight aggressively, or those who are suffering from weight-related chronic diseases.
RELATED: Best Meal Delivery for Weight Loss
| | |
| --- | --- |
| Price per serving | $10.99 to $14.99 |
| Type (meal kit or prepared) | Prepared |
| Meals per week | 10-21 |
| Delivery area | Contiguous U.S. |
| Examples of meals we tried | Chicken, Rice, and Cheddar Casserole; Sloppy Joe with Cabbage Slaw; Turkey Breast with Cranberry Apple Chutney; Merlot Meatballs with Grits; Chicken Florentine Cannelloni; Firecracker Chicken Meatballs with Asian Salad; Hickory Smoked BBQ Beef with Yukon Gold Potatoes; Cranberry Harvest Turkey Meatballs; Meatloaf with Honey Bourbon Glaze; Mojo Pork with Black Beans & Rice |
Best Frozen Meal Delivery on a Budget: Clean Eatz
Good for: People who need modest meal prep on a budget
You can choose from weight loss, keto, high protein, breakfast, and gluten-free meal plans, but can also just build your own meal plan if you don't follow a particular diet and just want to eat! There is a $5 shipping charge for orders under $85, so you'll get the best value if you have a family or have plenty of room in the freezer.
Meals average between 300-450 calories, so are perfect for weight loss. However, since the meals are already prepared and pre-portioned, if you require larger portions with a lot of calories, you'll have to do quite a bit of supplementing on your own to make the meals more substantial. The good news is that these bad boys are ready fast. You can heat and eat the microwave-safe, premade meals within 3 minutes, and they can be stored in your freezer for up to 6 months.
Our team member Chloe loved the convenience and flavor of the meals. She says, "So delicious. It was nice to have lower calorie, high protein, limited ingredient options without lacking flavor. I was blown away by how good everything turned out considering it was a microwave meal."
However, she did wish there was just a bit more protein to make the meal fully satisfying. "I had to get the extra protein add-on option because I didn't feel like there was enough protein to hold me over for the regular options," she said.
However, with an average price point of $7.99 per meal, you really can't go wrong. It's cheaper than many takeout places these days and probably healthier as well, which makes it a solid option for people who struggle with healthy meal prep, but don't want to break the bank for a convenient solution.
RELATED: Cheapest Meal Delivery Service
| | |
| --- | --- |
| Price per serving | $6.52 to $8.20 |
| Type (meal kit or prepared) | Prepared |
| Meals per week | 9 – 21 |
| Delivery area | Contiguous U.S. |
| Examples of meals we tried | Salsa chicken, Buffalo chicken sweet potato, bacon cheeseburger bowl |
Best Frozen Meal Delivery for Single Servings: MealPro
Good for: Individuals who don't mind paying a little extra for generous portions
The biggest quality that sets MealPro apart is its level of customization. Unlike meal kit services and other similar services, you have the option to either choose assembled meals or compose your own a-la-carte meals by selecting your desired proteins, grains, and veggies.
That said, this a-la-carte freedom comes with a downside in that it's not very helpful for those who adhere to special diets like keto, paleo, or gluten-free that require special attention to certain ingredients and specific macros for adherence. Many people prefer to not have to think about whether or not their meals fit their diet, as part of the convenience is just to order and go.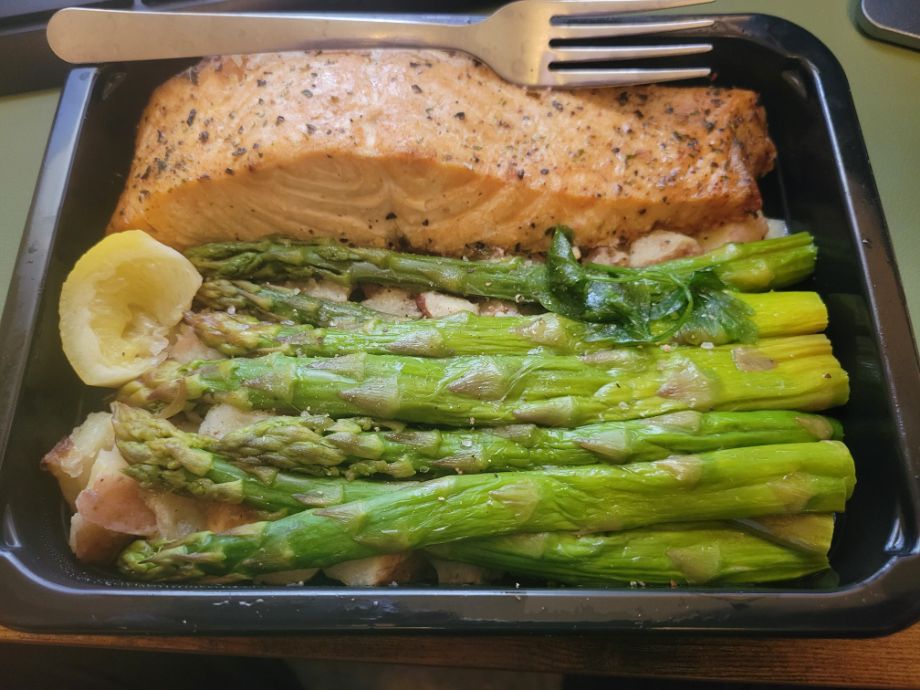 Our tester, GGR staff writer and Olympic athlete Caine Wilkes, gave the MealPro a customization score of 3 saying "Good variety of meals initially, but the a-la-carte menu doesn't seem to change. You can create custom meals, but only choose a protein and sides, ones that are already on the a-la-carte menu. And with 18 meals as a minimum, I can see this getting repetitive eventually."
That said, Caine gave MealPro a 4.5 for serving size, which is why we crowned it the best meal delivery for single servings. "Calories range from 500-800 a meal, which will satisfy most people," Caine notes. "As a larger athlete, I was satisfied by most meals, while sometimes it was a bit too much for my wife."
Finally, the biggest downside to MealPro is the price. Though the price per meal isn't anything crazy, you have to order a whopping 18 of them at minimum to get your delivery and shipping is not free. The price depends on where you live, but to give you an idea, Caine had to cough up $19.65 a meal with shipping.
RELATED: Best Meal Delivery for Singles
| | |
| --- | --- |
| Price per serving | $9.99 to $18.99 |
| Type (meal kit or prepared) | Prepared |
| Meals per week | 18, 20 |
| Delivery area | U.S. (all 50 states) and Canada |
| Examples of meals we tried | Beef lasagna, Steak fajitas, Alaskan cod |
Best Organic Frozen Meal Delivery: Revive Superfoods
Good for: Those with an easy-to-please palate who want prepared, plant-based nutrition
Revive Superfoods is a Canada-based, plant-based meal delivery service. We must specify here that not all meals at Revive are organic or contain organic ingredients, so be sure to read your descriptions before ordering. However, the menu of offerings were created by a team of chefs and nutritionists to ensure nutritious recipes that are farm frozen and sustainable.
What's special about Revive is that they offer prepared meals like the others on this list, but also offer other items including smoothies, soups, oat bowls, and acai bowls. That said, the variety is…not great.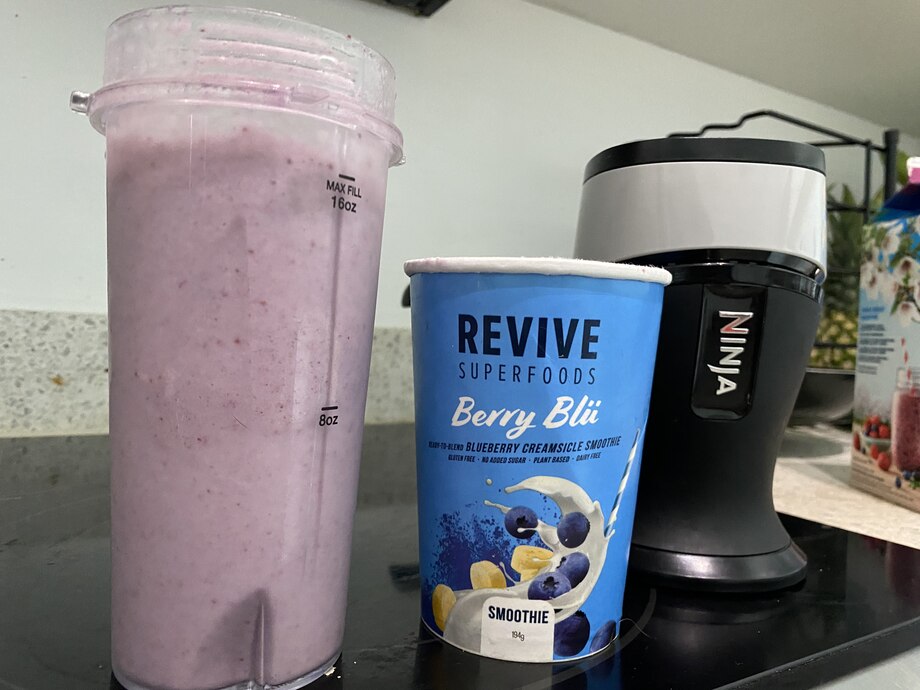 A quick look at their website shows only four options for meal entrees and Amanda Capritto, GGR senior staff writer and certified sports nutrition coach, gave Revive a variety score of 2 out of 5. "I think I'd get pretty bored pretty quickly with this service." she says. "This service is extremely similar to Daily Harvest but there are fewer options. There are a lot of smoothie options, though!"
Amanda also gave Revive a 2.5 in the taste category. "After trying several meal types from Revive, I'm not impressed with the overall tastes and flavor profiles of the available items," Amanda says. "Of all the items I tried, the smoothies are easily the tastiest and easiest to customize by adding protein powder, honey, sugar, other fruit, milk, etc. But in all, I could get a better smoothie from the shop across my building for about the same price. The ready-made frozen meals are very bland and plain."
So, if you're a huge smoothie fan or you want to make plant-based eating easy and don't care much about variety, then Revive is a solution for you.
RELATED: Best Organic Meal Delivery
| | |
| --- | --- |
| Price per serving | $6.99 to $8.99 |
| Type (meal kit or prepared) | Prepared |
| Meals per week | 9-24 |
| Delivery area | Contiguous U.S. and most of Canada |
| Examples of meals we tried | Chipotle and black bean bowl, Guajillo pepper and tortilla soup, raspberry and mango smoothie |
Best for Smoothies, Soups, and Oats: Daily Harvest
Good for: Plant-based eaters who want to order more than just meals
As a dietitian, I am very impressed by the way Daily Harvest acknowledges the importance of fruits and vegetables in improving health, and how they strive to make eating the recommended amount of fruits and vegetables as simple as possible for the American population.
Now, here's the problem I have. Their harvest and grain bowls aren't exactly balanced meals. For example, the Brussels Sprouts + Sesame bowl only has Brussels sprouts, carrot, almonds, cabbage, sesame, and lime. Despite the fact that this "meal" has plenty of nutrients, it's also void of any significant amount of carbs or high quality protein. Thus I would be very cautious of using this service as your only means of nutrition.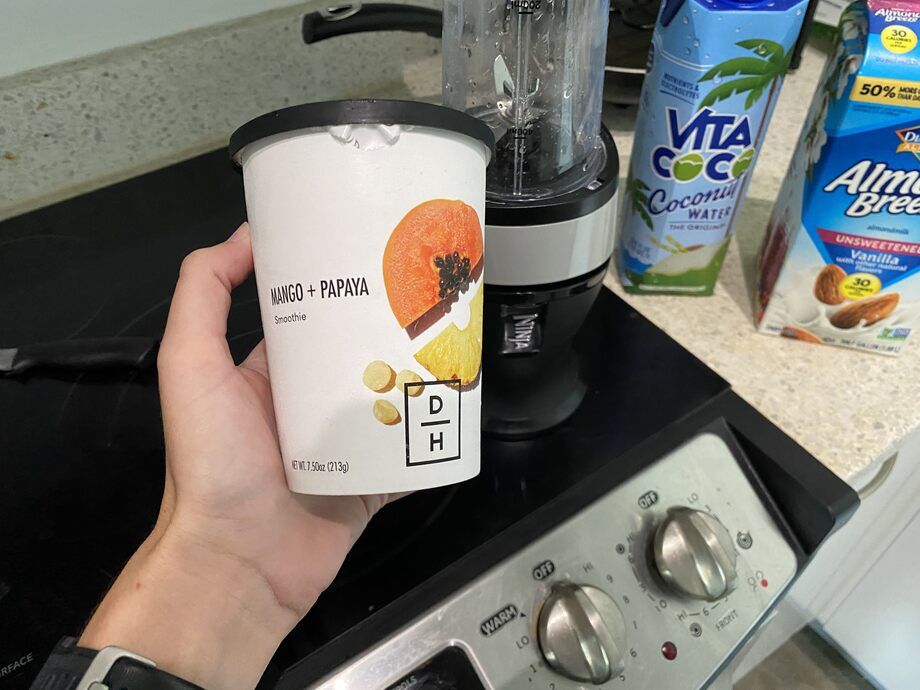 GGR senior staff writer and certified sports nutrition coach Amanda Capritto gave Daily Harvest a taste score of 3 out of 5. She says, "Unfortunately I was disappointed with the taste of pretty much all of the items I tried. The smoothies are still yummy, and one flavor of oats that I got was pretty good (mulberry dragon fruit harvest bowl)." The other food types were also middling according to Amanda. She continues, "The flatbread that I ordered was not good; I could have made a better flatbread with store-bought ingredients. The rice bowls are OK, but nothing special. Overall, the flavors are pretty bland and I had to spice up every meal with additional ingredients (except the smoothies)."
Finally, Daily Harvest got a 3 out of 5 from Amanda in the category of portion size, "I found the portions to be quite minimal and not filling, for all meal types that I tried. The skillet meals have multiple servings according to the label, but when I made mine, I ended up eating almost the entire bag." However, she does note that she ate her meal right after training, so this may not be the case for everyone.
RELATED: Plant-Based Meal Delivery
| | |
| --- | --- |
| Price per serving | About $10 |
| Type (meal kit or prepared) | Prepared |
| Meals per week | 9-24 |
| Delivery area | 95% of continental United States |
| Examples of meals we tried | Cinnamon oat bowl, lemon quinoa + butternut squash grain bowl, mango and papaya smoothie |
Best Low-Carb Frozen Meal Delivery: 518 Kitchen
Good for: People who are watching their carb intake, but aren't afraid of big portions
There is one thing that makes 518 Kitchen different from similar services: You can order as much food as you want. There are no restrictions on the frequency or quantity of delivery options, which makes it an excellent choice for large families or individuals who have a tendency to prepare meals on a regular basis. Also, since the meals are frozen, they can be kept in the freezer for a long time.
It should be noted that all meals are either keto, keto-friendly, or low carb, so if you were looking for some grain or Italian offerings, you may want to start looking elsewhere. It is possible to further filter down the cooked meals in order to cater to dietary needs that do not include meat, dairy products, nuts, or pork.
Kate Meier, GGR head of content and certified personal trainer, gave 518 Kitchen a score of 5 out of 5 for portion size. She said, "These are around 600 to 800 calories, which is plenty for me for one meal. I was able to finish all of it, and I wasn't hungry afterward." That said, if you're going for weight loss, you want to be very careful with these meals as portion control is something you'll have to handle on your own.
RELATED: Best Low-Carb Meal Delivery
| | |
| --- | --- |
| Price per serving | $10 to $15 |
| Type (meal kit or prepared) | Prepared |
| Meals per week | Fully customizable |
| Delivery area | Contiguous U.S. |
| Examples of meals we tried | Steak chili, chicken fajita bowl, bacon and ham frittata |
Best Vegan Frozen Meal Delivery: Mosaic Foods
Good for: Non-meat eaters who want gourmet meals that don't skimp on flavor
Founded in 2019, Mosaic Foods delivers meatless frozen meals right to your door. What's really cool about this company is that they partner with the non-profit City Harvest to give back to the community. This means that for every box sold, the company donates one pound of nutritious food to families in need.
RELATED: Plant-Based Meal Delivery
Mosaic Foods is a fairly new company, so they don't deliver just anywhere like some other services on this list. In fact, before you can even view the menu and pricing, you have to input your email and zip code to see if they can even come out to you.
Once you've done that and you're eligible, you can choose a minimum of six items that could include veggie bowls, family meals, pizza, soups, oat bowls, and smoothies. Just note that you need to order at least 12 items in your box to receive free shipping.
GGR staff writer and certified personal trainer Lauren Strong gave Mosaic Foods a rating of 5 out of 5 on taste. "I felt apprehensive because everything is plant-based and I just assumed it would be very 'crunchy-granola,' but the reality is these were really filling and tasty," Lauren notes. "Smoothies were excellent, pizzas were pretty darn good, and the Thai noodle dish I ordered was totally awesome."
She awarded it a 4.5 on portion size, but did warn that the offerings are really lacking in the protein category. "Everything I tried was very filling. That said, because this is a plant-based meal plan, the protein content is rather low (for myself and probably anyone else who lifts). Smoothies had under 10 grams of protein, most other meals averaged 15 grams per serving," she says.
Indeed, most meals get their protein from sources like quinoa, chickpea, and black beans. Although these are all healthful foods, they aren't efficient sources of protein. So, if you're a plant-based eater who is seeking hypertrophy or just a diet plan that can help meet your protein goals, this may not be the best fit for you. However, it's still a pretty affordable, convenient service to get a variety of tasty, meat-free meals.
Learn more with our full Mosaic meal delivery review.
| | |
| --- | --- |
| Price per serving | $8.00 to $12.00 |
| Type (meal kit or prepared) | Prepared |
| Meals per week | 6-18 |
| Delivery area | Major U.S. cities |
| Examples of meals we tried | Tangy Thai stir-fry, raspberry cacao smoothie, BBQ Seitan pizza |
Best High-Protein Frozen Meal Delivery: ICON Meals
Good for: Athletes and active individuals who have very high protein goals
Icon offers boxes of high protein meals that could be used for a nice bulk, a keto diet, or just staying lean. You have the option to choose from pre-assembled meals or customize your own. Icon offers lunch and dinner meals along with breakfast, which is always a plus.
Along with meals, ICON has snacks available for the real protein enthusiasts. These snacks include protein butter, protein coffee, and even protein popcorn. What's even better is that you do not have to commit to a weekly order and you can order as much as you like. No cap! This can be great for those who have large families or prefer to stock up on their prepared meals.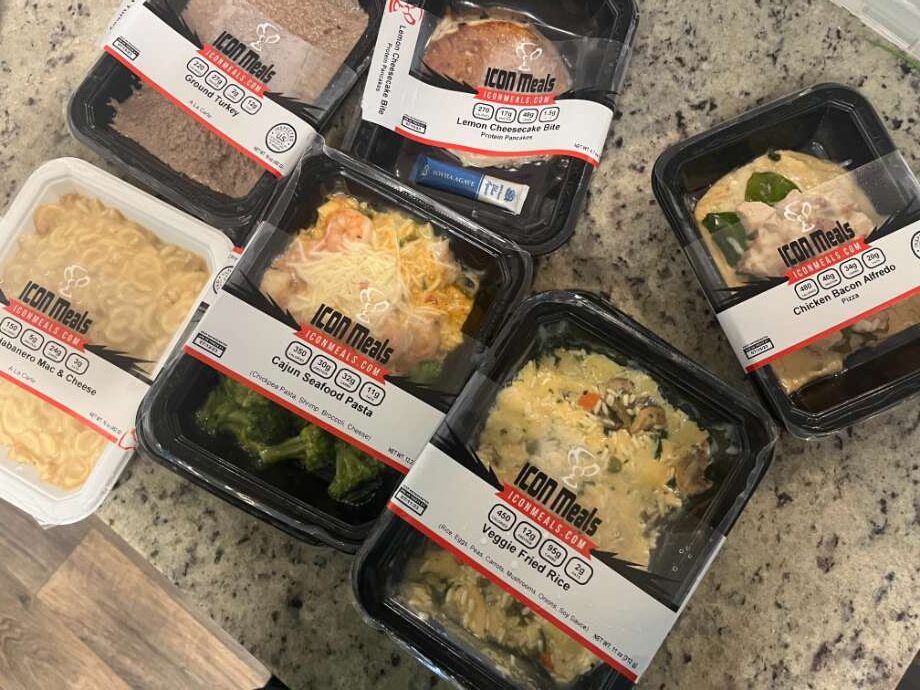 Our tester, GGR performance editor and certified nutrition coach Anthony O'Reilly, gave ICON a 5 out of 5 in the category of nutritional info and notes that the premade meals have a full macro breakdown to make food tracking super simple. The only thing is, this is not the service for you if you follow a plant-based diet, as there are virtually no options except for maybe pancakes.
| | |
| --- | --- |
| Price per serving | $11.00 to $15.00 |
| Type (meal kit or prepared) | Prepared |
| Meals per week | Minimum of 8 |
| Delivery area | Contiguous U.S. |
| Examples of meals we tried | Veggie fried rice, chicken bacon alfredo, Cajun seafood pasta |
Best Gluten-Free Frozen Meal Delivery: ModifyHealth
Good for: Those who struggle to find meals that accommodate for celiac disease or some forms of IBS
Frozen meals that are gluten-free can be extremely hard to come by, as most preservatives that keep frozen meals fresh or additives that make the food still tasty after rewarming often contain gluten. That said, those who have gluten intolerances or celiac disease still deserve the same convenience, so…enter ModifyHealth.
Along with gluten-free meals, ModifyHealth also offers Mediterranean, Diabetes-Friendly, Carb Conscious, and Low Sodium diets for those with diabetes and heart disease. I want to note that, if you have these conditions, you still want to consult with a registered dietitian for a specific meal plan that works for you.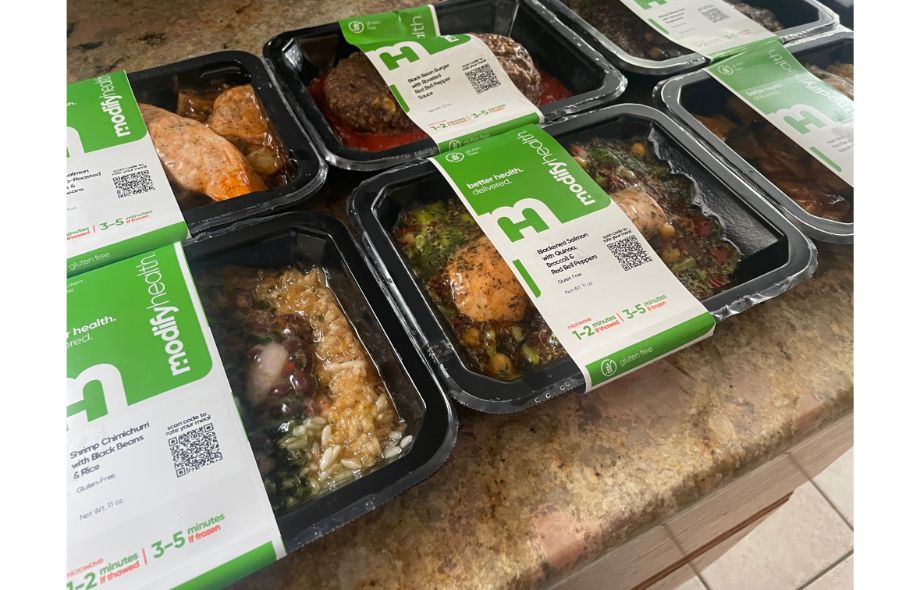 However, a combo of an RD and ModifyHealth could make executing recommendations for these dietary needs a lot less overwhelming. In fact, ModifyHealth even offers a combo plan in which you can subscribe to get their meals and get one-on-one sessions with a registered dietitian along with virtual cooking demos and other resources.
Furthermore, ModifyHealth offers low-FODMAP meals, which is important since FODMAPs can cause IBS symptoms when consumed. However, FODMAPs are often difficult to identify and eliminate. Thus, having a meal plan that excludes these foods altogether can be huge for people who suffer due to these compounds.
Nicole Davis, GGR senior editor and certified nutrition coach, gave ModifyHealth a 4.5 out of 5 for ingredient quality. She says, "It's very fresh—does not taste like a frozen meal once heated up."
RELATED: Best Gluten-Free Meal Delivery
| | |
| --- | --- |
| Price per serving | $12.95 |
| Type (meal kit or prepared) | Prepared |
| Meals per week | 6 |
| Delivery area | Contiguous U.S. |
| Examples of meals we tried | Blackened salmon with quinoa, broccoli, and red bell peppers; herb roasted fish filet with squash and rice; shrimp chimichurri with black beans and rice |
Other Frozen Meal Delivery Services We Researched
Eatology: Eatology is a frozen paleo meal delivery service. GGR staff writer Caine Wilkes says they took a long time to heat up and they are just average-tasting. There are also a lot of steps required to customize your meals, which we didn't feel was very user-friendly.
Purple Carrot: Purple Carrot offers both vegan meal kits and pre-cooked meal options, although they are more known for their meal kits. Registered dietician Perry Nix warns, "While Purple Carrot does offer some pre-made meals, this probably isn't the best meal service if that's what you're looking for. Their pre-made meal selection is limited, and you'll run out of options quickly."
How We Picked and Tested the Best Frozen Meal Delivery
There are indeed a lot more options than you might have suspected when it comes to receiving frozen healthy meals delivered to your house, as you can see above. For this reason, we narrowed down our top picks based on a number of specific criteria.
Price Per Serving
The price of fresh food can get expensive, especially if you're the type to make the common mistake of letting food be forgotten about in the back of your fridge, only to make the sad decision of having to throw it away later.
Thus, flash-frozen meals can save you serious cash in the long run if you go with the right option. So, we did our research and picked out the best frozen meal delivery services at the best prices, or at least those that are of good value for the price they charge.
Meal Options and Diet Types Supported
One of the big reasons people opt for meal kits and frozen meal delivery is because they adhere to a specific diet that comes with a set of dietary restrictions. Either due to personal diet preferences, certain health conditions, or certain weight goals, having to plan these meals yourself can get pretty overwhelming.
Some people would benefit greatly from a service that covers these diet requirements for them, leaving them to select their favorite meals with just a few clicks. So, we went with companies that offered something for nearly everyone.
RELATED: Best Whole30 Meal Delivery
Sustainability Efforts
A meal that is ready to eat in a matter of minutes is bound to be packed with a lot of single-use packaging. That doesn't even take into account the boxes, ice packs, recipe cards, and other materials that will be delivered and discarded weekly. Thus, sustainability is something to consider when choosing your new favorite meal delivery service, and we wanted to showcase companies who have made a commitment to sustainability practices.
Portion Sizes
Unlike meal kit delivery services that leave room for some embellishment and flexibility in the recipes, flash-frozen meals come to you intended to be eaten as-is. Thus, especially if you are active or aiming to put on some mass, it would be nice if the portion sizes in these meals are satisfying.
Sure, you could add some snacks or additional food to these entrees, but that can get pricey and just inconvenient. So, we tried to prioritize including companies that deliver delicious meals of a reasonable size.
Benefits of Frozen Meal Delivery
Whether you have specific dietary restrictions, don't have much time to cook at home, or just want to cut down on the trips to the grocery store, there are plenty of reasons to consider a frozen meal delivery service.
As a dietitian, if cooking meals at home is just not working for my clients, it's not uncommon for me to recommend a frozen meal delivery service. At the end of the day, I'd rather they get high-quality, prepared meals from one of these companies than pay the same price to get junk food from DoorDash. Let's look at some more benefits of frozen meal delivery.
Quick Meals
The chances are that if you're going to decide to sign up for a frozen meal delivery service rather than a meal kit delivery service, you're expecting your food to be ready in a short period of time. Some people don't like the idea of meal kits because they need certain kitchen gear, have to do some prep work, and are still required to endure the 25-30-minute cooking time before they can finally start eating.
For people who work a lot and just want to reheat something quickly in the oven or microwave afterward, they can skip all of that with frozen meals, which can save some serious time and effort at the end of your long day.
RELATED: Best Oven-Ready Meal Delivery
Convenience
Even if you are committed to adhering to a diet that's full of organic produce, high-quality ingredients, and nutritional balance, it's often easier said than done. You have to put aside time to choose the recipes, compile a grocery list from those recipes, make the trip to the grocery store, get home, and then you still have to prep and cook everything. Whew—I need a nap just writing about it.
There's nothing quite like the convenience of having delicious meals that are of high nutritional quality delivered to your door, particularly if these meals are able to be ready to eat within just a few minutes of being taken out of the box. So, if you've ever wanted to prep your weekly meals and are struggling with the motivation or time, frozen meal delivery may have just the right amount of convenience you need.
Long-Lasting Storage
We said earlier that there are few things in life more heartbreaking than the realization that the mushrooms you had been planning on adding to an omelet two weeks ago are now sitting in the bottom of your fridge, far too soggy to ever be eaten. You not only have to pivot your plans for your dinner for the evening because of it, but you waste an awful lot of food and money, as well.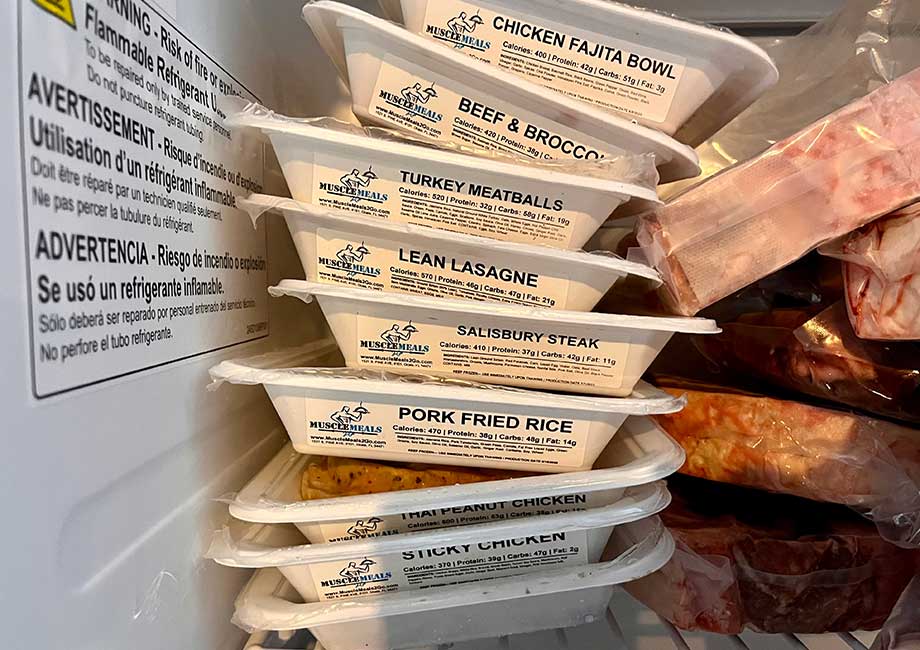 Among the many benefits of frozen meals is the fact that they can often be kept in the freezer for extended periods of time. In that way, you don't feel the pressure of having to consume meals before you are ready for them in fear that they will go bad on you.
There is also the advantage of adaptability, such as if some abrupt meal plans come up like having family over or you go on a long vacation, you can leave those prepared meals unattended in your freezer with peace of mind knowing that they will be right there and ready to eat when you return.
Variety
While some of us may be picky eaters with very particular dietary preferences, it's always nice to mix things up once in a while to keep things interesting. This goes double if delivery options require you to order a large quantity of meals at once as no one wants to feel like they are eating tacos for every single meal. If you're the type of person who is using these services because you only have the ability to cook one or two dishes, meal delivery can give your diet more variety.
Balanced Nutrient Profile
Whether you're aiming for a diet that's low-calorie for weight loss or rich in veggies for heart health, having meals that are balanced should always be a priority. Though convenience and expediency are cool, being sure that your body is getting what it needs is key, especially if you plan on these meals comprising a large part of your diet. It is a challenging task to prepare nutritionally balanced meals on your own. This is why using a meal delivery service that takes care of the balance for you is a pretty sweet bonus.
Best Frozen Meal Delivery: FAQs
Are frozen meals good for you?
When frozen meals are made with quality ingredients and are not loaded with excessive amounts of sodium, they can be quite healthy for you.
What is the tastiest food delivery service?
Your specific food preferences will play a big role in determining which food delivery service is the tastiest. For us, Mosaic Foods was the service that fared best on this list in terms of taste.
What companies deliver ready meals?
All of the companies on this list will deliver premade meals to your door.
Can frozen food be delivered?
Deliveries of frozen food are absolutely possible. It is even common for food delivery companies to add ice packs to the delivery boxes to ensure the fresh food stays frozen even if you are not able to unbox it right after it has been delivered.