We test and review fitness products based on an independent, multi-point methodology. If you use our links to purchase something, we may earn a commission. Read our disclosures.
Home fitness equipment offerings continue to diversify. Each year, and sometimes it seems like each month or week, I catch wind of new products and gadgets that fulfill a unique gap in the marketplace.
One of those products I recently tried is the OYO NOVA gym, which is a tiny functional trainer that weighs less than 5 pounds and provides up to 40 pounds of resistance. In my OYO NOVA Gym review, I explain the NASA science behind this small device and who should get one for their home gym.
Why You Should Trust Us
I've spent years testing and reviewing home exercise equipment. I've personally tested several portable home gyms, cable machines, and functional trainers. I know how to differentiate a gimmick and a piece of solid equipment that's a good addition to a home gym.
OYO NOVA Gym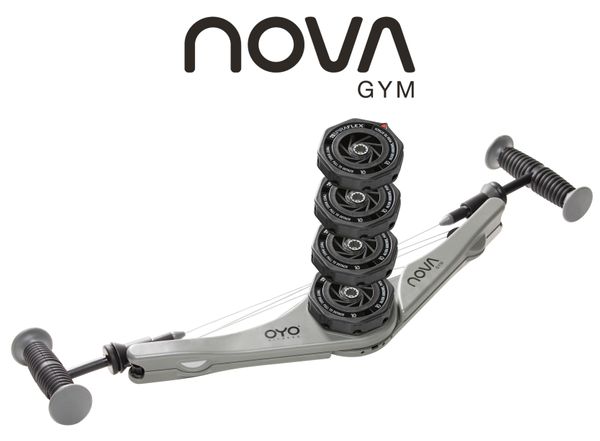 OYO NOVA Gym
The OYO NOVA Gym is a unique piece of home gym equipment powered by the same technology used to keep astronauts fit in space. This compact cable machine uses something called SpiraFlex technology to provide up to 40 pounds of resistance in a small device that weighs less than 5 pounds. Using FlexPacks, small discs that create resistance against nylon-coated steel cables, the OYO NOVA Gym allows trainees to perform nearly 200 different exercises.Because the NOVA Gym is mostly made out of plastic, we're not super confident it'll last a very long time, especially with high-volume use. However, the product does come with a three-year warranty and a 30-day money-back guarantee. That boosts our confidence some!The concept behind the NOVA Gym is cool and this is a great product for people who are looking for an ultra-portable piece of home gym equipment that they can use to train all muscle groups. We don't recommend it for people who are used to training with very heavy weights because they're unlikely to feel challenged by the 40 pounds of resistance available with the OYO NOVA. Still, this is a nifty gadget and definitely fulfills a unique market gap.
A Quick Look at the OYO NOVA Gym
The OYO NOVA Gym comes from OYO Fitness, an equipment manufacturer founded by Paul Francis, an inventor who pioneered a specific type of technology used to keep astronauts fit in space. (Astronauts lose a lot of bone and muscle strength while in space due to the anti-gravity effect—as much as 20% of muscle mass within a five to 11-day flight.)
Francis created something called SpiraFlex technology, which allows for resistance training in zero gravity. Turns out, this technology is also useful on Earth as it provides a way to train with ample resistance in a small package. I'll dive more into this technology when I talk about my experience with the NOVA Gym.
The NOVA Gym is essentially a tiny functional trainer that provides up to 40 pounds of resistance in 10-pound increments. It comes with a door attachment that can also be hooked to your leg, so you never really need a place to anchor it.
OYO Fitness also provides three workout programs for the NOVA Gym: a 28-day beginner program, 30-day standard program, and a 10-week challenge. You can do nearly 200 exercises with the NOVA Gym, from lower-body basics like squats to upper-body isolation exercises like bicep curls and everything in between.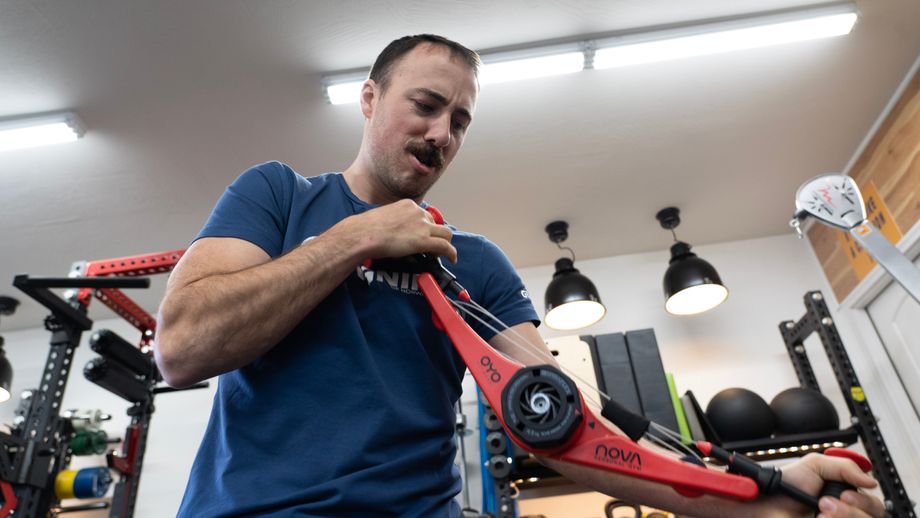 Coop's Tips:
Keep an eye on the website for stock. This product recently came off of Kickstarter and IndieGoGo, so at times, it's still only available for preorder.
Be patient with the learning curve if you're used to free weights. It might take you a few sessions to get super comfortable with the NOVA Gym.
My Favorite Things:
Budget-friendly functional trainer (around $220)
Super portable
Versatile: can do a lot of different exercises with the OYO Nova
Comes with exercise videos, a wall chart of popular exercises, and a nutrition guide
Good for people with a beginner fitness level
My Callouts:
Mostly made out of plastic
Range of motion feels short compared to using free weights
Recently off of Kickstarter, so stock varies and shipping can take a while
Is the OYO NOVA Gym Worth It?
For the price, this is a decent compact option for strength training. Personally, I'd recommend something like X3 Bar system or other resistance band options as the price-to-training effect ratio is higher with bands, in my opinion. But, the OYO NOVA is inexpensive, has adjustable resistance, is compact, and versatile.
RELATED: Best Resistance Bands
Great for:
People who want a budget-friendly functional trainer
Trainees who need fitness equipment on the go
Beginners looking to get started with basic resistance training exercises
Anyone who wants a simple way to do full-body workouts
Not recommended for:
Anyone looking for a true, full-size functional trainer
People who are experienced with lifting weights
Home gym owners who want ultra-durable equipment
OYO NOVA Gym Specs
| | |
| --- | --- |
| Weight | Less than 5 pounds |
| Resistance | Up to 40 lbs of resistance |
| Cardio options | No |
| Frame material | Plastic |
| Cable material | Coated steel |
| Portable | Yes |
| Smart features | No |
| Muscle groups | Total body |
Using the OYO NOVA Gym
Point blank: The OYO NOVA portable gym is definitely not my favorite way to train. Yes, you could certainly increase strength and lower body fat using this device, but man, there are a million and one more enjoyable ways to workout, at least for me.
The resistance does feel pretty smooth, but the range of motion is short relative to what you can accomplish using free weights. You can do many exercises with the NOVA, but that doesn't mean they provide full range of motion or as "good" of a workout as alternative equipment options. But it is compact and inexpensive, and it provides a decent workout.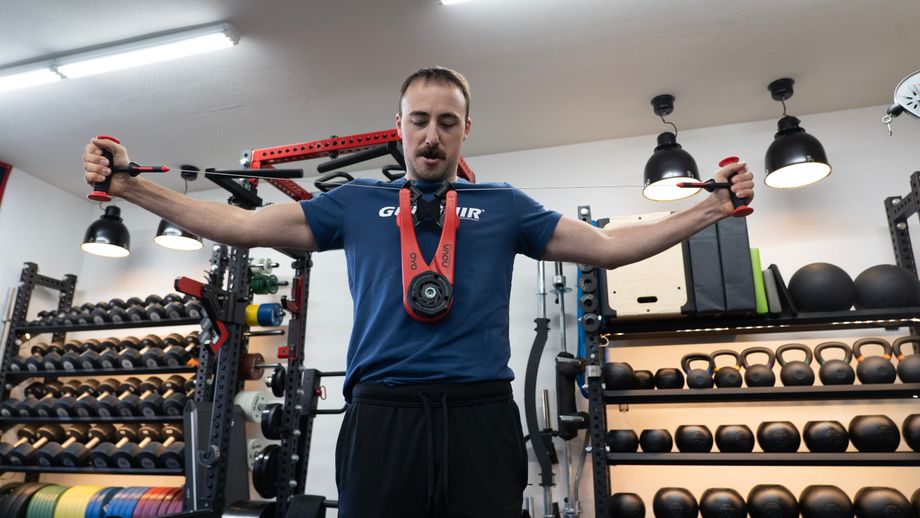 I think the main callout here is that the OYO NOVA gym creates linear resistance, meaning that your muscles experience equal resistance throughout the entire range of motion—unlike resistance bands, with which resistance is progressive. So, in a way, the NOVA mimics free weight training better than bands.
The resistance comes from small pucks that connect in the middle of the unit, calledFlexPacks. The FlexPacks work using something called SpiraFlex resistance, which apparently is a technology designed for NASA and has been in use for more than 10 years on the International Space Station to keep astronauts fit and healthy.
According to the website, SpiraFlex was inducted into the Space Technology Hall of Fame. To be honest, I can't really tell you how exactly this technology works. The website isn't super clear about it, but you can definitely feel resistance when using the OYO NOVA Gym.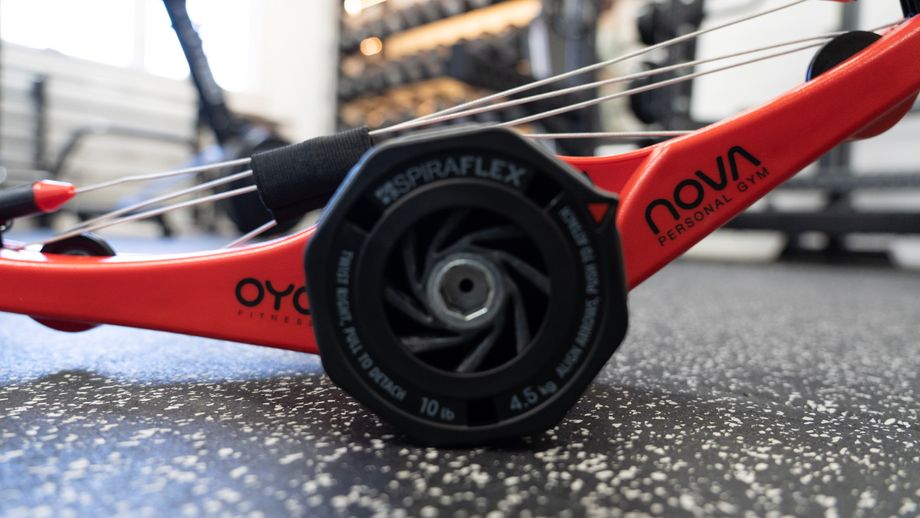 OYO Fitness also claims there's a study that proves SpiraFlex to be as effective at increasing muscle fibers and strength as free weights. I looked for the original study and couldn't find it, but there's some information about it on the OYO Fitness website.
The NOVA Gym basically provides four resistance levels: You can add up to 40 pounds in 10-pound increments. The main drawback to the OYO NOVA Gym is that you can't do any form of cardio, HIIT, or endurance work.
Footprint and Portability
The OYO NOVA is extremely compact and portable. The entire unit weighs less than 5 pounds, yet it provides up to 40 pounds of resistance. It only takes up a couple square feet of space and it folds up to be even smaller for travel. It comes with a door anchor that doubles as a leg attachment, so you can truly use it anywhere.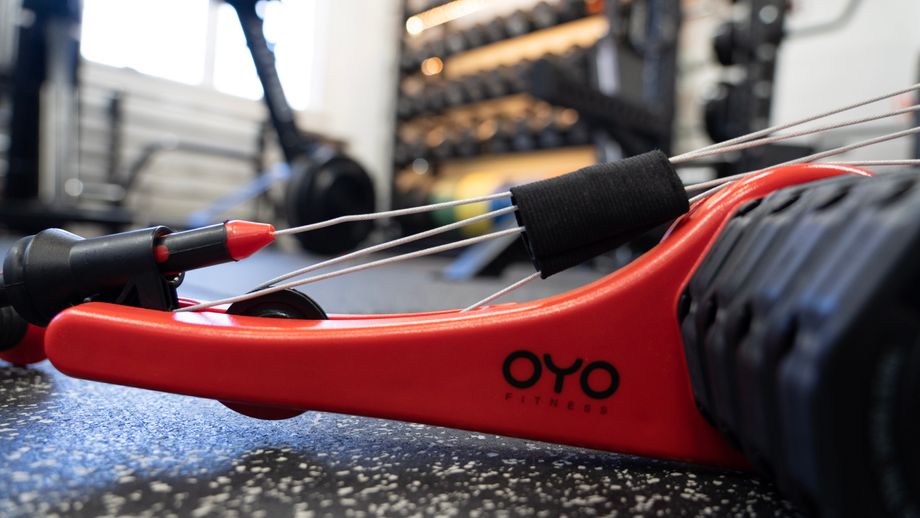 Construction and Durability
Designed to be budget friendly, the NOVA is, for the most part, made out of plastic. The gearing in the middle uses some metal parts, which I like, but it's mainly made of plastic. This allows it to be lightweight, but also lowers the durability and longevity.
The cables are strong and should prove to be durable with nice connection points. The FlexPack pucks are made of plastic, as are the joints and pulleys. I don't foresee this lasting with continued training, but that's reflected in the price point.
Tech Specs
While the resistance technology that powers the OYO NOVA is pretty cool, it's not what a modern day person would call "smart." This small functional trainer definitely does not fall into the same realm as high-tech products like Tonal or Tempo Studio.
There are no speakers, no Bluetooth connection, no form feedback or rep counting, no workout streaming. Heck, there's not even a display.
But, I'm of the opinion that lack of tech can be a good thing, especially for beginners. If you're looking for a no-frills way to get in some basic resistance training, the OYO NOVA Gym is it.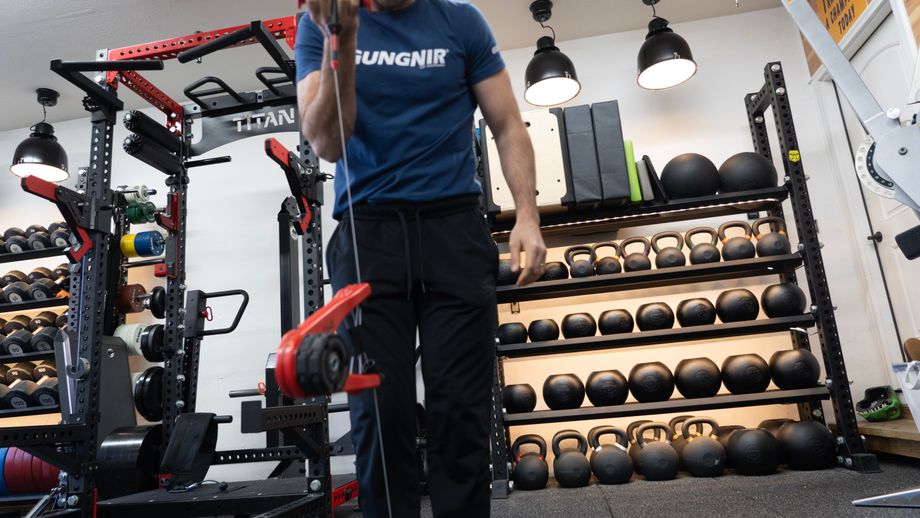 OYO NOVA Home Gym vs. MAXXPRO SmartConnect Home Gym
The MAXXPRO SmartConnect Home Gym is a neat piece of gym equipment that's similar to the NOVA Gym. It's also a small, portable cable machine that allows for full-body workouts. However, the MAXXPRO is much more expensive at around $850.
For the price, though, you get up to 300 pounds of resistance (versus the 40 you get on the NOVA Gym), plus some smart features like Bluetooth connectivity and rep tracking. One downside to the MAXXPRO is that it requires use of a battery, which obviously means it can die on you if you don't keep up with charging it.
To learn more about the MAXXPRO, read my full MAXXPRO SmartConnect Home Gym review.
RELATED: Best Cable Machines for a Home Gym
Customer Experience
The OYO NOVA Gym comes with a 30-day money-back guarantee as well as a three-year warranty. This is a pretty good offering for a relatively inexpensive product, and the warranty covers purchases made through Kickstarter and IndieGoGo in addition to the official OYO Fitness website.
Customer Reviews
OYO NOVA Gym reviews online are overwhelmingly positive. Although the NOVA isn't my personal favorite way to train, it's clear that there is a market for this product and it's helping people improve their fitness. I stand by my opinion that any training is better than no training, so if you like the sound of the OYO NOVA Gym, I say go for it.
Ordering and Assembling the OYO NOVA Gym
It took a while for my NOVA Gym to come in since I ordered from Kickstarter, but I got it eventually in a nice branded package. Setup was simple and quick: All you have to do is snap the FlexPacks on to create your desired resistance.
As of this writing, the OYO NOVA is out of stock and available for pre-order. I've checked the website several times since receiving my product and writing this review, and it seems like stock varies and shipping can take a while. This is likely because the NOVA Gym is so newly off of Kickstarter. I imagine the company is working toward building a more stable stock.
Final Verdict of Our OYO NOVA Gym Review
After using this product here and there for several weeks, the verdict of my OYO NOVA Gym review is that this is a super niche product and it's not for everyone, but there's definitely a market for it.
The OYO NOVA Gym is an ultra-portable, cable-based functional trainer.
It should work well for beginners, but maybe not for advanced trainees, because it only offers up to 40 pounds of resistance.
It's not the most durable piece of equipment, but it has a nice three-year warranty.
Full Rating
OYO NOVA Gym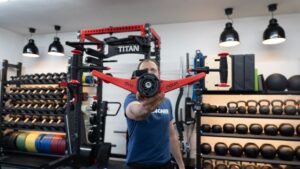 The OYO NOVA Gym is a tiny functional trainer that provides up to 40 pounds of resistance in 10-pound increments. It uses SpiraFlex technology, which is the same technology that NASA uses to keep astronauts fit in space. It's a great way for beginners to get started with some basic resistance training exercises.
Product Brand: OYO Fitness
Product Currency: USD
Product Price: 220
Product In-Stock: InStock
OYO NOVA Gym FAQs
What is the difference between the Nova gym and the OYO Gym?
OYO Fitness produces two portable cable machines, the OYO personal gym and the OYO NOVA Gym. The NOVA Gym we reviewed above; the OYO Gym is a bit smaller and has less resistance. It weighs 2 pounds and provides up to 25 pounds of resistance.
Does the OYO NOVA Gym really work? 
Based on customer reviews and my own experience, I can say the OYO NOVA Gym does, in fact, work. This probably won't be the device that helps you bulk up and compete in a bodybuilding show or anything, but it can definitely improve your overall fitness.
What is SpiraFlex technology?
SpiraFlex is a NASA technology used in OYO Fitness products. It uses spiral disks, steel cables, and elastomers to create resistance.