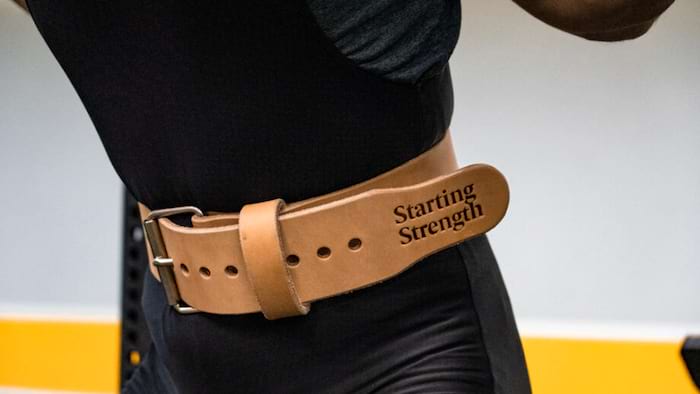 There's something special about using a high-quality piece of equipment—this is especially true for you weightlifting belt. Putting it on should increase your confidence to get under the bar, it should feel stable when strapped across your torso, and you should know that no matter how often you use it, that it's going to perform as well as the first day you got it. My dad was a powerlifter before I was born and as I was a child, but when I started training he passed his belt down to me to start using. I still use the same Inzer Power Belt often and will no doubt be able to pass the belt down to my son. This is what a good belt should give its owner the opportunity to do.
The Dominion Starting Strength Single Ply Weightlifting Belt, although simple, is a belt that has heirloom qualities. First of all, it's extremely simple in its design. Featuring a single piece of treated 6.5-7MM top grain sole bend leather, there is no stitching or glue to come undone and what you see is what you get. No doubt about it, using a single-ply belt is vastly different from a multi-ply belt like what is traditionally used for powerlifting today. It feels less secure, the belt stretches more (especially in the beginning), and it's much more flexible. However, although these are negatives for some, for others they're positives.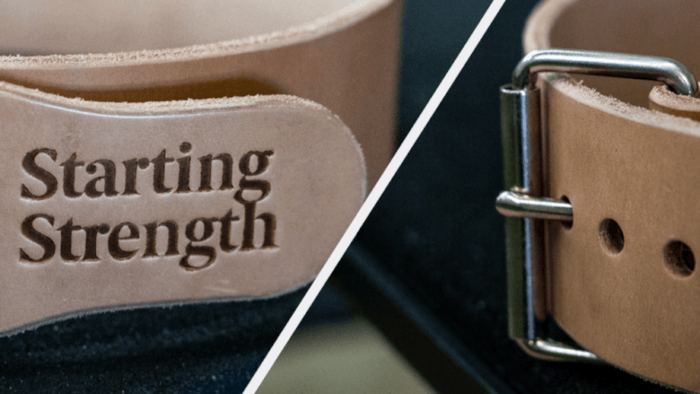 The break-in time on the belt is next to nothing (it felt better out of the box than my SBD Belt feels after nearly a year of heavy use) and due to how light and thin it is, I find myself using it for movements I wouldn't normally use a belt for, like bench and overhead press. I've noticed after using the belt through a few workouts that it's stretching less than it did in the beginning, and I expect this to continue to get better over time. Due to the thinness of the belt, it's much more flexible than other power belts you'd find. In fact, although I use this belt for deadlifts, I see it much more suited for bodybuilders or even Olympic Weightlifters (I'd love to see a contoured version of this belt for Olympic Weightlifting.)
The 3" width of the belt I received is designed primarily for pulling. Although I've tested 3" belts for squats, they aren't ideal for my body type. If you have a very short torso, then 3" can work great for squats, but I keep this style of belt for my time on the deadlift platform. Due to how thin the belt is, it's pretty important that the edges are rounded and sanded so the belt doesn't dig into your obliques and stomach. I've noticed Dominion Strength pays attention to the details, which can be seen everywhere from the pressed Starting Strength logo to the buckle system. Although a small detail, the buckle utilizes a seamless roller buckle that's used by pretty much all of the premier belts we've reviewed like from the likes of Pioneer Fitness.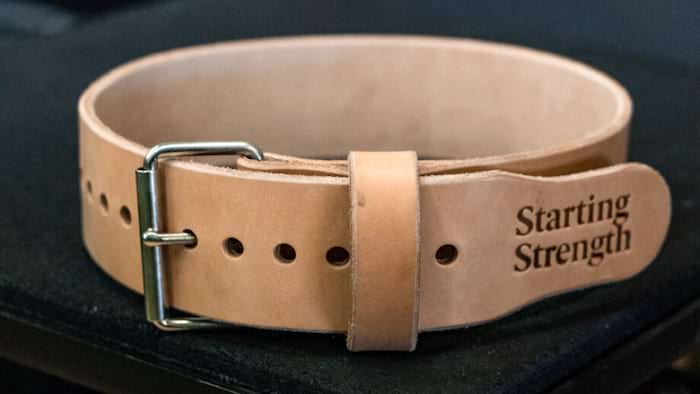 We definitely feel confident in recommending the Dominion Starting Strength Single Ply Weightlifting Belt, however, we'd suggest most people upgrade to a multi-ply belt like the 10MM belt we reviewed here. We like the single-ply for its flexibility, but prefer a stiffer belt for max lifts. If you use a belt for a lot of accessory work or want something a bit more minimal, this is one of your best options.