We test and review fitness products based on an independent, multi-point methodology. If you use our links to purchase something, we may earn a commission. Read our disclosures.
Outfitting a home gym can be expensive, so saving money where you can is always a plus. Whether that means finding inexpensive equipment, financing, or jumping on sales, there are plenty of different ways to keep cash in your pocket.
Find out in this Aukfa Magnetic Elliptical review what we really think about this affordable cardio machine. Should you add it to your fitness repertoire?
Whether you want to know about the Aukfa's assembly process, user experience, or resistance levels, we have you covered. Our goal is to give you the information you care about by providing reliable, in-depth reviews on products you're interested in.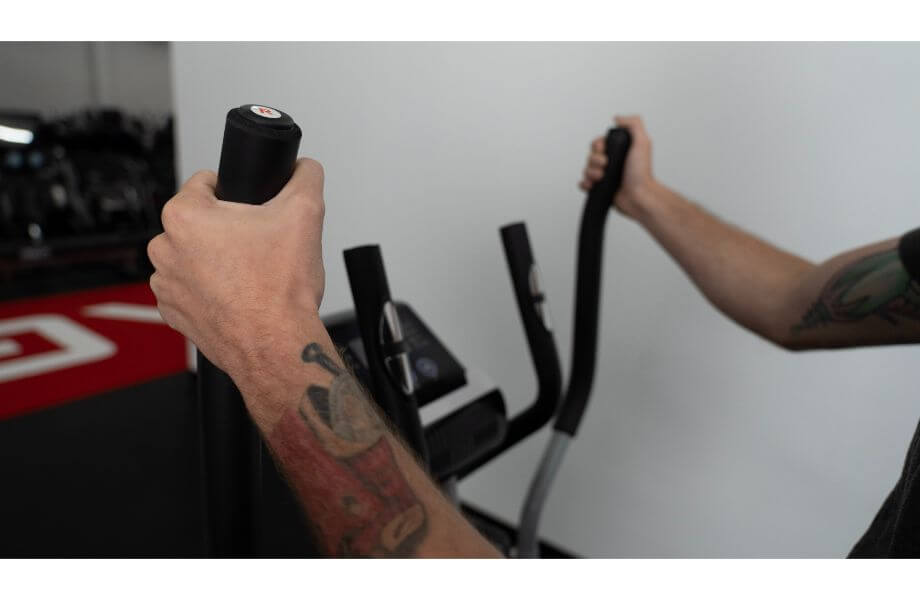 Excellent Elliptical Experts
Our team at GGR is composed of expert product testers and reviewers who really know fitness. We're certified personal trainers, CrossFit L1-Trainers, and nutrition coaches. Plus, we really know our stuff when it comes to ellipticals. I could tell you the industry standard for just about every spec on an elliptical, which is exactly what you want from someone reviewing these products.
Aukfa Magnetic Elliptical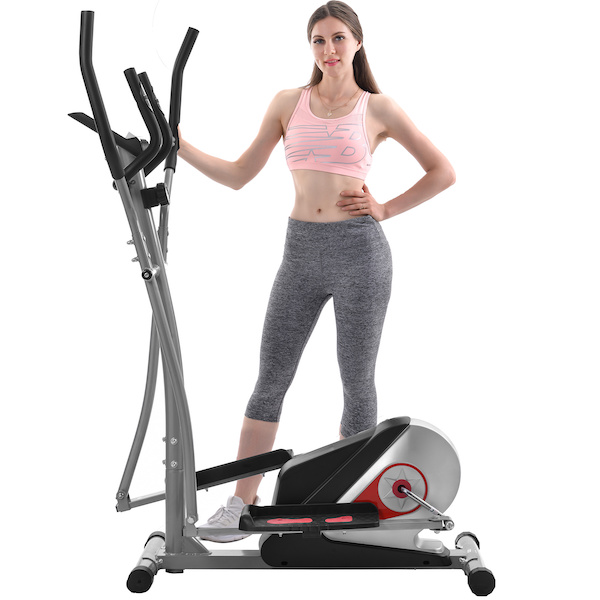 Aukfa Magnetic Elliptical
For less than $300, the Aukfa's Elliptical Trainer is a quality choice for fitness enthusiasts on a budget. Constructed from tubular steel and a wide base, this elliptical is stable, durable, and boasts an impressive 330-pound load capacity. Eight levels of magnetic resistance provide variability in training so you can make the workout as intense as you like with a change of the knob control.An LCD digital monitor displays distance, calories burned, time, speed, scan and targeted zone heart rate monitor which is calibrated using pulse grips on the handlebars. While there are no programmed workouts, users can create a challenging workout with the variable levels of magnetic resistance. Fourteen-inch non-slip pedals and anti-slip handlebars prevent slippage during exercise. Weighing just 73.5 pounds, this elliptical is lightweight and, thanks to the transport wheels, easily moved when not in use. Despite its compact nature, it still supports users who weigh up to 330 pounds.
A Quick Look at the Aukfa Magnetic Elliptical
After checking out Aukfa on the Walmart website, it seems that they sell a lot of different items housed under this brand (and not just fitness equipment). I'm not sure if it is a white labeling situation, but I suspect it is. This isn't a bad thing—it just means one place produces a mass quantity of an item, like an elliptical, and a variety of brands then label it as their own.
My Tips:
Check out the financing options available through Affirm to get this machine broken up into smaller payments.
Make sure to utilize the transport wheels when moving this elliptical.
Pros:
Under $350
300-pound weight capacity
Portable and easy to move
Pulse grips
8 levels of resistance
Fairly simple to assemble
Cons:
Short stride length
Not the smoothest operation
No preset programs
Is the Aukfa Magnetic Elliptical Worth It?
Trying to figure out if the Aukfa Magnetic Elliptical is the right cardio machine for you? Check out who I think would love this elliptical and who should choose something a bit different.
Great for:
A budget-friendly cardio machine
Shorter people
Not recommended for:
Advanced athletes
People looking for a higher end option
Technology enthusiasts
Aukfa Magnetic Elliptical Specs
Footprint
Weight
Max weight capacity
Resistance
Type of resistance
Display
Pulse rate grips
Pedals
Low impact
Bluetooth
Price
40.2" L x 18.5" W x 63.8" H
73.5 lbs
300 lbs
8 levels of magnetic resistance adjustments
Magnetic resistance
LCD display
Yes
14"
Yes
No
Under $350
Using the Aukfa Magnetic Elliptical
Garage Gym Reviews founder Cooper Mitchell had the privilege of testing the Aukfa Magnetic Elliptical. He described his experience on the machine as pretty typical, which isn't a bad thing. Apparently the Aukfa is a rather bare-bones elliptical, devoid of a lot of extra features, but it definitely gets the job done.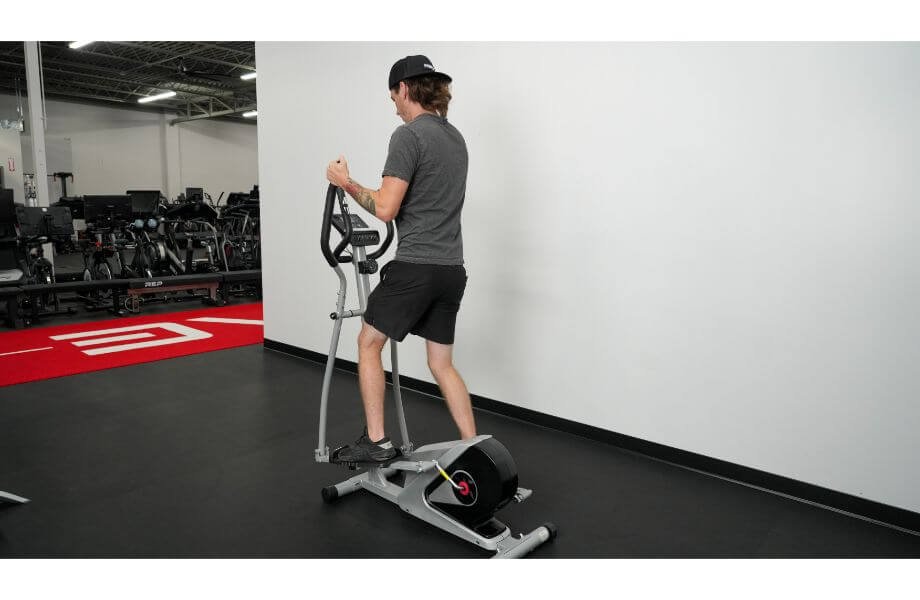 Although I couldn't find the exact stride length online for the Aukfa, the industry standard for an elliptical is between 18-20 inches. Coop definitely thought the stride length was quite a bit shorter than that.
"It felt like using a stepper," Coop explained. "The stride length was ultra short, which also meant it didn't have much distance forward to back or top to bottom. Due to the low ROM, I don't think it would be as effective as a larger unit."
This doesn't mean you can't get your sweat on with the Aukfa—it is just geared more towards beginners or those who don't really mind that the stride length is short. If you're a taller person, you might feel slightly limited with the type of strides you can take.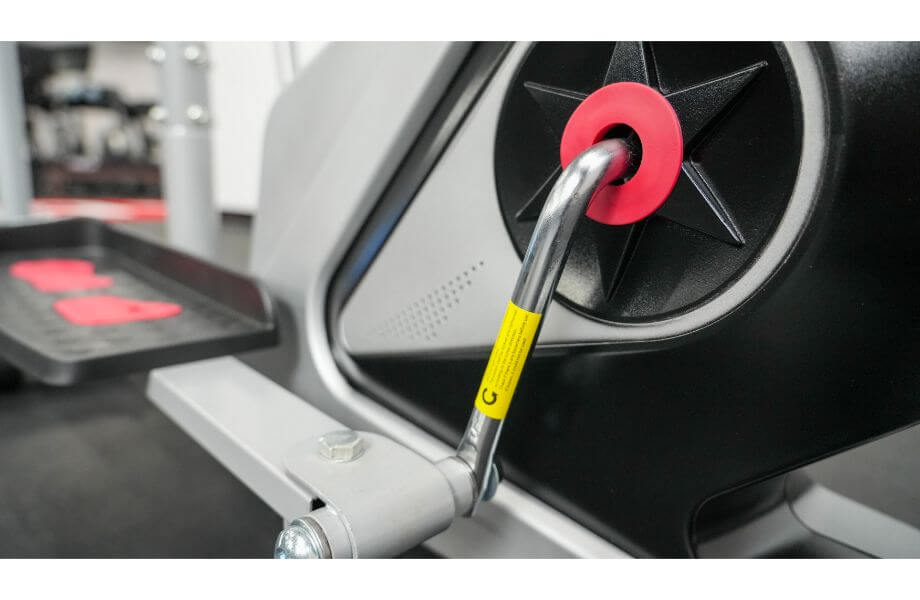 Coop did say it was a pretty smooth and quiet elliptical, which wins points in my book. This could be a solid option for someone in an apartment or shared space that needs a mostly silent way to stay active.
After examining the pictures, I'm noticing there are dual handlebars, which is a nice addition. Most budget ellipticals only have a set of moving handlebars, but the Aukfa also has a fixed set where you can check your pulse. However, don't put too much stock into what the machine says your pulse is—GGR Head of Content Kate Meier has tried similar features on other ellipticals and the number is usually much different than the one her Apple Watch gives.
Highly Portable, Compact Elliptical
Compared to other budget ellipticals, the Aukfa has around the same footprint. However, Coop did mention that it was super portable, and he was even able to pick it up (which I don't recommend doing unless you're Superman or Coop). It is under 80 pounds, but that is still a sizable amount to pick up for most people.
I do like that there are transport wheels on this elliptical. To move it around a room, simply tip the machine, and wheel it to your desired location.
Construction-wise, the Aukfa is made with typical materials—steel, foam, and a decent amount of plastic. The body of the elliptical that houses the flywheel appears to mostly be composed of plastic. This isn't surprising information, especially for the price. However, I do think that plastic isn't as durable over time, so we'll have to see how it wears.
The Extras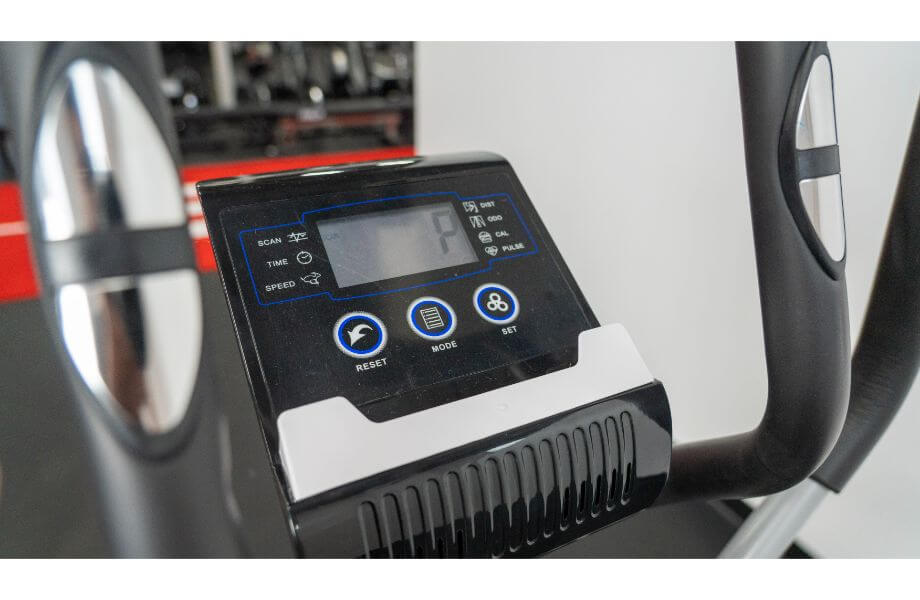 When it comes to extras and technology, the Aukfa doesn't have much to give. Although you will find a simple LCD monitor and a heart rate monitor on the inner handlebars, that's about it. There isn't a water bottle holder (much to my chagrin) or any type of advanced digital monitor with a bevy of preset programs.
I am a fan of the textured 14-inch large pedals, as they are supposedly non-slip. There isn't a ton else to note—this is a budget-friendly exercise machine without any extra bells and whistles. Luckily, if you're just using this elliptical for a home workout in your living room, you probably don't mind not having a bottle holder. For me, that is on my must-haves list, because I am chronically dehydrated, but it isn't a huge deal for most people.
RELATED: Best Elliptical Workout
Aukfa vs Body Rider Fan Elliptical
Body Rider Fan Elliptical
Body Rider Fan Elliptical Trainer
While fancy extras on a fitness machine are nice, they certainly are not necessary to get a good workout. The Body Rider Fan Elliptical Trainer exemplifies this point. It's a basic, but highly-efficient elliptical machine designed to work both your upper and lower body. Dual-action handlebars keep your core and arms engaged while your legs pedal away on this non-impact elliptical.This Body Rider elliptical is very compact, measuring about 25 inches long, 9 inches wide, and 36 inches high making it a viable option for anyone living in small spaces. The compact size does compromise the stride length, so it's less than ideal for taller individuals.Equipped with transport wheels and weighing less than 60 pounds, this machine is easily transported out of the way when not in use. If you're new to the world of cardio, this elliptical has you covered as it comes with an instructional workout video to help you get started.A chain-driven fan wheel drives this elliptical. The belt-tension control knob increases or decreases resistance and, as you increase your speed, air resistance is built up which contributes to a more challenging workout.While the Body Rider Fan Elliptical Trainer may not provide a workout difficult enough for a seasoned cardio fanatic, it could be a great choice for beginners and those with knee or joint pain. There are reviews that state the pedals are angled too far forward, which creates unnecessary stress on the knee for some. That said, there were recommendations for some DIY fixes to combat this problem.A basic computer tracks fitness metrics including calories burned, speed, time, and distance displayed on a small monitor. The display is a bit lackluster but, for less than $150, it provides all you would expect and need in a machine at this price point.
Curious how the Aukfa stacks up to another budget-friendly elliptical? Check out this comparison chart to see the differences (and similarities) between the two.
| | | |
| --- | --- | --- |
| Machine | Body Rider Fan Elliptical | Aukfa Magnetic Elliptical |
| Price | Under $200 | Under $350 |
| Product weight | 58 lbs | 73.5 lbs |
| Product dimensions | 38.58" L x 9.06" W x 24.8" H | 40.2" L x 18.5" W x 63.8" H |
| Levels of resistance | No specific amount | 8 |
| Type of resistance | Air | Magnetic |
| Weight capacity | 250 lbs | 300 lbs |
Customer Experience
Walmart has an excellent return policy. If you're not pleased with the Aukfa Magnetic Elliptical, you can return it within 90 days for a refund. It is worth noting that you will be responsible for return shipping charges, and that likely won't be super cheap, since it is an elliptical.
Oddly, there is no mention of a warranty anywhere for the Aukfa Magnetic Elliptical. Obviously, it is a budget option, so I don't expect it to have a 15-year frame warranty. However, I was surprised there isn't any warranty at all. Even most budget-friendly ellipticals have at least a year warranty, but not this one.
You'll also have to work with Walmart with any customer service questions or concerns, since I didn't see any other website for Aukfa or an additional way to contact the brand.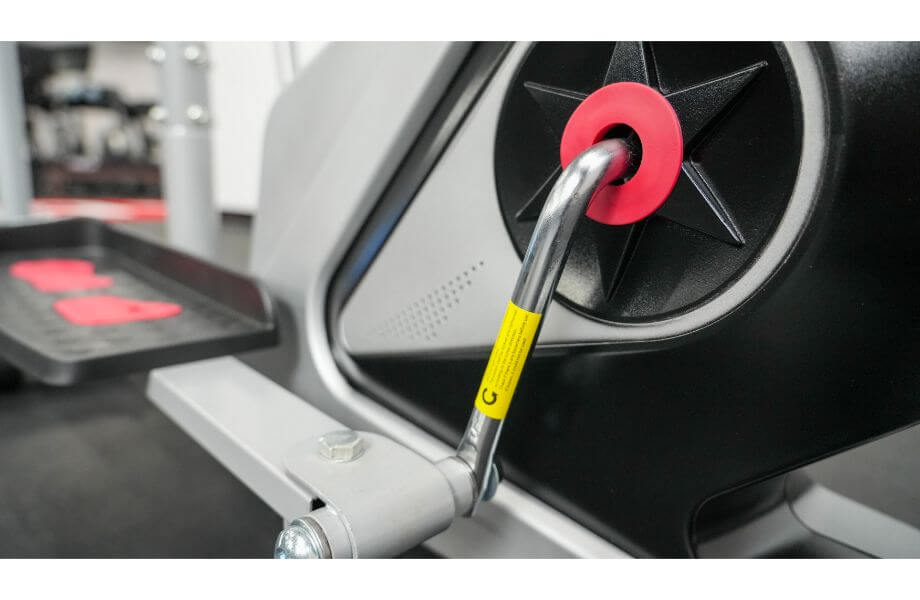 Ordering and Assembling the Aukfa Magnetic Elliptical
You can easily order the Aukfa Magnetic Elliptical on Walmart.com. Simply click add to cart, and you'll get free shipping with your order. Unfortunately, it does not come super quick, so expect to wait about two weeks for your order to arrive.
Walmart offers financing through Affirm, and you could pay as little as $23 per month for your new elliptical. This makes this already affordable cardio machine a very accessible option, which I always like to see. There are no professional assembly options available, unless you go through a third party.
Garage Gym Review's Operations Manager Sam "asSAMbly" Presley assembled the Aukfa Magnetic Elliptical and said it was a pretty simple process.
"It came in a small enough box that I was able to move solo," Sam explains. "There were a few bolts that were tough to line up, but it wasn't impossible by any means."
I will add a caveat that if you are not able bodied or are an older adult, I would recommend grabbing an extra set of hands to help you move and assemble the Aukfa.
Customer Reviews
The Aukfa Magnetic Elliptical has a total of 18 reviews on Walmart.com with an average rating of 4.6 out of 5. This isn't a huge sample size, but it is enough to tell me the majority of people were happy with the purchase they made.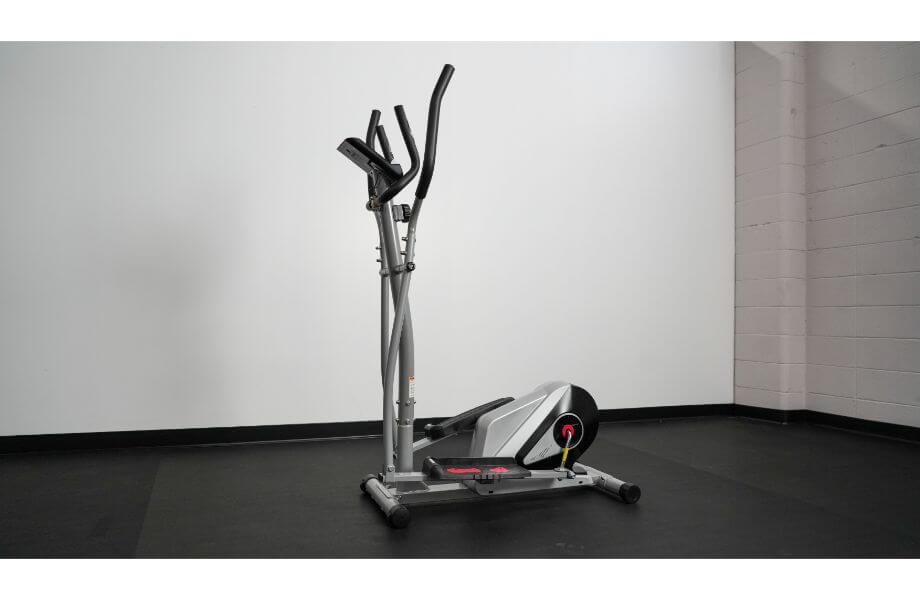 Pleased customers mentioned how simple it was to put together, the quietness of the machine, and how inexpensive it was.
Unhappy customers said they had difficulty contacting customer service and did not want to pay to ship back the machine. I can see why they had difficulty contacting customer service—after poking around online, I didn't find a way to contact the actual brand, so you'd be at the mercy of Walmart.
Final Verdict of Our Aukfa Magnetic Elliptical Review
All in all, if you're looking for an elliptical for home use that won't break the bank and is easy to move, go with the Aukfa Magnetic Elliptical. I recommend this cardio machine for beginners, shorter folks, and those on a budget. You do need to be aware there aren't any preset programs to follow, but that isn't a deal breaker in my opinion.
Aukfa Magnetic Elliptical Rating
Aukfa Magnetic Elliptical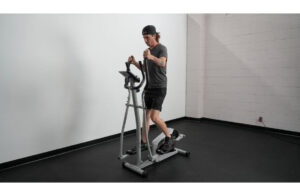 Take a gander at out Aukfa Magnetic Elliptical review to decide if you should add this affordable piece of cardio equipment to your home gym.
Product Brand: Aukfa
Product Currency: $
Product Price: 322.27
Product In-Stock: InStock
Aukfa Magnetic Elliptical FAQs
Is the Aukfa Magnetic Elliptical Trainer any good?
The Aukfa Magnetic Elliptical is a good elliptical for the price. If you're a beginner or need something that is more portable, you'll likely enjoy this budget-friendly cardio machine.
How many levels of resistance do I need on an elliptical?
There isn't any certain amount of resistance you should look for on an elliptical machine. It all comes down to personal preference and how much of a burn you're looking to feel. It's nice to have a variety of levels, but if you're a beginner, it won't really matter what the maximum is on the machine.
Are ellipticals the best cardio machines?
No specific type of cardio machine is necessarily the 'best'. Find whatever type of cardio you actually enjoy doing and get a piece of exercise equipment that fits what you like. If you normally enjoy biking outside, check out grabbing an exercise bike versus an elliptical machine. There is no one right way to do cardio.
What are the best elliptical machines for a HIIT cardio workout?
A variety of popular brands like Bowflex and Sunny Health & Fitness have excellent elliptical machine trainers that can be used for high intensity training. I recommend looking for an elliptical that has preset programs and a high max resistance. More heavy-duty and sturdy cross trainers will withstand the intensity of HIIT better than a compact elliptical.