We test and review fitness products based on an independent, multi-point methodology. If you use our links to purchase something, we may earn a commission. Read our disclosures.
Brian Shaw is a 4-time World's Strongest Man and out of all the gyms that Brian could train at, where does he train most? His garage gym. Here it is in all its glory!
Brian Shaw is one of, if not THE Strongest Man to ever live (yes, probably stronger than Paul Anderson.)
Not only has he won 4 Worlds Strongest Man titles (one less than the all-time greatMariusz Pudzianowski,) but he also has many world records in just about ever lift category imaginable.
In order to perform the seemingly inhuman feats of strength that Shaw does on a regular basis, it takes a village. A village of both gym equipment and food. Most, if not all of this takes place at his home.
Brian Shaw's Garage Gym is one of the best equipped in the world.
I love doing the research on these type of articles. One of the most recent was on Jocko Willink's Garage Gym, a well-equipped gym full of tools to make one useful for battle.
I, just as many of you, geek out over equipment, especially when it's strength athletes I've only had the opportunity to read about.
I've followed Brian Shaw for some time. After having heard there was a former basketball player who took the sport of Strongman as serious as any professional athlete, I became intrigued.
In the past, Strongman was largely a weekend warriors hobby, however thanks to sponsors (see Rogue Fitness) some of the top Strongman competitors can make a living hoisting stones, and flipping cambers.
Here is the short version of a laundry list worth of Brian Shaw's accomplishments in strength:
4-time Word Strongest Man Champion
3-time Arnold Strongman Classic Champion
905 lb. Squat
100-meter row in 12.8 seconds
As you can see, Brian Shaw is STRONG.
Brian Shaw is also THE professional Strongman. Not just in dollar amounts earned, but also in dedication to the sport. Like a surgeon using the best tools to perform his profession, Brian Shaw has developed a stable of tools to craft his body into the ultimate machine.
Here are his tools.
Brian Shaw's Garage Gym
There are a few caveats that must be made before I go into more detail on Shaw's Garage Gym.
First off, these photos were taken either from YouTube, Instagram, or a Google Search. I have yet to go to Brian Shaw's garage gym. However, I would like to given the opportunity.
I'm going to detail some of the equipment he has, at least from what I've seen, as well as some alternatives to what he uses (because some of it is custom-made.)
I will, however, be unable to detail everything he has because there is simply just too much equipment. Seriously, this is a guy after my own heart.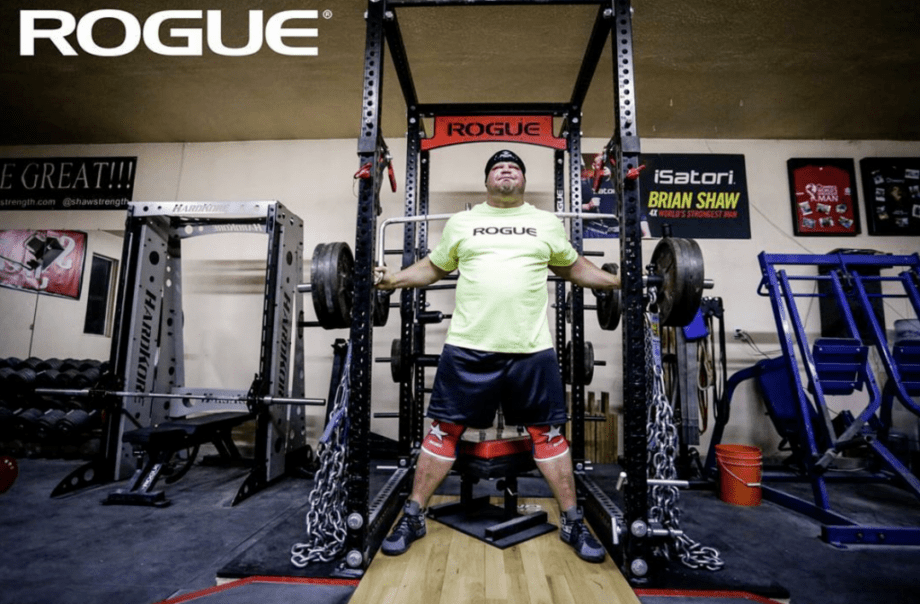 The centerpiece of every garage gym is the power rack.
This is where a majority of the work is done, and if you're as big as Brian Shaw, you're going to need to make sure you have a big rack.
Therefore, I see it as no coincidence that Shaw has the beefiest squat rack I can think of… the Rogue Fitness RM-6 Monster Rack.
Rogue Fitness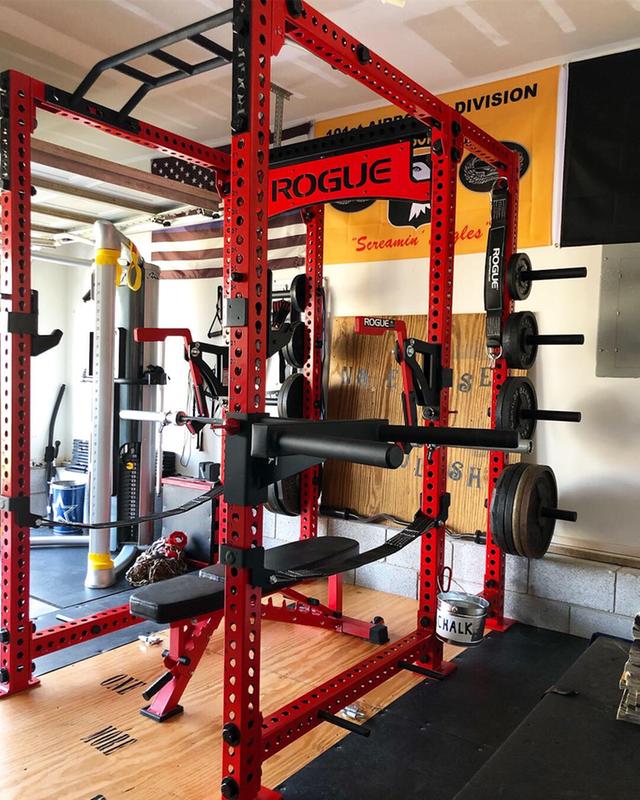 Rogue RM-6 Monster Rack 2.0
Rogue designed the fully customizable power racks of the Monster Series to meet the high demands of the top professional, collegiate, and high school athletic facilities in the world. We used bigger, 3x3" 11 Gauge Steel tubing, over-sized 1" hardware, and a bolt-together design for easier portability and affordable shipping. With Version 2.0, we've also rolled out a number of new features, including a wide spectrum of custom color options, laser-cut pin position numbers on the uprights and bottom crossmembers, and a keyhole pattern on the sides of each upright–creating compatibility with more add-ons and attachments.
The Rogue RM-6 Monster Rack is a six post power rack built with 3×3 11-guage steel tubing, over-sized 1″ hardware, and a bolt-together design for easier portability and adjustability on the floor.
The RM-6 was one of the first power racks from Rogue to allow customizable colors and configurations. As you can see, Shaw's rack is decked out not only with 108″ uprights, but also ever attachment imaginable.
This includes my favorite power rack attachment, the Rogue Monolift Arms Attachment. He also uses the Sandwich J-Cups to prevent excess wear on his barbell's knurling.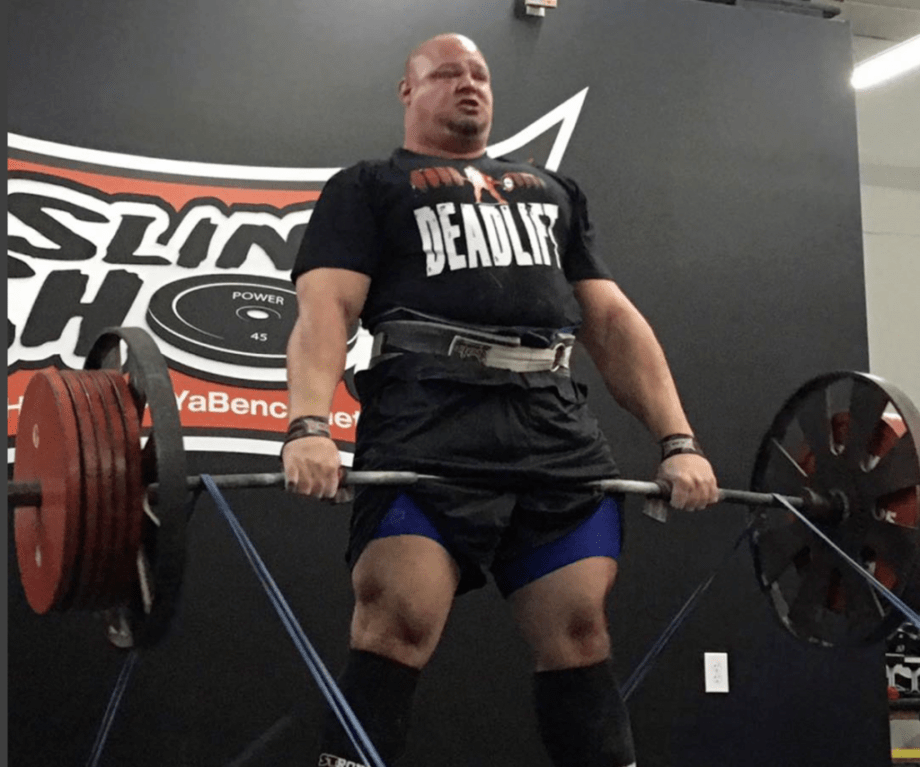 As with any powerlifting style Garage Gym, Shaw Strength has a lot of black iron.
But, more and more, I'm starting to see Shaw use Rogue Calibrated Steel Plates and it makes sense. They're not only some of the best-calibrated plates, but they're also some of the cheapest available.
Rogue Fitness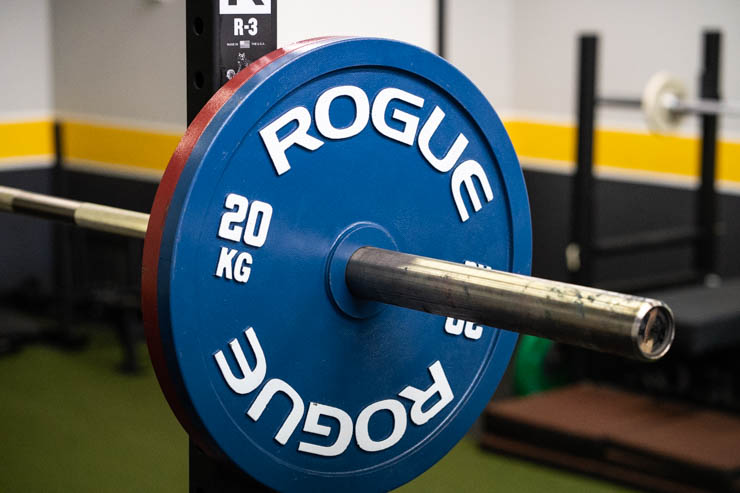 Rogue Calibrated KG Steel Plates
The Rogue Calibrated KG Steel Plates are machine-calibrated for minimal weight discrepancy. They are accurate within 0.35 ounces (10 grams) of the stated weight. Each disc is made from quality cast-iron with a slim design to allow maximum loading capacity. They are color-coded with white lettering for easy weight identification.Calibration plugs are included on the back of each plate for further precision. The center hole is 1.9 inches in diameter for a snug fit on the barbell, however this may not work for inexpensive barbells that don't meet IPF standard. The Rogue Calibrated KG Steel Plates can be ordered in pairs or as a full set.Specifications:Steel Powerlifting KG Discs Machine calibrated +/- 10 grams (0.35 oz.) More precision with calibration plugs on back of plates Snug fit with 1.9 in. collar opening 700+KG load capacity Thin design IPF Approved
Before Rogue began manufacturing their calibrated plates, you only had a few other options that were much too overpriced.
Now, Rogue has taken their manufacturing abilities and understanding of supply chain and economics to produce a high quality calibrated steel plate that is not only pretty but performs even better.
Here's a better look at them: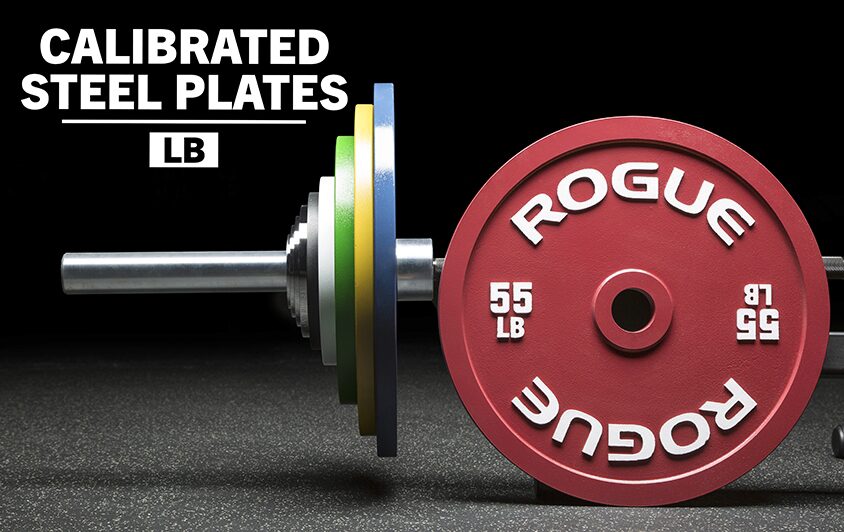 In addition to all of the black iron and calibrated plates that Shaw owns and uses, he also has a pair of Mark Bell's Wagon Wheels that although are a bit unnecessary, are still very awesome.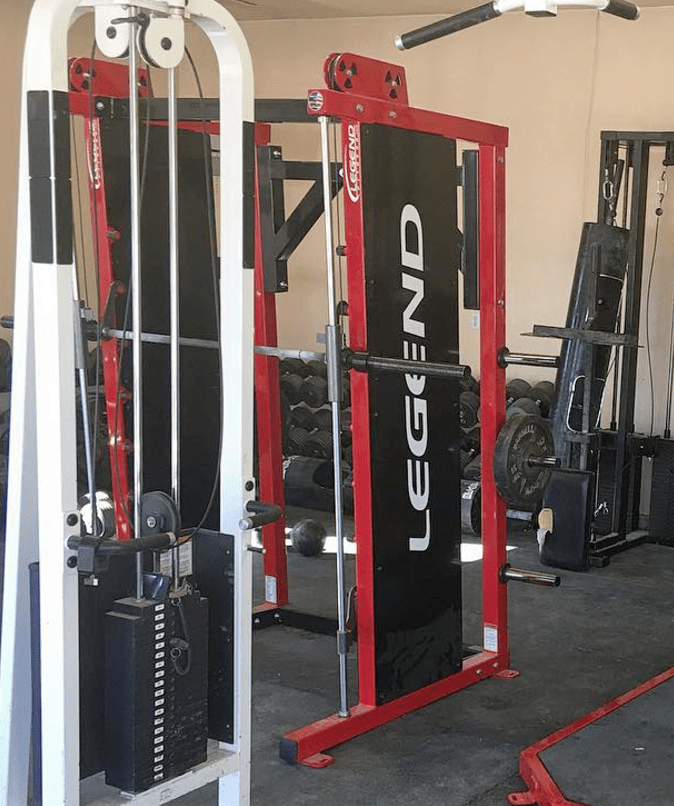 What?! A World's Strongest Man competitor owns a Smith Machine?!
Yep, and he admittedly is a pretty big fan.
In fact, bothZydrunas Savickas andHafþór Júlíus Björnsson, two other top Strongman competitors use Smith Machines as a part of their training as well.
In all of the videos I've seen, they're almost always used exclusively for overhead work and allow the Strongman to put in some more volume and focus on shoulder power than can be done with free weights alone.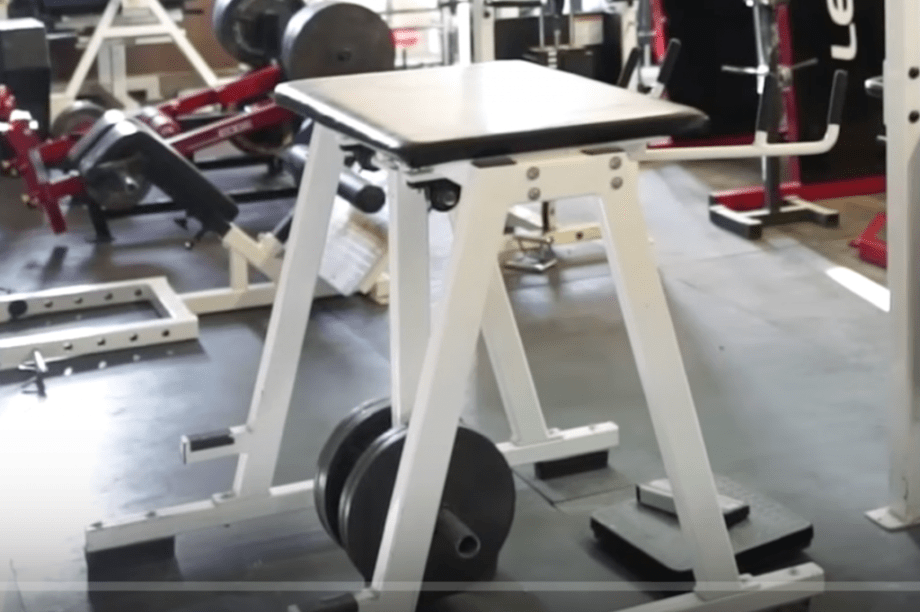 Brian's Shaw's Reverse Hyper is one of the early Westside Barbell models. In fact, if you watch old Westside videos, you'll be able to see Louie use the exact model.
It was later remade and improved by Rogue Fitness. The improvements are minor in creation, but quite major in function. And, is actually the model I own.
The Rogue RH-2 is actually the Reverse-Hyper model I own, and I can't really think of many if any improvements that I think could be made.
Here it is:
Rogue Fitness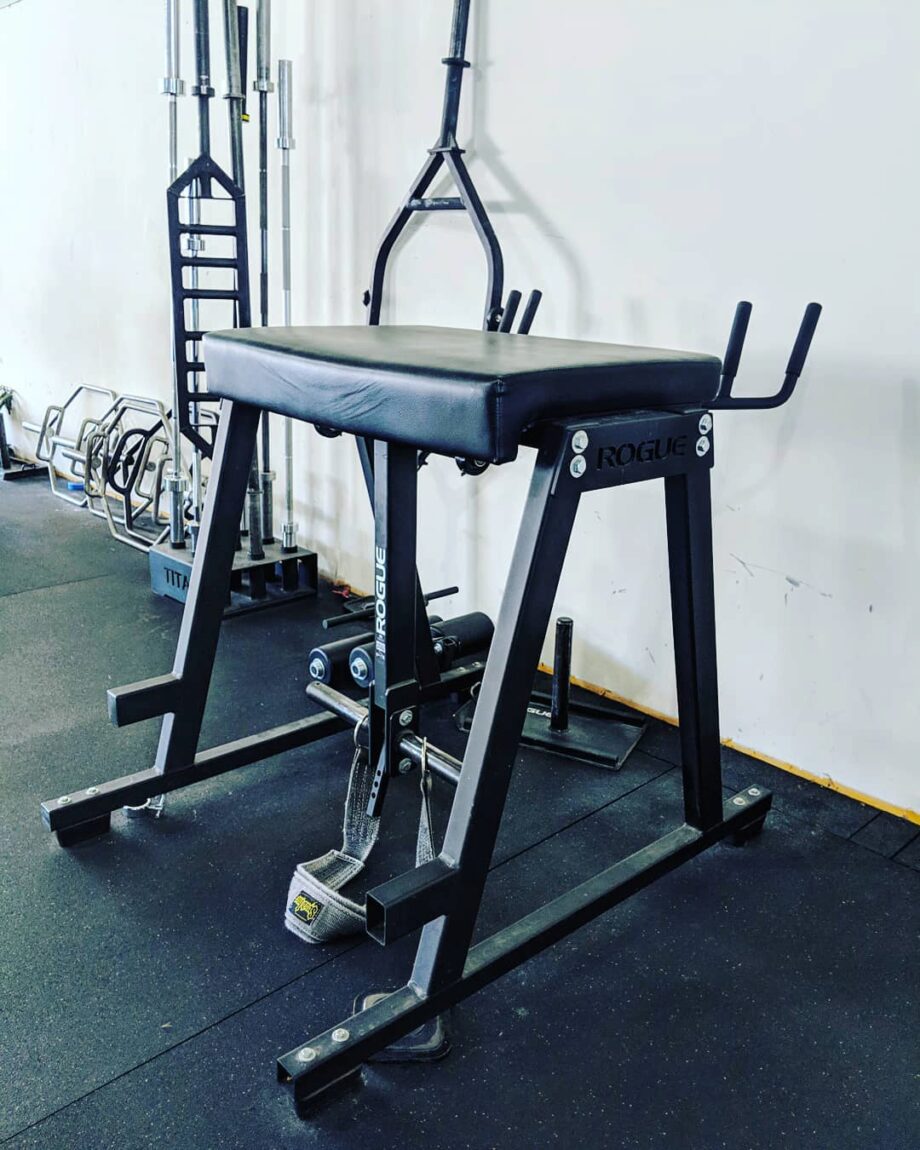 Rogue RH-2 Reverse Hyper
Manufactured and fully assembled in Columbus, Ohio, the Rogue RH-2 is a reverse hyper machine designed to meet the unique, changing needs of the athletes it serves. Widely utilized for physical therapy and back rehab exercises, the Reverse Hyper can also be used with light weights in everyday training to reduce lower back tightness and strengthen hamstrings, glutes, hips, and more.
When you're putting as much pressure on your spine as someone like Brian Shaw is, it's important to rehab and keepyour spine mobile.
A wise man once said, "You're only as young as your spine."
The Reverse Hyper as created by Louie Simmons is one of the best ways in my experience to get traction in your lower back and start pumping blood into the area.
I would imagine that the Reverse Hyper gets quite a bit of work from Shaw on his off days and post-training.
Barbells & Specialty Bars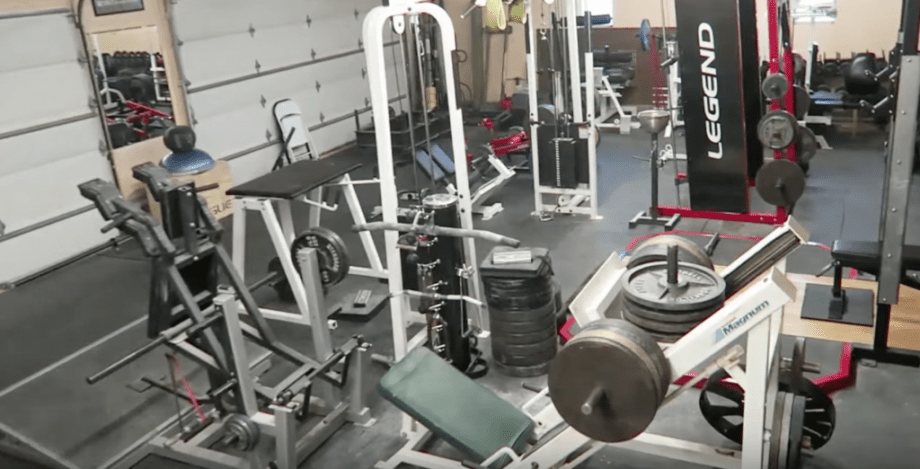 I hate to admit this, but Brian Shaw has more barbells than I do.
If the Cold War Arms Race were based on the amount of bars you have in your garage, Brian Shaw would win.
Seriously, I cannot believe a number of toys that reside in Shaw's garage. The bars alone would cost well over $10,000.
Instead of going into detail on every bar, I'll list them out and then detail some of the most interesting:
Rogue Fitness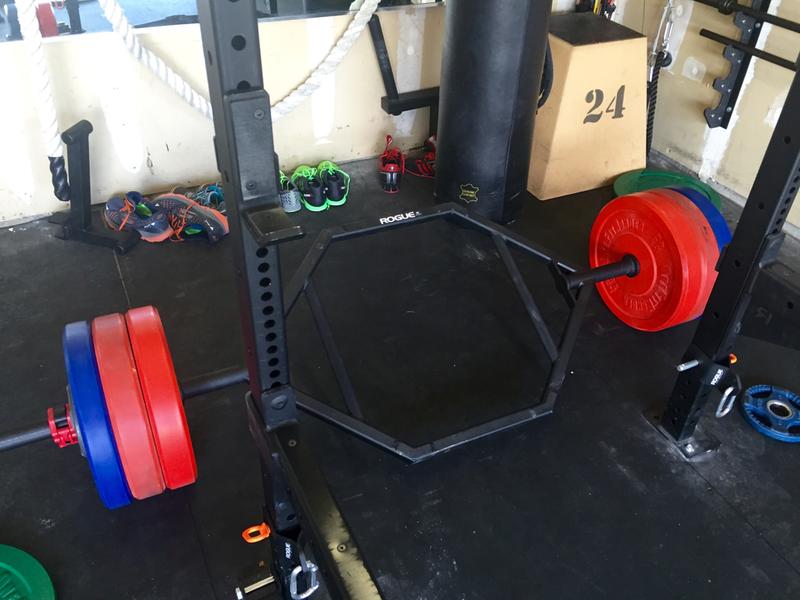 Rogue TB-1 Trap Bar 2.0
Version 2.0 of the Rogue TB-1 Trap Bar features the same general design and dimensions of the original, but with an updated, precision sleeve construction that reduces the starting weight of the bar by more than 25 percent. This makes the TB-1 easier to maneuver without limiting its effectiveness. Simply put, if you want to lift massive weight, this tool still belongs in your arsenal.The Trap Bar's hexagonal design and knurled, neutral grip handles make it optimized for performing deadlifts that put less stress on the lumbar spine–since the load is centered and not off axis like a traditional deadlift. This same benefit makes the TB-1 2.0 a useful specialty bar for beginners, as well as athletes dealing with nagging back issues or rehabbing from other injuries.We manufacture the TB-1 in Columbus, OH, and it's fully compatible with standard Oly plates.Specifications:Neutral Grip Handles, Spaced 25" on center with easy-grip knurling, 1.34" diameter Newly Redesigned Olympic Sleeves: Schedule 80 with Welded Caps, 1.91" diameter 16" Loadable sleeve space Finish: Signature black powder coat Weight: 58LB (unloaded)
Rogue is undoubtedly making the best trap bars in the industry.
I have and regularly use the TB-2 Trap Bar due to the extra handles. You can load up any sort of weight you'd like for these bars and pull, press, or carry them.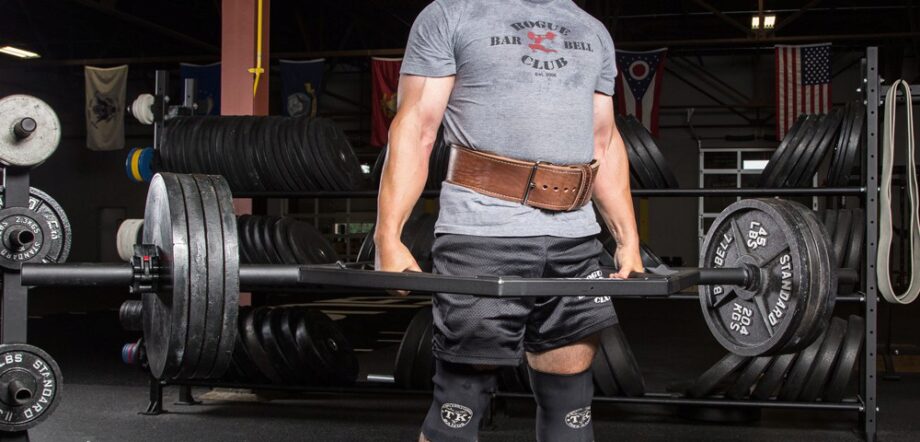 There's a lot of versatility to a Trap Bar, and I'd assume that's why Shaw has one.
Be careful with this bar, though, the knurling is SHARP!
The Crepinsek Safety Squat Bar has largely been considered one of the best safety squat bars around.
In fact, it's the only one the guys at Westside Barbell will use.
That said, I much prefer the EliteFTS SS Yoke Bar due to it's padding being much more superior as well as there being handles.
If you don't mind duct taping the pads on the Crepinsek, then it's great. Otherwise, I'd stick with an EliteFTS bar.
Slater's True Log Bar is pretty much the original log bar that went to retail.
Slater takes a lot of time to handcraft these logs and makes them so they're just right before hitting the customers hands.
They're pretty unnecessary with the invention of metal log bars like the Rogue Log Bar, but there's something cool about pressing a literal log over your head.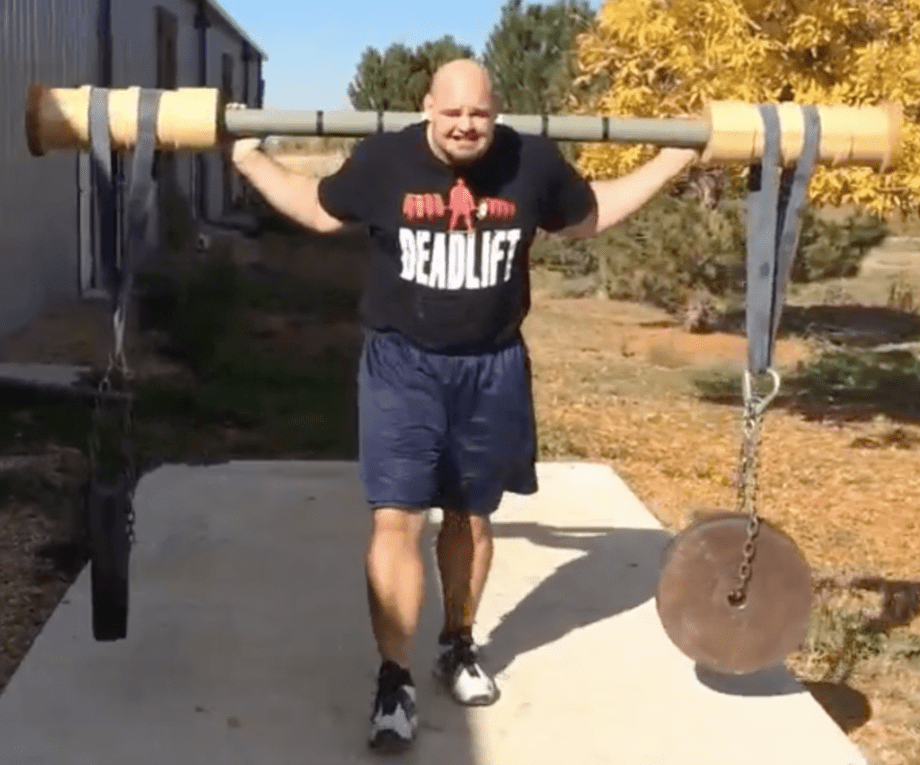 This is quite possibly the most unique bar at Shaw Strength.
Think of a Bamboo Earthquake Bar made for a giant.
…Wait, Brian Shaw is a giant.
Anyways, this Bamboo Bar on steroids allows the user to do things like deadlifts and yoke walks using chaos training. Can you imagine the trunk strength required?
Concept 2 Rower
Can you imagine what kind of wattage Brian Shaw can pull on the erg?
If you watch the video, the Concept 2 (which is very stable ordinarily) is rocking around like he's riding a child's bicycle.
The Concept 2 Rower is the best available. I've reviewed a competitor, the Xebex Rower in the past, and although it's a great rower, Concept 2 pretty much has a monopoly on this market.
I will say that it's cool to see Strongman take a tool typically used by CrossFitters and using it for conditioning. Could be another reason why Brian Shaw is a champion.
Cold Tub
Contrast therapy for recovery has become more and more popular among athletes and trainees.
And, for good reason. The recovery and mental benefits of jumping into an ice cold tub will do wonders for you. If you're not convinced,check out Wim Hof's research into the subject.
The problem that's often presented is in having to buy a commercial ice maker and going through that song and dance every time you want to jump in the tub.
Cold Tub has tried to fix that by creating a refrigerated tub, and it's being used by many professional athletes already.
I've yet to try one, but I am doing all I can to receive one to review, so be on the lookout.
Either way, Brian Shaw has one of the largest Cold Tubs in the world. The only person's that compares? Shaquille O'Neal.
Miscellaneous Training Equipment
Despite me listing a lot of Brian Shaw's bigger pieces of equipment, he also has a lot of other stuff too.
Things like a Sorinex Back Attack or the Legend Deadlift Machine:
In order to make this article as thorough as possible, I'll list some other items I've seen Brian use:
Dumbbells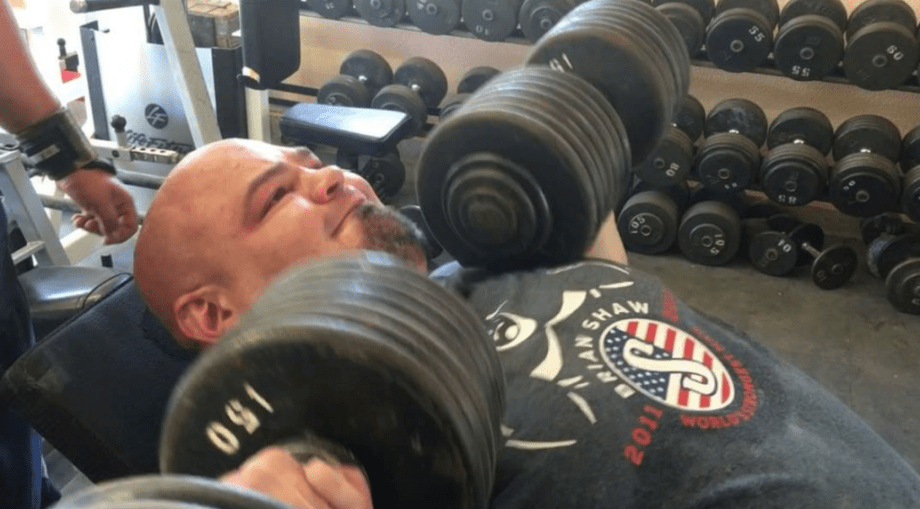 Shaw has a plethora of every dumbbell imaginable, including a full set of pre-loaded dumbbells.
In addition to that, he has some Rogue Monster Bell's as well as Rogue Plate Loadable dumbbells.
Because, you know, you can always have more dumbbell.
Straps, Wraps, and Chains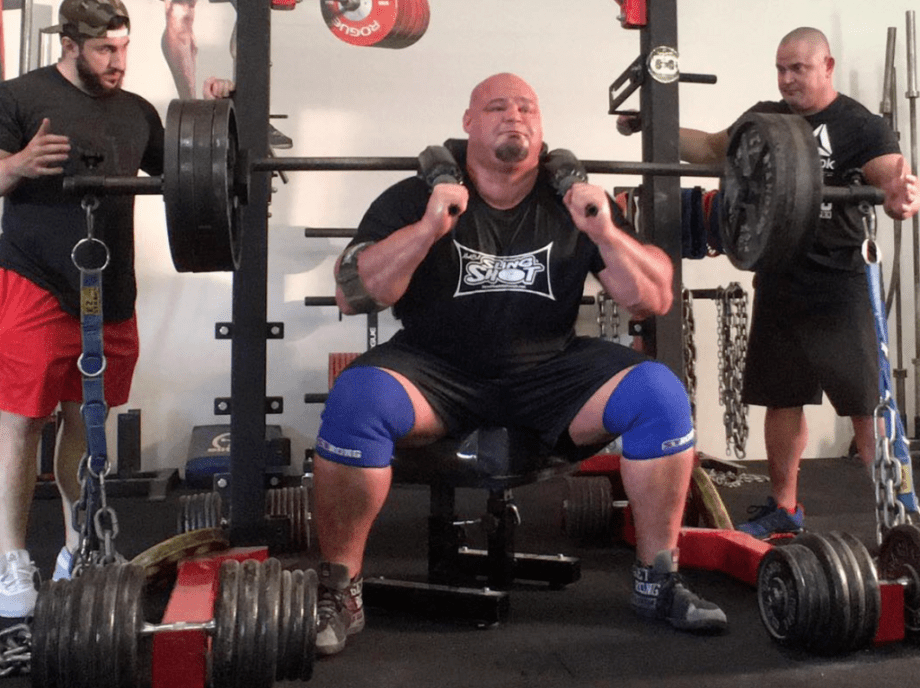 Brian Shaw is sponsored by Mark Bell and as such, uses a lot of equipment from HowMuchYaBench.net
Things like the slingshot, Strong Sleeves, shin shavers and more. I have only used a few of Mark Bell's products, but I know many who swear by them. Given the opportunity, I'd love to review the whole lineup.
In addition to the supportive equipment, Shaw uses a lot of chains for accommodating resistance.
One of the best "small" items I've bought for my gym are the EZ Chain Loaders from EliteFTS. Shaw is seen using these a lot as well as the smaller version for deadlifts.
Strongman Event Implements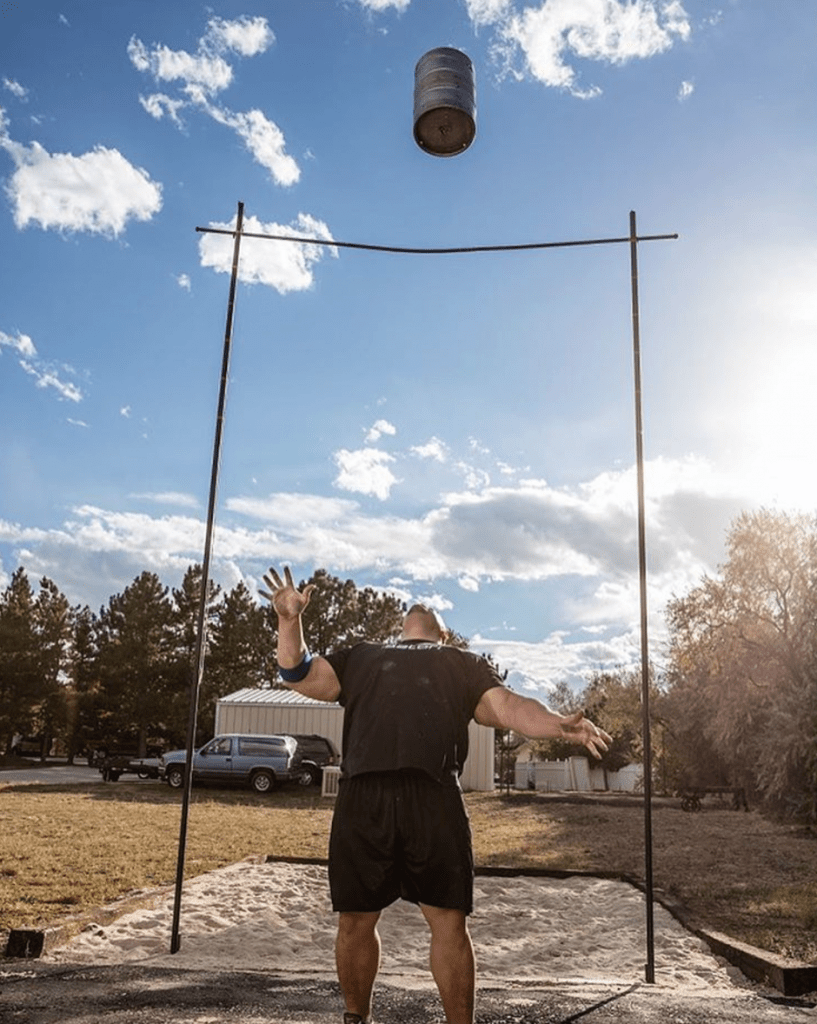 When training to be Strongman, more equipment is better. At least that's what Shaw believes, and it seems to be working for him.
In addition to all of the typical gym equipment, Shaw has just about every even implement that could ever be used.
This includes:
Yoke
Fingal Fingers
Stone Loading Platform
Keg Toss
Hercules Hold
Frame Carry
And probably a whole lot other ones that I'm completely missing.
How the foundation of his house can hold all of the weight plus him is beyond me!
Random Items
Final Thoughts
I hope you had as much fun reading this as I did writing it.
Brian Shaw is massive and could absolutely pulverize you, yet seems like the most humble guy in Strongman. Combine this with the fact that he has one of the best-equipped garage gym's in the world and you have a recipe for one awesome guy.
I hope Brian Shaw continues to have success and brings Strongman to a larger audience. I also hope his garage gym keeps growing, but that one is a bit selfish of me.