We test and review fitness products based on an independent, multi-point methodology. If you use our links to purchase something, we may earn a commission. Read our disclosures.
Launched almost 10 years ago, the NordicTrack AudioStrider 800 elliptical trainer is a great option to help folks get into shape. Built with a solid steel construction and offering the patented SpaceSaver design, trainees get durability and space optimization. On top of that, you'll be able to get your cardio in without sacrificing your joints, which is helpful for everyone, but especially those with injuries or joint conditions.
Although NordicTrack no longer sells this elliptical machine, and it can't be found on Amazon, you could still come across it at a yard sale. Which, of course, means you should be able to purchase it at a fantastic discount! Given all the value it brings, based on customer reviews I came across, you'll be glad you bought it.
However, as with all exercise equipment, nothing is a match for everyone. So in this NordicTrack AudioStrider 800 elliptical review, we'll cover all you need to know to make an informed purchasing decision.
Low-Impact Machines and Top-Tier Reviews
Our testers have spent hours trying out and evaluating hundreds of ellipticals. Thanks to all this testing, we can tell you which ones have the best incline, are the quietest, or even the ones you should keep your eye on during Black Friday.
In fact, many of our testers are personal trainers and exercise specialists. They show people how to use ellipticals to reach their fitness goals and are aware of the many benefits of using this type of machine. Their expertise can help you decide, based on your individual fitness goals, if you should opt for an elliptical, treadmill, exercise bike, or all of the above.
Our opinions hold weight in the home gym space because we're subject matter experts here. So you can trust us to offer top-tier reviews without the marketing mess!
Looking for an Alternative to the NordicTrack AudioStrider 800?
Best Alternative to NordicTrack AudioStrider 800
GGR Score: 3.6
Product Highlights
7" smart HD Touchscreen

Water bottle holder, dual 2" digitally amplified speakers

AutoBreeze workout fan, oversized cushioned pedals

22 levels of digital resistance and up to a 20% incline

Constructed with heavy-duty solid steel
Pros & Cons
Pros
Programming options
iFIT enabled
Quiet
Sturdy build
30 pre-programmed workouts
Incline options
Cons
Stride length is small for a commercial elliptical
Requires a 4-year iFIT membership
Heavy
Bottom Line
Intended for commercial use, the Commercial 9.9 Elliptical is a sturdy treadmill that offers interactive programming through its required 4-year membership to iFIT.
You'll probably find it easier to come across replacement parts for the AudioStrider 800 than the actual elliptical itself. Therefore, it's only fitting that we suggest a replacement for you. The elliptical machine worthy of such a mention is the NordicTrack Commercial 9.9.
If you're looking for a commercial-grade elliptical that offers iFIT interactive programming the whole family can love, this is your machine. While it's not on the budget-friendly ellipticals list, it is built to last and comfortable to use.
The NordicTrack Commercial 9.9 is pretty inclusive, as it can easily handle a max user weight of 350 pounds. However, this might not be a good match for you if you're over 6 feet tall or have a longer stride. That's because this elliptical machine only grants an auto-adjustable stride that ranges between 17.5 and 18.7 inches. Stride lengths less than 20 inches on ellipticals tend to be a bit problematic for our taller friends but work for most others.
With this elliptical trainer, you're also getting oversized cushioned pedals on a machine already made to create low-impact movements. There are also two sets of handlebars. One is just there to help you get on and off the machine, but the other set moves back and forth so you can get an upper-body workout in, too.
Overall, if you're someone who will appreciate a 7-inch touchscreen display, enjoys accessing the iFIT library full of personal trainer-led videos, and doesn't mind spending a little under $2,000, consider this one. The NordicTrack Commercial 9.9 packs a lot of value, has a decent footprint, and is loved by many.
A Quick Look at the NordicTrack AudioStrider 800 Elliptical
In my world, discontinued doesn't necessarily mean done for, it just means discounted. So, you're in luck, my friends, because you should be able to find this elliptical at a great bargain.
Even during its prime, the NordicTrack AudioStrider 800 stood out when lined up next to its competitors. It folds, it's quiet, and it has neat conveniences that you might not even find on more expensive ellipticals.
Seriously, you're getting affordability and quality at the same time, which is hard to come by. You'll see what I mean in this NordicTrack AudioStrider 800 elliptical review.
Pros:
Folding elliptical trainer
30-degree incline
AutoBreeze fan
Oversized pedals
EKG heart rate monitor
Cons:
Short warranty (parts and labor)
Few built-in programs
Not ideal for taller users
NordicTrack AudioStrider 800 Elliptical Specs
Due to the fact that the NordicTrack AudioStrider 800 elliptical is off the market, our team had trouble finding reputable sources for some of these specs
| | |
| --- | --- |
| Footprint | 77″ L x 26″ W x 65″ H |
| Weight | N/A |
| Weight capacity | 300 |
| Flywheel | Rear |
| Stride length | 18" |
| Incline | 30% |
| Resistance options | 12 |
| Preset programs | 8 |
| Interactive programming | iFit Workout Card Technology |
| Warranty | Lifetime frame, 1 year on parts and labor |
Key Features of the NordicTrack AudioStrider 800 Elliptical
Most ellipticals only offer up to a 10-20% incline, but the StrideMax incline ramp on here gives you 30%. That means you'll definitely be able to get your heart rate up and better engage your lower-body muscles. But that's not all. You get 12 resistance options, too, so that'll give you plenty of variety to work with. For instance, cranking the resistance up to 8 or greater will help you strengthen your muscles. But if you place it between 5 and 7, it'll help build your endurance.
If you're less than 6 feet tall and don't have a long stride, the 18-inch stride length on here will work fine. However, this won't be your machine if you fall in the tall-person category. Instead, you'll need to look for ellipticals with at least a 20-inch stride length, as that should accommodate almost all users.
Although there aren't many preset programs on here (only eight), it's still better than zero. If shedding some weight is your goal, they have included three elliptical workouts for weight loss. In addition, there are three aerobic fitness programs and two heart rate programs included, as well. Each program is divided into either 20- or 30-minute segments, with one resistance setting and one target speed setting programmed for each.
Footprint, Portability, and Durability
This elliptical is a little over 2 feet wide and almost 6.5 feet long, which is standard for most trainers. However, if you're short on space, there's something you can do about it. You're probably used to seeing folding treadmills, but did you know some ellipticals could fold, too? This one can! When you're not using it, you can fold the frame out of the way and decrease the length by a whole 2.5 feet.
Folding is convenient, but what if you need to move it out of the room? For example, many of us with small spaces will place an elliptical in our living room area, but what if you have guests coming over? Even folded, you don't want this standing in the way. Fortunately, there are two wheels at the front of the machine that you can use to transport it to another room.
When it comes to this elliptical trainer's durability, I'd say it has that covered. The steel frame shouldn't give anyone problems for years to come. But if it does give you issues, thank goodness for the brand's lifetime warranty on the frame. However, take special care of the other parts because there's only one year of warranty on the parts and labor. An extended warranty is possibly an option, but if you go that route, you might be better off purchasing a different elliptical.
Ergonomics: Does It Offer a Comfortable Workout?
Ellipticals are already low-impact, but is it possible NordicTrack added some additional features to this machine to make it even more comfortable? Absolutely! One way they made exercising more enjoyable is by adding oversized pedals. You always want the foot pedals to be big enough to allow for a little forward and backward movement. When they're too small, you might find it restricting and difficult to identify the proper place to put your foot.
A couple of other ways they upped the comfort on here was by providing cushioned pedals and their AutoBreeze fan. By selecting auto mode, the fan's speed will increase or decrease based on the speed at which you pedal. These are features you'd typically find on some of the best NordicTrack ellipticals, and some of them cost significantly more than this trainer. So it's really nice to see these features on a cost-friendly elliptical.
In addition to the above, I always like to look at the weight and position of the flywheel. Heavier flywheels tend to create smoother movements on the elliptical. Also, rear-drive flywheels, like the one on here, will give you a more natural stride and help you feel better balanced. While I couldn't find the flywheel weight for this machine, I know that the NordicTrack AudioStrider 990 Pro has one that's 26 pounds. So if this one is similar, that's plenty!
Technology Benefits and Conveniences
The console of the AudioStrider 800 is easy to use and does have helpful features. However, you'll need to purchase four 1.5V "D" batteries to power it. You'll find one-touch buttons for resistance and incline changes on the console, which is incredibly convenient. The display also lets you see workout specs like time, pulse, speed, and distance.
This elliptical does have the iFIT Interactive Workout System, but you'll need to purchase iFIT Cards to access those workout programs. The iFIT programs will control the resistance of the pedals, and you'll hear the voice of a personal trainer motivating you along the way. Some people will be OK with this feature, but others will want it to be more up to date. So it ultimately depends on your individual needs.
The AudioStrider 800 does give you the option to connect your CD player or MP3 player to its stereo system, as well. That way, you can do your elliptical exercises to your favorite playlist, audiobook, or podcast.
Lastly, the hand grip pulse sensor allows you to check your heart rate. The heart rate program pairs well with this! It'll compare your current heart rate to the target heart rate setting and automatically adjust the resistance of the pedals to help you get closer to your goal.
Final Verdict of Our NordicTrack AudioStrider 800 Review
At this point, you have a good idea of what this exercise machine brings to the table. It has 12 resistance levels, 30 degrees of incline, and even comes with a water bottle holder (you'd be surprised how many don't!). While it might not have the newest iFIT capabilities or a touchscreen display, it's still a great folding elliptical at a reasonable price.
We hope this NordicTrack AudioStrider 800 review has given you clarity on if this would be a hit or miss for you!
NordicTrack AudioStrider 800 Elliptical Rating
NordicTrack AudioStrider 800 Elliptical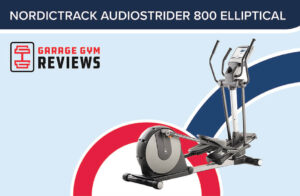 Looking for a reasonably priced elliptical trainer with a lot to offer? Peek at this NordicTrack AudioStrider 800 elliptical review!
Product Currency: USD
Product Price: 1499
Product In-Stock: InStock
NordicTrack AudioStrider 800 Elliptical FAQs
​How old is NordicTrack AudioStrider 800?
Having iPod-compatible audio tells you that this elliptical has been around for a while. The AudioStrider 800 is over 10 years old! 
How much does a NordicTrack AudioStrider 800 weigh?
I was unable to find how much this elliptical weighs, but its younger and stronger sibling, the NordicTrack AudioStrider 990 Pro, is 245 pounds. 
Are NordicTrack Ellipticals good?
Yes, this brand, like ProForm, creates durable and high-quality ellipticals for the home gym. For instance, this elliptical is about 10 years old, and people were still searching for it in the last couple of years. That goes to show that there's something good about these machines!