We test and review fitness products based on an independent, multi-point methodology. If you use our links to purchase something, we may earn a commission. Read our disclosures.
Treadmills are a great asset to have for your home gym. Runners can still get their training in if the weather doesn't cooperate, while people who want to get in shape can do cardio and burn calories anytime they like. Many home gym owners rely on NordicTrack treadmills such as the NordicTrack A2105 to help them reach their goals.
This machine has been discontinued, and isn't available on Amazon, but it may still be available in a store or other online retailers for someone to purchase. Therefore, we're doing a NordicTrack A2105 treadmill review to break down the pros, cons, and everything in between so you know what you have if you purchase this treadmill.
We are Treadmill Experts and Users
The testers and experts at Garage Gym Reviews include certified personal trainers, CrossFit-L1 trainers, nutrition and training coaches, and experts from other fitness disciplines who want to use the best fitness equipment possible. We've tested and used plenty of treadmills, including those produced by NordicTrack. So, we know what to look for in a high-quality machine. We do the research and testing so you don't have to. If we like what we see and feel on a NordicTrack machine, you very likely will as well.
Looking for an Alternative to the NordicTrack A2105 Treadmill?
Best Alternative to NordicTrack A2105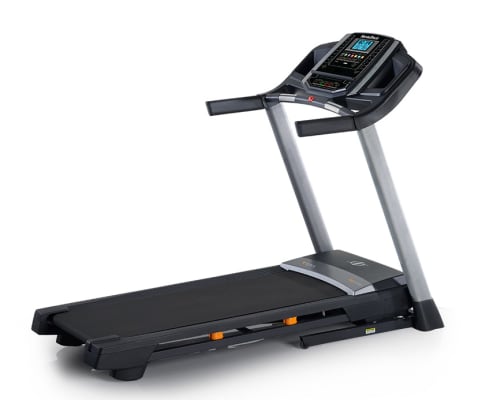 GGR Score: 3.8
Product Highlights
Entry-level foldable treadmill
iFIT-compatible
20 on-board workouts
2.6 CHP motor
Pros & Cons
Pros
Space-saver/folding deck
20 on-board workouts
iFIT- and iPod-enabled
300 pound weight capacity
Affordable
Cushioned running deck
Incline capability
One-touch controls
Cons
Requires a separate viewing device to take advantage of the benefits of iFit
Small 5-inch display
Customers consistently report that the T 6.5 S is very noisy
Motor will not support sustained running
Bottom Line
The NordicTrack T 6.5 S is a value purchase with some notable features. WIth a foldable design and compact footprint, it is a great choice for those with small spaces looking to dive into the world of cardio.
The A2105 may not be in production anymore, but NordicTrack still offers a variety of treadmills that are worth investing in. One such model is the NordicTrack T 6.5 S. It has adequate running space, is budget-friendly, compatible with iFIT, and includes a cushioning running deck to minimize the impact of walking or running on your joints.
A Quick Look at the NordicTrack A2105 Treadmill
The NordicTrack A2105 treadmill has been around since 2009. It retailed for around $1,100 at the time it was released. Two big selling points for it were the Grafixx display and the cushioning deck. Beginners found this to be a reliable machine, and it could benefit people looking to focus on general wellness. Taller users and more experienced runners may want something larger, but it would beat not having one at all if you get a chance to buy one.
Pros:
Quiet treadmill motor
OneTouch speed/incline controls
16 workout programs
CardioGrip heart rate monitor
Grafixx high-resolution display screen
Foldable treadmill with transport wheels
Cons:
Short walking space
Top speed of 10 mph
No built-in speakers
NordicTrack A2105 Treadmill Specs
Due to the fact that the NordicTrack A2105 Treadmill is off the market, our team had trouble finding reputable sources for some specs.
| | |
| --- | --- |
| Footprint | 73" L x 24" W x 59" H |
| Weight | 172 pounds |
| Weight capacity | 300 pounds |
| Belt size | 20" W x 55" L |
| Incline range | 0-10% |
| Maximum speed | 10 mph |
| Programming | 16 workout programs |
Key Features of the NordicTrack A2105 Treadmill
The cushioning deck and touchscreen are the key features on this machine. It's very comfortable to walk or jog on, and the display is easy to understand and adjust. There are 16 preset programs. Eight of them are focused on weight loss, but you can burn several calories on any program, or even by operating the treadmill manually. Like other treadmills by NordicTrack and ProForm, it is also compatible with iFIT, and you can follow programs offered on there, which subscribers can access at any time.
Footprint, Portability, and Durability
This is a smaller treadmill than others in the NordicTrack family of fitness equipment, and it can be moved thanks to the wheels on the bottom. The back of the belt lifts up and it can be rolled. It is also a foldable treadmill, which can be a big deal to people who want to use this in a smaller gym or apartment.
Ergonomics
When you start using the A2105, you'll be walking on an anti-slip treadmill belt, which is great for people who sweat a lot during training. There is also a quick-stop clip that will stop the machine immediately if it's pulled. The stop button can be pressed twice to end the workout, as well. One push pauses the workout and belt.
Technology Benefits and Conveniences
The A2105 is no longer available on Amazon, but you can still replace the control board if you have one that needs replacing. The control board (Model number NTL069070) is available on Amazon, and you may be able to find other spare parts there or elsewhere online. The user manual can be downloaded online, if needed.
The treadmill includes access to iFIT's Fitness Journal, which you can use to track your individual progress as you proceed through your fitness journey. You will need WiFi access to use this feature, as well as the rest of iFIT's services. There is also a built-in fan to keep you cool during your session.
Final Verdict of Our NordicTrack A2105 Review
If you are a beginner or someone who wants a treadmill for walks, jogs, or calorie-burning workouts, then the A2105 could be a good choice. Long distance runners and serious athletes may want something a little bigger that can support more intense workouts. Taller fitness enthusiasts may want to consider something with longer walking belt space.
NordicTrack A2105 Rating
NordicTrack A2105
In this NordicTrack A2105 Treadmill review, we'll discuss the pros, cons, and specs of this discontinued treadmill.
Product Currency: USD
Product Price: 699
Product In-Stock: InStock
NordicTrack A2105 FAQs
Can you run on the NordicTrack A2105?
You can run on it for short periods of time, but it may not be the best option for sprinting or extended runs. A treadmill with a stronger motor would be better suited for running, like the ones on our list of Best Home Treadmills for Running. 
Why was the NordicTrack A2105 discontinued?
NordicTrack hasn't disclosed a specific reason, but the A2105 had been around for over a decade and there have been advances in technology since that time. NordicTrack has released newer models in recent years, and they likely wanted to invest more resources into those models. This is common with all fitness equipment manufacturers.
Does the NordicTrack A2105 fold?
The NordicTrack A2105 treadmill does fold, which can serve many home gym owners who need to maximize space for training. It also has wheels which allow it to be moved if necessary. Even with the folding and moving ability, you should make sure you have plenty of space to spare for this treadmill if you get your hands on one.