We test and review fitness products based on an independent, multi-point methodology. If you use our links to purchase something, we may earn a commission. Read our disclosures.
Amazon is loaded with massage guns. The Chirogun is one massage gun found on Amazon that's recently grown in popularity. Despite oodles of gushing customer reviews, our team of expert product testers was left wondering if this product is any good. We took it upon ourselves to see if it lives up to the hype, which you'll find out in this Chirogun review.
Why You Should Trust Us
After more than four years of testing massage guns—from the most expensive brands to the budget-friendliest ones—I understand what makes a good handheld massage tool. As a certified personal trainer and fitness enthusiast of 10-plus years, I'm able to use massage guns in my daily routine with a discerning eye, separating the real specs from marketing jargon.
Chirogun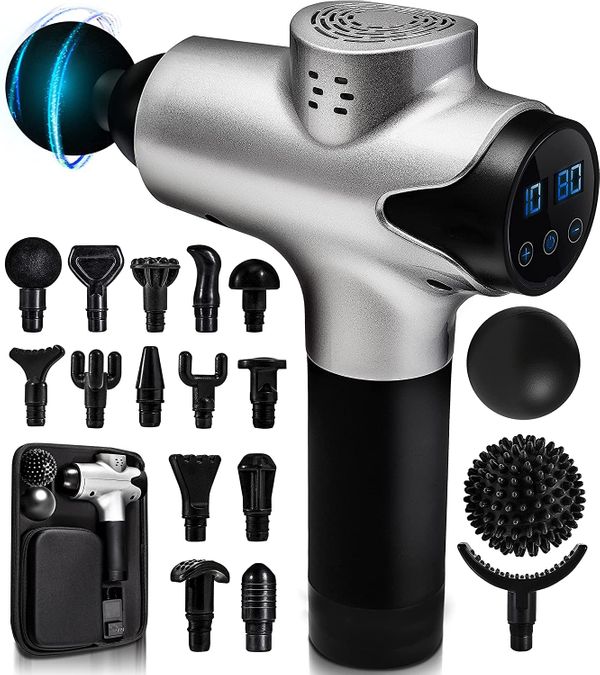 A Quick Look at the Chirogun
The Chirogun is a massage gun you can find on Amazon. To my knowledge, it's available only there and on a handful of niche online retailers. Despite its lack of big-box store presence, the Chirogun has gained quite the following on Amazon, racking up nearly 10,000 reviews with an average rating of 4.7 stars at the time of writing.
This massager looks similar to the original Hypervolt model, with a top-heavy, somewhat clunky 90-degree angled design. I'll be the first to say the specs on this gun aren't great, as I'll detail throughout my Chirogun review, but I did find it to be a hoot to use, thanks to the 15 (yep, 15) interchangeable attachment heads.
My Tips:
If you're looking for a travel-friendly massage gun, the Chirogun isn't it. Check out our guide to the best mini massage guns for portable massagers.
Open the carrying case slowly. Things tend to spill out.
Set your expectations knowing that $100 isn't a lot of money as far as massage guns go.
Pros:
Comes with 15 massage head attachments
Has 30 speed levels
Purchase includes two massage balls
Comes with a carrying case
Budget-friendly (list price about $100, often on sale)
Long battery life (up to 6 hours)
LED battery indicator lights
Cons:
Attachments aren't great quality
Design feels clunky and top-heavy
Not travel-friendly
30 speeds are cumbersome to click through
Shallow amplitude (estimated 10 mm) for its size and weight
On the loud side (dB level measured at about 60)
Chirogun Specs
| | |
| --- | --- |
| Speed settings | 30 (1,800 to 3,200 PPM) |
| Attachments | 15 |
| Battery life | Up to 6 hours |
| Noise | About 40 to 60 dB |
Is the Chirogun Worth It?
The Chirogun is one of the cheaper massage guns out there, with a list price of about $100. It often goes on sale for less than $100—less than $80, even—making it a steal for a massage gun of its size.
However, just because something is inexpensive and often on sale doesn't mean you should spend your money on it. I'm not a super fan of the Chirogun, even given its low price point. It may still be the right choice for some people, though.
Great for:
People concerned primarily with versatility
Those who prefer a gentler massage
Anyone who has a minimal budget for a massage gun
Not recommended for:
People looking for a deep-tissue massager
Anyone who plans to travel frequently with their handheld massager
People who want a device with a high-quality build
Using the Chirogun
Overall, my experience with the Chirogun was neither stellar nor abominable. I would describe it as satisfactory for the price, which is exactly how I feel about the majority of run-of-the-mill massage guns on Amazon, like the Sportneer Elite D9.
Attachments
Honestly, I can't give the Chirogun anything less than 5 out of 5 stars for attachments. It comes with 15 (15!) different attachments, although they aren't the best quality. It comes with all of the basics—ball, flat, fork, bullet—and a lot of unique shapes, like a U-shaped one for massaging the upper arms.
Some of them I may never use, but it's fun to have them. There's no doubt you can massage all muscle groups with the variety.
Honestly, though, my favorite part of the package might be the bonus massage balls, one of which is like a smooth lacrosse ball and the other a spiky ball. I've found myself using those more than the massage gun, especially since my training includes a lot of running right now and my arches are in a near-constant ache.

Related: How to Use a Massage Gun the Right Way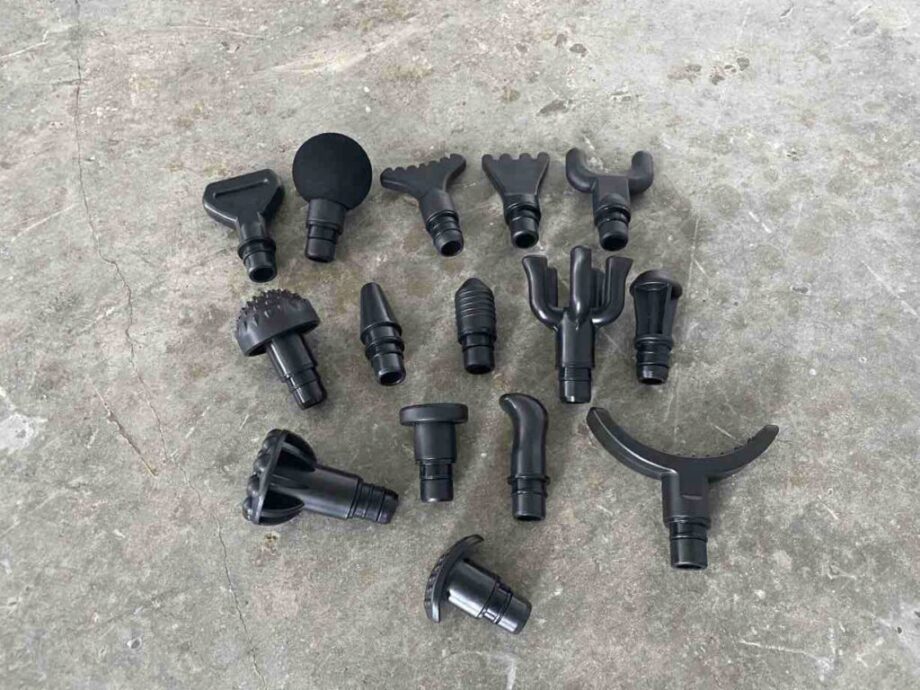 Power
Nothing about the stall force, power, or motor is specified by the brand, which makes me distrust them. These specs are crucial and it's questionable when brands fail to provide them. During my research, I found several other Chirogun reviews that listed the amplitude—the depth into muscle tissue the massage gun reaches—as 10 millimeters.
I decided to measure the amplitude myself and, with a tape measure, found this to be pretty accurate.
My measurement came to about 9.5 millimeters. I got this number by manually pushing and pulling the massage head insertion point to find the difference between its fully extended and fully contracted positions.
A 10-millimeter amplitude is disappointing for the heft of this massage gun, although I can't say I'd expect much more for the price. A 10-millimeter amplitude is good for a mini massage gun, but not a full-sized one.
It'll do its job of temporarily reducing muscle pain and improving blood flow, but it's not a true percussion massage gun that will provide deep-tissue treatment—try a Theragun, or another of the best massage guns, for that.
To learn more about what these specs mean, read our guide: Do Massage Guns Work?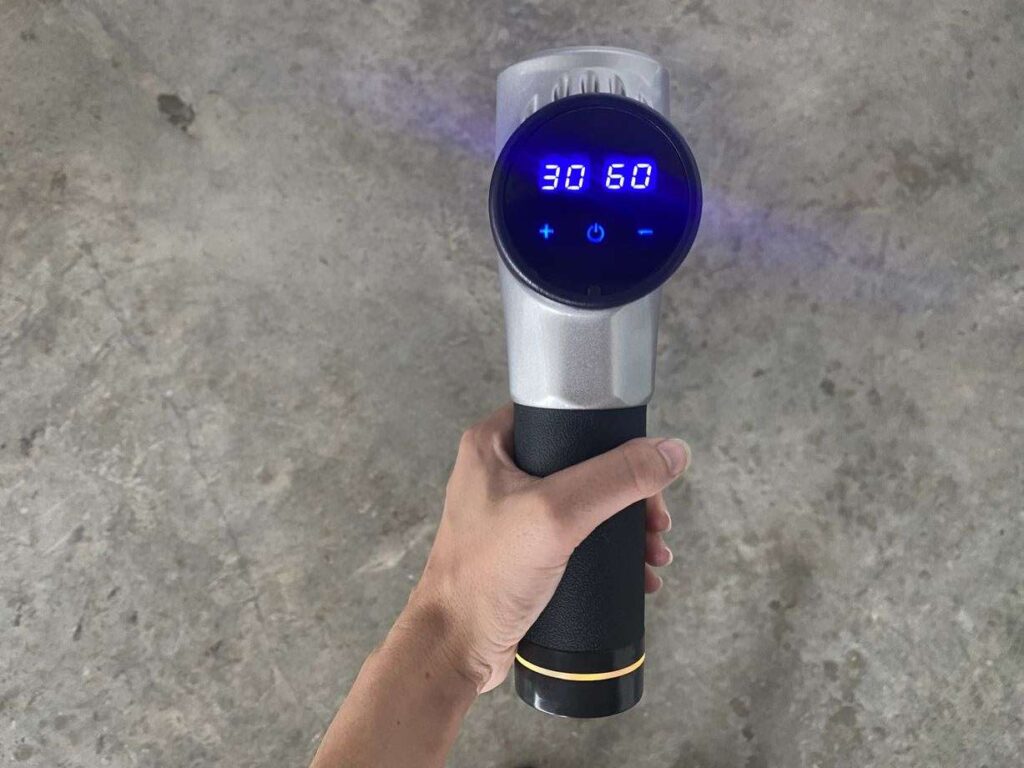 Speeds
I'm torn on how to rate the Chirogun for speed. It has 30 adjustable speed levels, which is absolutely bonkers, but even after weeks of testing, I'm not sure if this is a good thing or not. I suppose it'll come down to personal preference.
The speed range is 1,800 to 3,200 PPM, which isn't an unusual range, but it's quite cumbersome to click through all of the different speed levels. In theory, equipping a massage gun with 30 speeds is a good idea, because you can make small and safe increases in speed to accommodate sore or sensitive muscles.
However, I'm not convinced this idea played out well in reality.
Noise
In the product listing, Chirogun says "this muscle massager gun utilizes the latest technology in noise reduction," but I'm not sure I believe that. I didn't deconstruct the massage gun to look at its innards, but I did test the noise with an app that detects decibel level.
The decibel range is not specified by the brand, but in my testing, I found it to hover around 40 decibels at the lower speed ranges and work its way up to about 60 decibels at the higher speed ranges.
This is in line with the average noise level for its speed range and size.
The Ergonomics
The Chirogun doesn't have the most ergonomic design. In fact, the 90-degree, T-shaped handle is rather awkward. It feels pretty bulky in-hand, and the top-heavy design taxes the wrist and forearm quickly. This makes it tough to get a full-body massage without taking breaks. It also means the Chirogun isn't the best back massager, since it's hard to hold in that position.
Related: Can You Use a Massage Gun for Sciatica?
Battery Life
The Chirogun sports a 2,550 mAh rechargeable lithium battery. You'll enjoy up to 6 hours of battery life depending on intensity of use, or which speed levels you choose and how close you get to maxing out the stall force. The LCD touchscreen display has indicator lights to tell you the remaining battery level.
The charger comes with a 1A/25.2V adapter, which supports a charging speed of 2 hours. This isn't terrible given the size of the battery and the battery life, but it's also not the fastest I've seen.
Traveling With the Chirogun Gun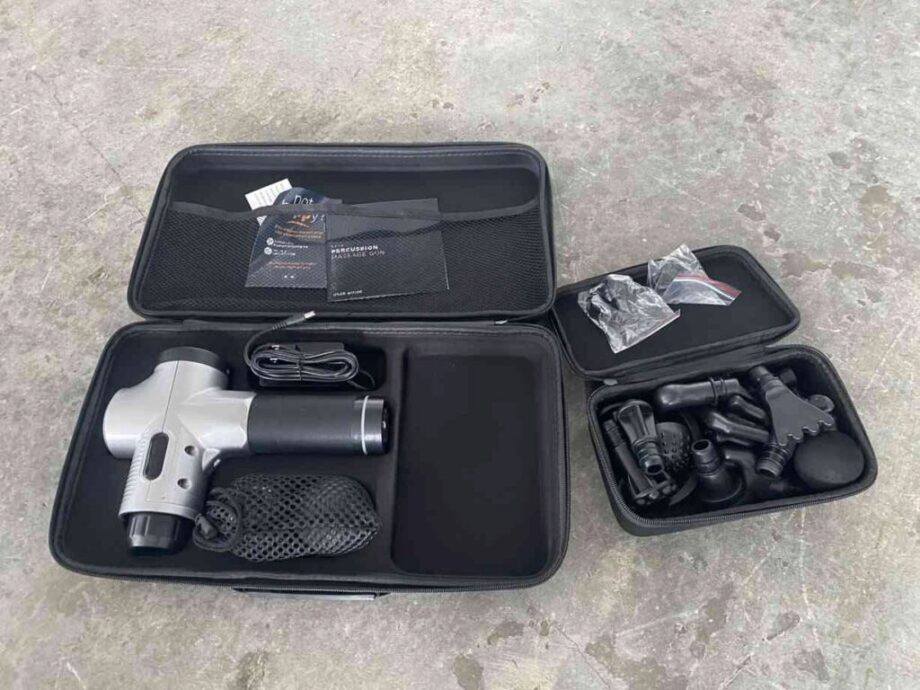 The Chirogun is large. If you want to take the gun along with all of the interchangeable heads on a trip, it's going to take up quite a bit of space in your bag. The massage device itself weighs more than 2 pounds, with the entire case and its contents weighing about 5 pounds.
The case itself is so-so. While it technically has a hard shell, it's rather flimsy and doesn't seem super protective. It also doesn't keep things in place very well: The attachments and massage balls have spilled out almost every time I've opened it.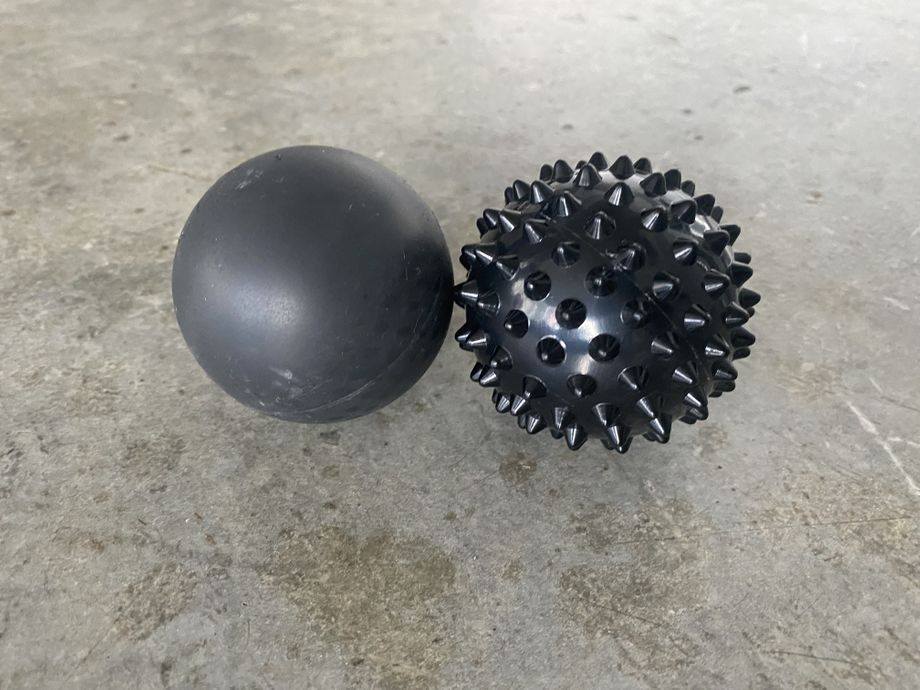 Technology Benefits and Conveniences
You don't get tech benefits like Bluetooth connectivity with the Chirogun, but that's true of all massage guns I've tried that cost $100 or less. At this price point, all you can really expect is a cordless handheld massage gun that aids in pain relief.
Ordering the Chirogun
Ordering the Chirogun on Amazon was as easy as ordering anything else on Amazon. As of the time of writing, the Chirogun is eligible for Prime free one-day delivery, which is as good as it gets.
Customer Experience
There is no warranty or financing noted in the product description. You're subject to the Amazon return policy, which in the case of this particular product, is a 30-day refund or replacement period.
The Chirogun is eligible for protection plans on Amazon in lieu of a warranty. At the time of writing, there was a 3-year protection plan for $5.99 and a 2-year protection plan for $3.99
As far as customer service goes, you get what Amazon gives. Most of my experience with Amazon customer support has been decent but not stellar. You may also contact the seller through Amazon messaging and expect a response within 24 hours, according to the product description.
Customer Reviews
A big reason our product testing team wanted to publish a Chirogun review was the accumulation of positive customer reviews on Amazon. With nearly 10,000 reviews and an average rating of 4.7 out of 5 stars at the time of writing, we needed to see for ourselves if the Chirogun lived up to expectations.
There are some negative reviews, most of which pertain to quality assurance and customer support. Unhappy buyers have reported that they were actually sent the wrong product, or it malfunctioned shortly after delivery and the company wouldn't replace it.
Final Verdict of Our Chirogun Review
My end-all, be-all opinion on the Chirogun is that you're not getting the best specs, but you are getting a good deal for $100 (or less, if it's on sale).
The Chirogun is the most customizable massage gun I've come across, with 15 head attachments and 30 speed settings.
It will massage sore muscles, but it won't aid in post-workout muscle recovery as well as something like a Theragun, Hypervolt, or Ekrin Athletics massage gun.
Full Rating
Chirogun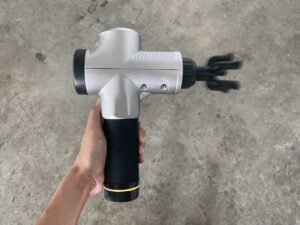 The Chirogun is a popular massage gun on Amazon. Our Chirogun review details whether it's worth buying or not.
Product Brand: Chirogun
Product Currency: USD
Product Price: 42.99
Product In-Stock: InStock
Chirogun FAQs
Here are some of the most commonly asked questions about the Chirogun massage gun:
What are the best massage guns?
Our team of expert product testers believes Theragun, Hypervolt, and Ekrin Athletics make the best massage guns. "Best" is always subjective, so we recommend checking out our various guides to massage guns, including the best budget massage guns and best mini massage guns.
Does the Chirogun work? 
It depends on what you mean by "work." The Chirogun provides a moderate massage to sore muscles, so it definitely helps with temporary pain relief from sore muscles or chronic pain. However, it doesn't reach very deeply into soft tissue, so it doesn't work as well for releasing trigger points in fascia or aiding in longer-term muscle recovery. 
What do massage guns do?
Massage guns manipulate soft tissue in the body similar to a massage you'd get at a spa. By essentially pummeling the muscle tissue, a massage gun increases blood circulation to the treatment site and releases tightness within tissue. This helps to relieve post-workout muscle soreness and expedite the muscle recovery process. To learn more, read our guide that explains how to use a massage gun.