We test and review fitness products based on an independent, multi-point methodology. If you use our links to purchase something, we may earn a commission. Read our disclosures.
The VersaSpot Dumbbell Spotter System is essentially a J-Hook System for your dumbbells. This allows you to press out of the rack without having to start the press from your chest. It works extremely well, protects your dumbbells and is easy to adjust. If you do a lot of heavy dumbbell presses, we recommend the system.
Dumbbell J-Cups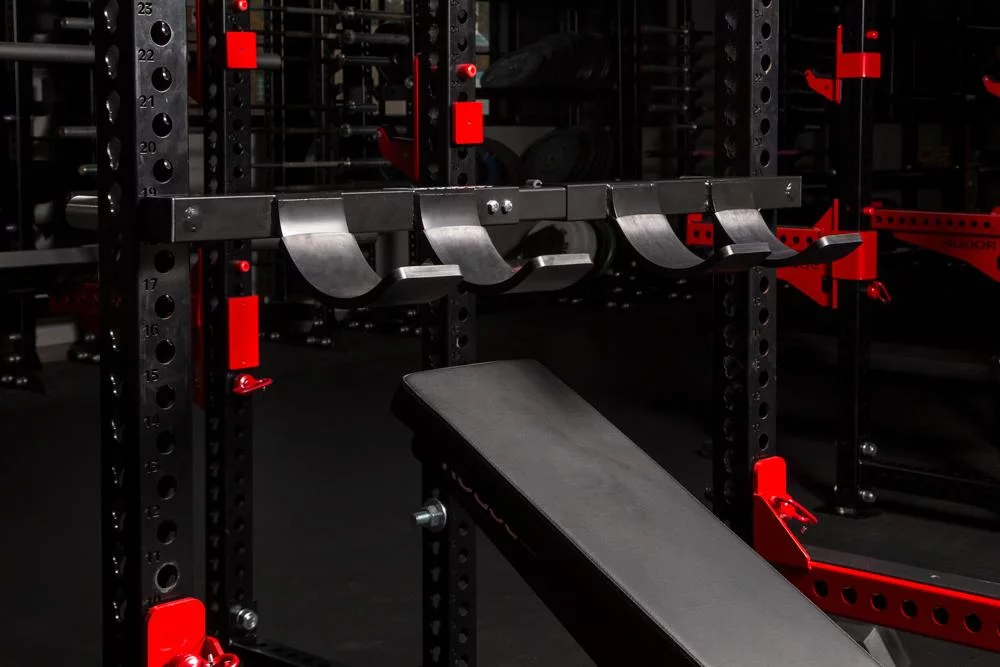 VersaSpot Dumbbell Spotter System
Proudly manufactured in Menomonee Falls, Wisconsin, VersaSpot is the ultimate platform for performing heavy dumbbell movements safely and efficiently. This uniquely portable, patent-pending rack/rig attachment is compatible with the 1" holes of our Rogue Monster Series units, and includes a telescoping centerbeam for custom width adjustments (43" to 61").Set-up is Simple:Adjust the width of the centerbeam and insert the adapter into the rack's uprights Tighten nuts on each end Add dumbbells (the saddles make it easy to change the weights on loadable dumbbells from an elevated position) Perform exercise Re-rack dumbbells on to VersaSpot saddles or drop on floor if necessaryAthletes can easily change the height of the VersaSpot or move it from the inside to the outside of a rack to transition to a different angle press. After use, the 28LB spot rack attachment can be quickly removed and conveniently stored with just a 44" L x 14" W x 5" H overall footprint.According to the makers of VersaSpot, the average weightlifter—using the adapter for the first time—can experience an immediate 15-30% improvement in their dumbbell press performance compared to traditional methods.Specifications:Made in the USA Dumbbell Press Spotter Adapter Designed for racks/rigs/stands with 1" holes Saddles: 2x2" 13-gauge USA steel, 4-5/16" width Telescoping Centerbeam: 1.75" x 1.75" 11-gauge steel, adjustable from 43" to 61" width ACME Studs: Grade 8 galvanized steel, 7/8" diameter EPDM Rubber Boots: 1/8" thick Min Width Hole CL to Hole CL: 43" Max Width Hole CL to Hole CL: 61" Weight Capacity: 250 LB dumbbells x 2 (500 LBS total) Unit Weight: 28 LBS (12.7 kg) Stored footprint: 44"L x 14"W x 5" H
What is the VersaSpot Dumbbell Spotter System?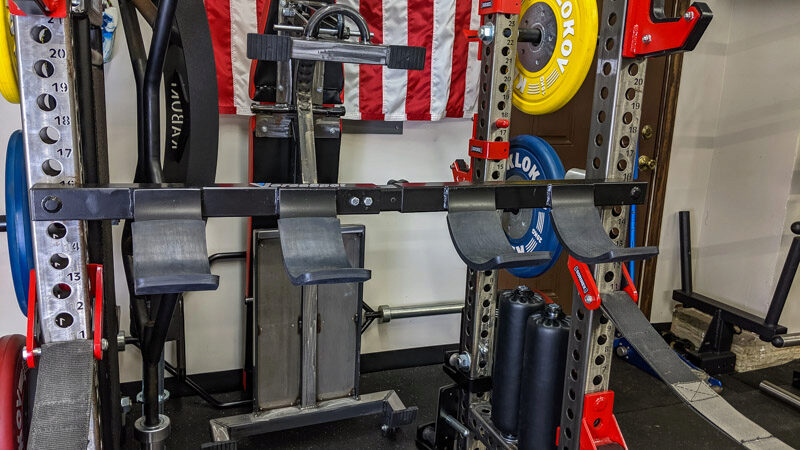 Have you ever replaced your barbell with dumbbells during a bench press? Of course you have, pretty much everyone who's lifted has.
Have you ever gone super heavy with dumbbells? I'm talking so heavy that you essentially maxed out? Probably not. The reason, however, isn't because it's impossible to max out with dumbbells; you haven't maxed out because typically with dumbbells you have to deadlift them to your knees, then hoist them up to your chest while simultaneously falling back on the bench all while trying to stay centered on said bench.
This doesn't sound ideal and in no way is. It's one of the main reasons dumbbells are primarily used for higher rep training. One reason you're able to lift so heavy with a barbell is because:
You can safely bail the lift with spotter arms to prevent yourself from getting hurt or even dying (trust me, I've known of people who died benching.)
You can start the lift from the top with arms extended and use the stretch reflex.
If you're using dumbbells in the traditional manner, you start the first rep from the bottom if they're heavy enough, and no way to spot the lift at the top or bottom of the lift.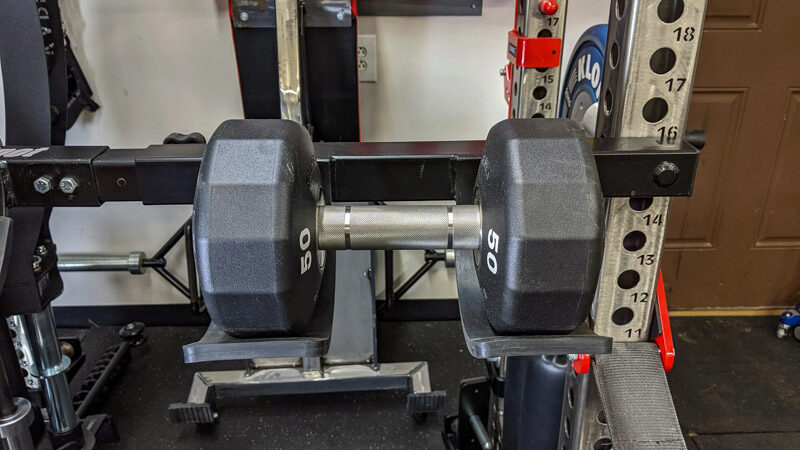 The VersaSpot Dumbbell Spotter System fixes both of these issues by essentially being j-cups for your dumbbells of any size that mounts to your squat rack.
RELATED: Best adjustable dumbbells
Featuring a sliding bar that adjusts up to 61" long, the VersaSpot slides into the laser-cut holes on your rack via 1" for a Sorinex BaseCamp like what I'm using it on or a Rogue Monster Series Rack as well as ⅝" for a Rogue Monster Lite or Infinity Series Rack.
Put simply, the VersaSpot Dumbbell Spotter System allows you to lift heavier and safer with dumbbells.
What We Like About VersaSpot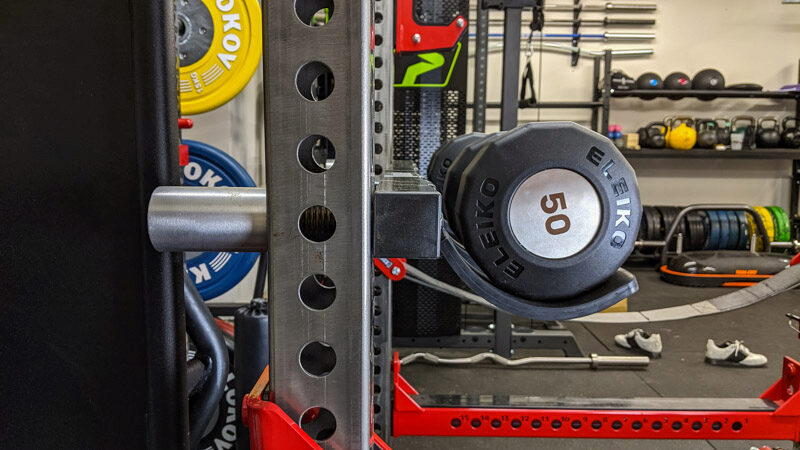 First off, this is not the first dumbbell cradle system I've seen or used. There are cheaper ones that attach individually to uprights like the Titan Dumbbell Holders and there are also much more expensive and complicated units built directly into the bench like the Atlantis Precision Series P-537 Flat Dumbbell Bench with Pivots(I have no idea who comes up with these mindlessly long names.) However, for the price, the VersaSpot Dumbbell System one of the most practical and best value dumbbell cradle systems we've reviewed.
First off, the VersaSpot Spotter System is stout–you don't have to read many of our reviews to know that we like strength equipment to be overbuilt. The fact of the matter is, much of this equipment will be used and abused for decades by people who are often lifting alone and trusting their lives with it and don't plan on using it gently. The ACME Threaded Attachment Rods, Aluminum Tightening Cylinders, 13-Gauge Steel Saddles covered in â…›" Thick EPDM Saddle Covers all give you an assurance that this is made to hold whatever weight you plan to lift.
We've loaded 150 LB dumbbells on the VersaSpot and it didn't budge. It has a 250 LB dumbbell limit per saddle, however, I would personally trust it with much more (although I'll never need it.)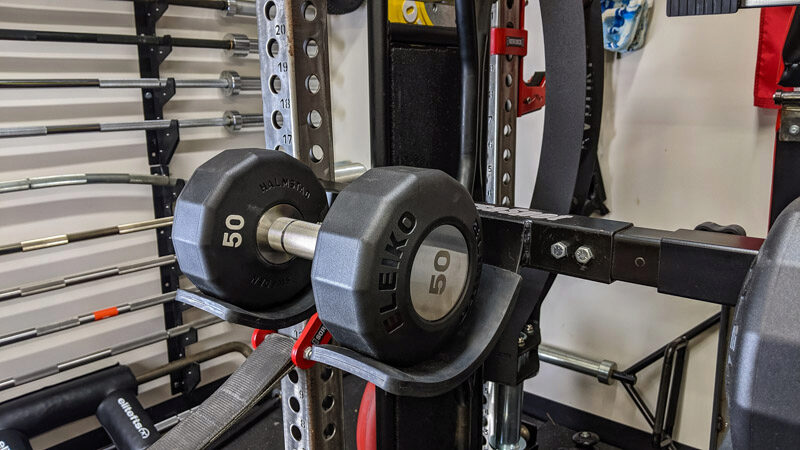 The saddles are curved and cradle the dumbbells extremely well. Although Pro-Style dumbbells would work best (think old-school Ivanko's) we had no problem with loadable dumbbell handles, hex-head dumbbells, Intek's, Eleiko's, or any other style of dumbbell on the market. Thanks to them cradling the heads of the dumbbells, you can pretty much use any without issue.
There are four total saddles, two on each side of the horizontal bar that are made of beefy 13-guage steel. These are then covered in â…›" thick EDPM rubber that protects the heads of the dumbbells in a similar manner to what you'd find with UHMW plastic on barbell j-cups. The saddles are spaced out enough to make it easy to fit your head through the middle, and even more importantly your hands through the saddles to hold the dumbbells.
We had no problem using VersaSpot for benching, whether that be flat, incline, or decline as well as overhead press and even seal rows with the utility bench on our Sorinex Rack. Although we find ourselves mostly using them for bench, it's nice to have the option to use them for something more.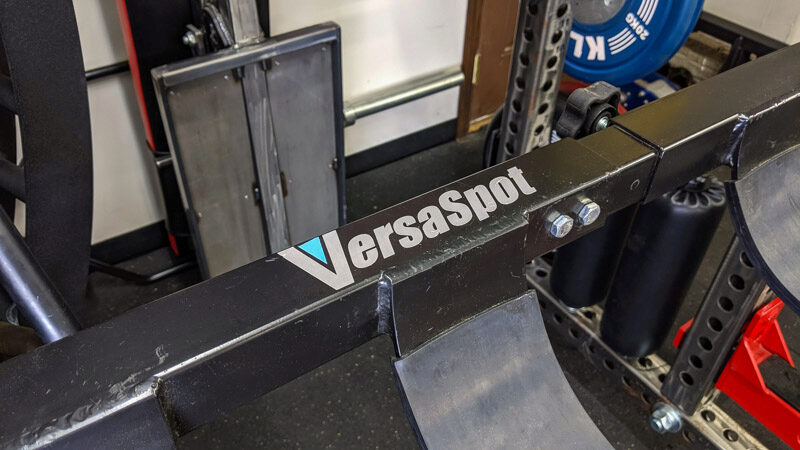 Thanks to the telescoping beam, lining VersaSpot up on the rack is quick and it's also easy to move between racks. Because we constantly have different power racks coming into the garage, it's nice to be able to change it out on racks quickly. It's also needed if you plan to remove it when not in use (most of you will.) In order to secure it to the rack, there are two aluminum cylinders (at least for the Monster Version, for the Monster Lite/Infinity Version there is a black steel threaded knob) that make it easy to tighten and undo.
Overall, we really like the VersaSpot Spotter System. However, we would only suggest it to those that do quite a bit of dumbbell benching. This type of equipment easily ends up in the corner never being used, so make sure that you're someone who could benefit from using a dumbbell spotter system, otherwise spend the money elsewhere.
What We Don't Like About VersaSpot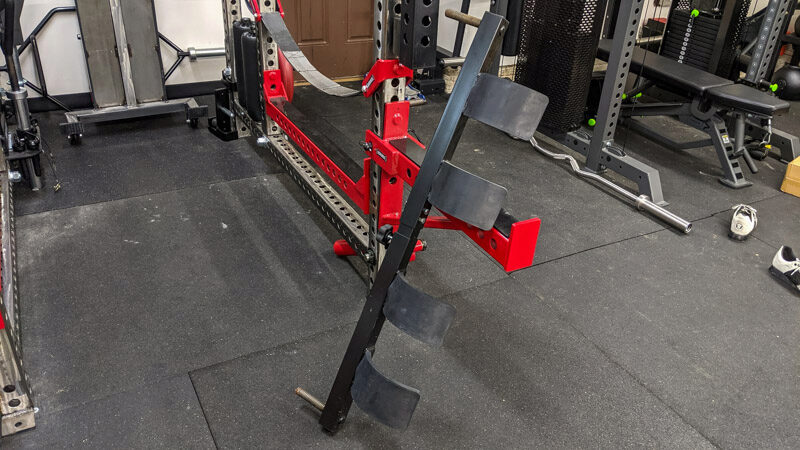 Although we like VersaSpot, there are some things we'd like to see improved in a future version.
First off, attachment rods that are welded to the square tubing are ACME Threaded Rods that are threaded all the entire way. This means that instead of a solid piece of metal sitting on the holes in your rack, it's a threaded rod which is minor, but it can lead to chipping of the paint. I mainly bring this up because the people who are using VersaSpot are mostly Rogue customers who have nicely powder-coated racks in bright colors and like to keep them unscathed.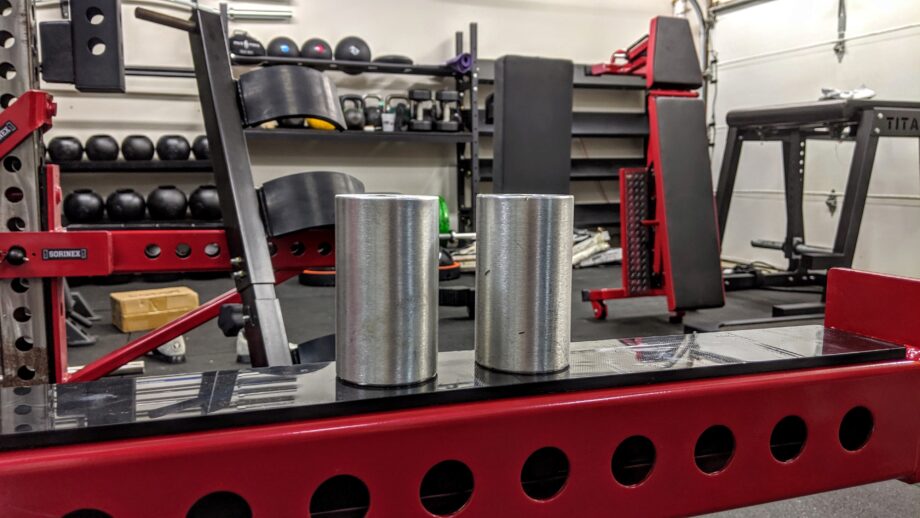 Next, and similar to the previous issue, the bar and aluminum attachment cylinder have no plastic or rubber washer between them and the rack. This means that in order to secure VersaSpot to the rack, you have to tighten the cylinder and bar against the upright which leads to you rubbing paint off the rack. This is annoying and could easily be avoided if some sort of washer were included.
Honestly, the idea attachment scenario would be for VersaSpot to partner with Rogue to use the screw pins Rogue has on their Adjustable Lever Arm Handles that features a built-in washer and knurled hand-tightened nut.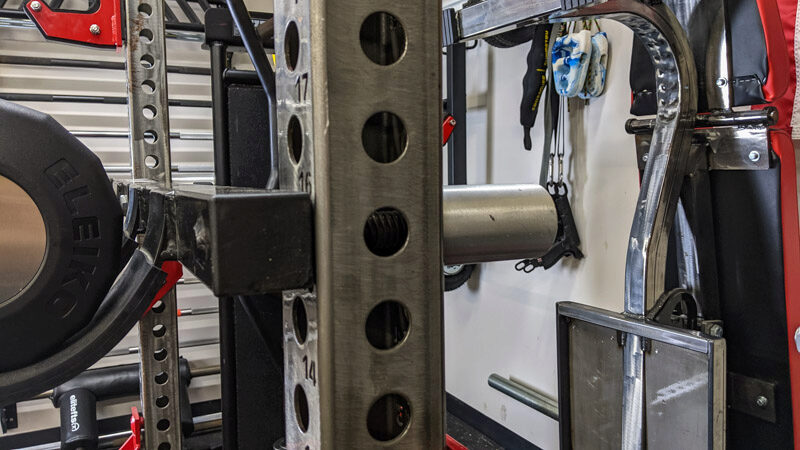 Another minor suggestion, and this is mainly being brought up because VersaSpot is at somewhat of a high price-point would be to weld the end caps on the main bar instead of using plastic. It adds to the look of the piece and prevents plastic caps from falling out and getting lost in the garage (it happens a lot.)
Finally, we have a pro-tip mainly for users rather than VersaSpot: When you're unracking the dumbbells, make sure you slide your head far enough down the bench so you avoid the cradles at lockout. Due to the cradles having to stick pretty far out to hold big dumbbell heads, you're going to be more likely to hit them while benching than with a barbell.
Full Rating
VersaSpot Dumbbell Spotter System
The VersaSpot Dumbbell Spotter System is essentially a J-Hook System for your dumbbells. This allows you to press out of the rack without having to start the press from your chest. It works extremely well, protects your dumbbells and is easy to adjust. If you do a lot of heavy dumbbell presses, we recommend the system.
Product Brand: VersaSpot
Product Currency: USD
Product Price: 219
Product In-Stock: InStock
VersaSpot Dumbbell Spotter FAQs
Do I need a spotter for the dumbbell press?
It's usually fine to perform it without a spotter unless the dumbells can't be dropped. Because it's one single piece, you'll be crushed if you don't have a potter with barbells. The dumbbell, on the other hand, may be dropped at your sides or anyplace else, so you may not need a spotter.
What are power hooks?
By employing a bar in a squat cage, you may have the dumbbells at the start position with the power hooks, allowing you to focus your attention on the actual workout rather than the tedious procedure of shifting your weights to the start position.
Is the VersaSpot dumbbell spotter worth it?
This system allows you to press out of the rack rather than starting at your chest. It performs admirably, protects your dumbbells, and is simple to adjust. We recommend the method if you do a lot of hard dumbbell presses.