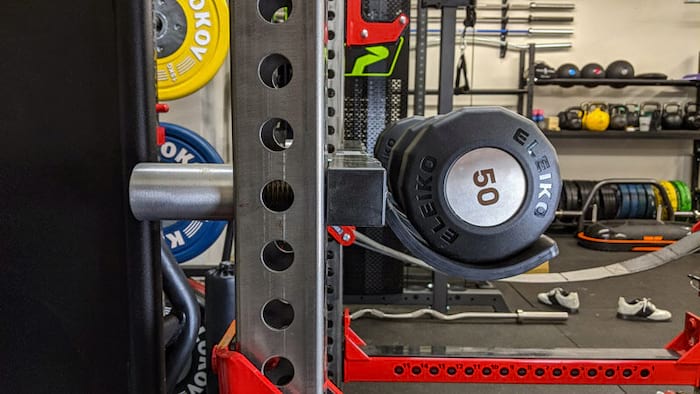 First off, this is not the first dumbbell cradle system I've seen or used. There are cheaper ones that attach individually to uprights like the Titan Dumbbell Holders and there are also much more expensive and complicated units built directly into the bench like the Atlantis Precision Series P-537 Flat Dumbbell Bench with Pivots (I have no idea who comes up with these mindlessly long names.) However, for the price, the VersaSpot Dumbbell System one of the most practical and best value dumbbell cradle systems we've reviewed.
First off, the VersaSpot Spotter System is stout–you don't have to read many of our reviews to know that we like strength equipment to be overbuilt. The fact of the matter is, much of this equipment will be used and abused for decades by people who are often lifting alone and trusting their lives with it and don't plan on using it gently. The ACME Threaded Attachment Rods, Aluminum Tightening Cylinders, 13-Gauge Steel Saddles covered in ⅛" Thick EPDM Saddle Covers all give you an assurance that this is made to hold whatever weight you plan to lift.
We've loaded 150 LB dumbbells on the VersaSpot and it didn't budge. It has a 250 LB dumbbell limit per saddle, however, I would personally trust it with much more (although I'll never need it.)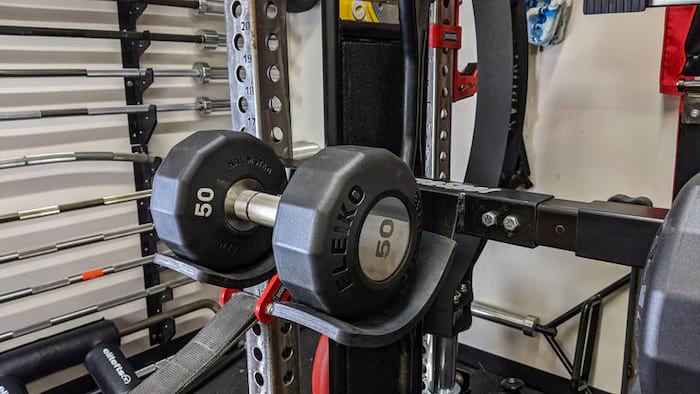 The saddles are curved and cradle the dumbbells extremely well. Although Pro-Style dumbbells would work best (think old-school Ivanko's) we had no problem with loadable dumbbell handles, hex-head dumbbells, Intek's, Eleiko's, or any other style of dumbbell on the market. Thanks to them cradling the heads of the dumbbells, you can pretty much use any without issue.
There are four total saddles, two on each side of the horizontal bar that are made of beefy 13-guage steel. These are then covered in ⅛" thick EDPM rubber that protects the heads of the dumbbells in a similar manner to what you'd find with UHMW plastic on barbell j-cups. The saddles are spaced out enough to make it easy to fit your head through the middle, and even more importantly your hands through the saddles to hold the dumbbells.
We had no problem using VersaSpot for benching, whether that be flat, incline, or decline as well as overhead press and even seal rows with the utility bench on our Sorinex Rack. Although we find ourselves mostly using them for bench, it's nice to have the option to use them for something more.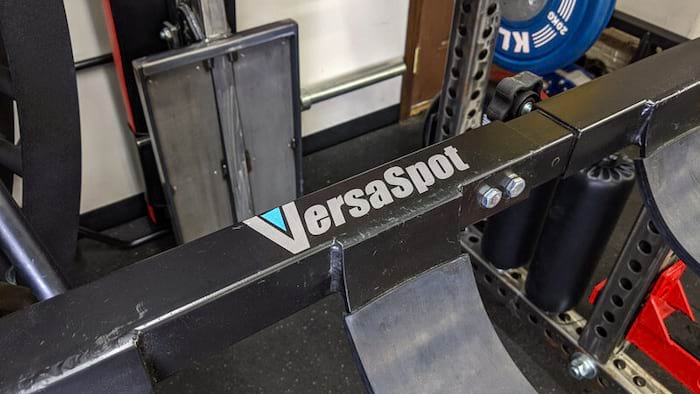 Thanks to the telescoping beam, lining VersaSpot up on the rack is quick and it's also easy to move between racks. Because we constantly have different power racks coming into the garage, it's nice to be able to change it out on racks quickly. It's also needed if you plan to remove it when not in use (most of you will.) In order to secure it to the rack, there are two aluminum cylinders (at least for the Monster Version, for the Monster Lite/Infinity Version there is a black steel threaded knob) that make it easy to tighten and undo.
Overall, we really like the VersaSpot Spotter System. However, we would only suggest it to those that do quite a bit of dumbbell benching. This type of equipment easily ends up in the corner never being used, so make sure that you're someone who could benefit from using a dumbbell spotter system, otherwise spend the money elsewhere.