We test and review fitness products based on an independent, multi-point methodology. If you use our links to purchase something, we may earn a commission. Read our disclosures.
If you're a lifter or an athlete and you've ever attempted to gain weight (or "bulk" as the bodybuilders call it), then you know it's not as simple as eating ice cream and bonbons.
Bulking isn't just needlessly putting on weight, it's about increasing muscle mass and overall body weight. Therefore, if you're trying to bulk you'll have to ask yourself not just, "How much protein do I need?" but, "How can I still achieve a rounded diet with a full macronutrient profile and all of my vitamins and minerals?"
That's why we decided to collect our favorite protein shakes for bulking, so you can spice up your routine and still get a calorie-dense shake without getting caught in a repetitive pattern of the same old chocolate protein powder.
Medical disclaimer: This article is intended for educational and informational purposes only. It is not intended as a substitute for medical advice. For health advice, contact a licensed healthcare provider.
The Key to Bulking
Whether you're on a weight loss journey or trying to gain weight, when you want to manipulate your body composition, it starts with understanding (and tracking) what you're eating. While we won't get into the nitty gritty details of either weight loss or weight gain, we do have an entire guide to bulking and cutting with safe calorie ranges to use as you manipulate your calories.
In the case of trying to lose weight, it's pretty standard to start tracking your meals and overall calories to understand what to eliminate in order to drop into a caloric deficit (which is when we lose weight).
RELATED: Is Protein Powder Good For Weight Loss?
To gain weight, you have to apply the same tracking principles to find out an appropriate amount of calories to add to your diet that will put you in a caloric surplus. This is different for everyone depending on your body and activity levels.
In addition to being in a caloric surplus, you may also need to track your macros, which are your body's three main essential nutrients to optimal health and performance and include carbohydrates, protein, and fat.
You may already know that protein cells in your body are essential to basic biological functions, daily physical and mental performance, and overall health. For that reason, these protein shakes recipes for bulking are packed with high-quality protein, healthy fats, and complex carbohydrates.
RELATED: High-Protein Foods for Muscle Building
Protein Shakes for Bulking: Why Bulk?
While there are many reasons you may want to bulk, the two more common examples we see are folks who either want to bulk for aesthetic reasons and increase muscle growth and size or folks who want to get stronger (and typically for sports like Strongman and powerlifting).
Many folks perceive it easier to drink a calorie-dense meal versus having to chew the same amount of calories, therefore shakes for bulking become an essential part of the process in introducing more calories to your diet.
Protein Shakes for Bulking: What to Expect
The following recipes have been adapted from some of our favorite brands and best protein powders for weight gain. All of the recipes featured here are high-calorie, high-protein, chock-full of simple and complex carbohydrates, and offer healthy fats.
Depending on your dietary restrictions, you can always swap out the type of protein powder with one that works best for your digestion (for example an egg white, protein isolate, or plant-based protein powder).
Here are the recipes we included, all adapted from brands we deem have the best protein powder on the market:
This is one of our favorite muscle-building protein shakes—we especially enjoy the medjool dates that give this shake a rich taste that complements the vanilla whey protein powder.
To make sure this was a high-calorie, muscle building shake, we adapted the original Optimum Nutrition recipe to include whole milk versus non-dairy milk and kept everything else the same. This recipe features two scoops of protein powder for a total of 50 grams in just one shake.
In a blender, you'll combine:
2 scoops ON Gold Standard Whey (Vanilla)
2 frozen bananas
½ cup whole milk
¼ cup greek yogurt
3 pitted medjool dates
½ tsp cinnamon
½ tsp vanilla extract
Optional: a few ice cubes
If you're in the mood for a smoothie recipe that is reminiscent of an oatmeal cookie, this is a recipe for you. It's simple but delicious and packed with calories.
We adapted this recipe from Naked Nutrition and just swapped the suggested protein powder to the Naked Mass vegan weight gainer which has 1,230 calories per serving and an impressive 50 grams of protein. It's worth mentioning that one serving is four scoops, so depending on your weight gaining journey, use two to four scoops of Naked Mass for this recipe.
In a blender, you'll combine:
2-4 scoops Naked Nutrition Naked Mass (Vanilla)
1 cup whole milk
1 cup dry old-fashioned oatmeal
1 tbsp chopped almonds
1/8 cup maple syrup
1/2 tsp cinnamon
Optional: a few ice cubes
This high protein shake recipe is for all the pumpkin spice fans out there. Pumpkin puree is a fantastic complex carb that adds that irresistible autumn flavor to an average protein shake.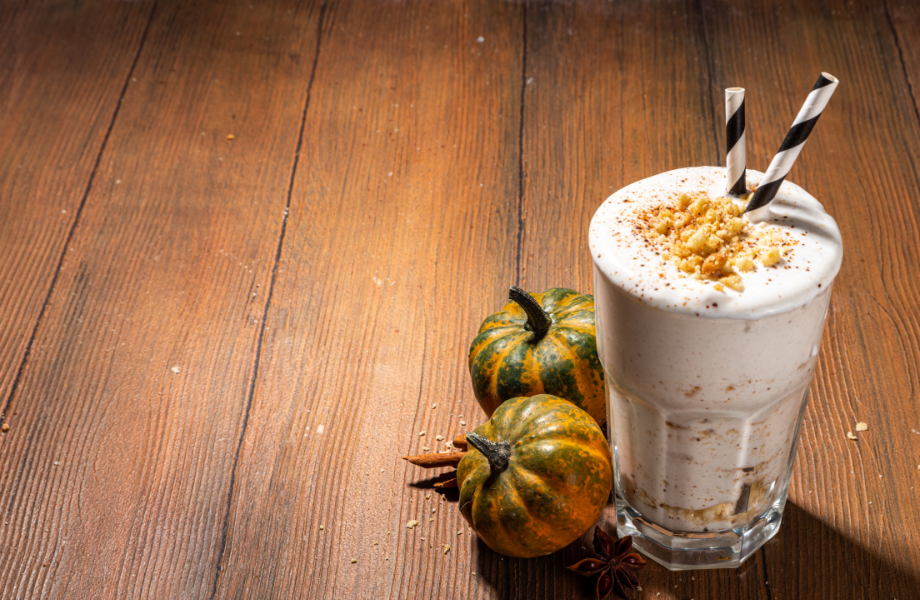 This recipe is adapted from Kaged and we made a few revisions including whole milk versus almond milk for added calories (but ultimately the choice is yours).
In a blender, you'll combine:
1 scoop of Kaged Whey Protein Isolate (Vanilla)
1 cup of whole milk
1 frozen banana
3 tbsp of pumpkin puree
1 tbsp of almond butter
1/8 tsp of pumpkin spice
1/8 tsp of ground cinnamon
Pinch of nutmeg
Optional: a few ice cubes
When it comes to bulking, you'll want to ensure you have a mix of proteins, healthy fats, and carbohydrates. This chocolate peanut butter protein shake has all three macronutrients and assists you with your bulk as a meal replacement or a snack between meals.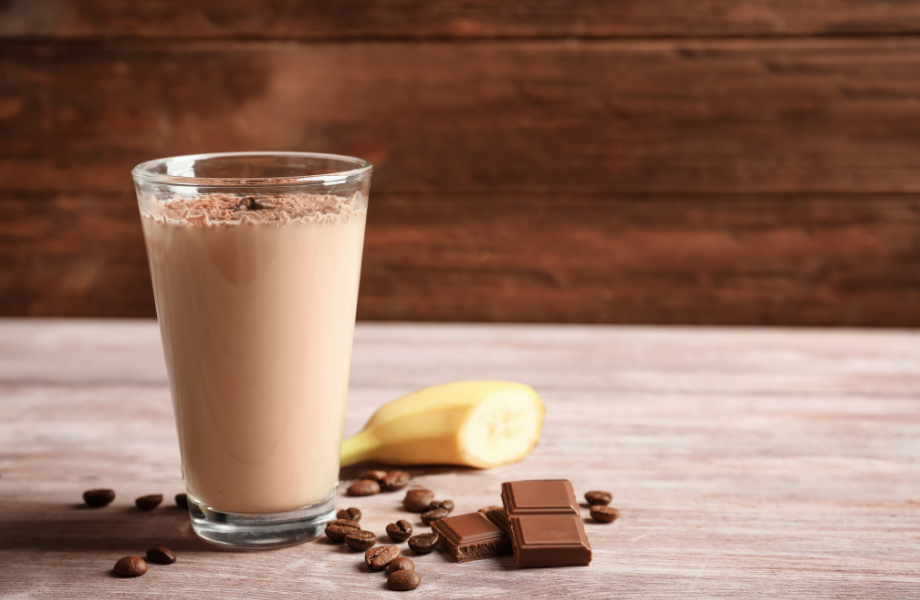 This recipe was adapted from Legion Athletics, but we swapped out skim milk for whole milk, added more oats, and threw in some cocoa powder to round out the sweetness.
In a blender, you'll combine:
1 scoop Legion Athletics Isolate Protein Powder (Chocolate Peanut Butter)
2 tbsp peanut butter
1 banana
1 cup whole milk
½ cup old-fashioned oats
1 tsp cocoa powder
Pinch of sea salt
Optional: a few ice cubes
We didn't want to leave all the plant-based folks out in the cold on these bulking recipes. We adapted this Vega recipe by adding old-fashioned oats for additional carbs and almond butter to incorporate a healthy fat.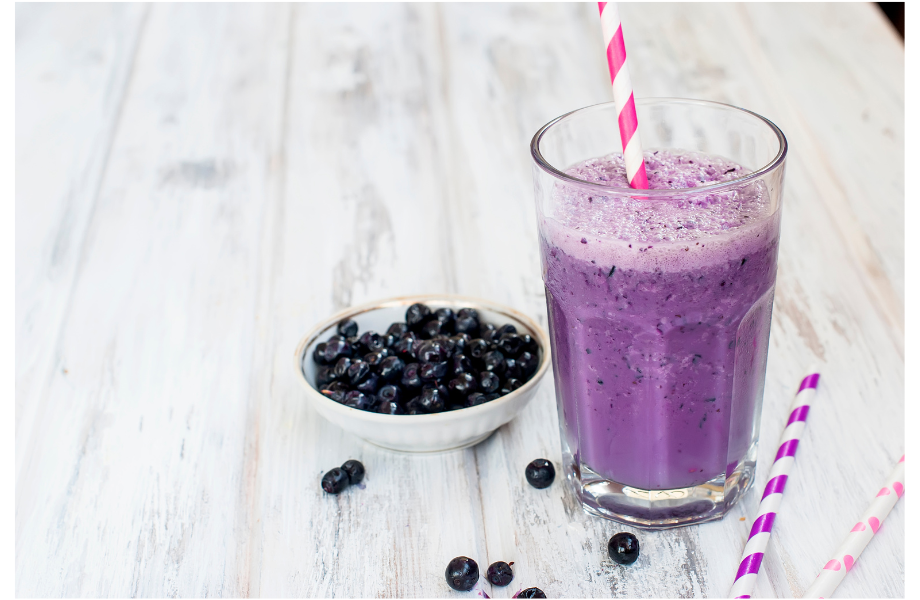 We took inspiration from Vega because the Vega Sport Premium Protein, which has 30 grams of protein per serving, is our top pick for best vegan protein powders.
In a blender, you'll combine:
1 scoop Vega Sport Premium Protein (Vanilla)
1 whole orange, peeled
1 cup non-dairy milk (like almond or coconut milk)
1 cup frozen blueberries
1 tbsp almond butter
½ cup old-fashioned oats
Optional: a few ice cubes
Protein Shakes for Bulking: Final Thoughts
When it comes to bulking, a protein shake (with plenty of other ingredients) is an ideal way to consume a surplus of calories and help you achieve your bulking goals. Whether you're looking to gain weight to add muscle to your frame or add strength to your lifts, adding body weight in a safe way takes planning and patience, much like a diet for weight loss.
Protein Shakes for Bulking FAQ
Are protein shakes good for bulking?
Protein shakes can aid weight gain and bulking because you can pack a lot of calories into one shake. Folks often find it easier to drink calorie-dense meals versus chewing the same amount of food.
What protein shake is best for bulking up?
Is protein shake good for building muscle?
Protein shakes help you increase your overall protein intake, which can aid the muscle building process if you're stimulating your muscles with exercise and resistance training (like our beginner workout plan, for example). 
These statements have not been evaluated by the Food and Drug Administration. This product is not intended to diagnose, treat, cure, or prevent any diseases.