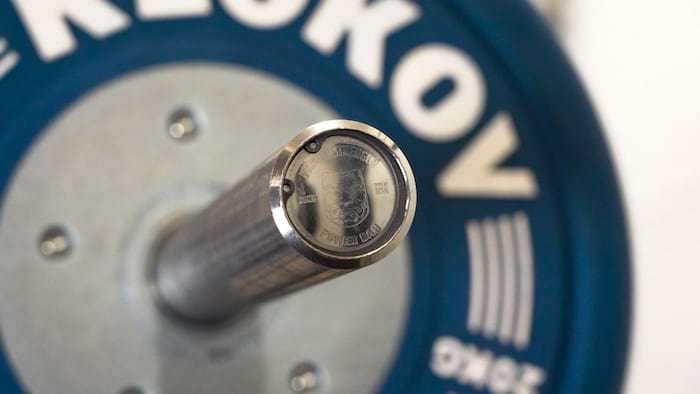 The Kabuki Strength New Generation Power Bar is the best power bar I've used, and I don't say that lightly. At Garage Gym Reviews we've had the opportunity to use and review some excellent barbells. These include the American Barbell Mammoth Bar (a Cerakoted, stainless steel behemoth) as well as the Stainless Steel Rogue Ohio Power Bar.
Are there other power bars worth mentioning when comparing the Kabuki Strength Power Bar? Of course, a few notable ones are the Eleiko Powerlifting Training & Competition Bars, the old Iron Wolfe Barbells that aren't currently being made as well as some of Ivanko's barbells. Ivanko, the previous title holder of the 'Strongest Barbell Made in the USA,' has recently been dethroned, and it was done by this bar.
The Kabuki Strength Power Bar is not only the 'Strongest Barbell Made in the USA,' in my research, but I have also been unable to find a barbell that uses steel with a higher "certified" tensile strength. I say certified because this isn't a number Kabuki Strength made up, this is literally something they've had tested and documented. I believe this is important because there are many companies claiming >200K PSI Tensile Strength barbell without ever showing the public the details on how this number was garnered. We simply trust the companies, and in my experience, trusting companies running razor-thin margins and trying to make it based on volume is an empty pursuit.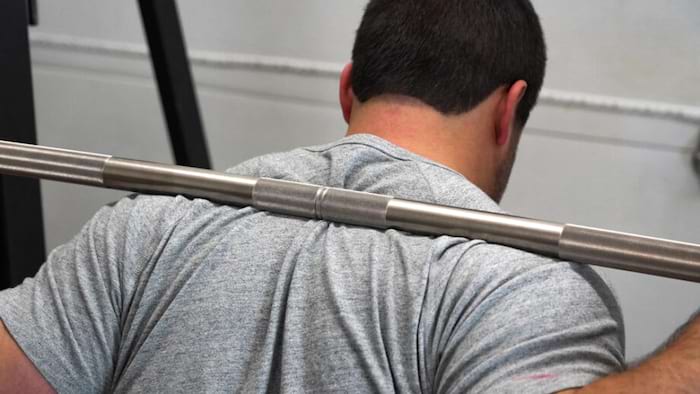 The co-founder of Kabuki Strength, Chris Duffin is probably one of the most interesting guys in the strength world. He comes from a broken childhood (as I write this review on Thanksgiving day I  remind myself of how thankful I am for the home I grew up in), has built himself into a respectable man who has both done great things in the engineering world (worked for Boeing among others) as well as the powerlifting world. Thankfully, he combined his love for engineering with his passion for powerlifting and has graced us with some of the best equipment currently available.
Two notable pieces are the Kabuki Strength Duffalo Bar (our favorite specialty bar) and the Kabuki Strength ShouldeRok. As many were, when Chris announced he was working on a power bar, I got pretty excited. But, although I was excited, I was a bit hesitant. I've used a lot of barbells and have had some in-depth conversations with the owners as well as product designers of the top equipment manufacturing companies in the world. What I often take away from the conversations is there is a whole lot more to creating a barbell than what most assume (even if you're picking specs for an imported bar.)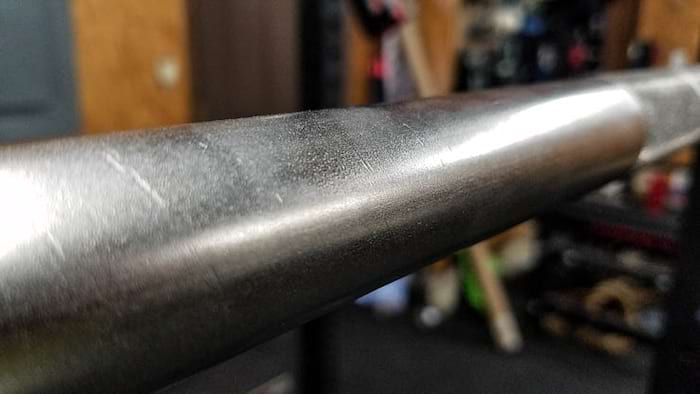 Sure, Duffin and his team have done some awesome things, but a barbell is something that everyone is doing, in all reality, many are doing exceptionally well. However, the hype only increased after Kabuki Strength teased this video of Chris discussing the ins and outs of metallurgy and its relationship to barbells.
The most important detail from the video that I believe makes the Kabuki Strength Power Bar stand out from the rest is the combination of a high tensile strength (250K-258K PSI) as well as a high Rockwell Hardness rating of 51 RC.
Tensile strength is something most people who have purchased barbells within the past decade have a vague idea on. However, this is the first time I've seen a company discuss Rockwell Hardness and this is the only barbell that has this listed. Does this mean other companies have a low Rockwell Harness rating? No, but I do hope it causes an urgency for other companies making quality barbells to state all of the details as a differentiator among lesser-quality bars.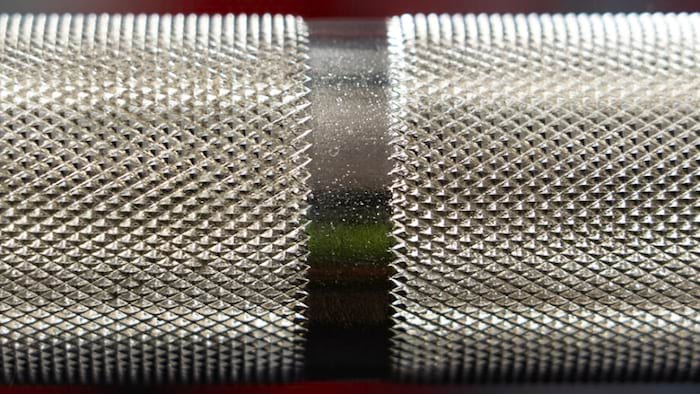 The combination of a high tensile strength and very hard steel create a bar who's knurling, as demonstrated by Kabuki Strength, is practically indestructible. For a garage gym owner, this matters, but for a commercial gym owner or anyone with many different hands on a bar, this is paramountly important. How many times have you gone to a commercial gym, barbell club, or CrossFit box and found all of the barbells have a non-existent knurling? Nearly every gym I've been to has bars with hardly any knurl, and that's because they see a lot of use while also using mild steel.
Having a barbell that will not only be less likely to bend (the steel used is most often used in the manufacturing of structural parts for aircraft landing gears) but also less likely to have a knurl that wears to nothing is what makes the retail price of $600 not seem so bad.
The barbell with my (previously) favorite knurl as well as most others is the Rogue Ohio Power Bar. The reason it's such a popular knurl is that it's aggressive, yet not sharp to the point that it tears the skin. Rather than digging deep into the bar and leaving sharp points like many other bars such as the overrated Texas Power Bar, the OPB has had the tops of the knurl cut off, leaving four times as many points. This creates a 'volcano looking' knurl that increases surface area with the palm.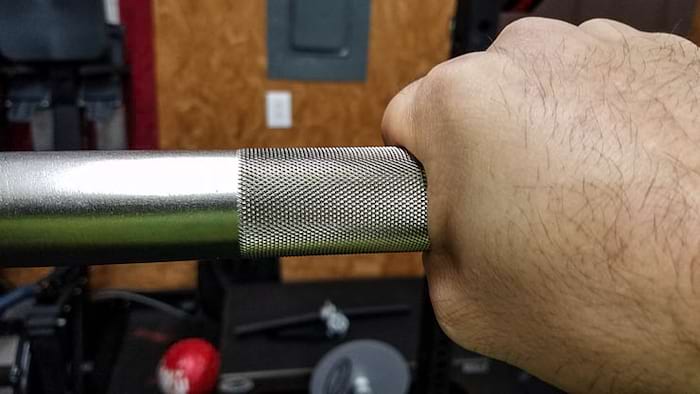 This same 'volcano looking' knurl is used on the Kabuki Strength Power Bar, but, in my opinion, done even better than on the Rogue OPB. On the OPB there are much fewer points than on the KS Power Bar, which is likely done to save cost (this is just a guess) for the expense of having to replace tooling for cutting the knurl (this is an expensive part of barbell manufacturing as new tooling has to be replaced often, many times with each barbell.) This means that the Kabuki Strength Power Bar has a very similar knurl to the Rogue OPB, but, an even more precise knurl that creates even more points and therefore more surface area with the palm.
To put it bluntly, the Kabuki Strength Power Bar has the best feeling knurl of any barbell we've ever tested.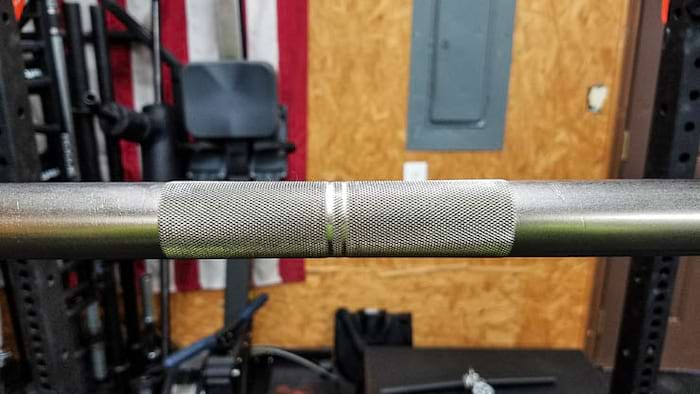 It must be said that this is subjective, but if you'd like to compare your preferences of knurling to mine, my previous favorite knurling is the Rogue Ohio Power Bar (for Powerlifting) and the Eleiko WL Training Bar (for Olympic Weightlifting.) One thing that isn't subjective though is the fact that this knurling will be around (in a similar condition as when you first receive it) for long enough to pass down to your grandchildren.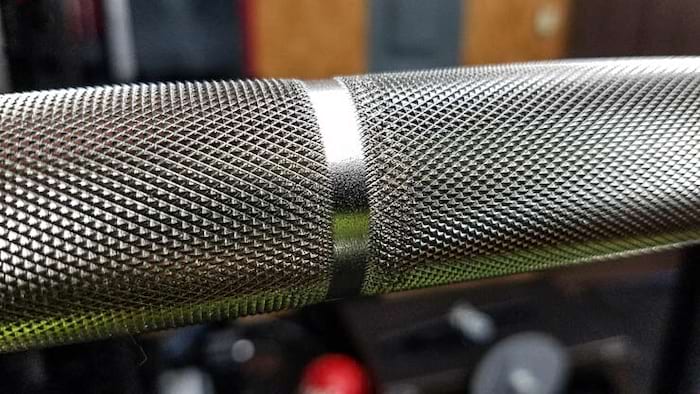 Although I love the knurling, that doesn't mean it's absolutely perfect. Due to the preciseness of the knurl, there are areas near the Powerlifting Knurl Marks that are double tracked about 1/8". This is very picky and won't affect the use of the bar, but my goal isn't to make this bar or any review appear better than it is. We'd like to see this perfected over time as well as the center knurl marks become more defined and even, but these are small issues.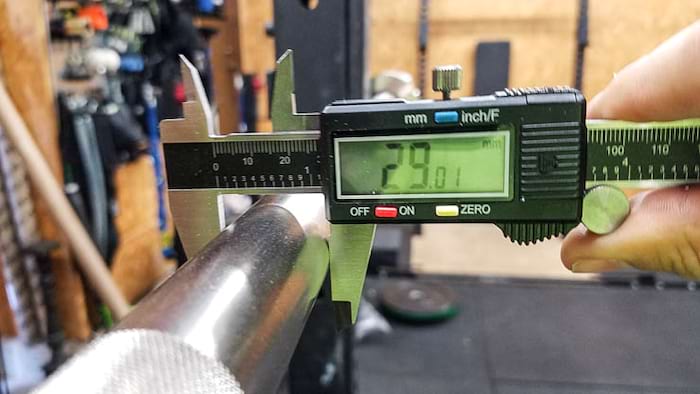 A few other details outside of the knurling and tensile strength of the bar: The shaft diameter is 29 mm. Initially, they had teased they were going to use 28.5 mm as the shaft diameter, but I'm happy they decided to listen to some of the comments regarding this. I prefer 29mm for the squat and press and don't mind it for deadlifting (although nothing feels as good as a slinky 27mm deadlift bar.)
There are various finishes that the bar is offered in, similar to their Duffalo Bar. Zinc and Black Oxide are offered and for an additional fee Electroless Nickel can be had (I love this finish, and it's rarely offered by other companies.) Another tease regarding the bar was to use stainless steel. Do I prefer stainless steel to a chrome or zinc finish? Of course, it's my favorite as shown in various reviews for its corrosion resistance. However, Kabuki Strength has said the reason they went with a plated finish instead of stainless steel was due to, and I quote Chris Duffin from an Instagram comment: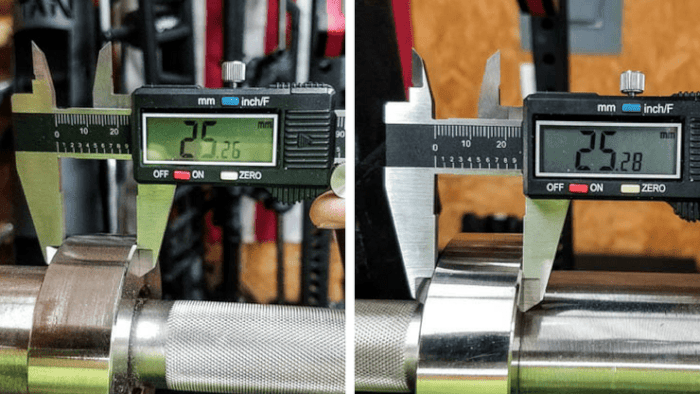 "Stainless is not inherently better and only provides corrosion resistant properties. But to accomplish that, it still requires a treatment such as passivation. If it requires treatment, we may as well go with a higher tensile strength steel that is better to work with and keeps costs lower. Then we do the electroless nickel finish which is arguably superior to stainless. In this manner, we improve function, cost, and finish."
This pretty much satisfies my inquiry and will likely to most of you reading this as well. If Stainless Steel was chosen and the same tensile strength was had, this bar would likely cost above $1,000 and therefore out of the price range for most. In my opinion, I'd rather see a bar at this price with the features it has than stainless steel.
The rotation system used is self-lubricating bronze bushings similar to many popular CrossFit-specific barbells. For a power bar, I think this is a great option that also keeps the price lower than if bearings were used. The New Generation Power Bar does have a mediocre spin, but would be enough for those that want to use it for some power cleans here and there.
Finally, this bar is manufactured in the USA while using American Steel. To some, this is a big deal, although it's not of utmost importance for me. The most significant part of this is not that it's made in the United States, but that American Steel is used. Many companies claim "Made in the USA" when although it's made here in the states, the steel is imported. This deceives customers into thinking everything about the bar is supporting American Workers.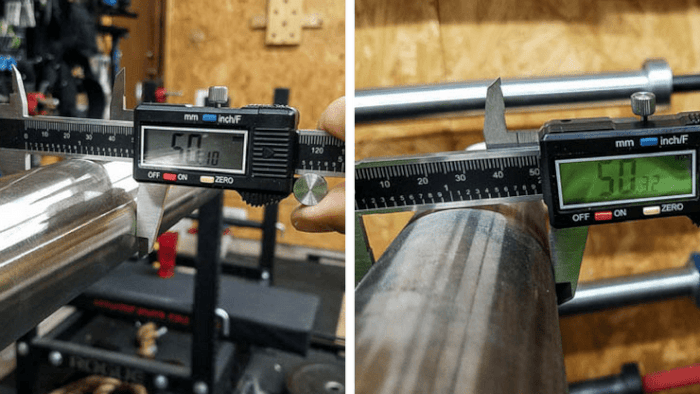 In addition to the bar being made in the USA, it also carries a lifetime warranty. The best lifetime warranty in the industry in my experience is Rogue Fitness. Not only is their customer service second to none, but they generally take care of any and all inquiries. I certainly won't compare Kabuki Strength's lifetime warranty to Rogue's because they've neither been around as long or had as much experience servicing claims. BUT, I will say that the team at Kabuki is dedicated to making the best equipment possible and fixing situations when this isn't the case.
A lifetime warranty is great so long as the company is around long enough to service it. I'm hoping Kabuki will be as they're making some of the most attention to detail equipment in the industry.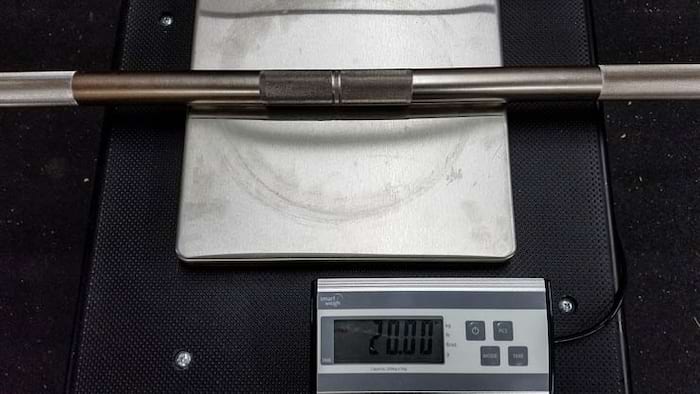 I want to say one last thing regarding the price of this bar. Currently, the retail is $599. This is not cheap, and although the bar has features that can't be had at lower prices (or higher prices really), it's still a large purchase for many. A barbell is the area I suggest spending the most money when building a home gym. It will receive the most use, and there is a big difference between a $100 bar and a $200 bar. There's also a difference between a $400 and $600 bar, although the more you spend, the lesser the differences are.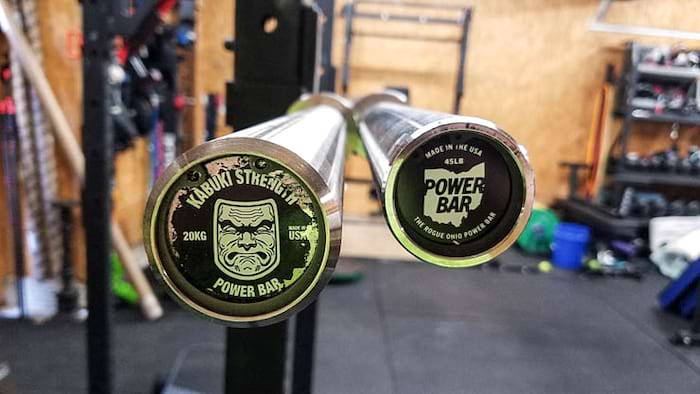 The most prominent comparison this bar (or any power bar) will get is to the Rogue Ohio Power Bar which can be had for $250 and at that price it is an excellent value. For most people, I'd say the OPB is enough of a barbell. However, if you want one of the best power bars ever made, at a price that when compared to other comparable bars is MUCH less, then the Kabuki Strength Power Bar is worth every penny.
This should be the last barbell you ever buy that will not only provide a reliable, but enjoyable experience every time your calloused hands grip the outstanding, indestructible knurling. For those reasons, if I were going to buy a single power bar, this would be the one.