We test and review fitness products based on an independent, multi-point methodology. If you use our links to purchase something, we may earn a commission. Read our disclosures.
CrossFit Athletes have been accused of using Performance Enhancing Drugs for some time. Despite these accusations, the CrossFit Games has a protocol for testing athletes.
Do me a favor, real quick.
Go to any forum or comment section on CrossFit related subject matterand let me know what you see.
Most likely there will be some random chit-chat on the athletes or the topic being discussed, but just about every time the use of steroids and how CrossFit does drug testing will be brought up.
I'm not kidding. Go check out Dan Bailey's Instagram, or even just footage of the CrossFit Games, and you'll be amazed at what the conspiracy theorists have to say.
It's practically impossible to escape theinternet warriors.
But, even thoughthe use of steroids by CrossFit Games athletes is proclaimed by fans worldwide, very few athletes ever test positive.
Is it the testing system that's missing all of the dopers, or is it simply that the elite in CrossFit aren'tactually doping? These are questions asked often, and today I'm going to dive in to find some answers.
I want to say first, though, that this article is not intended to bash any athletes for using drugs. It's quite obvious to me that there are steroid users who compete in CrossFit, but I nor anyone else has the authority to accuse them without proof.
So, without further adieu…
Drug Testing at the CrossFit Games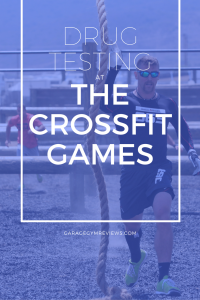 First off, we need to look at how athletes are currently being tested.
It wasn't too long ago that CrossFit had no formal testing process in place. In reality, this makes a whole lot of sense considering the immaturity of The CrossFit Games.
Starting off at Dave Castro's parent's ranch in Aromas, California, athletes went mainly for a good time, some tough workouts, and lots of beer (before paleo was "cool.")
At the time, it was entirely possible that steroid users were among the participants, but it didn't matter because it was simply a throwdown.
However, as the CrossFit Games have progressed so has everything else.
CrossFit Games Athletes now train year round.
They now try to peak for the Games season.
They follow specific programming.
They have sponsorships.
There are actual sums of money and "fame" to be had for the winner.
They focus not just on their training, but also their diet.
And, it's quite possible that all of these add up to their being users of PED's to get ahead. In fact, it's not jus that there might be, there most definitely is.
To combat PED (performance enhancing drugs) use, the CrossFit Games has adopted a strict "Drug-Free Competition" policy. This is exactly what it sounds to be. The CrossFit Games competitors should be completely free from any "drug" if they intend to compete in the Games.
A "drug" as determined by CrossFit includes any of the following:
Stimulants
Anabolic Agents
Beta Blockers (in competition)
Street Drugs
Diuretics and Other Masking Agents
Peptide Hormones and Analogues
Anti-Estrogens
Beta-2 Agonists (permitted with prescription and TUE, and through inhalation only)
This policy is very similar to that of USADA and begs to question why CrossFit doesn't use an outside testing agency. This is a question brought about by skeptics and one I will try to give my opinion on a bit later.
How are the CrossFit Games Athletes Tested?
The drugs that CrossFit tests for arethe norm for just about every other testing agency.
The way athletes are chosen for testing and results are released, however, is somewhat different and a reason for much of the outcry from fans.
Many sporting leagues such as the MLB will use third parties toadminister the tests and report back findings. This allows the judgment to be as bias-free as possible, something the player's associations strongly stand behind (something CrossFit does not have…yet.)
According to the "MAJOR LEAGUE BASEBALL'S JOINT DRUG PREVENTION AND TREATMENT PROGRAM":
"The Parties shall jointly select an individual to serve as the Independent Program Administrator ("IPA"). Such individual shall have no affiliation with the Commissioner's Office, any Major League Club or the Players Association."
The program goes on to state "for the term of this Program, laboratory analysis under the Program shall be performed by the World Anti-DopingAgency-certifiedlaboratory known as Laboratoire de Controle du Dopage."
So, the basic idea is that there are roadblocks in place to prevent anyone with interest in the players or organization to mess with the results.
As stated, this is a rather basic idea for the majority of top sporting leagues.
All this said, the CrossFit Games is not a TOP sporting league. In fact, no matter how much you or I enjoy it, it does not yet have the mass appeal of basketball, baseball, football, hockey, or even NASCAR (is that a sport?) Despite CrossFit handing out over $2.2 Million in total prize money and partnerships with ESPN, Reebok, and others, the CrossFit Games is still very much in it's infancy.
With the fact that CrossFit is still very much a small, yet ever-growing sport, let's take a look at the Drug-Testing Program.
What is immediately clear is thatCrossFit wants a "Drug-Free Competition." There would be no reason for drug testing protocols and positive-tested athletes if this were not the case. It's also clear that CrossFit is taking steps to make sure top athletes are being tested.
Testing also extends to those, not in the spotlight. Taken from CrossFit's Drug-Testing Program:
"All athletes registered in any CrossFit-sanctioned competition are subject to drug testing at any time during the year, including directed, unannounced out-of-competition testing, for any reason."
This technically means you could be tested even if you only compete in the Open. Will joe-blow, 10:00 minute Fran time ever get tested? Most likely not. But, it could be a reason why we see guys like Dimitry Klokov shy away from officially competing in the Open, yet participating in Grid. This is something I believe CrossFit has recognized and even stated:
"This dude (Klokov) is stronger than the Incredible Hulk under the care of Lance Armstrong's "doctors.""
There are a few ways athletes in the past have been tested.
First is Championship Drug Testing; this occurs at any competition sanctioned by CrossFit. Every athlete at Regionals and the Games are subject to testing as determined by random selection or if they finish on or near the podium. The "randomness" of the selection is determined as far as I can tell, by CrossFit, Inc; however, they could be chosen electronically.
Out-of-Competition Testingis the next type of drug testing that occurs. This is for all registered athletes who have signed the drug-testing consent form, which occurs during the registration process. The testing can happen 365 days a year, at any time or place.
For those of you who think CrossFit takes the urine and blood samples and simply decide on their own who should test positive is factually false.
CrossFit, Inc. uses only WADA approved laboratories for analysis, and if an athlete refuses to submit to the test, the same sanctions apply as if they tested positive.
Although CrossFit uses a third-party to test for the use of PED's, CrossFit, Inc holds the reigns on how tests are reported to the public. This is one of the areas that receives the most critical response from fans in regards to drug testing.
How CrossFit, Inc Reports Positive Test Results
CrossFit, Inc is a company, not just a training methodology.
As with any business, news of a top executive or employee/athlete being caught doing something that's illegal and/or there are policies against will cause negative news.
The person that comes up most in regards to alleged steroid use is the 4-time CrossFit Games Champ, Rich Froning.
Froning, as I've stated many times, has been a significant cause for CrossFit's meteoric rise. Without him, and his ultimate domination of the field, I do not believe CrossFit would be where it is today, and I think many would agree.
If Rich Froning ever tested positive for PED use, it would most certainly hurt the CrossFit Games reputation. This idea of Froning being CrossFit's "golden boy" has lead many internet warriors to provide hearsay that Froning has to be on steroids. That there's no way somebody could train as much as he does and perform the way he does without the use of performance-enhancing drugs.
I've also read things from people who believe it's the reason he's no longer competing as an individual. That somehow he tested positive and rather than CrossFit announce it, they gave him the opportunity to compete in the Affiliate Competition.
Let me remind you, however; these allegations are all made up. There has yet to be anyone come out and provide evidence that Rich Froning and all of the other top CrossFit Games Athletes are on steroids.
One way, these rumors could be stopped would be for CrossFit, Inc to allow a third party the discretion to release results.
As stated in the Drug-Testing Program:
"CrossFit, at its sole discretion, will publicly announce violations of the CrossFit Games Drug Testing policy once the appeals process is over and a final decision has been reached."
CrossFit, Inc has THE sole discretion to decide when/if positive test results are announced.
On the one hand, this makes complete sense. CrossFit, Inc is a business, and the athletes are their assets. Should CrossFit's top assets be tainted, so could CrossFit, Inc and their CrossFit Games.
On the other hand, it would be great to stop hearing allegations that CrossFit, Inc is hiding positive tests without any proof that they are.
Examples of how CrossFit Games Athletes are Tested
Every once in a while, an athlete will come out and state when they've been tested to prove to fans they're clean.
Being tested and coming back with a negative result is the best proof we have that an athlete is indeed clean.
Is it foolproof? Of course not. How many times have you seen an article stating you'd have to be an idiot to test positive in a drug test? But, at this point, it's our best evidence.
Björgvin Karl Guðmundsson, a one-time podium finisher at the CrossFit Games, has come out and stated how he'd been tested over the past couple of years:
1. 2014 Crossfit European Regionals – All qualifying spots were tested.
2. 2014 CrossFit Games – random pick for drug testing.
3. 2014 Christmas competition LSÍ in Hafnafjordur, Iceland- I was not competing but was a spectator.
4. 2015 CrossFit European Regionals – All qualifying spots were tested.
5. 2015 Crossfit Games – All top spots were tested.
6. 2015 LSÍ (weightlifting federation) drug tested in Iceland while coaching at CF Hengill – Random drug testing from ÍSÍ (Icelandic sports association)
7. 2016 Crossfit Regionals- All top spots were tested.
To me, this provides a lot of context.
The most glaring hole I see is that unless missed, BKG was not tested at the 2016 CrossFit Games; a competition in which he took 8th.
Dan Bailey, the OG CrossFit Mass Monster has been accused of steroid use quite a bit. So much so, that he's had to deny it publicly many times.
Despite being yoked out of his mind, and looking like he has an HGH gut in this picture, he's never tested positive. Does this mean he's not on steroids? Not definitively, but it's the best evidence we have AND in all reality, he's pretty much always been jacked. Even when he was a sprinter at Ohio University.
Positive Tested CrossFit Games Athletes
Despite many saying CrossFit needs to improve their Drug-Testing Program, there have been athletes that have tested positive for banned substances.
Here's a list of all of the athletes I could find that have either tested positive for banned substances or violated the drug testing policies (if there are others, let me know in the comments section):
Taylar Stallings (B-Methylphenethylamine)
Abigail Guerrero (Methandienone (Dianabol))
Steve Pinkerton (Anastrozole, Letrozole, and 19-Norandrosterone)
Elia Navarro-Garcia (Oxandrolone)
Ryan Fischer (Provided inaccurate information about his whereabouts, failed to cooperate with collection agents from Drug Free Sport, and did not report for his out of season test.)
Richard Bohlken (Ostarine)
Natalie Newhart (Oxandrolone)
Charis Chan (Failed drug test at the American Open Weightlifting Championships)
Scott Jones (Anastrozole)
Penny Kemp (Clomiphene)
Steve Marino (Provided a sample that indicated he used an anabolic agent.)
Nick Thomas (SARM)
OJ Washington (Methylhexaneamine)
Ryan Elrod (Clomiphene)
Josee Sarda (SARMs, Ostarine, Testolone)
Tony Turski (Anastrozole)
Ricky Garard (Testolone)
Should CrossFit Games Athletes be Allowed to Use PED's?
Mostly what I've stated is facts, interspersed with my opinion. However, for this question, I am going to provide strictly my opinion.
The goal of the CrossFit Games is to find the fittest person on the planet, and it does a great job of that. CrossFit athletes are pushing our ideas of human physical potential, and it's awesome to see.
How much more awesome would it be if CrossFit Games athletes also got to use every chemical available to them? Can you imagine what we'd see?
I understand that CrossFit wants to promote a strong sense of good, wholesome hard work and dedication, but I can't help but imagine what Mat Fraser's performance would look like if he were allowed to be juiced to the gills.
It will likely never happen, which is probably for the best. However, a tested and untested division would be pretty interesting to see.
Would PED's even help CrossFit Games Athletes?
Yes.
I wish I could leave it at that, but then I'd have to explain myself later on.
Nobody is saying Dianabol would make CrossFitters better (although it could increase size,) but if you're telling me, athletes, being able to recover faster wouldn't be beneficial, than I have a bridge to sell you.
CrossFit athletes would be able to handle MUCH MORE conditioning work, without sacrificing strength.
It's the reason Lance Armstrong took testosterone and endurance athletes the world over get busted for using androgen.
Even if the advantage given was small, when you're at the top of your sport, every second counts (great documentary btw.)
John Romano, a guy who adamantly claims CrossFit Games athletes are using steroids and that they are effective, has written quite a bit on the topic. I'd suggest checking out this article for more info.
Final Thoughts
There are obviously CrossFit Games Athletes using performance enhancing substance.
Anytime there is money and fame on the line; there will be people who will do everything in their power to win, including cheat.
CrossFit knows drug use will continue to increase over time as The CrossFit Games becomes more popular. It's something Dave Castro, the director of The CrossFit Games has even come out and stated in an interview with The Box Magazine in 2015:
"I think we're getting closer to there than ever, but I don't … maybe at this point in the CrossFit Games is the tipping point for those really expensive designer drugs to be making their way in, the stuff that we can't test for. But I'd like to think it's not going to be for the next couple of years."
The main improvement I see CrossFit could make in relation to their Drug Testing Program is to give the discretion of positive test result announcements to a third party. This would silence a lot of critics and provide a lot of transparency for fans.
The other possible improvement would be for the athletes to start a players union.
I'm sure this is something that CrossFit, Inc does not want, and I wouldn't want either if I owned CrossFit. However, it's something I believe athletes will eventually attempt to create and could provide SOME improvements for players. Possibly.
Unions are notorious for taking money, and doing little to improve things for their employees. Being a capitalist, this isn't something I'd be a huge fan of, but I would assume it's something CrossFit, Inc is actively defending against.
In the end, The CrossFit Games is my favorite sport. I only want to see it improved as much as possible as I assume many others do as well.