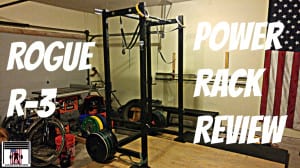 Once upon a time there was a young boy who was starting his garage gym. He didn't want to spend a large amount of money, but wanted equipment that would last. Like a boy at Christmas scanning the store fronts leaving a trail of mucus along the windows, this boy scanned the internet, clogging bandwith speeds searching for the best value squat rack.
Finally, the boy stumbled upon Rogue Fitness and their line of Squat Stands. They were powder-coated black, Rich Froning used them, they had a skinny/fat combination pull-up bar, and had Westside Hole spacing. In his mind, they were perfect.
So he bought the Rogue SML-2 Squat Stand. He being me. I bought the SML-2 and loved it; I loved it so much I reviewed it here. But, as with anything, all good things come to an end and you feel you need a real power rack. (Who am I kidding, nobody needs a full size power rack, but it's 'Merica and I wanted one.)
So, like a tadpole growing into a frog, or the wimpy kid in Charles Atlas ads who grows into a man wearing a leopard print speedo, I went and purchased a Rogue R-3.
And it is mean!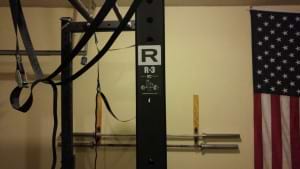 If you're going to spend money, you want to spend it on something that appeals to all of your senses. It has to feel solid, when you drop weights on it, you want to hear it, but you don't want to worry about it collapsing, and you want it to look sweet.
To me, the R-3 is one of the best looking racks out there. It's powder-coated black, and has the Westside Barbell logo of a dog with weight chained to it's neck on the side of the uprights. It doesn't get much cooler than that.
It also takes up a lot smaller footprint than some of the larger racks that, in my opinion, too much unused space. The goal of the barbell is to go up in down in as straight a path as possible, therefore deeming larger racks mostly unnecessary.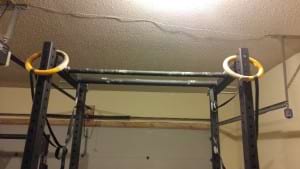 The most I've squatted in the R-3 thus far has been 425 lbs. At that weight, the rack laughed at me. It's built to handle more than you or I will ever squat so I would not worry about that. It uses 11 gauge 2x3 construction, and comes with two j-cups, a pair of spotter pipes, 4 band pegs, and a skinny/fat bar.
We've also tested the j-cups to over 800 lbs on each hook without any issues.
One of the downfalls with the Rogue SML-2 was that if you wanted to use the fat bar, you have to unbolt the bar and spin it around. It was just inconvenient enough that I didn't use it. When I train, I shoot for efficiency so that I'm getting in and out of the gym without wasted effort. That didn't help.
The R-3 rack however allows you to have access to both bars all the time. And, being 5'10" I am able to passively hang on the bar without my feet touching the ground. A BIG benefit, especially when kipping.
The Rogue R-3 Power Rack also truly shines when it comes to benching. The Westside hole spacing allows you to make micro adjustments in height, which although a small design element, is actually pretty big deal when you're benching by yourself and don't want to die under the weight of the bar.
At this point, I really don't feel much of a need to speak on Rogue Fitness's equipment when it comes to durability. Everything they produce is STOUT and made to last. So much so that nearly all their equipment comes with a lifetime warranty.
Having had the Rogue R-3 for over three years now, I can confidently say it's made to last.
The Rogue R-3 Rack is pretty much the epitome of what Rogue stands for. Strong, dependable, functional, and just absolutely, positively mean looking. My dog won't get near the rack it's so scary looking, which I think is perfect.
The Rogue R-3 certainly isn't the cheapest rack for your money, but you don't buy Rogue to save a lot of money. You buy Rogue because you want some of the best equipment that you can buy.
In my opinion, the R-3 is one of the best value racks for the money. If you're looking for space savings, it works wonders and allows you to have spotter arms and a pull up bar.
Compared to the squat stands Rogue has, I would only buy the stand if you're really looking to save money, otherwise, save up and go for the best. You won't regret it.