We test and review fitness products based on an independent, multi-point methodology. If you use our links to purchase something, we may earn a commission. Read our disclosures.
Jocko Greens is a greens powder that was developed by a military veteran who wants to give active people a supplement to support their well-being. The powder is made with organic ingredients and, as with all of the best greens powders, should not be used as a replacement for fruits and veggies.
However, it contains superfoods, adaptogens, and probiotics to help support your wellness at an affordable price while you work on building a healthy diet. We tried Jocko Greens ourselves and, overall, it seems to be great value for the price compared to other popular greens powder. Here's our deep dive and full Jocko Greens review.
Medical disclaimer: This article is intended for educational and informational purposes only. It is not intended as a substitute for medical advice. For health advice, contact a licensed healthcare provider. GGR also recommends choosing a product that has been third-party tested for quality.
When It Comes to Supplements, We're Far From Green
We bring to you this greens drink review based on our firsthand experience and unbiased opinions of the supplement. These super greens were tried by our team of fitness and nutrition professionals, just like the dozens of super greens powders we've reviewed in the past. Our goal is to be an authority figure you can trust with your wellness and we do that by providing honest, evidence-based reviews.
RELATED: Amazing Grass Green Superfood Review
Jocko Greens
GGR Score: 3.5
Product Highlights
Powdered greens supplement with organic greens, superfood, and probiotics 

JockoFuel states the product supports overall health, gut health, and helps fight stress

Plant-based and keto-friendly
Pros & Cons
Pros
Manufactured in the United States in a GMP-certified facility
Soy-free
No added sugar
Keto-friendly
Cons
Only 2 flavors available—no natural or unflavored option
Contains milk and tree nuts
Mixed reviews on taste—some users found it overly sweet
Bottom Line
JockoFuel Jocko Greens is a powdered greens supplement that contains organic greens, superfoods, and probiotics. According to JockoFuel, this product supports overall health, gut health, and helps fight stress. The supplement is available in two flavors that are sweetened with monk fruit and Reb M. Reviews for this product are mostly positive, although some customers disliked the taste and found it to be too sweet.
A Quick Look at the Jocko Greens
The creator of Jocko Greens is Jocko Willink, a retired U.S. Navy SEAL officer. He designed it specifically for athletes and active individuals to have a high-quality source of organic greens to supplement their healthy diet. Jocko Greens is manufactured in the USA. It contains organic ingredients and is free of soy, added sugars, and artificial sweeteners.
Before You Buy
The pineapple coconut and peach flavors are all you have to choose from, so check in with yourself to see if you can live with these flavors every day for a month
Shipping can be expensive ($10+ depending on where you live), so consider spending over $99 if you are a USA customer to get free shipping
Is Jocko Greens Worth It?
Great for:
People who want a sweeter flavor from the their greens powder without artificial sweeteners
Those who need an affordable way to supplement their intake of veggies
People who value organic ingredients in their super greens
Not recommended for:
Those who want an all-in-one greens supplement for gut health that contains prebiotics and digestive enzymes along with probiotics
People who can't handle strong, bold flavors from their greens powder
Individuals who want a greens powder that is packed with superfoods
Jocko Greens Specs
| | |
| --- | --- |
| Price per serving | $1.77 |
| Flavor | Peach, Coconut Pineapple |
| Vitamins | Vitamin A, Vitamin C |
| Minerals | Calcium, Iron, Sodium, Potassium |
| Whole food-sourced nutrients | Organic Spirulina, Organic Wheat Grass, Organic Kale, Organic Spinach, Organic Beets, Organic Sweet Potato, Organic Broccoli Sprout, Organic Chlorella, Organic Oat Grass, Organic Cabbage, Organic Carrots, Organic Banana Powder, Organic Grape, Organic Goji, Organic Pomegranate, Organic Acai Powder, Organic Wild Blueberry, Organic Cranberry Fruit Extract |
| Probiotics | S11 Probiotics Blend of 9 Billion CFU Lactobacillus and Bifidobacterium |
| Adaptogens | Ashwagandha Root Extract, Rhodiola Rosea Extract, Milk Thistle Seed Powder |
Experience Using Jocko Greens
When our testers tried Jocko Greens, they found that it was a great value in terms of the potency for its reasonable price. However, the flavor wasn't the best. GGR staff writer Lauren Strong, certified personal trainer and nutrition coach, said, "This greens powder is fine. I didn't care for the flavor I got, but the formulation is solid and the price is reasonable."
RELATED: Super Greens Powder Benefits
Price Per Serving
The cost of Jocko Greens for a 30-serving tub comes out to about $1.77 per serving, which is mostly in line with most greens supplements if not a few cents more expensive. You can enjoy a 10% discount with the subscribe-and-save feature, which brings the cost down to $1.59 per serving.
Formulation
Jocko Greens contains whole food ingredients, but also has a probiotics blend to support gut health and adaptogens to help manage energy levels and maintain an efficient immune system. It also has no added sugars or artificial sweeteners, despite its fun flavors.
This greens powder is naturally sweetened with monk fruit and Reb-M, which is basically a molecule found in the stevia leaf, but is slightly sweeter without the bitterness. It's also approved keto friendly and plant-based.
That's the overview, now let's talk about some key ingredients:
Spirulina: This blue green algae is well known for its ability to fight inflammation and help you maintain a healthy immune system1.
Chlorella: Also an algae, chlorella is another common ingredient in greens drinks. Chlorella is not only an excellent source of folate and iron compared to other plant-based sources of these nutrients, but is known for its effect on heart health. Studies have suggested2 that chlorella can help improve total cholesterol levels and blood pressure and its health benefits are magnified when it is taken along with other super greens.
Probiotics Blend: Lactobacillus and Bifidobacterium strains found in Jocko Greens may support the maintenance of digestive health, as well as reduce serum cholesterol levels in the GI tract and support the immune system3. However, the study cited for these claims mentions the digestive health benefits for those with lactose intolerance is only seen with a combination of these probiotics and digestive enzymes, which this greens blend does not contain.
Milk Thistle Extract: It has been demonstrated that milk thistle extract reduces liver enzyme levels as well as preventing toxins from damaging liver cells4.
Taste and Solubility
According to our tester's experience using Jocko Greens, the superfood powder seems to mix decently. However, we can't say it has a great taste as the flavor requires some pretty forgiving tastebuds and may be too strong for most people. Lauren had this sentiment: "Oh gosh, the Peach flavor is overwhelming and trying too hard to cover all the earthy and leafy greens flavors. I'm not a fan. I've tried several times to drink this fully, but I alway dump it about halfway through (which is awful and it kills me!)."
Side Effects
Consuming greens powders can expose you to heavy metals such as lead. As a result of the soil in which they are grown, even organically grown produce like those found in Jocko Greens can still contain these metals.
RELATED: Best Greens Powder for Bloating
Pregnant and breastfeeding women should not take these supplements because they may contain contaminants that may harm the fetus. Finally, because Jocko Greens powder has so many ingredients in one serving, it might interact with prescription medications, which could be dangerous. So, check with your physician before taking a superfood powder, especially if you take prescription medications that may have possible side effects.
As far as more mild potential side effects, our tester experienced some slight tummy trouble: "I'm totally fine, Lauren says, "but the times I tried this on an empty stomach I got a bit of a stomach ache."
Third-Party Testing
Jocko Greens does not have a third-party certification for sport. However, it is manufactured in an FDA registered and cGMP compliant facility.
Comparison to Athletic Greens
Athletic Greens
GGR Score: 4
Product Highlights
Contains 75 minerals and nutrients in one serving

Available in travel pouches and bundle and save options

Said to support gut health with prebiotics, probiotics, and naturally occuring enzymes

Supports immunity with key ingredients like vitamin C and mushrooms

Magnesium is added to boost energy

May aid in recovery as it features superfood complex with adaptogens and antioxidants
Pros & Cons
Pros
Backed by notable health experts
Transparent and detailed ingredient list
75 vitamins and minerals
Cons
Expensive
Some reviewers dislike the taste
Bottom Line
If you're looking for a greens powder with a unique blend of minerals, nutrients, power greens, enzymes, and probiotics and you're willing to spend some money, Athletic Greens may be a good choice for you.
Athletic Greens also contains a greens blend along with adaptogens and compounds for bloating. Jocko Greens is about half the price at $1.77 per serving compared to $3.30 per serving from Athletic Greens. In terms of gut health, Jocko Greens is also slightly superior. Athletic Greens contains 7.2 billion CFU of beneficial bacteria, while Jocko contains 9 billion CFU. However, in terms of digestive health, we've gotta crown Athletic Greens, which has prebiotics and digestive enzymes while Jocko Greens has neither of these things.
Athletic Greens is also NSF Certified for Sport which would clear it for use for most professional and elite athletes, whereas Jocko Greens has not been verified with this certification. Athletic Greens also contains more vitamins and minerals. However, Athletic Greens only comes in one flavor, compared to Jocko's tropical offerings. Check out our full Athletic Greens review for more information.
Customer Experience
If you need some customer service assistance from Jocko, you can fill out an inquiry form on their Contact Us page. You can also call 1-888-858-1416 or email Jocko at Hello@jockofuel.com for help.
Now, what's the return policy? If you want to make a return, in order to receive a full refund, you must return the new, unopened product within 30 days of receiving your shipment. You must first fill out the form on the contact page to get the return process started and, following the return, should expect your refund within four weeks of shipping your return. However, you must cover the shipping cost.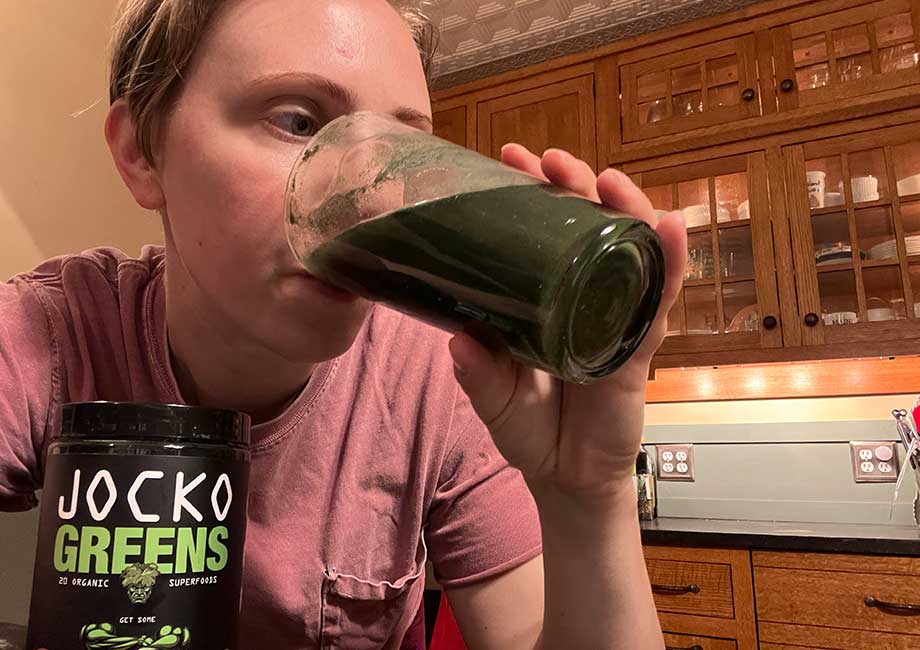 Ordering Jocko Greens
There are two flavors to choose from when you purchase Jocko Greens from their website: Peach and Coconut Pineapple. So if you're not a fan of tropical flavors, you're kind of out of luck as there is not an unflavored version.
You can also save 10% if you choose to go with the subscribe-and-save program, which has monthly delivery as the only frequency option. If you need more flexibility than that, you're better off ordering from Amazon—the price is the same either way.
Your cost of shipping depends on where you live and is calculated at checkout. However, you can enjoy free shipping if you spend more than $99, as long as you live in the contiguous United States.
Customer Reviews
On the Jocko Greens website, the greens powder is rated 5 out of 5 stars with 313 total reviews at the time of writing.
As of the time of writing, Jocko Greens is also ranked #2 in Chlorella Herbal Supplements on Amazon and currently holds 4.5 out of 5 stars with 1,365 ratings. While our tester was not a fan of the flavor, some reviewers seemed to have no problems with it.
Final Verdict of Our Jocko Greens Review
Far from the suspect proprietary blends you'd find with many dietary supplements that are promoted via podcast, Jocko Greens is a solid choice. However, while the 20 superfoods this greens powder contains are pretty good, its competition contains an average of 40-50 of these ingredients—so it's not the most potent greens powder out there.
User reviews praise its great taste, but that was not our experience. So, roll the flavor dice at your own risk. The price is also slightly higher than the cost of similar products, which is a bit disappointing considering the lack of third-party testing. At the end of the day, though, it's a decent option for those looking for a budget version of Athletic Greens.
RELATED: 5 Best Athletic Greens Alternatives
Jocko Greens Rating
Jocko Greens
Interested in learning more about this greens powder? Read our Jocko Greens review for all the deets.
Product Currency: USD
Product In-Stock: InStock
Jocko Greens FAQs
When should I drink Jocko Greens?
You can enjoy Jocko Greens powder for some extra antioxidants at any time during the day. However, according to our firsthand experience, it may be best to not take it on an empty stomach in order to avoid stomach discomfort.
Does Jocko Greens taste good?
The flavor of Jocko Greens powder has mixed reviews. User reviews on the product's website and Amazon are mostly positive regarding the taste. However, our tester personally didn't care for it.
Are Jocko Greens third-party tested?
Jocko Greens does not have a third-party certification for sport. However, it is manufactured in an FDA registered and cGMP compliant facility.
Is Jocko Greens a probiotic?
In spite of the fact that Jocko Greens does contain 9 billion CFU of beneficial bacteria, it is not considered a probiotic product due to the fact that this amount would not be considered a major source of probiotics.
These statements have not been evaluated by the Food and Drug Administration. This product is not intended to diagnose, treat, cure, or prevent any diseases.
References