We test and review fitness products based on an independent, multi-point methodology. If you use our links to purchase something, we may earn a commission. Read our disclosures.
The Grip Freak from LPG Muscle is a wrist roller on steroids. Although we like it, for the price, there are better options.
LPG Muscle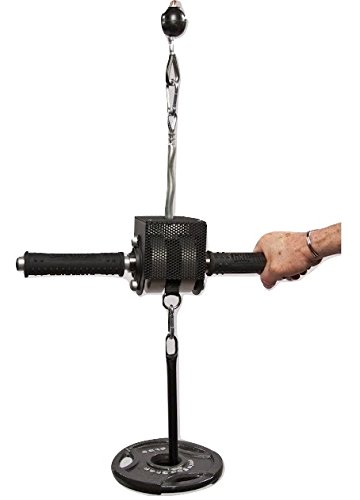 LPG Muscle Grip Freak Wrist Roller
Seriously Legit Wrist Roller for Baseball, Softball, Basketball, Golf, Tennis, Hockey, Boxing, Wrestling, MMA etc. Fact is there's not a sport practiced that can't benefit from a stronger, longer lasting grip. Problem is common grip strengthening equipment is seriously lacking in terms of efficiency. But that all changed with the Grip Freak Hanging Wrist Roller. The absolute fastest way to a lethal squeeze ever created. A brutally effective game changer that completely removes shoulders for 100% focus on Forearms, Wrists, and Hands. Get serious about your grip training and hang a Freak. Then twist your way to a game changing grip in half the time. 'SLIP GRIP' WRIST ROLLER UNIT comes complete with STD/OLYMPIC WEIGHT PLATE HOLDER & SNAP HOOK US Patent #7,753,827 B1
LPG Muscle Grip Freak Review
A strong grip is one of the most important functions in life.
There are a million and one functions of the body to strengthen, but being able to grip whatever you need to hold is an essential skill.
Building a powerful grip isn't all that difficult. It takes a lot of time and effort, but through persistence and the right selection of exercises, a strong grip is available for any trainee seeking a crushing grip.
In my quest to build more powerful grip, and to add variety in my training, I'm always seeking out new training tools.
One such training tool is the one I'm reviewing for you today known as the Grip Freak by LPG Muscle.I had never heard of LPG Muscle, but noticed the Grip Freak online and decided to reach out and see if they were interested in a review.
The Grip Freak is, for all intensive purposes, a glorified wrist roller. But, as you'll see through this review, there isn't another wrist roller on the market that can compare.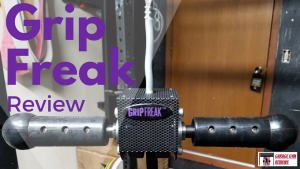 In my quest to squeeze my dad's hand harder than he does mine (he thinks it's some sort of right of passage, thankfully he's getting old) I've sought out every grip tool imaginable.
I also own most of them. Whether it's one of Ironmind's cool creations or something Rogue has developed, I can't get enough.
One of the best forearm exercisesI've ever done however took place using a broken hockey stick, some laces, and a 10 lb. plate.
Growing up, I was a hockey player and the wrists in hockey are what the foot is to a soccer player. The stronger your wrists and forearms, the better you'll be.
I would hold the stick out in front of me in my basement and do countless reps of explosively rolling the weight up to the top, and slowly lowering it to the ground. I did it so much, I can't believe I forgot how great of an exercise it was.
Well, being in the 21st century now and having a gym in my home that commercial gym owners would pay to use, I like to use tools that are HEAVY DUTY.
And, there's no wrist roller tougher and able to take the abuse you can throw at it than the Grip Freak.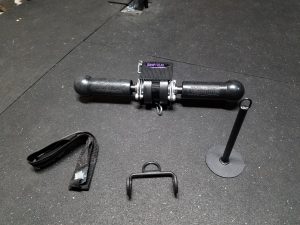 The Grip Freak comes wrapped in cellophane with your choice of a dumbbell hook or a plate holder, your choice.
I do wish the plate holder was 2″ so it could easily hold Olympic plates, but it gets the job done nonetheless. In reality, neither a plate holder or the dumbbell hook needs to be used as you could simply wrap the strap around the weight and reconnect it to the strap.
But, it's a nice added benefit LPG Muscle throws in.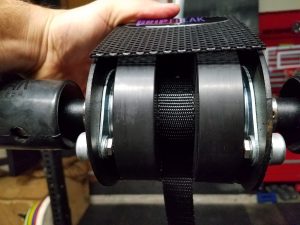 The Grip Freak model I received from LPG Muscle is the same one I would suggest you buy; the Fat Grip Edition. In trying to compare the fat grip to something you may have used, I'd say it's quite comparable in size to a pair of Fat Gripz.
What becomes crystal clear once unboxed, is that no corners were cut in designing and creating the Grip Freak.
Most wrist rollers are like the ones I used to use. Either DIY versions using a broomstick or something similar along with some rope or a basic design like the one Rogue makes.
And, I'd like to say that there's nothing wrong with creating a DIY wrist roller, it's probably what I would suggest for the majority of readers.
But, for those lookingwho are seeking the best equipment available, the Grip Freak should be on your list. Everything on the Grip Freak is heavy duty. From the fasteners to the grips, this bad boy was made to hold a lot of weight and be used for a lot of volume.
The grips are made from a hard, yet grippy rubber that takes chalk well, although I didn't find it needed. The strap that connects to the weight is a durable nylon, and the strap that connects to an anchor/pull-up bar is braided steel.
The central section of the roller is what allows the roller to spin, and it does so VERY smoothly.
The idea behind the Grip Freak is a little bit different from traditional wrist rollers.
Rather than forcing the users to suspend the weight using their shoulders, the Grip Freak is meant to be suspended from something overhead like a pull-up bar. This allows you to put more of the focus on your forearms and less on the delts.
What this ultimately means is that more weight can be used, and it's done in a manner that directly targets the arms, rather than putting a lot of the load on the shoulders. However, I do wish the Grip Freak was able to be used with the user supporting the weight with their shoulders as well. This isn't a big deal considering wrist rolls are done mainly for the wrist, but sometimes it's nice to throw in some more shoulder recruitment.
This isn't a big deal considering wrist rolls are done primarily for the wrist, but sometimes it's nice to throw in some more shoulder recruitment.
The grips can be used like the handles on a bike, or by putting your hands on the outside and turning the cannonballs. I'm glad LPG decided to add cannonballs on the ends to increase the variety of holds and work that can be done.
Is it Worth the Cost?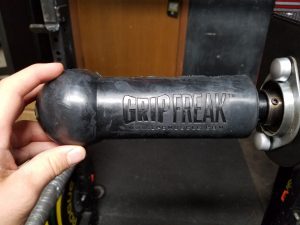 Currently, the Grip Freak runs around $150. That's a pretty penny for a wrist roller.
But, there's a reason it costs so much. The grips used on the roller are some the most grippy I've used, and they're also very thick, something that's difficult to find on wrist rollers. The roller units in the middle are made to be able to hold more weight than you could ever use, and it's very polished and great looking piece of equipment.
I'd say this: if you plan on making wrist rolls a big part of your programming, then this is the best wrist roller you can buy. Also, if you're a commercial gym owner like many of my readers are, then this is a piece of equipment that will outlast any other you could buy and looks pretty sweet.
Sometimes, you just want to buy more toys, and this is one sweet toy.
Final Thoughts
Through using the Grip Freak over the past month, I've noticed my grip and forearm strength start to increase. I'm not closing Captains of Crush Gripper No. 3 yet, but I don't ever drop off the bar on pullups due to my grip or give out on deads because I can't hold the bar.
This isn't a tool for everyone, and LPG Muscle knows that.
The Grip Freak is for the serious athlete looking to increase strength and hypertrophy in their forearms, wrists, and arms and wants to use the best tools available while doing it.
If that's you, I suggest you check out the Grip Freak.
Full Rating
LPG Muscle Grip Freak
The Grip Freak from LPG Muscle is a wrist roller on steroids. Although we like it, for the price, there are better options.
Product Brand: LPG Muscle
Product Currency: $
Product Price: 239.95
Product In-Stock: InStock
LPG Muscle Grip Freak FAQs
What is the LPG Muscle Grip Freak?
The Grip Freak from LPG Muscle is a wrist roller on steroids.
Is theLPG Muscle Grip Freak worth it?
The Muscle Grip Freak is considered pricey. But there's a reason it's so expensive. The roller's grips are some of the most gripping I've ever seen, and they're also fairly thick, which is uncommon on wrist rollers. The roller units in the centre are designed to bear far more weight than you'll ever need, and it's a highly polished and attractive piece of machinery.
Where to Purchase
LPG Muscle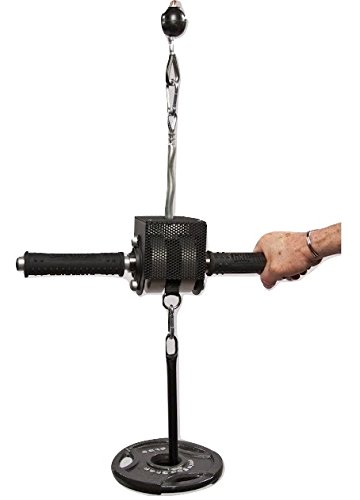 LPG Muscle Grip Freak Wrist Roller
Seriously Legit Wrist Roller for Baseball, Softball, Basketball, Golf, Tennis, Hockey, Boxing, Wrestling, MMA etc. Fact is there's not a sport practiced that can't benefit from a stronger, longer lasting grip. Problem is common grip strengthening equipment is seriously lacking in terms of efficiency. But that all changed with the Grip Freak Hanging Wrist Roller. The absolute fastest way to a lethal squeeze ever created. A brutally effective game changer that completely removes shoulders for 100% focus on Forearms, Wrists, and Hands. Get serious about your grip training and hang a Freak. Then twist your way to a game changing grip in half the time. 'SLIP GRIP' WRIST ROLLER UNIT comes complete with STD/OLYMPIC WEIGHT PLATE HOLDER & SNAP HOOK US Patent #7,753,827 B1