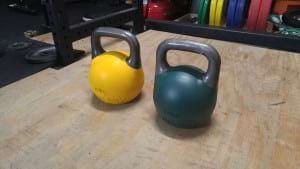 The first thing you notice about the Vulcan Absolute Kettlebells are the quality. I've used many different bells from cast iron to competition.
The problem with cast iron kettlebells is their weight is hard to get accurate, the handle separates from the bell, they're all different sizes, and they can have a really rough finish.
On the other end of the spectrum are the traditional competition kettlebells like these: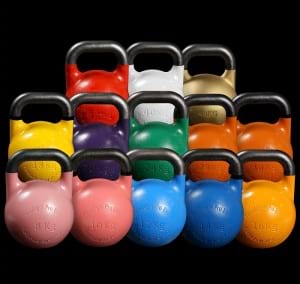 These kettlebells are great, but can become very expensive, very fast.
Vulcan Strength seems to combine the two and create the perfect kettlebell between the very expensive competition style and the cast iron versions.
The Absolute Kettlebells from Vulcan are actually made of steel. This is something I was surprised on until I figured out the bells are actually hollow.
When you turn the kettlebells over and look at the bottom of the bell you can see a hole like so:
This is not something I'd ever seen in a kettlebell and shows that the process to manufacture them is pretty unique. Vulcan even owns a patent on the design.
The great thing about the construction of these kettlebells is they are one piece and guaranteed for life from denting or cracking, a problem often seen with cast iron bells.
Because the kettlebells are hollow, that means they have no filler and extra things added to the mix that can cause unnecessary damage. To finish the kettlebell off, Vulcan uses powder coating that's sure to last for generations.
Based on the construction alone, this is truly the best kettlebell available.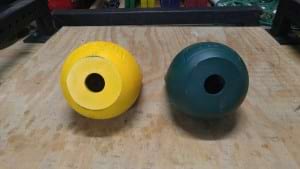 The Absolute Kettlebells are obviously constructed well, but one thing you can't tell just by looking at them is that the handle is different than any other kettlebell available.
You see, the design of the Vulcan Absolute Kettlebell allows the handle of the kettlebell to sit further down on the forearm, causing the majority of the weight proximal to the lifters body. Other competition kettlebell designs force the handles to sit higher up on the lifters wrist displacing the majority of the weight to a more distal position away from the lifters body.
This design allows for more weight to be lifted in an efficient manner and also lends to fewer injuries. Both are great things.