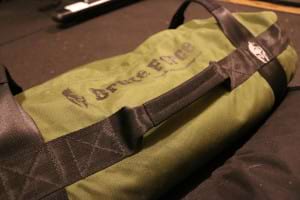 I always hit on the looks first.
In my opinion, they're the least important and I like to save the best for last.
This being said, the Brute Force Sandbag looks like a canvas tube with handles. It's about as pretty as you can make a piece of training equipment that is designed to get absolutely destroyed.
I received the forest green color that in my opinion is the best color available. One thing that I really like about the look of the bag is their logo is PRINTED on the bag. This is advice to all of you equipment manufacturers from a guy who knows strength equipment, don't put a removable logo on your product. And, especially don't put a sticker on it. You can see how much I dislike this here and here.
Overall, the bag looks great. Not too flashy and not too rough. Just right.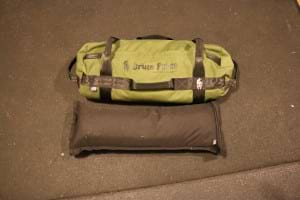 A sandbag is made to be packed with sand, hoisted overhead, and slammed to the ground. I don't care who you are, a sandbag is not made to be treated lightly.
When I'm in the middle of a workout, the last thing I want is for sand to start seeping out of the bag.
I had this happen with my DIY Slam Ball and it drove me bonkers!
So, in my testing of the Brute Force Sandbag, I loaded up their provided filler bags (which are very tough by the way) and put it through the toughest workout I could think of for a Sandbag. 100 Burpee Clean and Jerks.
I'm not lying when I say I didn't see ONE grain of sand fall out of the bag. Not when I was lifting it or when I was slamming it. And, to be honest, I'm not that surprised.
You can tell it's a quality product just by feeling it.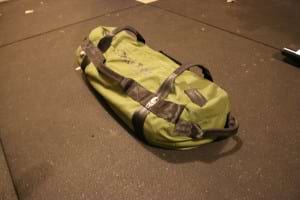 The shell is made of 1000D Cordura. I've spoken on the toughness of Cordura in other reviews such as the Uncommon Breed Weighted Vest, but this is one of the first products I've reviewed that used 1000D Cordura. A super thick and tough fabric.
The bag features 8 handles made out of seat belt webbing that was surprisingly comfortable. Instead of leaving the straps wide, they instead fold them over, lay another piece of fabric on top, and then stitch them so they're thinner, sturdier, and more comfortable.
All of the stitching on the bag is thick and multi-layered which gives you peace of mind that this bag is going to be around for a while.
The one part of the bag that Brute Force could have royally messed up was the zipper. The zipper keeps everything in place, and if it breaks, the bag will pretty much be worthless.
Thankfully, they used an oversized zipper from YKK that is more than fit for the task.
Simply put, the bag is constructed to last.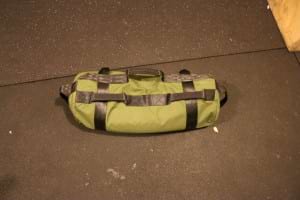 So we know it's going to be around a while, but does it perform well while it's here?
The problem many sandbag makers have been unable to fix is the position of the handles. Sandbags can feel awkward to lift and if you throw on the extra awkwardness of having poorly place handles, it can lead to a bad time.
Thankfully, I think Brute Force has done a pretty good job.
There are handles on the edges of the bag, top, and sides. Basically everywhere. The handles I mostly use, and you will too are the handles on top that allow you to pick the bag up like you would a Hex deadlift bar.
The only thing I dislike about the positioning of these handles is for my body type, they are a little bit narrow. For some, they'll probably be right on, but I would have liked to see multiple handles at different distances apart so the handle position would be a better fit for each person.
This isn't a big deal, but more of me being nit-picky.
As you can see in the video above of the 100 burpee clean and jerks, it can get really difficult quick.
The I received is the Athlete Sandbag Kit and it goes up to 75 lbs. If I were to choose again, I'd probably go with the Strongman kit, as I'm more of a strength focused athlete than I am conditioning, but you can certainly get a killer workout with the Athlete Kit.
I also overloaded the sandbags even though it's advised against. What a rebel, eh?