We test and review fitness products based on an independent, multi-point methodology. If you use our links to purchase something, we may earn a commission. Read our disclosures.
The squat rack is the centerpiece of just about every home and garage gym in the world. As such, it should be versatile, durable, useful, and fit the space it will be used in. We have tested countless of today's best options, putting them through heavy squats, bench presses, pull-ups (when applicable), and a number of other exercises.
Based upon our use, experience, and community input, we've compiled the best power rack, half rack, squat stand, and fold-away squat rack for most people—including recommendations for various budgets.
We Know A Lot About Squat (Racks)
Squat racks are one of the most reviewed pieces of fitness equipment here at Garage Gym Reviews, perhaps only surpassed by barbells, and believe us when we say we know just about everything there is about them. That includes how things like hole spacing and size, outpost width, and the type of steel used can affect your training and the rack's durability.
Plus, as certified personal trainers and CrossFit coaches, we can tell you what squat rack belongs in your home gym. And as always, we'll have back-ups based on your budget and space constraints.
The Top 7 Squat Racks for Your Home Gym
Best Power Rack: Rep Fitness PR-4000 Power Rack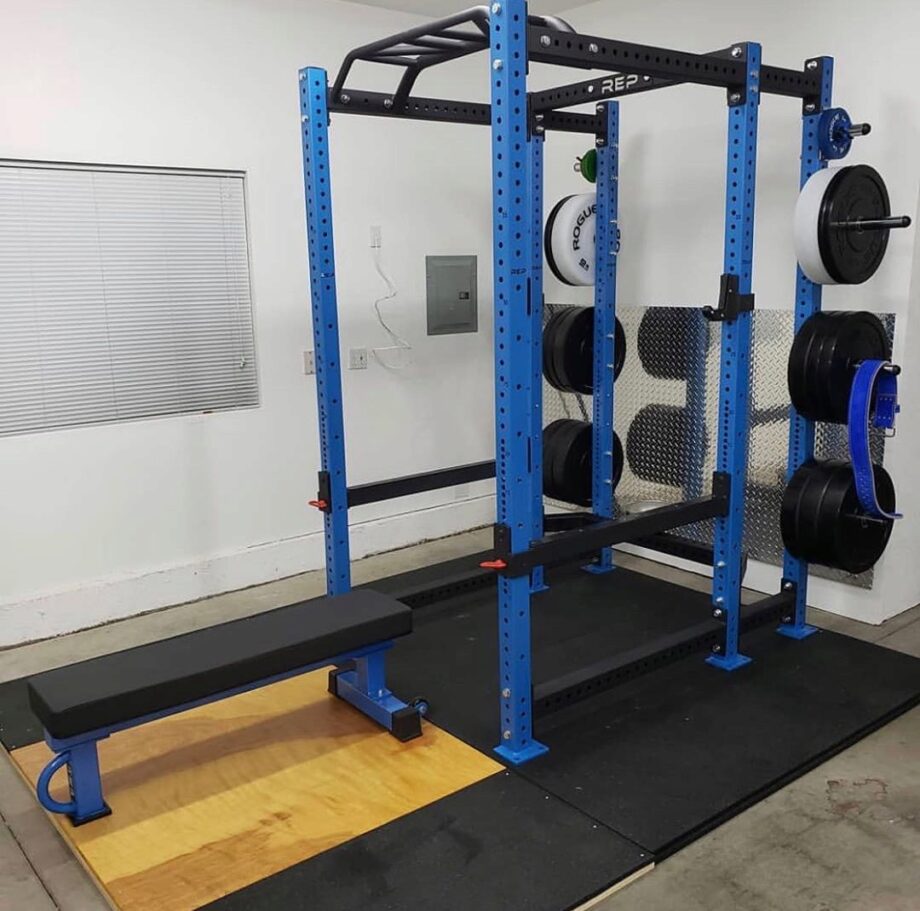 Best Power Rack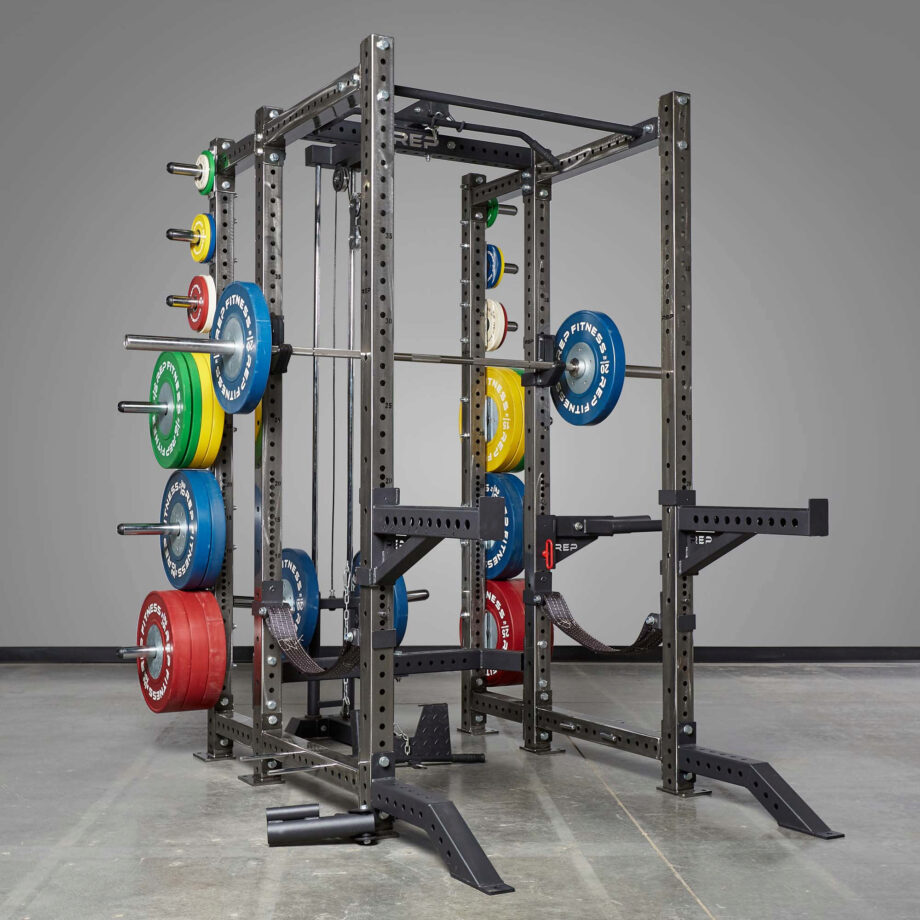 REP PR-4000 Power Rack
The PR-4000 is a heavy-duty, 1,000 lb rated commercial-grade power rack featuring 3x3" 11 gauge steel with 1" hole spacing through the bench zone and 5/8" pin holes. If you're looking for a "never need to upgrade" home gym power rack, or a centerpiece for your commercial facility weight room, this is it.The PR-4000 re-defines customizability: You're no longer stuck with a pre-configured power rack and overpaying for options. Choose the components you want from our large selection of stock inventory, and have them delivered to your door in about a week or less! Multiple color, height, and depth options combine with an ever-expanding list of accessories and attachments to create the only power rack system you'll ever need.Every rack comes with our top rear logo cross-member which serves as a convenient anchor point for future attachments you may want to add, and from there the rest of the rack is up to you.Our new painting process specially prepares your rack with the most high-end surface prep and care possible, including sandblasting to ensure superior paint adhesion, and a baked on powder coating that will last for years.47" outside-to-outside width allows plenty of room to rack the bar without plates hitting the sides of the uprights, which is a common problem on competitors' 3x3" racks.This color is achieved by using a specially prepared steel combined with a metal grinder and a clear powder coat to give it a raw brushed steel look, while maintaining the rust-resistance of a powdercoat. In addition, the rack shows less wear over time due to the finish and clearcoat making it difficult to notice any imperfections.Standard 3x3" uprights with 5/8" holes ensures compatibility with REP attachments as well as most others on the market. 1" hole spacing through bench zone, and 2" spacing everywhere else.Front Foot extension for working outside the rack without bolting down. Allows you to add spotter arms off the front of the rack and have dedicated setups for benching and squatting without changing j-cup or safety height.Uniquely shaped base stabilizer removes the need to bolt down a 48" depth rack, and also serves as an anchor point for the pulley system and low row foot plate.
Good for: Anyone looking for a safe, value-packed squat rack at an affordable price
Pros
Customize height, depth, and color options
Offers versatility through numerous accessories
High-quality 3-in x 3-in 11-gauge steel
Weight capacity of 1,000 pounds
Cons
Comes with pin safeties; strap safeties cost extra
Rack should be bolted to the ground
Things like weight storage cost extra
The power rack I suggest for most people is the Rep Fitness PR-4000 Power Rack. The PR-4000 combines excellent features, unlimited expandability, great quality, lots of customizability, and best of all, a great value. It looks and performs nearly as well as any rack on the market at a price that years ago would seem unfathomable. Dare I say that if you purchase the PR-4000 for your garage gym, it will very likely be the last squat rack you'll ever buy.
The PR-4000 is made with 3-inch-by-3-inch 11-gauge steel tubing with 1-inch Westside Hole Spacing through the weight bench zone and is rated at a 1,000-pound capacity. These numbers are standard for this price of rack. One of the things I really like about the PR-4000 is the ability to customize just about every part of it. With multiple colors, height, and depth options you can make this PR-4000 fit your space and training style exactly. Also, you won't overspend on things you don't want or won't use.
On top of the incredible quality of the rack, there is an ever-increasing accessory list that will make it expandable in the future with other gym equipment. You can add free weights storage, a pull-up bar, safeties, and multiple J-cups at the time of purchase to add some versatility to your machine. There are also stabilizing and safety accessories such as the spotter arm, rear base stabilizer, and front foot extensions. When these are added, even more accessories can be piled on, like lat/low row attachment, monolift arms and jammer arms.
Almost any accessory you can think of either is or will be available with this power cage. The Rep PR-4000 has been making a lot of noise in the community, and for good reason—it's a tremendous value.
Check out my full Rep Fitness PR-4000 Power Rack review here.
(If you want something similar with a bit better quality and is made in the USA at a slightly higher price point, I suggest the Rogue RML-490C Power Rack or the Rogue Monster Series Power Racks.)
Best Budget Squat Rack: ForceUSA MyRack Modular Power Rack
Best Affordable Squat Rack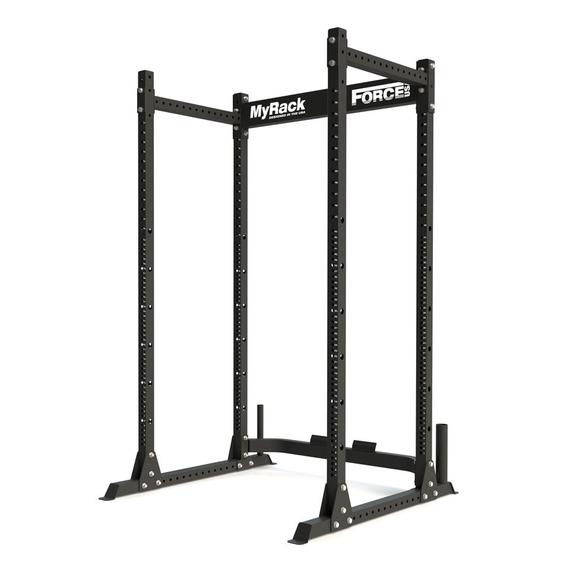 Force USA MyRack Modular Power Rack
Use code GGR5 at checkout to save 5% on all Force USA orders above $250! The Force USA MyRack is the most versatile power rack ever designed and can either be used freestanding* or when bolted-in to the floor to perform squats, bench presses, overhead presses, deadlifts, and more.Whether you train weightlifting, powerlifting, Crossfit®, Olympic lifting, calisthenics, gymnastics or just want to build muscle or burn fat, the MyRack is 100% customizable so you can take your workout to the next level.Start with the bulletproof MyRack base unit forged with precision welded, laser cut 12 gauge steel.The MyRack features westside spacing with 54 different numbered adjustment points to perfectly position any size user for bench press, squats and more. The lower bench level heights have 1-inch spacing while the squat height levels have 2-inch spacing.Next customize your MyRack with 20 different optional attachments including chin-up bars, pull-up bars, dip handles, landmine rows, lat-pulldowns, J-hooks, safeties, cable crossovers, and even a monolift attachment to unlock 100's of different configurations!Complete your power rack system with the versatile MyBench. Each MyBench features flat, incline and decline settings and comes complete with removable preacher curl attachment and separate leg developer.The MyRack has been engineered and tested to meet our rigorous safety standards and weight ratings. So you're guaranteed the safest, highest quality power rack available.And, we stand behind every MyRack Power Rack we sell with our ironclad lifetime structural warranty. BASE RACK SPECIFICATIONS:Laser cut steel construction Height – 87″ Width – 47″ Depth – 55″ Interior Depth – 29" Extra-sturdy Steel Construction 12 GA Steel Uprights Westside spacing 54 adjustment points front and back 5/8" accessory holes 2.4" x 2.4" uprights Freestanding and bolt-in options Lifetime structural warranty Product Weight – 176 lbs. Arrives in 3 separate boxes
Good for: Those on a budget who want a sturdy, safe power rack
Pros
Priced around $400
Lifetime Warranty
Highly customizable
20 attachment options
Weight capacity of 2,000 pounds
Cons
All attachments sold separately (so you get what you pay for)
Bolting to the ground isn't necessary (but I recommend it!)
Uses 12-gauge steel, which isn't quite as strong as other racks
The Force USA MyRack is not only one of the most customizable power racks on the market, but it's also one of the most feature-filled for those looking for budget home gym equipment who still want a safe rack. I or one of my friends used this rack almost daily for more than a year. Despite the abuse that's been placed on it and its many accessories (I tested all of them), it still performs as it did the first day I unboxed and assembled it.
When looking for a budget power rack, there are many options available. However, what you'll find is that most have a low weight capacity, use too thin of steel, lack accessory options, and are frankly, a bit unsafe to use. Seriously, there aren't many racks on the planet that can compete with the number of accessories the MyRack has, and for the price, the rack excels.
The MyRack excels in that it combines many budget-friendly features like thinner steel and painted-on-hole numbers with higher-end accessories. This provides a rack that should not only last but is enjoyable for even the strongest who train at their home. And, most importantly, you should feel safe while using it.
In use, the MyRack is sturdier than expected. Thanks to the lower and upper braces, the MyRack sways very little side to side when racking and re-racking weight. Although it would definitely benefit from being bolted to the floor (as all racks would) it isn't completely necessary. You can purchase optional plate holders for rather cheap to weigh it down.
Read my full Force USA MyRack review.
(For another cheap power rack, check out the Titan T-2 Power Rack.)
Best Half Rack: Rogue HR-2 Half Rack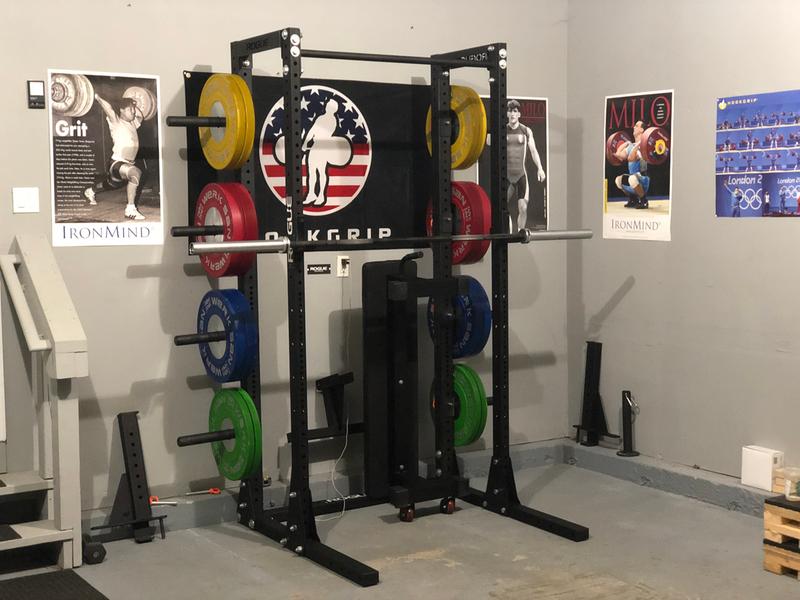 Best Half Rack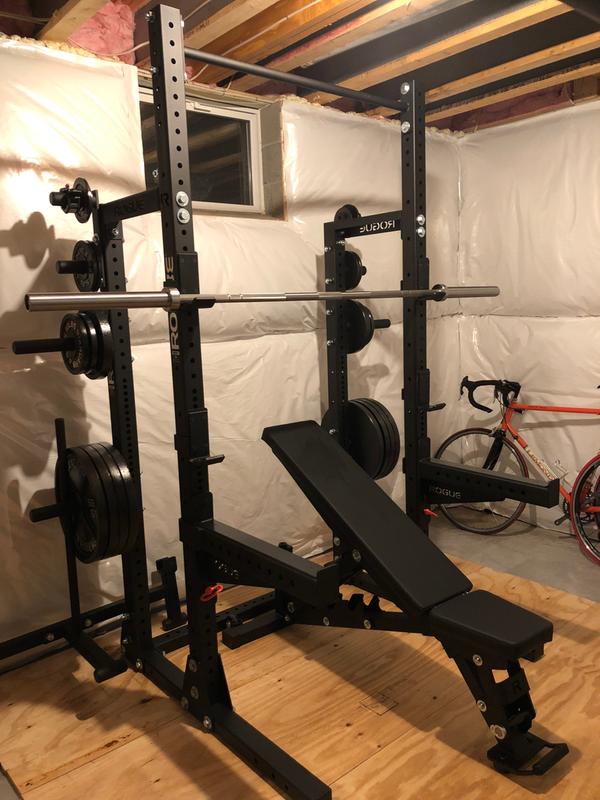 Rogue HR-2 Half Rack
Manufactured in Columbus, Ohio, the HR-2 features the same 2x3" 11-gauge steel base and 48" x 49" footprint as the SML-2, but incorporates an additional pair of 3x3" 11-gauge steel uprights and 17" crossmembers in the back of the unit. This gives the rack a huge amount of additional storage capacity and almost a foot and a half of inside depth for benching, rack pulls, and more. The Half Rack also offers a range of customizable options to best suit your needs—including the optional plate storage and pin/pipe safety sets, and a selection of different heights for the uprights themselves (90" or 108" for the front; 70" or 90" for the back).IMPORTANT: If you already own a Rogue Monster Lite Squat Stand (SML-1, SML-2, or SML-3) and wish to convert it to an HR-2, we offer a Half Rack Conversion Kit that would include all the components and hardware you'll need.Specifications:Made in the USA Steel Notes: 3x3" 11-gauge uprights, 2x3" 11-gauge base Footprint: 48" x 49" (1) Monster Lite J-Cup Pair included standard (1) 43" Single Skinny Pull-Up Bar Back Upright Height Options: 70", 90" – Front Upright Height Options: 90", 108" Optional Add-Ons: 16" Pin/Pipe Safety Set; Plate Storage Pairs Unit does not need to be bolted to the floor.
Good for: Anyone looking for the best squat rack under $1,000
Pros
Doesn't have to be bolted to the ground
Extremely stable
Customizable height options
Has a single "skinny" pull-up bar
Priced around $800
Cons
Upright steel is 2-in x 3-in 11-gauge
Pin safeties cost extra
Paint coating reportedly scratches easily
The Rogue HR-2 Half Rack takes one of my favorite squat stand, the SML-2, and adds two additional uprights along with storage pins for plates to create my top pick for the best half rack. A half-rack feels awesome to train in due to its open nature. Add in some spotter's arms and you'll be able to perform the majority of lifts you would be able to in a full power rack rather safely.
The Rogue HR-2 Half Rack is one of Rogue's best-reviewed squat racks. It's a great rack that can fit anywhere, doesn't have to be bolted down, is still very stable, and has a majority of the abilities of a more expensive and bulkier rack like the ever-popular Rogue R-3 Power Rack.
Rogue only has two half-racks in their arsenal, and the Rogue HR-2 Half-Rack is the better value. If you have the Monster Lite Series Squat Stand, you only need a $270 conversion kit to turn it into the HR-2, which is a great option that will add plate storage and greatly increase the stability of the rack.
The first difference you will notice is that the upright steel is a little less robust at 2-inch-by-3-inch 11-gauge rather than the 3-inch-by-3-inch you might see in the other racks, but the base of the machine has 3-inch-by-3-inch measurements. Other than that, the quality of this rack matches any other half rack on the market and is highly customizable and versatile. It is considered "Monster Lite," so while most of the Monster Lite accessories can be used, it will not have the same number of options as the HR-5000 or the Monster Collegiate.
The height of the HR-2 is customizable, it boasts Westside hole spacing throughout, and the rack's footprint is 49 inches x 48 inches. As far as the quality and options for the price, you cannot beat the Rogue HR-2. The professional quality and look Rogue is known for is just as present in this rack as its others. If you're wanting to spend less than $1,000, but still want a high-quality half-rack, then this is the one I recommend.
Best Foldable Squat Rack: Titan T-3 Series Folding Power Rack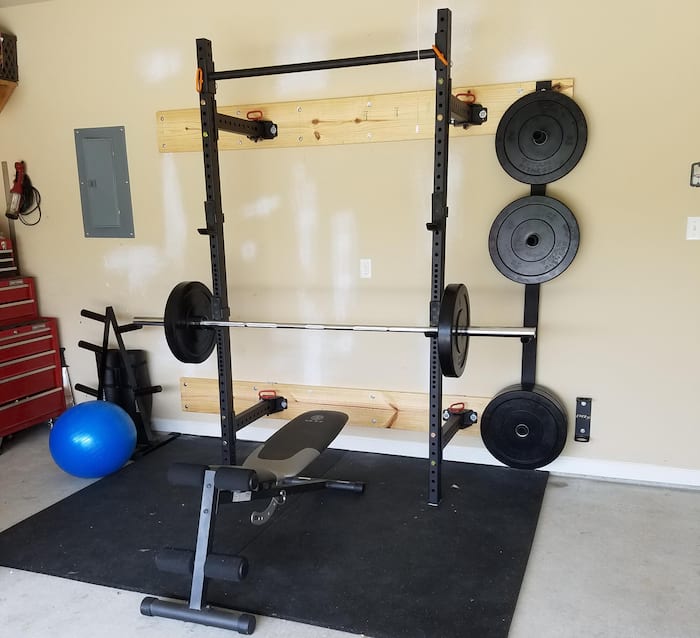 Best Budget Folding Power Rack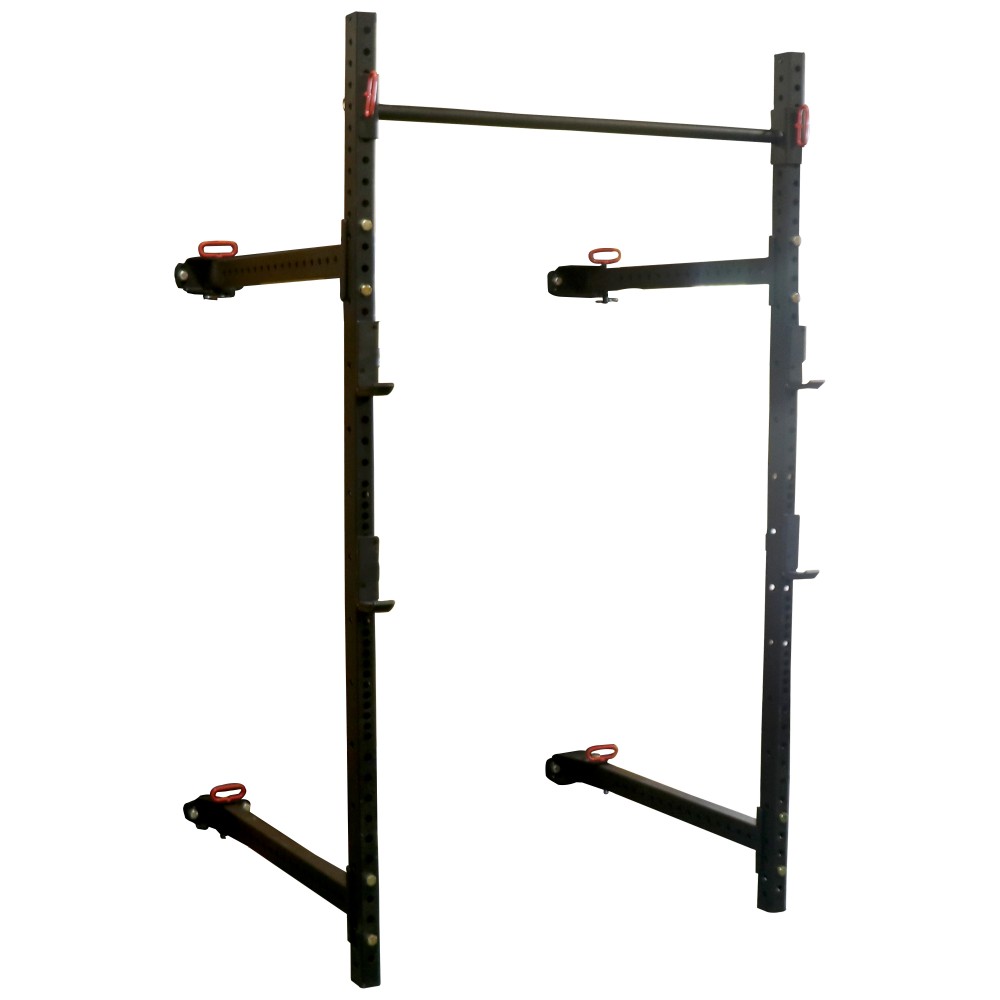 Titan T-3 Fold Back Wall-Mounted Squat Rack
The Titan T-3 Series Folding Power Rack is ideal for anyone with limited space! Start bench pressing, squatting, pull ups, and other creative exercises within minutes after attaching the rack to your wall.Now includes our version 2 uprights featuring 6" side hole spacing throughout the entire uprights to add more T-3 accessories and versatility to your rack!The Titan T-3 Series Power Racks use 2" x 3" 11 gauge steel tubes with a 2" diameter pull up bar. Our pin and hinge system allows you to quickly remove the pull up bar and simply fold the rack up against the wall.Features: - Now includes our version 2 uprights featuring 6" side hole spacing. - T-3 Series Folding Power Racks use 2" x 3" 11 gauge steel tubes with a 2" diameter pull up bar. - Folds flats against wall to conserve as much space as possible. - Laser cut for a precise fit and a heavy powder coat for a durable finish. - 4 J-Hooks included!Specifications: - Material: 2" x 3" 11 Gauge steel. - Rackable Capacity: 1,100 LB. - Height: 82" - Width: 50" - Depth: 41" - Weight: 165 LB
Good for: People in small spaces looking for an affordable power rack
Pros
Priced under $500
Free shipping
Two heights to choose from
Folded, it only takes up 5 inches of space from the wall
Westside hole spacing
Cons
One-year warranty
Customer service isn't the greatest
Although shipping is free, it is sometimes problematic
The Titan T-3 Series Folding Power Rack is a well-liked squat rack in the community. It uses the same steel and hardware as Titan's other great racks, but this adds in the ability to fold the rack away when not in use. This type of rack has become extremely popular and for good reason: it simply works extremely well and can be done at a good price point.
RELATED: Titan Fitness T-3 vs. Rogue Fitness R-3 Power Rack
The T-3 Folding Rack from Titan is the best-priced fold-away rack currently on the market. They aren't the only company making this style of rack, in fact, there are others that likely have the same rack made in the same factory as Titan (see the Fringe Sport Retractable Power Rack as an example).
Although I'm a fan of American manufacturing and have had issues with Titan's shipping and customer service in the past, it's hard to not be enticed by the price. The T-3 Folding Rack will get the job done if you're on a budget, no doubt.
The Best Squat Stand: Rogue SML-2 Squat Stand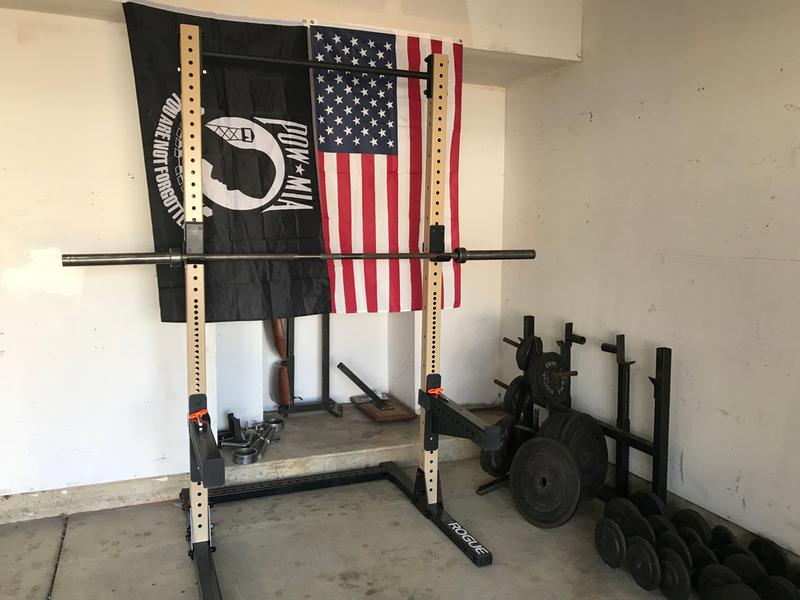 Best Squat Stand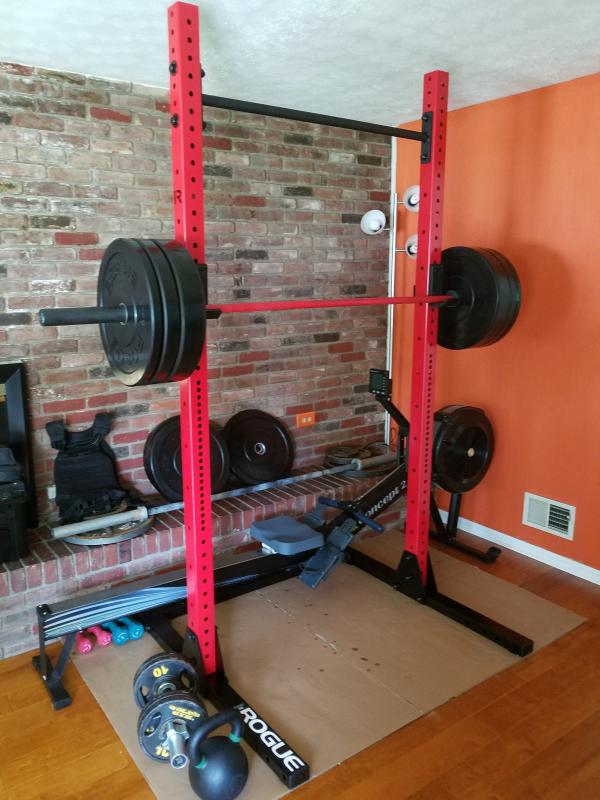 Rogue SML-2C Squat Stand
Now available in a wide spectrum of custom colors, the SML-2C Monster Lite Squat Stand delivers much of the strength and versatility of a power rack in an efficient, compact frame. Featuring 3x3" 11-gauge steel uprights, an adjustable fat/skinny pull-up bar, and 0.625" holes in the Westside spacing pattern, it's an affordable hybrid of Rogue's S-2 and Monster SM-2 squat stands.The American-made SML-2C is equally equipped for squats, bench, pull-ups, clean pulls, floor press, and more, with a bolt-together, triangle-plate base designed for maximum stability. For these exclusive colorized racks, we've also introduced a new MG Satin Black finish on the base, along with black zinc hardware throughout.
Good for: A high-quality, free-standing squat rack priced around $500
Pros
Can easily hold more upward of 700 pounds
Doesn't need to be bolted
Works with Monster Lite accessories
Lifetime warranty
Priced around $500
Cons
Safety spotter arms cost extra
Monster Lite accessories can get expensive
Bolting or weighing down stand is necessary for kipping pull-ups
The Rogue SML-2 Squat Stand is the best value and the best quality squat stand on the market. Period. More than five years after purchasing, and using it since Day One, this still looks and feels brand new. In fact, it was the first squat rack I ever had and one of the first reviews I ever published. Many equipment reviews can only speak to features and initial quality, but this review comes from long-term experience.
If you are looking for a stand with great accessories, high-quality manufacturing, and that takes up a small amount of space then the SML-2 could be a great fit for you. Starting out at around $500, this is a great budget alternative to the power racks and half racks that seem to be dominating the market. It can be used for CrossFit movements like kipping pull-ups rather easily if you weigh down the bottom frame.
RELATED: Best CrossFit Equipment for Home Gym
I've loaded upwards of 700 pounds on the SML-2 without any issues. It is made from 3-inch-by-3-inch 11-gauge steel, which means it is top-of-the-line quality when it comes to squat stands. It is equipped for numerous exercises including squats (of course), bench press, pullups, and more. With a 49-inch by 48-inch footprint, it can fit virtually anywhere.
The "Monster Lite" accessories produced by Rogue are almost universally accepted by the SML-2 making it quite versatile and the different height levels and portability make it one of the most customizable squat stands out there. On top of that, you will find westside hole spacing through the bench area and 2-inch spacing everywhere else making it easy to choose the correct level for your lift.
See my full Rogue SML-2 Squat Rack review.
The Best Squat Rack for Small Spaces: PRx Performance Profile Rack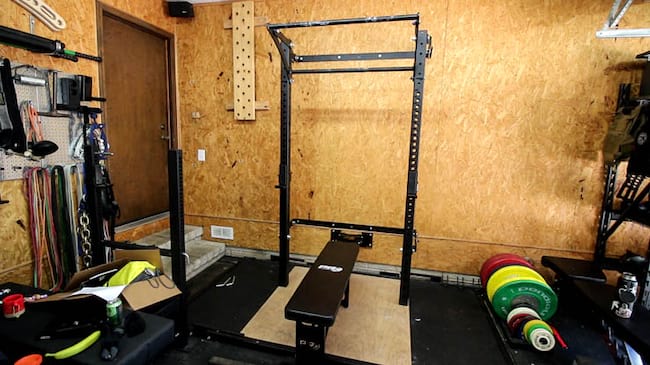 Best for Small Spaces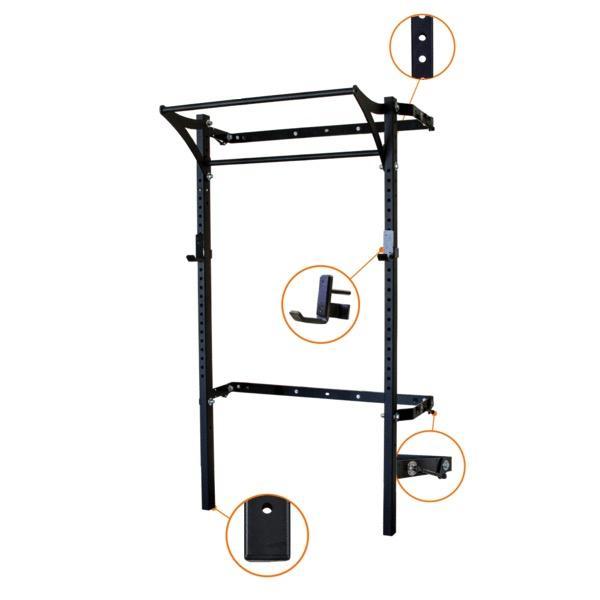 PRx Profile Squat Rack
Our patented wall-mounted folding Profile® Squat Rack with Kipping Barâ"¢ is the most convenient space-saving rack to hit the market today. The addition of the 42" PRx Kipping Bar to our standard Profile Squat Rack allows for kipping movements including bar muscle-ups and toes-to-bar. You can have the garage or home gym you've always wanted, but didn't think you had the space.Easily transform any garage, home, or small commercial space into a multi-functioning gym while sacrificing just 4"of wall space when not in use. All hardware for installation is included, which means no unexpected trips to the hardware store!Made in the USA! (Fargo, actually)Perfect for cross-functional fitness athletes, Olympic Weights, MMA, and anyone looking to Lift BIG in Small Spaces and stay fit. PRODUCT DESCRIPTION(2) 2x3 11 gauge steel uprights (7'6") 42" Steel Kipping Barâ"¢gives you more than 3 full feet of clearance from the wall 2x3 J-Cups Plastic foot plates to protect your floor (4) 100lb gas shocks Wall Brackets (racks are 52" wide on the outside dimension) Mounting Hardware Color: Black Weight Capacity: 1000+ lbs Patented Made in the USA Rack folds out to stand 24" from wall when down and ready to use Pull up bar height: 7'5" (bar may be moved to lower position if needed) Wall Brackets mount to 16" or 24" on center studs. If studs are unevenly spaced, a ledger board is requiredCEILING HEIGHT*90" Racks: We recommend 9' (108") ceilings
Good for: People seeking a very easy-to-use foldable squat rack
Pros
Hydraulic system folds rack
Incredibly easy and convenient to use in a garage
Durable at upward of 600 pounds
Option to add a kipping pull-up bar
Cons
Priced around $1,000
Uses 2-inch x 3-inch steel
3×3 steel only available on upgraded product
A fold-away rack is only worth having if you actually fold it away. Unfortunately, due to the number of adjustments required, most fold-away racks never actually get "folded away." That is not the case with our top pick. The PRx Performance Profile Rack is by far the best fold-away rack on the market.
This is the most convenient and easy-to-use fold-away squat rack I've tested. If you have the money, I definitely recommend it over some of the cheaper, swing-style racks. Featuring an easy-to-use fold-up design that is made possible by hydraulics, you'll have no issue parking in the garage and still having a full-fledged garage gym.
After being on Shark Tank (and getting an offer), PRx Performance has taken off and created a myriad of other pieces of equipment, although the Profile Rack is by far my favorite. I suggest the Profile version for most due to the lower price point, although the Pro Version with 3-inch x 3-inch steel and laser-cut whole numbers is a joy to have if you have the money in your budget.
This rack's stability, foldability, and overall usability make it an even better rack for most people seeking a collapsible rack. The price is a bit high at around $1,000 (depending on which model you get). Although the components used in the PRx Racks aren't superior to those used by Rogue and others, what separates them is the patented fold-away system. No other rack on the market folds away as easily and simply as PRx Racks, and they've literally built their entire business on this element.
The PRx Racks have the option to come with no pull-up bar, a standard pull-up bar, or a kipping pull-up bar. I would definitely suggest the kipping pull-up bar for its versatility and height. And, despite the racks not being secured to the floor, they are incredibly stable.
I loaded up over 600 pounds on the rack and it didn't even budge during unracking and re-racking. The same goes for when the pull-up bar is used. Whether my dainty wife or 300-pound friend is using it, they enjoy the same rock-solid experience.
Read my full and in-depth PRx Profile Squat Rack review.
(If the Profile Rack is a bit out of your price range, I suggest taking a look at the Rogue RML-3WC Fold Back Wall Mount Rack.)
Best Squat Rack for Beginners: Fringe Sport Garage Series Squat Rack with Pull-Up Bar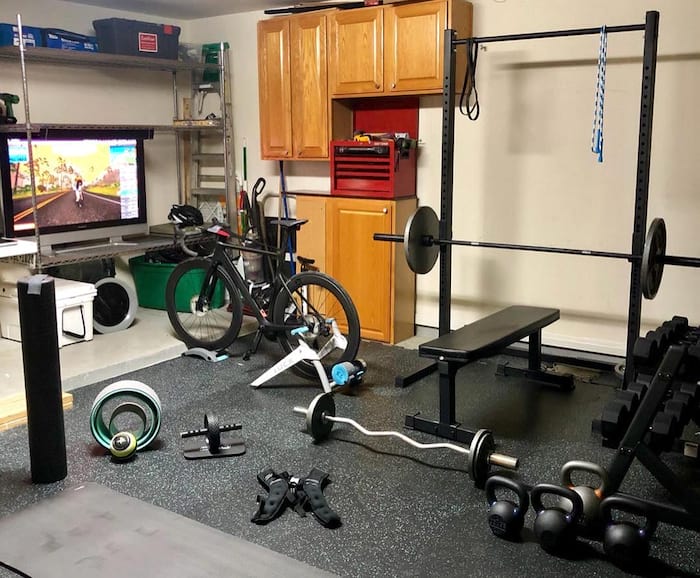 Best Squat Rack for Beginners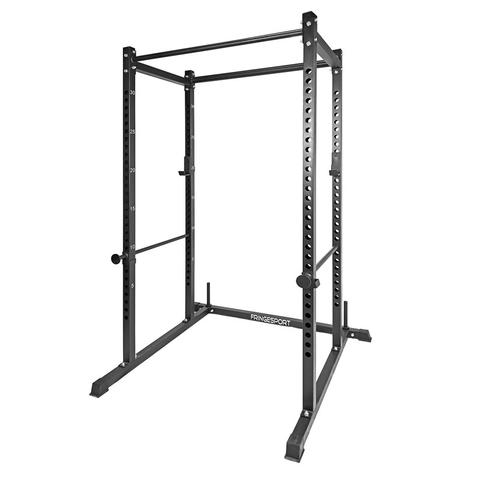 Fringe Sport Garage Series Squat Cage
You'll never feel like just rat in a cage with our Garage Series power rack. In fact, you might feel like you've walked into the Thunderdome instead and that your barbell has become an oversized war hammer.This freestanding power rack boasts our trademark durability, ruggedness and sturdiness. Once you step inside this power rack moonlighting as a construction elevator, you'll give yourself a lift, and go right to the top of your game.Comes equipped with 2 welded plate sleeves for added stability. Includes pair of J-cups and pin/pipe safeties Two different diameter pullup bars - one standard 1.25" and one "fat" 2" diameter. The footprint on this cage is roughly 4ft by 4ft - great for smaller spaces.Our solid Garage Series power rack serves functional fitness users, lifters and builders equally well with a small footprint (47 1/2" L x 53" W). With its small footprint, this power rack will work well in compact spaces.
Good for: Those looking for a basic squat rack at an extremely affordable price
Pros
Priced under $300
Accessories more affordable than those from other brands
Free shipping
Comes with a pull-up bar
Great customer service
Cons
2-in x 3-in 12-gauge steel
Spotter arms sold separately
One-year warranty
The Fringe Sports Garage Series Squat Rack is a cheaper, more basic squat stand than our other picks, but it works. Coming in at about $299 and with considerably cheaper accessories, this is the ideal stand for the budget-minded trainee.
Add to that the free shipping that is consistently offered at Fringe Sport, and you have a great bargain.
Now that you have heard about the terrific price, you are probably wondering about safety and quality. The Fringe Sport is made with 2-inch-by-3-inch 12-gauge steel which, though lower quality than the previously mentioned stands, is more than enough strength for virtually any garage gym (if you're a powerlifter, I wouldn't suggest a squat stand anyway).
It comes with a pull-up bar, and dip horns and spotter's arms can be bought separately. I suggest both, and if you're going to bench, please do not do so without spotters' arms. The main thing that you want to be aware of when looking at more budget-friendly exercise equipment is the safety factor. If you spend less money, does the quality of the equipment go down so far that it is no longer worth the purchase? In the case of the Fringe Sport Squat Rack, the answer is no. There are available spotter arms, J-cups, high-quality steel, and sturdy construction that make this not only a budget-friendly rack but also a safe one.
(Another cheap squat stand is the Cap Barbell stand on Amazon; I've used it and tested it, but I'm not crazy about its limited weight capacity and overall construction.)
How We Picked and Tested the Best Squat Racks
Here are a few of the criteria we used to narrow down our picks for the best squat racks.
Stability
Could the squat rack remain stable in use, and when heavy amounts of weight were placed on it? If not, it was a no-go in our book (for obvious reasons).
Versatility
We wanted to look at how many attachments each rack could work with, whether it had any additional features (such as a pull-up bar), and how many different strength training routines it could be used for (weightlifting, powerlifting, CrossFit, etc.).
Price
We wanted to offer a mix of high-end racks, as well as budget-friendly options that still performed very well.
Space
A squat rack is going to take up a good amount of space, but it should still allow you to walk comfortably around your home gym and leave room for other equipment.
Quality
The squat rack is sort of like the Thanksgiving turkey, and in both cases only the highest quality will do. This means finding squat racks that are not only durable but also look good and won't chip easily.
Benefits of Using a Squat Rack
Squats are one of the best exercises you can do for overall strength and power building. A dumbbell squat is great, but a barbell squat and other barbell exercises can be even better. However, a squat rack is used for much more than simply squats. And there are a number of reasons to consider buying a squat rack:
Safety
Above all, my favorite thing about quality squat racks is that they help make exercise safe. When lifters are moving hundreds of pounds, whether they are new or veterans, it's imperative to be safe. Doing bench press or squats alone could leave you in a bad spot if you fail a lift. A squat rack with safety bars keeps the weight from crushing you – literally.
Versatility
It's called a squat rack, but you can perform a large number of exercises just with the uprights and J-hooks: front squats, back squats, overhead squats, overhead presses, bench press, weighted good mornings, just to name a few.
However, some of the top squat racks on the market have a large number of attachments to add even more exercises. There are dip bars, cable attachments, land mines, lat pulldown add-ons, pulley systems, and more. Your power rack could essentially be a complete home gym if you are willing to spend the money.
Adjustability
For nearly every human being, there is a setting on most squat racks that should work for you. The holes in the uprights house the J-hooks, which are adjustable for your height. Therefore, you can put your Olympic barbell at whatever height you need. Some squat racks actually have uprights that feature adjustable heights, though these aren't typically as sturdy.
Gains
Let's face it: You're looking at buying a squat rack because you want to get stronger. You can safely add more weight to the bar when it's racked because of common sense. If you have to pull a bar off the floor, clean it to your shoulders and then put it on your back, you won't be able to have as much on the bar as if you have to simply take it off the rack.
What to Look for in a Squat Rack
Some of the best power racks can cost in the thousands-of-dollars range. So spend your money wisely by factoring in the following:
Style
Do you need a power rack (which is like a cage), a half rack, a squat stand, or a rack that folds? Each style has its benefits.
Power Rack
For most people, the best squat rack type I suggest is the power rack, thanks to its availability, versatility, and most importantly, its inherent safety features. The power rack, also known as the power cage, is our most often recommended squat rack. It sort of looks like a big box you stand inside when lifting the barbell. But those four posts make it the safest option, as well as giving it the most versatility.
Half Rack
A half rack is essential, as the name suggests, half a power rack. Despite the half-rack being less safe than a full power rack, it's still extremely popular due to its open nature, lower price, and space-saving ability. Also, the half-rack still has a higher level of safety than, say, a squat stand. I've used and tested many different half racks at all different price points.
Squat Stand
Squat stands are free-standing squat racks that don't necessarily need to be bolted to a wall or the floor (though in some cases, it may be recommended).
Although squat stands have been around for a while, in recent years they've begun getting quite popular thanks to their increased instability and addition of a pull-up bar. There are many squat stands available, but we've found this particular product category to be fraught with ultra-cheap products that are unsafe and not enjoyable to use.
Fold-Away Squat Racks
Fold-away squat racks are a newer type of squat rack that has cropped up due to the large number of people starting garage gyms. In most cases, they're as sturdy, if not sturdier than power racks. Although they often only have two posts, they have a lot of customization options available and there's a variety of different ways that the rack fold-away. All of this said the most legitimate reason to have a fold-away rack is that you want to park your car in the garage.
Weight Capacity
Look, most of us are only going to have a few hundred pounds on the rack at one time. And most racks are weighted for 500+ pounds. But, if you're superhuman, you can find racks out there that are weighted for upwards of 1,000 to 2,000 pounds. Also, if you do lift heavy, even if you don't lift THAT heavy, you might like the peace of mind knowing that the rack won't wobble when you're unracking or re-racking the weight.
Safety Features
I think I've said safety about a billion times already in this article. But I'll say it again: SAFETY. If a rack doesn't come with an option for safety bars, pins, or straps of some sort, I have to question its safety. And your sanity.
Injuries are avoidable if you use the safety features, so take advantage of them! Most racks will charge you extra for the safety mechanisms, but I'm willing to bet that they are far cheaper than a hospital bill for a mistake made during bench pressing.
Price
Racks can be just a few hundred dollars or upward of $2,000. You can easily find budget options, but keep in mind that something incredibly affordable is also probably not the highest quality. I don't recommend many racks for under $300 for that reason.
And, of course, the price of your rack will go up with the more attachments you want to add to it. Many racks can multi-function as a home gym once you start putting the add-ons in your cart. I recommend setting a budget ahead of time before getting lost in the accessories.
Footprint and Portability
Power racks tend to take up a considerable amount of space, both on the floor as well as floor-to-ceiling. Your typical power rack – which is like a cage, for lack of a better description – will be around 4 feet by 4 feet. That's 16 square feet of real estate on your garage floor. Half racks and squat stands will take up even less room, and a foldable rack will literally fold into your wall.
Also, consider that the bigger racks should be either mounted to the wall or bolted to the floor, so those aren't moving at all. If you have a platform for deadlifts or the Olympic lifts, you may want to position the rack in conjunction with the wood. A squat stand, however, might be more portable.
Construction
In the world of heavy-duty squat racks, 11-gauge steel is pretty much the standard. Now, that's a heck of a lot stronger than most of us really need from the metal on a squat stand, but your best racks are going to use it. You can still have a perfectly good rack that uses 12-gauge or higher (which is actually lower-grade steel). But if you're looking at durability, 11-gauge is a good place to starting place for heavy-duty steel.
There are some other specifics to get into, like the hole spacing. Industry-standard is Westside hole spacing, which means that near the bottom of the rack, the holes are closer together (25mm) and near the top of the rack, the holes are spaced about 50mm apart.
Also consider that some racks have the holes numbered, either through etching in the steel or with stickers. This is incredibly convenient when it comes to placing the J-hooks for squats or bench, as well as placing safety pins or other attachments.
Attachments
The list here is pretty endless, but I'll give it a shot. Most notable brands offer some sort of power rack attachment, so your rack doubles as, well, just about anything else. You can find attachments or add-ons for:
Dip stations
Cable attachments
Landmines
Lat pulldowns
Flywheels (yes, flywheels)
Various pull-up bars, like multi-grip pull-up bars
Band pegs
Utility seats
Gymnastics rings
Storage
If you're using a barbell, you're using weight plates. Maybe even bands and chains and all the fun extras that add variety in your strength training. Some rack stands come with weight storage options, both for plates and your barbells.
Frequently Asked Questions
Is a squat rack worth it?
If you're powerlifting, weightlifting, or just straight-up want to move some weights, then yes, a rack is worth it. It offers safety, versatility, functionality, and straight-up allows you to lift some major pounds. As I always say, however, it only works if you use it, and it's definitely only worth it if you plan on using it.
What is the best squat rack for home?
The best squat rack is the one you use. I love the REP Fitness and Rogue rack options more than most. Titan Fitness offers some great products at a cheaper price, but they aren't the quality of Rogue or REP.
How much should I spend on a squat rack?
This is very much a personal preference. Some choose to buy $1,000 racks while others make their own. The biggest suggestion I can give is to buy the best you can afford. A squat rack is, by nature, a long-lasting piece of equipment, and it offers a lot of functionality.
Ideally, you'd be able to buy a squat rack and never have to upgrade, unless you wanted to. So, buy what you can afford, and don't forget that a squat rack alone will not make you stronger, using it will.
Rogue Fitness vs Titan Fitness?
I get asked to make this comparison quite a bit. I certainly prefer the quality, customer service, resale value, and overall build that comes with Rogue fitness equipment. However, Titan is much cheaper in most instances and as such is a popular option. In my opinion, I think Rogue is superior. Titan is honestly good enough for most people.
If a squat rack is cheap, does that mean it's unsafe?
Not necessarily. Racks have been getting cheaper and cheaper over the years due to the number of buyers. These more affordable racks still have a steel frame, and many still come with the attachments I like, like safety catches and pull-up bars.
A cheap rack does not automatically equate to it being an unsafe or "bad" rack. However, in most cases, the more you spend, the safer and "better" a rack will be.